The 2016 delicious. Produce Awards final: a day to remember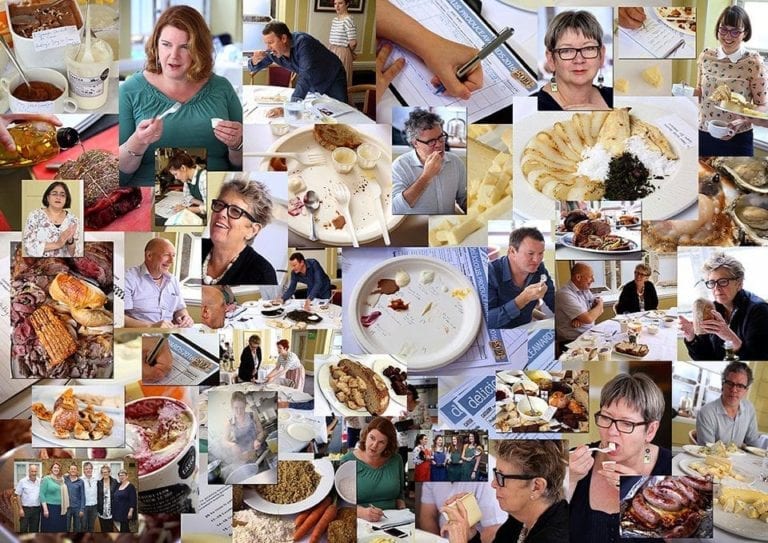 By editor Karen Barnes
When I became editor of delicious. six years ago, there were many reasons to be excited: top of the list was the honour of taking the helm of my favourite UK food magazine. Since then, the team and I have worked hard to shape delicious. into a brand that ignites passion for cooking, discovering new ingredients and caring about the provenance of the food our readers and website users cook. Underpinning everything we do is a respect for food – a commitment to championing producers who treat the land and animals with reverence, always with an eye on sustainability.
The obvious next step was to launch the delicious. Produce Awards – awards where the judging focuses on the stories of the producers and their passion for the work they do, as well as on the (equally important) taste of the food they produce. Deputy editor Susan Low and I were determined that if we were going to do awards, we were going to do them properly, which (let's be real about it) made the project expensive. Fisher & Paykel agreed to sponsor the awards – a key partnership because the company focuses on the same food-related values as delicious. So now, at last, the plans have come to fruition…
Final-day judges (from left to right): Ian Wild, editor Karen, Theo Randall, Peter Gordon, Prue Leith and Sophie Grigson
A BEHIND-THE-SCENES GLIMPSE OF HOW THE AWARDS SHAPED UP…
Autumn 2015: we set strict criteria (that took a while).
January 2016: the awards opened for nominations and entries.
Early 2016: project manager Roopa Gulati worked with us to recruit 27 regional judges, each an expert on the food in their area – from Scotland to Wales to the South West. Once the awards closed, we assessed every entry to make sure it met the criteria. Only those that did were put forward for regional judging.
14 March: the regional judges met and wrangled over all the entries in their area. There was no tasting at this stage as the judges were looking at the producers' stories, the provenance, sustainability and the benefits to local food and the community. Shortlists were made.
25 May: the shortlist of producers was announced, the delicious. team wrote up every story and each of them was offered PR support in publicising the result.
Meanwhile, the delicious. team had a scant seven weeks to organise the final judging (three cheers for editorial assistants Dayna and Phoebe and food ed Rebecca at this point). They had to call in and plan the tasting order for all the products, and organise the cooking timetable. Becks reckons she made more lists than she did for her wedding last November.
14 July… At last, the final judging day dawned. The delicious. team were up at 5am and at Westminster College Victoria by 7.30am to receive the last freshly baked products (bread and doughnuts – dammit!).
Doughnuts (no idea how they get that honeycomb SO light)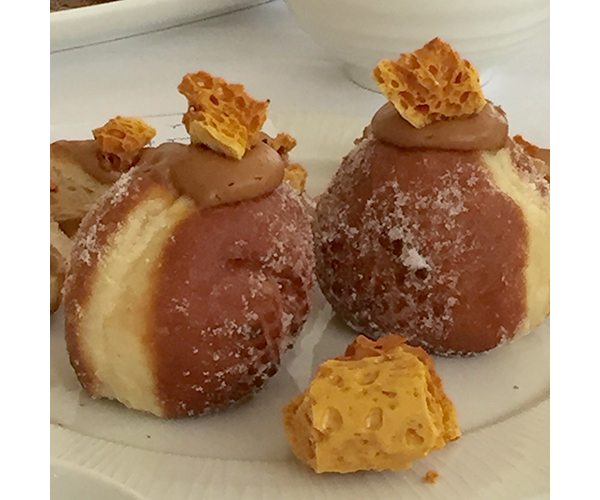 On my journey into central London I read through, again, the briefing book (a tome) of shortlisted producers to remind myself of the background of each. It was an emotional moment (yes, I was that madwoman on Southeastern brushing away a small tear as I read about CHEESE). Why did it get to me? Because every producer story is a testament to the remarkable quality of artisan food in Britain today. We've come so far in the past 15 years, and the next job is to make that food more widely known about – and more available to everyday people. That's, in large part, what our Produce Awards are about.
9.30am sharp: judges Prue Leith, Theo Randall, Peter Gordon, Sophie Grigson and Ian Wild of Westminster College joined me for the briefing by Roopa on how to taste, how to score, what to look for. And then we were off; 74 products on the tasting schedule…
What the judging forms looked like…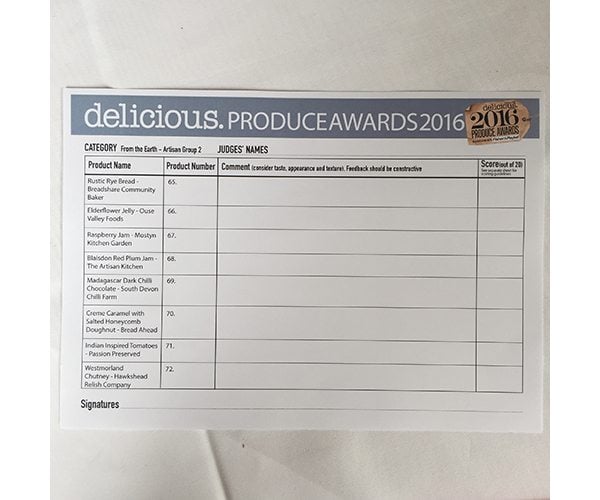 We assessed brownies, sourdough, beef, chicken, lamb, sausage rolls, fish pasties, cheeses, charcuterie, ice creams, lamb, vinegar, jams, salt, seaweed flakes, curry paste, chocolate, sausages, bacon, scallops, oysters, eggs and more… That sounds like an assault on the taste buds and, yes, it was a challenge, but we tasted in strictly planned order, freshening our palates with crackers and water.
Cheeeeeese (Caerphilly in this instance)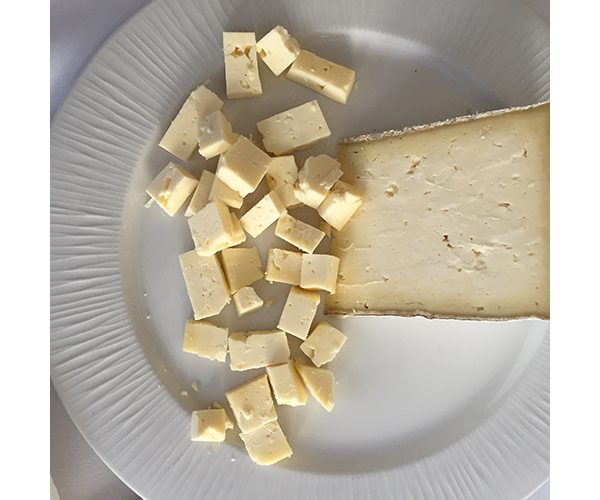 The hardest part was having to choose category winners amongst so many outstanding products. There was a bit of wrangling, but we reached a consensus without too much dissent, every judge happy with the winning choices.
Behind the scenes, the food team had had to cope with erratic oven temperatures and last-minute deliveries, but the judges would never have known – every piece of meat was cooked to perfection (the ever-present digital thermometer was a godsend).
Tired smiles: sterling job done by the food team. Food ed Becks: "It was like a food shoot on steroids"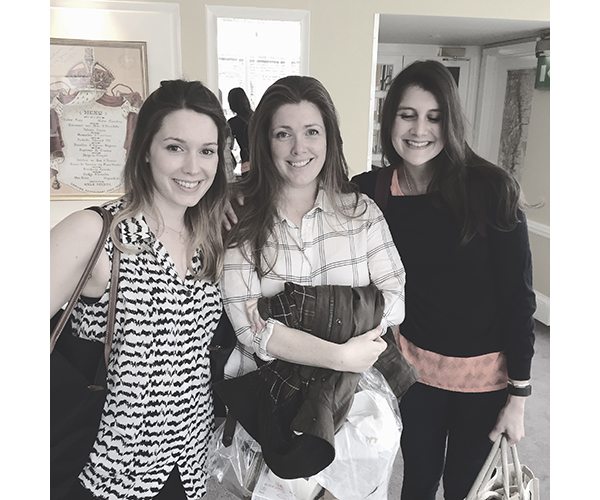 When the judges had gone their separate ways, the team gathered in the kitchen, breathed a sigh of relief that everything had gone smoothly… then did what any tired, self-respecting food team does: we dived into a vat of creamy-smooth chocolate ice cream. Proof that there's always room for a spoonful of gelato. YES. 
WHO ARE THE WINNERS?
The award winners (and overall winning region) will be announced in the October issue of delicious. magazine. Look out for the results then!
Ever-smiling editorial assistants Phoebe and Dayna, who organised the day and deliveries to perfection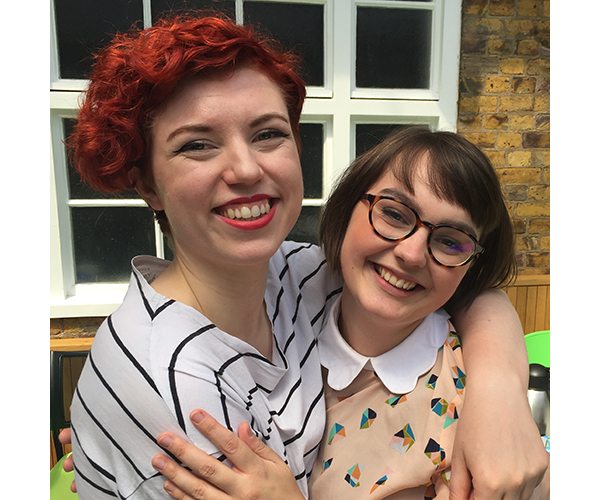 Subscribe to our magazine
Subscribe to delicious. magazine for HALF PRICE
Subscribe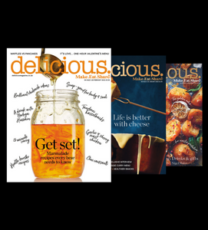 Join our newsletter
Packed with menu ideas, recipes, latest competitions and more...