The best barbecue boxes available for summer 2022
Summer 2022 really ought to be one to remember, and what better way to do it right than with a bit of al fresco dining? We've tried and tested a dozen of the best barbecue boxes available from restaurants and retailers across the UK. All of whom could really use your help this summer, after the past year.
So make it easy on yourself with top quality meat for the barbie, or if you are garden-less, and it's OK to barbecue in your local park, why not head there with a portable barbecue – no one should miss out on the al fresco fun. All barbecue kits are available for nationwide delivery.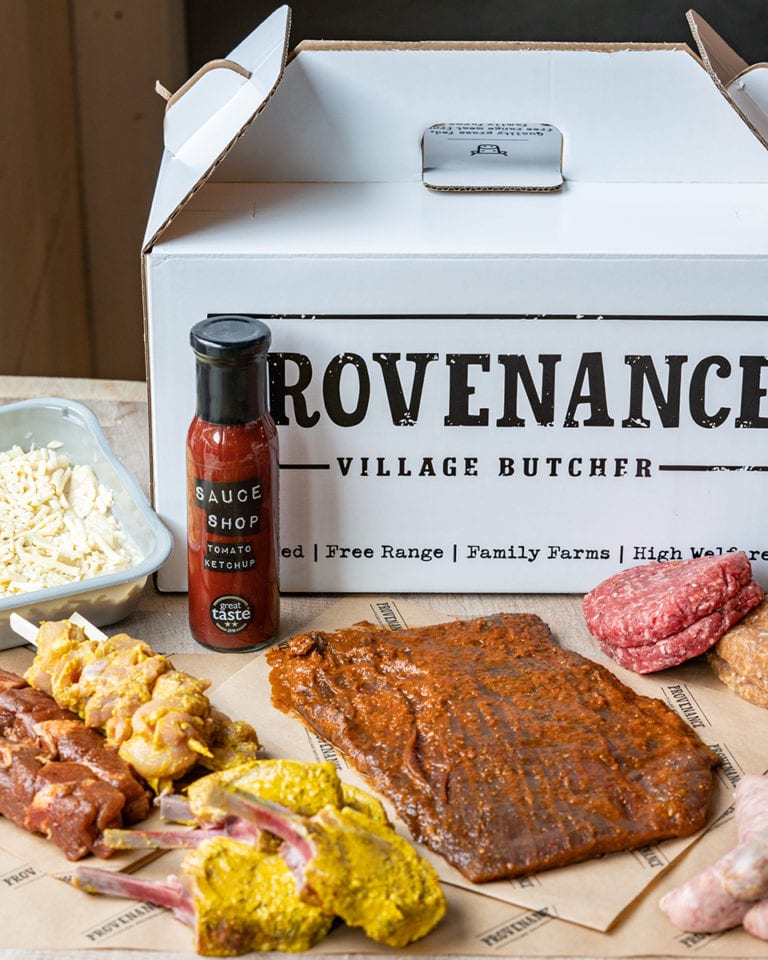 Top tips for barbecuing
You can cook over wood or charcoal, but make sure you buy your charcoal from a sustainable source. A lot of commercial charcoal is made from felled tropical trees. We like London Log Co, who supply many chefs and restaurants. The charcoal is visibly chunkier and has a slower burn time. Make sure any logs and kindling are kiln-dried and suitable for cookery, so there's no additional smoke or unwanted tree resin.
Indirect versus direct cooking
Most barbecue cooking requires two temperature zones: indirect means the coals are banked to one side of the grill and the food is cooked on the opposite side. Direct means you put your food over the heat source – this is good for fast-grilling food like kebabs or finishing steaks or chicken thighs. As a general rule, barbecuing with the lid down offers longer, slower cooking – recreating an oven-like environment and maintaining a steady heat. Cook with the lid off for fast grilling and browning or when you need a flame.
The 12 best barbecue kits
If Middle Eastern food is your vibe, the Berenjak barbecue kit is a true feast that will feed 5-6 generously. The box brings together their original Kabab Kit, with their Kabab e Tond Kit, and Mazeh Box to create the ultimate mega-meal for summer. Expect clay-baked Lavash bread, lamb and chicken kebabs, tomatoes for grilling, aubergine, yogurt and hummus dips and so much more. Available from Berenjak Bazaar (£100).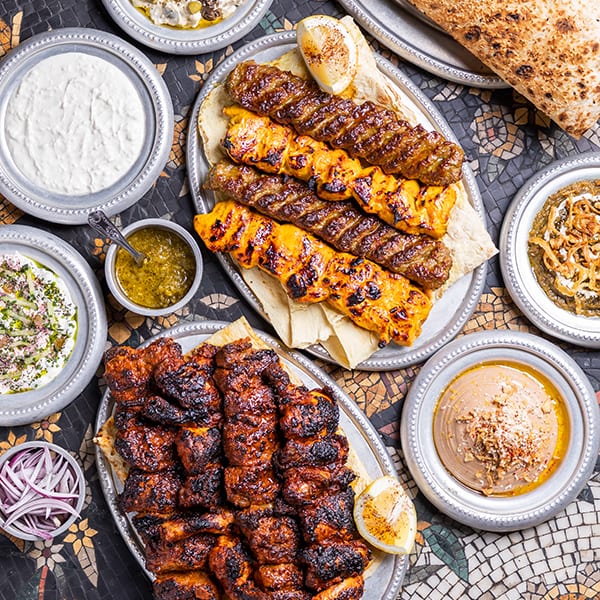 Braybrook x Ginger Pig BBQ box
Butchers Ginger Pig have teamed up with craft lager specialists Braybrooke Beer Co. to create a barbecue feast for summer 2021. Inside is a selection of barbecue cuts including some of the most impressive sausages we have ever tasted, and super soft steak aged for at least 28 days, and rich in earthy savouriness. Also included are hand-pressed chuck steak and rib cap burgers that are so full of fat and flavour and create burgers reminiscent of the best diner experience. Lastly there's the proper pork chops, offered alongside six 330ml bottles of Braybrooke's light and refreshing Keller Lager with bonus Willi Becher pint glasses and a bottle opener. Sausage and beer lovers, this one is not to be missed. Available from Ginger Pig (from £85).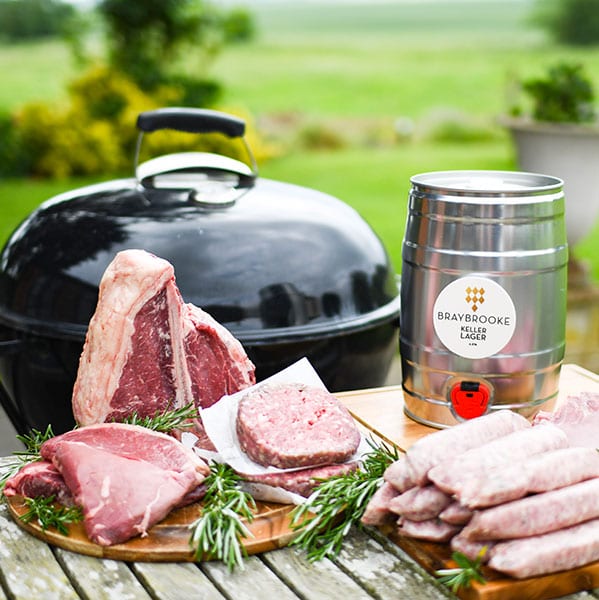 The Ethical Butcher offer various barbecue boxes, from a BBQ Basics box featuring steaks, burgers, sausages and chicken thighs, to their Ultimate BBQ box which includes a spatchcock chicken big enough to feed 4-5, along with brisket, riblets, burgers, lamb and pork chops, and Frankfurter sausages. We particularly rated the chicken, which was marinated with Cajun seasoning, soy free, and made for an exciting outdoor Sunday lunch with a side of wedges. For high quality barbecue-ready meat, The Ethical Butcher boxes are not going to disappoint. Available from Ethical Butcher (from £55).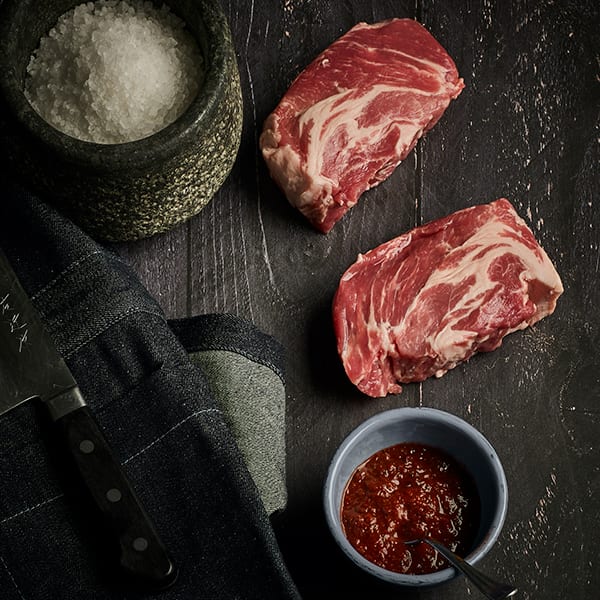 If you have many a mouth to feed, don't hesitate to order Swaledale's classic barbecue box which is overflowing with options for everyone; from steak burgers, to chicken legs and rich, juicy sausages. The box will easily feed a crowd of 6, or will last you a couple of days if you fancy back-to-back barbies (ahh, summer vibes). If you're new to trying Swaledale, then you'll soon become hooked. They've scooped up a huge number of accolades for their butcher meat in recent years and they really are at the top of their game. Available from Swaledale (£60).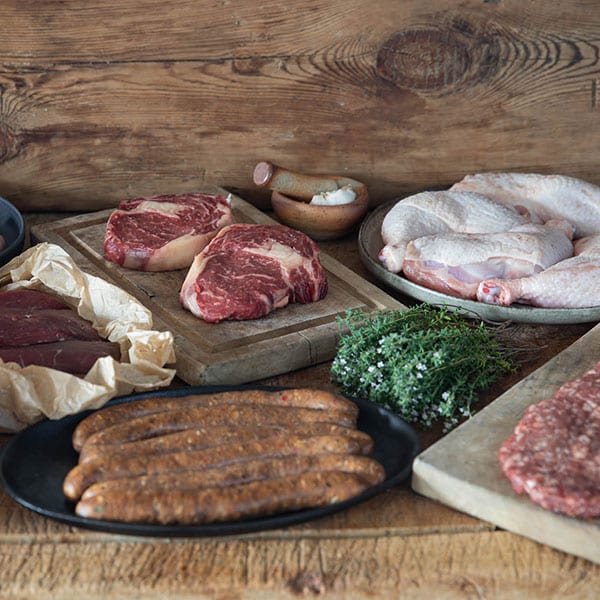 Living up to their name, Provenance sell meat with clear traceability, much of it sourced from 3rd or 4th generation farmers who use many of the same traditional farming and husbandry techniques their parents and grandparents did. The Provenance BBQ Box is a feast including incredibly succulent Tandoori lamb cutlets, bavette steak, an exciting array of sausages (e.g spicy Italian, bloody Mary and Thai flavours), chicken satay skewers, and burgers of all varieties. Also included are a Prairie Fire BBQ sauce, slaw and mac and cheese (choose from pancetta or truffle). Available from Provenance (£75).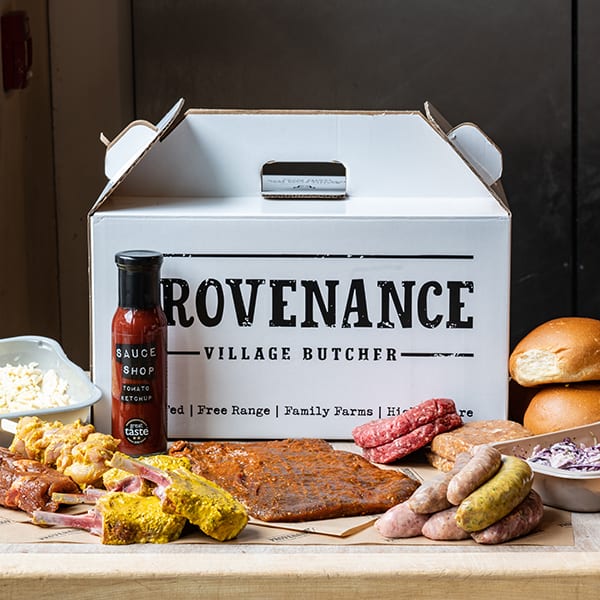 Arabica x Farmison Middle Eastern BBQ box
For something completely different, try this Middle Eastern BBQ box – created by London-based restaurant Arabica in collaboration with award-winning butcher Farmison & Co. Every single item inside this feasting box is a flavour sensation, and you can expect seven spice free-range chicken wings, lightly spiced Yorkshire lamb koftas, and two succulent flank steaks. But please don't overlook the exciting array of sides, which include traditional flatbreads, Za'atar and a creamy tahini to drizzle over the meat. This is a meal kit that will have tongues wagging and will be a welcomed change from the same-old same-old. Available from Farmison & Co (£45).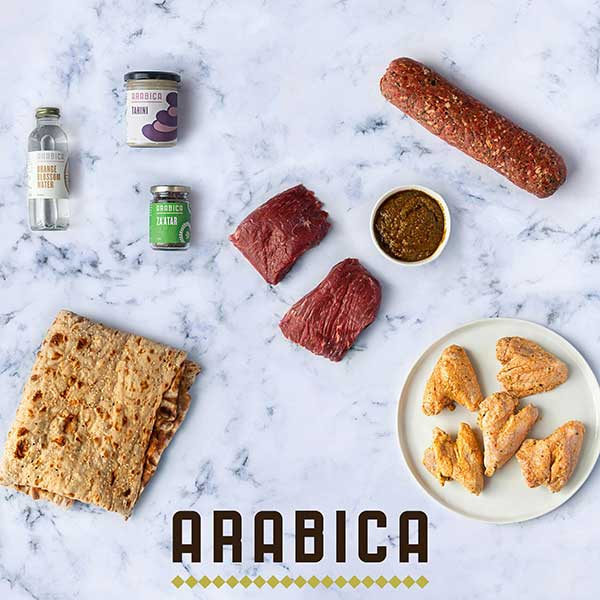 HG Walter's meat supplies hundreds of restaurants, from the River Café to Kriket, so you can count on it being of the highest quality. The meat is often from native breeds, such as Hereford and Aberdeen Angus cattle or Hampshire Duroc pigs. The animals are reared on small free-range farms, and growing the animals slowly, with natural diets, makes for meat with excellent marbling and fat content, and most importantly, flavour. The Basic BBQ box features bavette steak, pork chops, burgers, chicken thighs, sausages and lamb steaks, alongside a Stokes sauce, 'house rub' and salt. Available from HG Walter (from £65).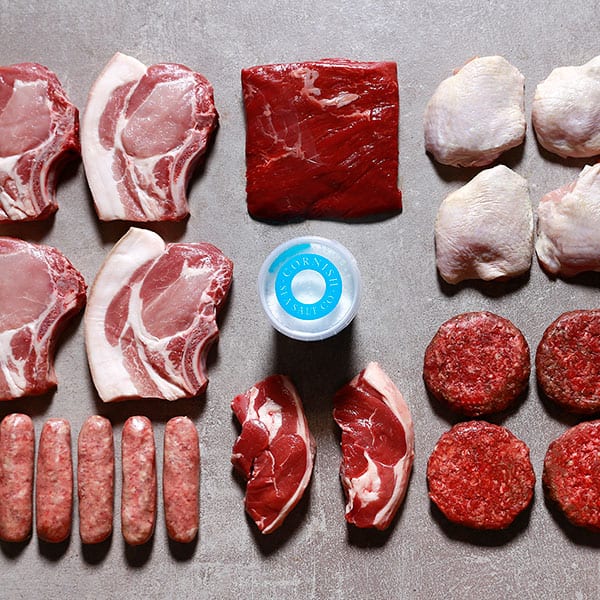 Tommy Banks Made in Olstead BBQ
Some wonderful stuff happens at the higher end of barbecue culture – but do we all have the time or resources to sous-vide a slab of beef for three days before we throw it on the grill? That's where much-garlanded Yorkshire chef Tommy Banks comes in. He's done the hard work: you just finish it on the grill. The stars of his meaty barbecue box are brined, slow-cooked beef brisket you slather in a black garlic glaze as you finish it off, and short rib that's had the same treatment but takes a fermented honey glaze (both are table-silencingly good). Homemade accompaniments include a good, crunchy kimchi (more of a kraut) and juicy macerated tomatoes, with a strawberry and elderflower cheesecake to finish. Available from Tommy Banks (£95 for 2 hungry people).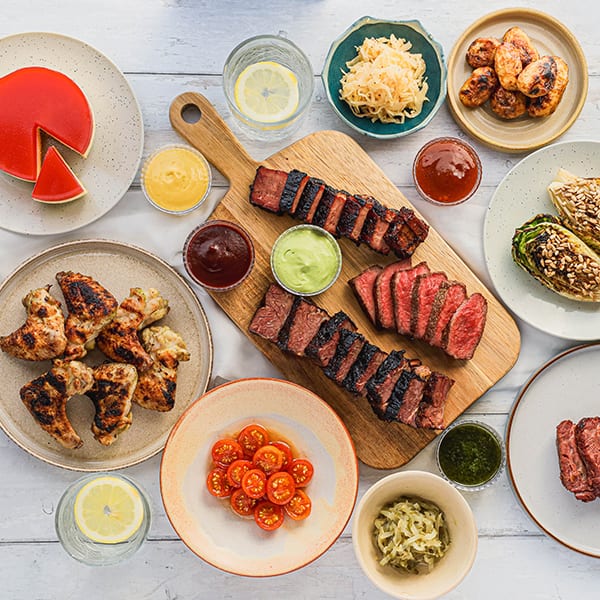 The Eversfield organic barbecue box features flavourful beef steak burgers, chunky pork & apple sausages, organic lamb kebab pieces, thick cut grass-fed sirloin steak, and free-range diced chicken breast. There's enough meat here to feed a family, and you could go in so many directions with it. From Middle Eastern kebabs, to classic hot dogs and American burgers. If the unruly British weather lets you down, it's just as easy to cook this in the oven or under the grill. Available from Selfridges (£63.95).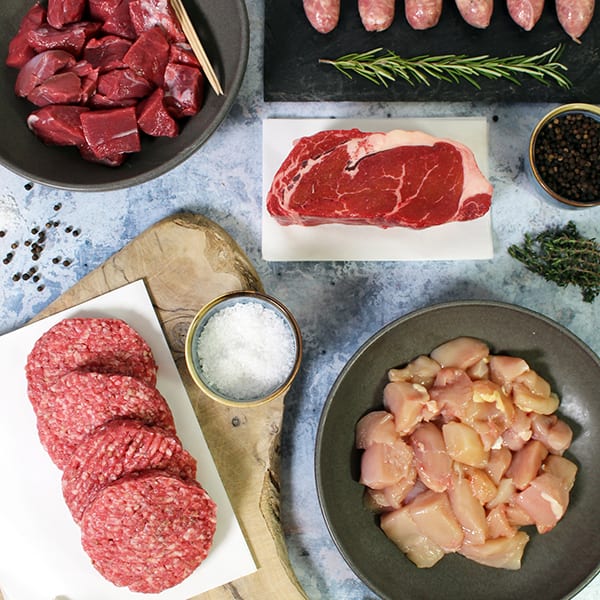 This is a fantastically good quality and value box, from FishWorks. The Argentinian prawns were huge and juicy, while marinated sardines with fresh mint leaves were a revelation. The highlight of the kit was definitely the gilthead seabream (prepare for a slight shock seeing the fish eyes staring up out of the box on opening) – a perfect choice for whole fish home cooking – meaty and not many small bones. There was also a part-cooked sourdough to finish in the oven, to serve with creamy taramasalata. A real feast. All you need to do is provide the sides, and a pud. Available from Fishworks (£44.95 for 2).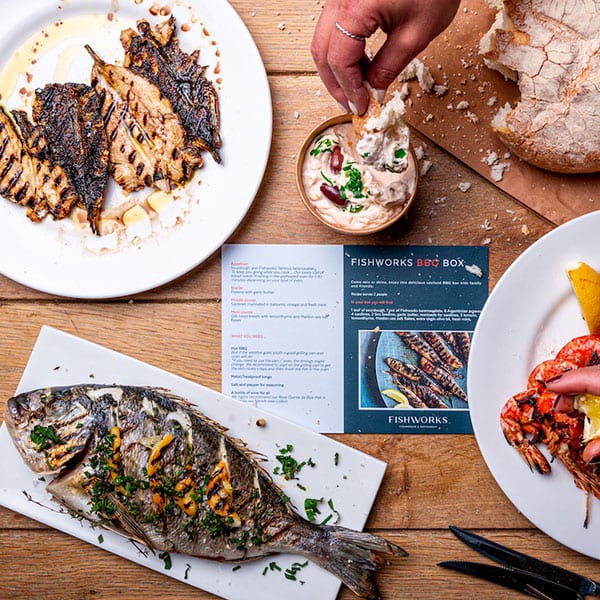 Rain prevented a full-on barbecue, but our tester felt this box shone just as brightly in the kitchen. Worstead Estate, in Norfolk, is renowned for its retreat, 16th Century park and animal husbandry. Our tester fried the generously sized burgers in a dry pan, as the distinctive marbling provided more than enough fat for the job. Served simply with crisp lettuce and tomato in a brioche bun, these were sheer buttery heaven. The 2nd cut steaks were also pan-fried, served with delicious.' own pesto hollandaise and homemade chips. £95 might feel steep, but it's a very fair price for around 7kg of British-grown wagyu beef of such exceptional quality – the box contains 12 steaks and 12 burgers. Available from Worstead Estate, (£95).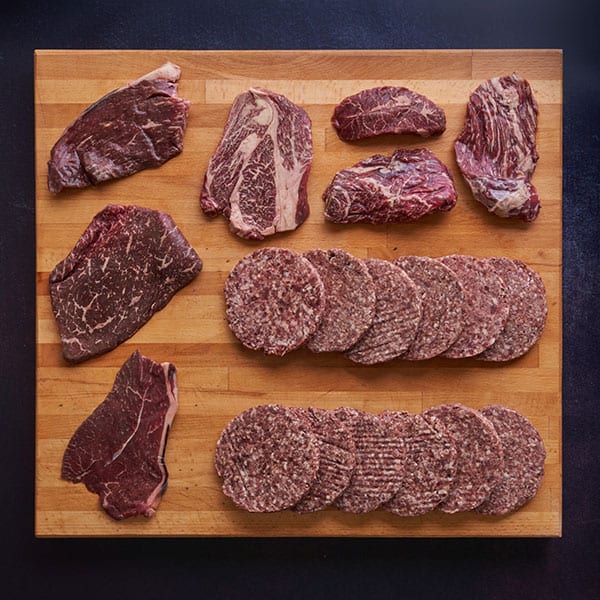 field&flower are a delivery service bringing award-winning British free-range meat and sustainable fish straight to your door. Perfect for grilling, their BBQ range gives you the option to purchase pre-seasoned and marinated meat to save time prepping at home. We tried the tender rump steaks, super spicy and succulent Piri Piri chicken wings, dry-aged longhorn beef burgers, lamb kofte, drunk rum brisket burnt ends and char sui pork skewers. The cuts of meat were of fantastic quality – we particularly enjoyed the burgers and burnt ends – and for such a generous selection, the value is excellent too. Available from field&flower, (£43).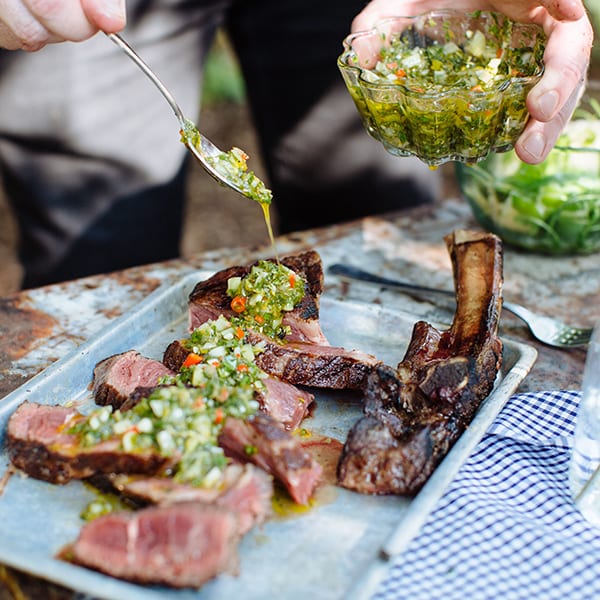 Want something to drink with it? Try our round-up of the best cocktails in cans and bottles.
Subscribe to our magazine
Subscribe to delicious. magazine for HALF PRICE
Subscribe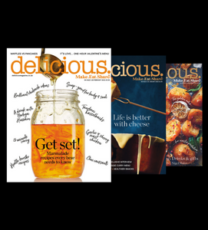 Join our newsletter
Packed with menu ideas, recipes, latest competitions and more...