16 best budget vegan recipes
Eating a healthy, balanced vegan diet doesn't need to cost a pretty penny. Here, we've rounded up 16 of our most budget-friendly plant-based recipes to help you get through a Veganuary unlike any other.
Whether you're looking for classic dishes in a vegan format, or you're after new meals you haven't tried before, from teriyaki aubergines to vegan spag bol – bring on the veg!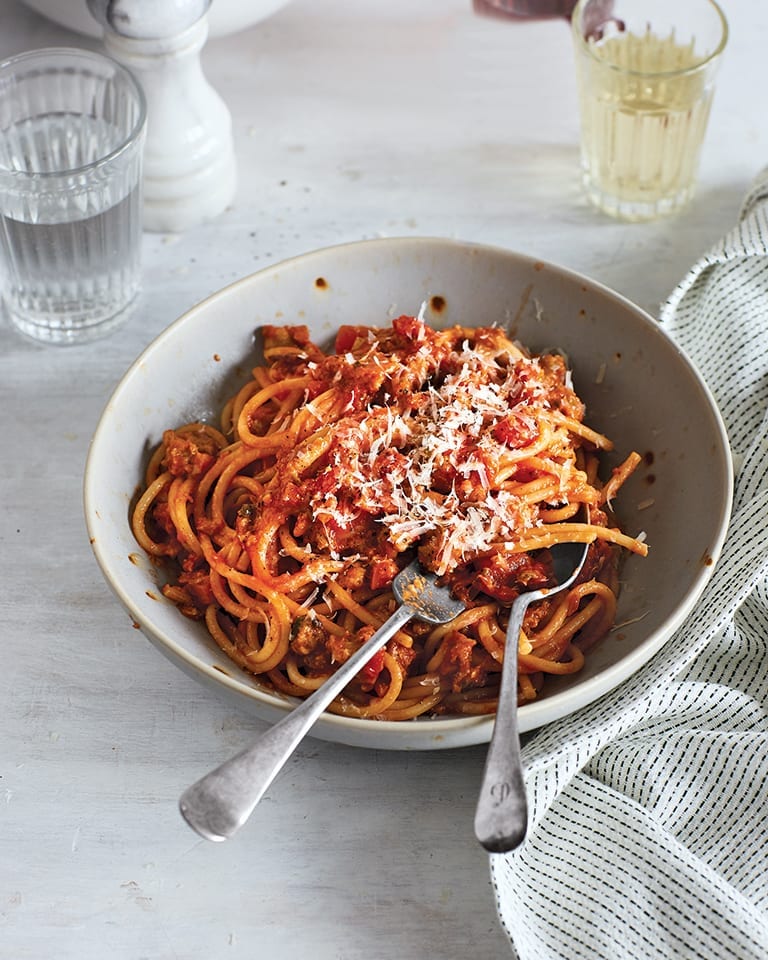 How to be vegan on a budget: the basics
Learn to love your storecupboard
From beans, grains and tinned vegetables through to sources of protein and fibre like nuts and lentils, the storecupboard is a vegan's best friend. Buying grains and pulses in bulk is the cheapest way to purchase them – and they are often even cheaper in the 'World Food' aisle of the supermarket. Go big on your favourites, and you'll always have a tasty (and thrifty) meal at your fingertips.
Eating with the seasons
Seasonal eating isn't just for foodies and restaurant menus. It also means paying less for your fruits and vegetables, as you're buying them when they're at a surplus and at their best. Some vegetables that are grown all year in the UK are always good value: cauliflower, potatoes, cabbages and broccoli will never set you back much, and can act as the base of many a vegan dinner (see the samosa pie below…).
Spices and seasonings
As with storecupboard essentials, spices are often cheapest when bought in larger packets rather than 30g jars. Save money by buying these from Asian supermarkets or from the World Food aisle and decanting them. Big flavour hits from soy sauce, vinegars, miso, Marmite and even ketchup are indispensable in vegan cooking – look out for these when they're on offer and stock up. Fresh herbs add so much flavour to a meal, and buying them in larger quantities is a thrifty way to do it – remove plastic and wrap them in tin foil in your fridge drawer and you'll find their shelf-life increases massively.
Our best budget vegan recipes
Mexican veggie and tortilla soup
What if you could have a soup that tasted like nachos? And what if it were ready in 15 minutes? Here, kidney beans, chipotle, corn and peppers are simmered together to create a comforting, warming bowl of joy. Serve with crunchy tortilla chips for textural heaven.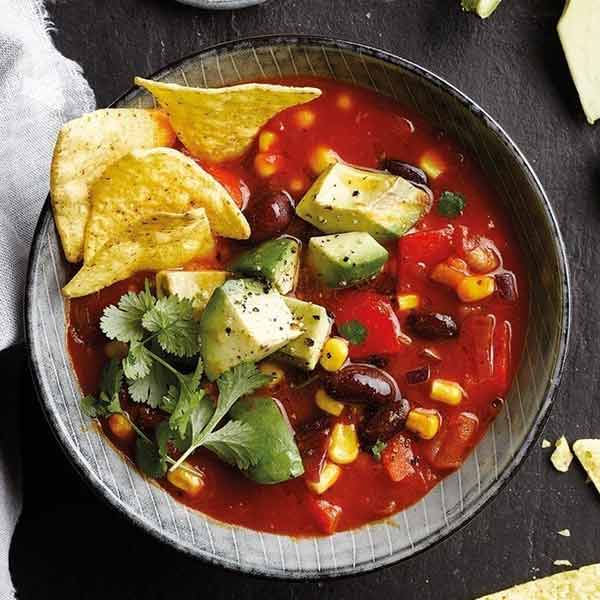 Sicilian-style cauliflower pasta
This Sicilian-inspired recipe uses tomatoes, pine nuts and currants which compliment the nutty fried cauliflower florets beautifully. Use any pasta shape you like, but something tubular like penne, macaroni or tubetti would work really well.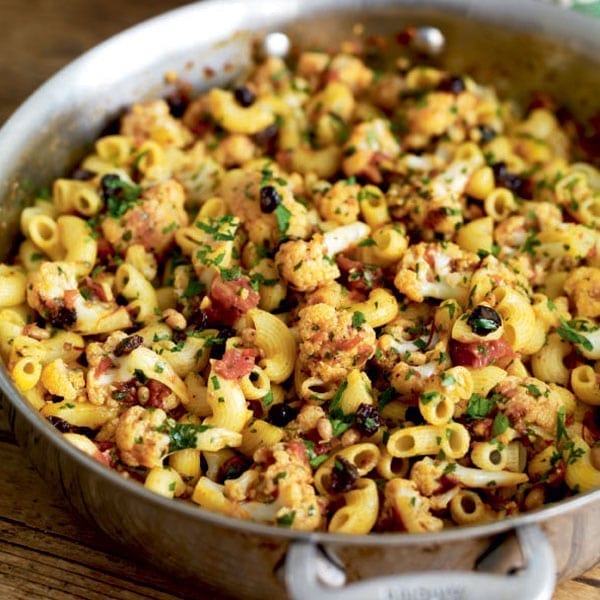 Everyone loves a homemade dhal. Reliable, warm and comforting, this failsafe recipe from Chetna Makan is delicious with either rice or roti (or both).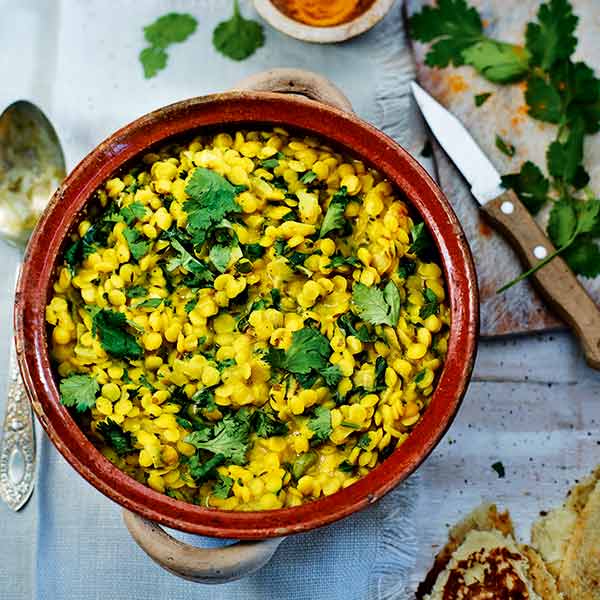 If you like samosas, you seriously need to give this a go. Cauliflower, potato, and peas are spiced up with curry powder, ginger, garlic, chillies and turmeric. Then all you need to do is add a crispy filo pastry lid, and you're away!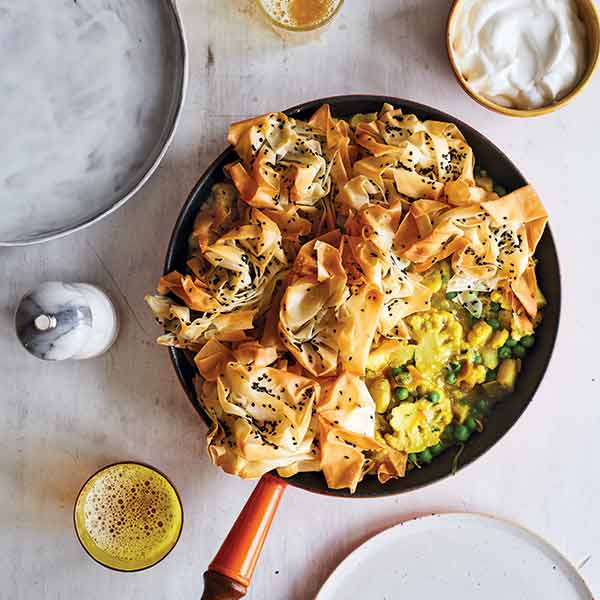 This recipe uses plant-based sausages which get browned off then seasoned with balsamic vinegar, soy sauce, nutritional yeast, chopped tomatoes, and ketchup. Fennel seeds, garlic, and thyme all bring bold flavour in minutes, so this sauce is finished by the time the pasta has cooked.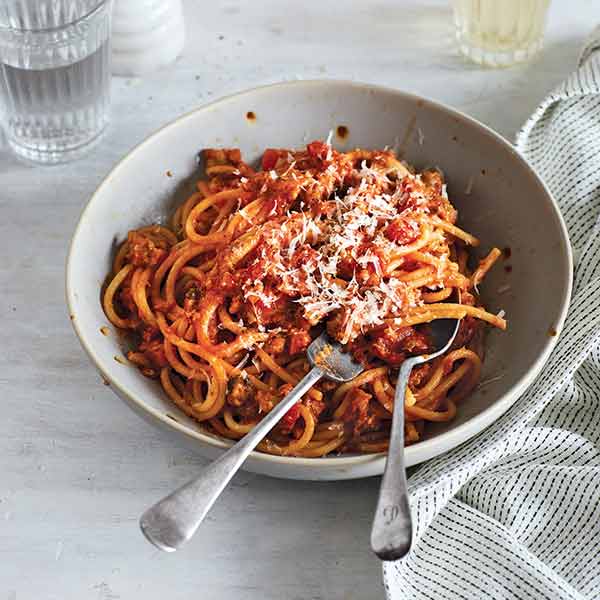 Ever used houmous in a pasta sauce? Why the heck not? Here, it's whizzed together with courgette, peas, avocado and coconut milk for a super-creamy sauce that's brightened up with lemon juice and mint. Trust us, it's a winner.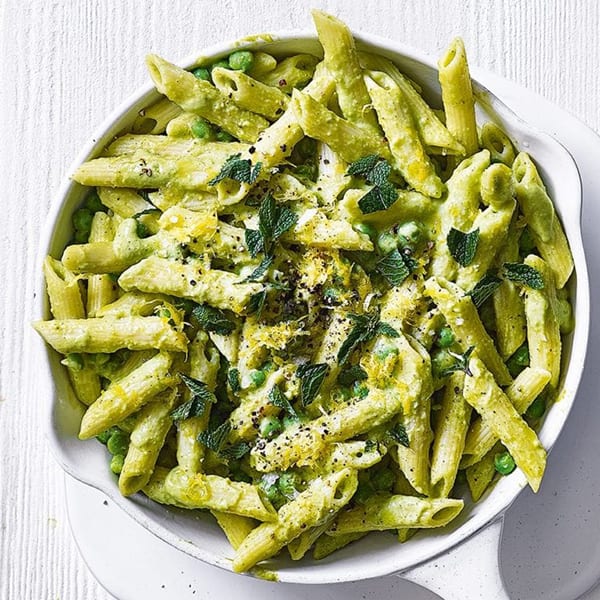 Sweet potato and chickpea curry
This comforting curry is packed full of goodness – from Vitamin A-rich sweet potatoes and fibre-filled chickpeas to iron-packed spinach. The creamy coconut milk brings it all together and the squeeze of lime adds a welcome splash of zest.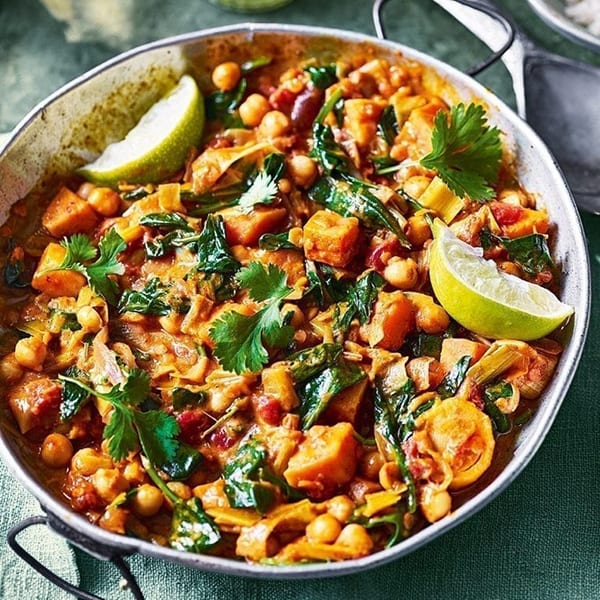 Herb-crused cauliflower and leek 'cheese'
The quintessential British dish cauliflower cheese is made vegan here in a truly satisfying recipe by Gaz Oakley. The sauce is made using coconut milk, miso paste (for salty savouriness) and cashew nuts (which bring the creamy texture). The crispy, herby breadcrumb topping adds another dimension – it's glorious.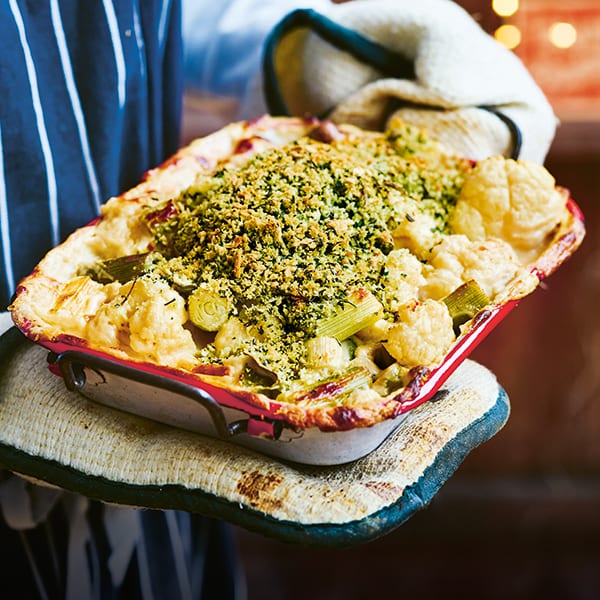 Penne with lentils and mushrooms
We are always in the mood for pasta! This recipe uses lentils and garlicky mushrooms to create a satisfying ragù, that's ready in 40 minutes.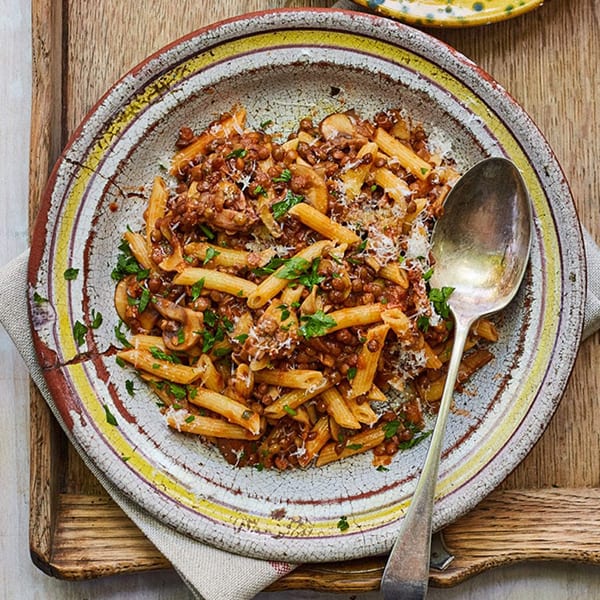 For a vegan dessert that doesn't break the bank, this creamy vegan pumpkin pie recipe is perfect. It uses creamed coconut and vanilla, and the flavour is warm and comforting for a chilly evening.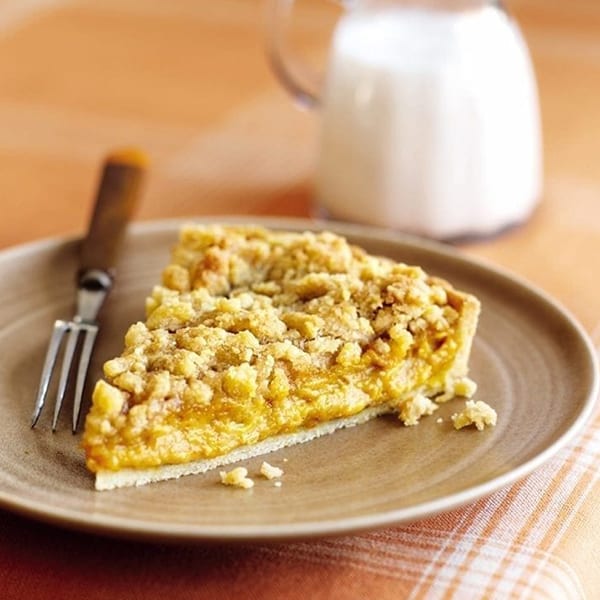 Puff pastry is often vegan (but be careful to avoid the 'all butter' variety!). Here it's used in a gorgeous savoury tarte tatin, in which shallots are caramelised with brandy, balsamic vinegar and herbs. It's an impressive-looking masterpiece for less than £2 a portion.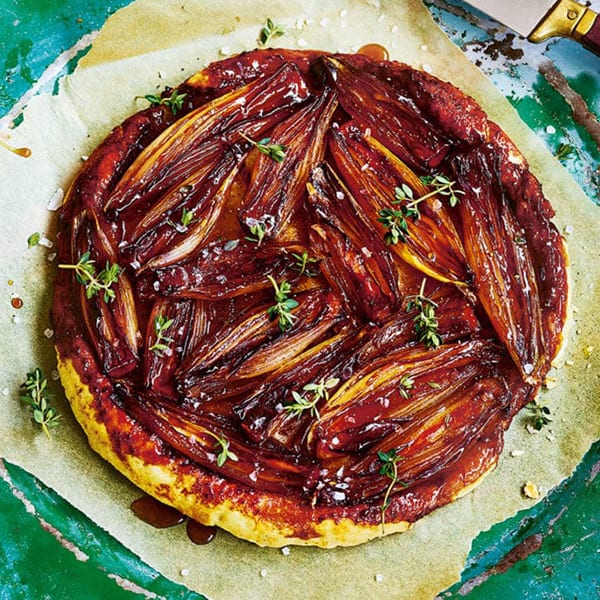 Butternut squash and sage macaroni
This re-creation of the comfort food classic mac 'n' cheese is on the table and ready to eat in 30 minutes. The butternut brings a creamy texture and the sage brings a meaty flavour that's incredibly moreish.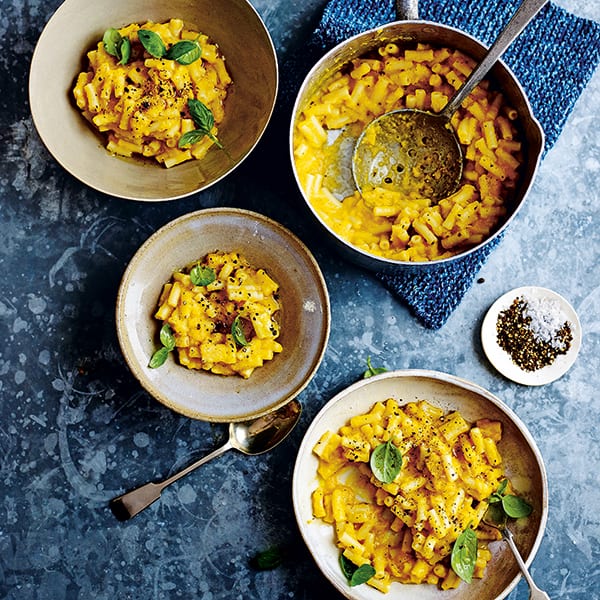 This Sicilian classic has all the right notes of sweet, sour and salty. Try it with crusty ciabatta for mopping up purposes. The pine nuts provide plenty of texture, while the olives, capers and raisins bring ample flavour.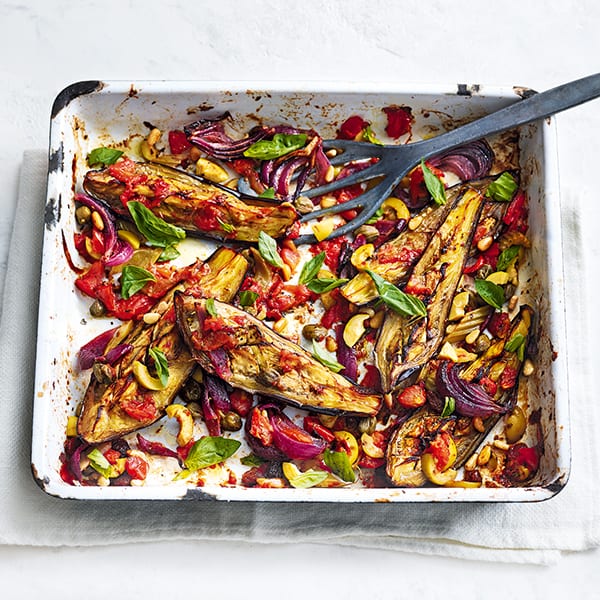 Think of this as a vegan take on shakshuka… yes, please! The harissa paste and tahini bring depth of flavour, while the crunchy falafel in the sweet tomato-based sauce is a truly satisfying supper.
A Chinese favourite goes vegan in this recipe. Try it with noodles or rice for a complete meal. There's tingly spice from sichuan pepper, umami from the tamari, and satisfying crunch from the peanut and sesame.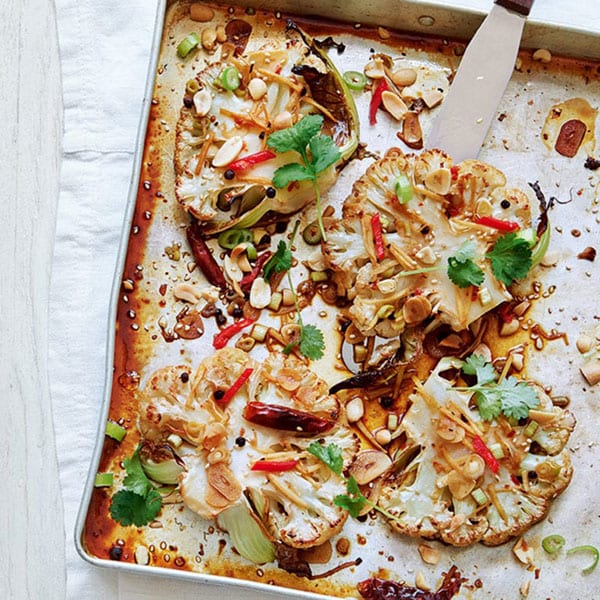 Teriyaki and sesame aubergines with rice
Here, aubergines are cut in half and roasted, then coated in a sweet and salty teriyaki sauce. Served with rice which soaks up the roasting juices beautifully, the whole dish is then perked up with lime juice. We think you will be coming back to this one!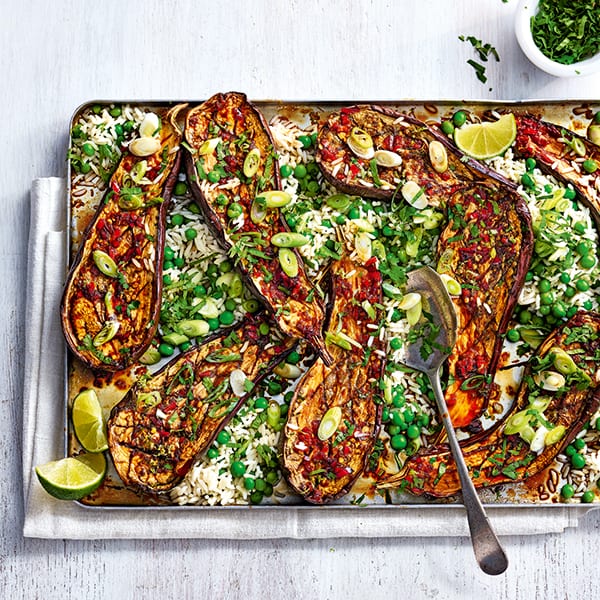 What's your favourite vegan recipe? We've got hundreds more here!
Subscribe to our magazine
Subscribe to delicious. magazine for HALF PRICE
Subscribe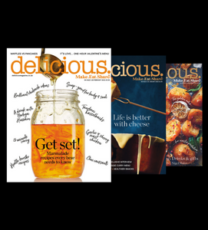 Join our newsletter
Packed with menu ideas, recipes, latest competitions and more...