31 vegan dinner recipes for a perfectly plant-based Veganuary
So you've committed to doing Veganuary, but now you're feeling overwhelmed at the thought of coming up with a whole month's worth of vegan dinners. Don't fret – we've done the hard work for you and have selected 31 of our most popular vegan dinner recipes, one for every day of the month, to inspire you on your plant-based journey (and who knows, it may leave you ditching the meat for good).
There's everything from comforting curries to tasty traybakes, simple pasta dishes to hearty winter stews. Have a scroll and you'll be sure to find something to tempt you…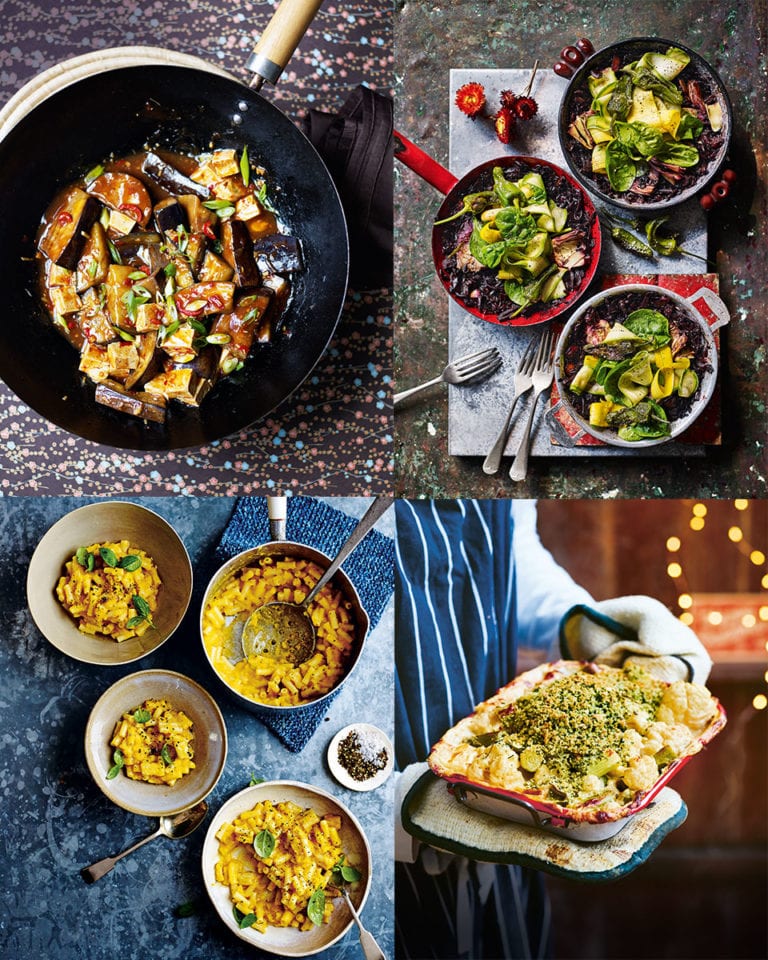 This colourful cauliflower dhal is packed full of flavour with fresh ginger, black mustard seeds and cumin seeds.  The perfect meat-free dish to kickstart Veganuary, this recipe serves four, or can be frozen so you can enjoy it again later in the month.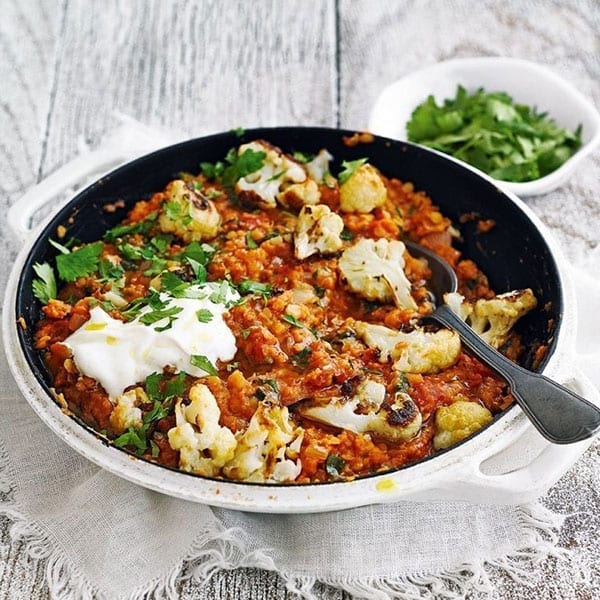 Staples in a traditional vegan diet, this recipe uses tofu and coconut milk as the basis for a creamy curry, layered with tamarind paste and red chillies to put some fire in your belly.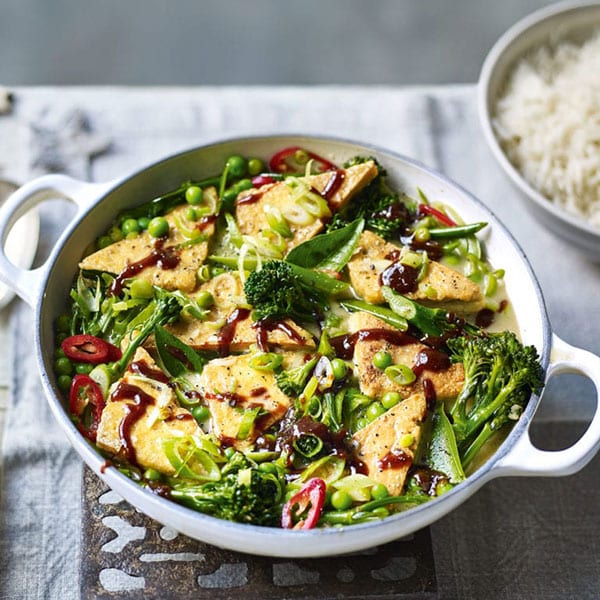 3. Root vegetable and lentil tagine
Our take on a Moroccan tagine uses hearty winter vegetables and fibre-rich lentils – offering so much flavour that you'll forget all about the absence of meat. It's also a one-pot wonder, making it perfect for a midweek meal.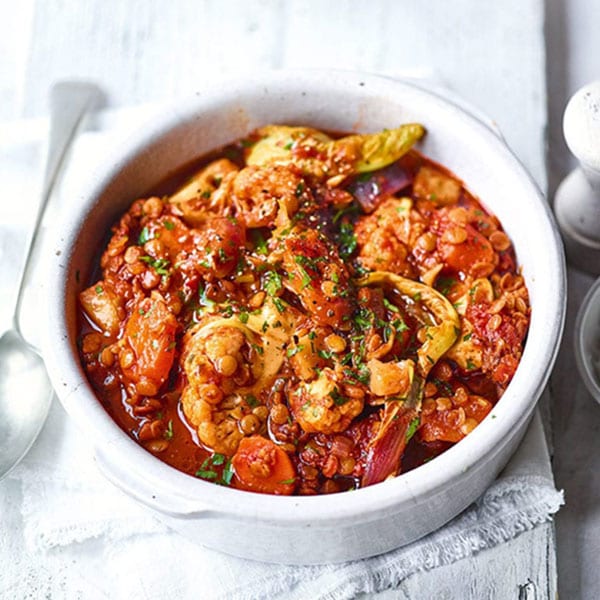 4. Spelt, chicory and mushroom one-pot
Ideal on a cold wintery evening, this recipe combines a variety of mushrooms with spelt and chicory to make a vegan one-pot that's full of texture and earthy flavours. The cranberries and cherries add a welcomed sweet touch, too.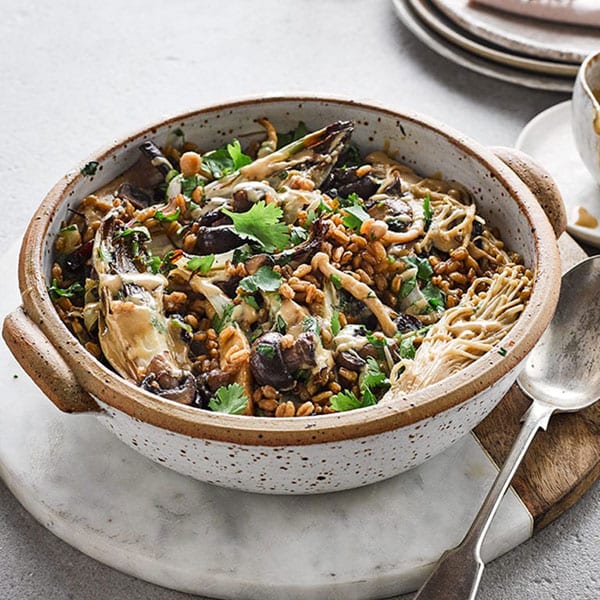 Wave goodbye to meaty roast dinners and say hello to our beetroot pithiviers; the perfect vegan alternative for a Sunday roast. The vibrant pink beetroot adds a pop of colour to your plate, served alongside baby carrots and sprouts. Just make sure the puff pastry doesn't use butter, and you're good to go!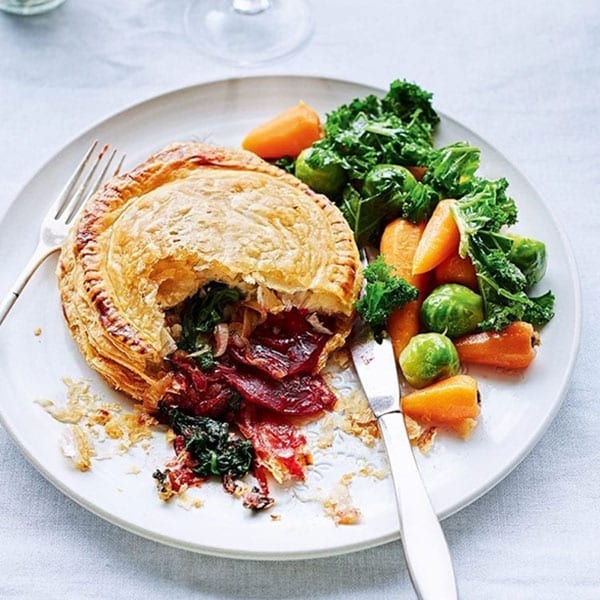 6. Chickpeas with winter vegetables and saffron
This recipe is for turlu turlu, an Eastern-take on ratatouille which uses chickpeas and seasonal root vegetables. It's just what you need to survive January and warm up on those colder evenings.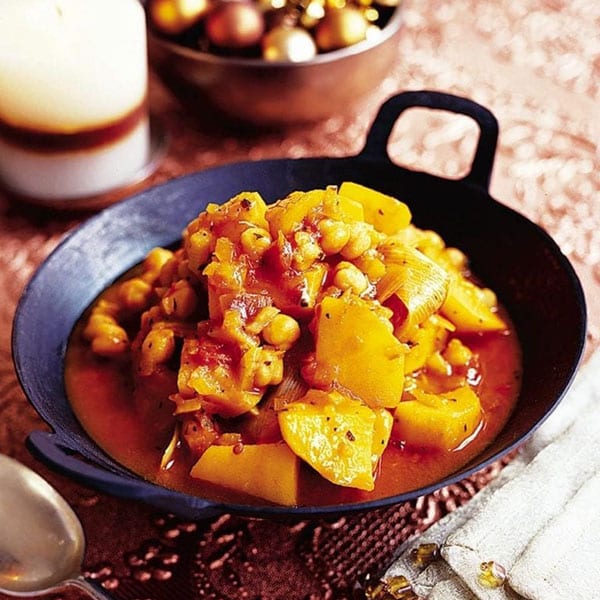 7. Baked falafel in tomato sauce
It's no secret that falafel is a vegan's best friend. Take your love for Middle Eastern cuisine further by making our speedy vegan take on shakshuka, served with fluffy and warm flatbreads or sweet potato wedges for a full-blown feast.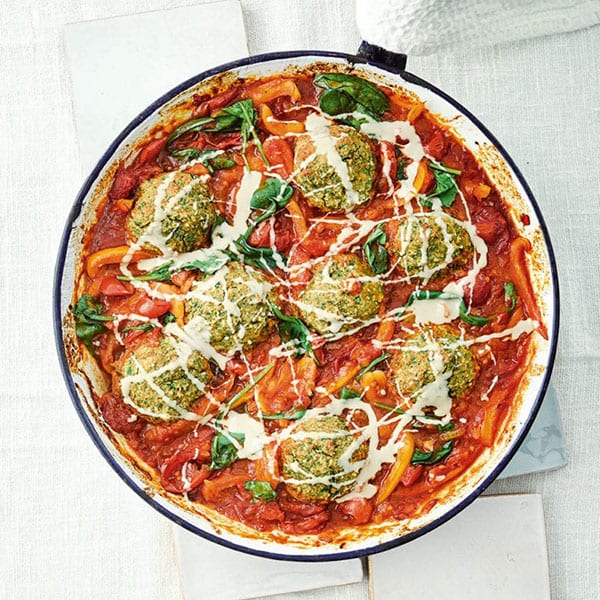 8. Spicy potato and cauliflower burger
January blues getting you down? We've got just the recipe to change that. Spice up your life with this fiery vegetable burger made from cauliflower and potatoes, served with tamarind paste, yoghurt and a fruity mango chutney. If you're going to serve them on buns, make sure to check they're vegan.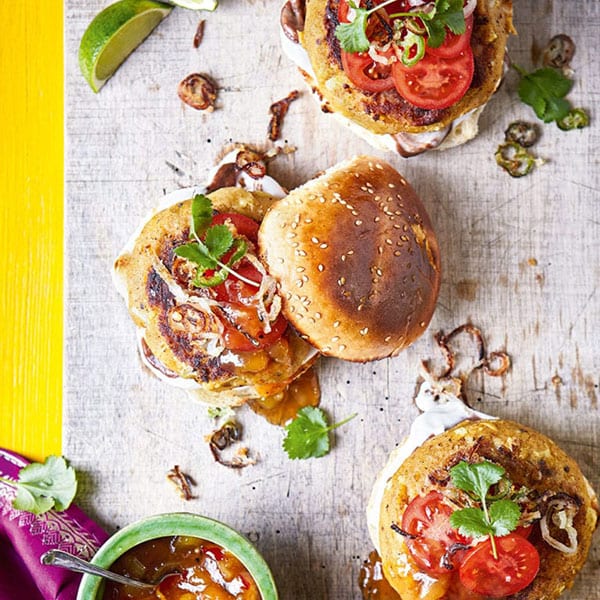 9. Butterbean and vegetable stew
Just because you're short on time doesn't mean you have to sacrifice flavour. This wholesome one-pot requires minimal effort and only takes 30 minutes before it's ready for you to dip in a crusty baguette. Sounds like a recipe for success, if you ask us…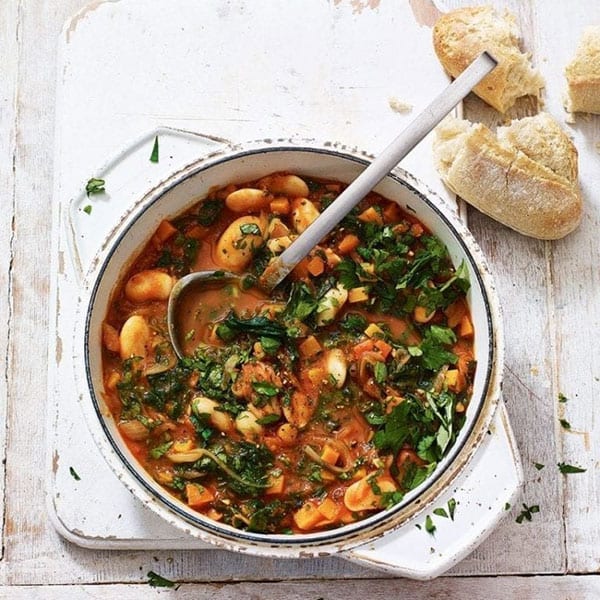 10. Vegetable gyoza dumpling stir-fry
If we could, we'd be tucking into hot gyoza dumplings every day – they're that good! This vegetable gyoza stir-fry only takes 15 minutes and can be cooked straight from the freezer; it doesn't get much quicker or easier than this Japanese gem.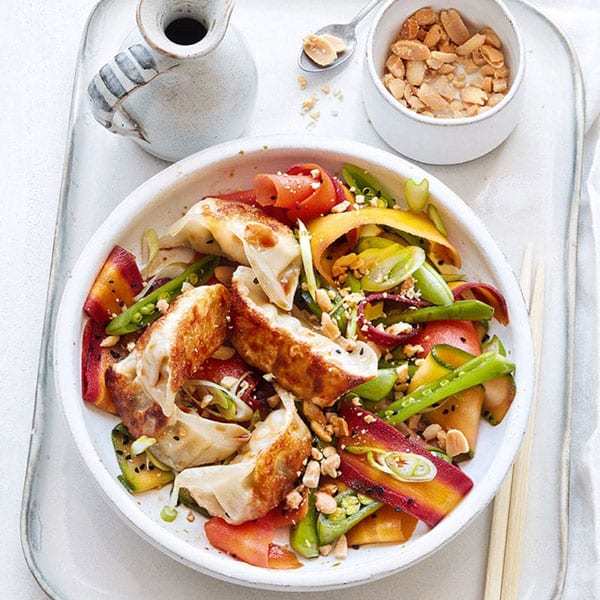 11. Aubergine, tomato and chickpea traybake
This simple but flavourful traybake freezes and reheats well, making it a great dish to make at the weekend in prep for the week ahead. Alternatively, you could take the leftovers for your lunch the following day and feel über proud of your organisational skills.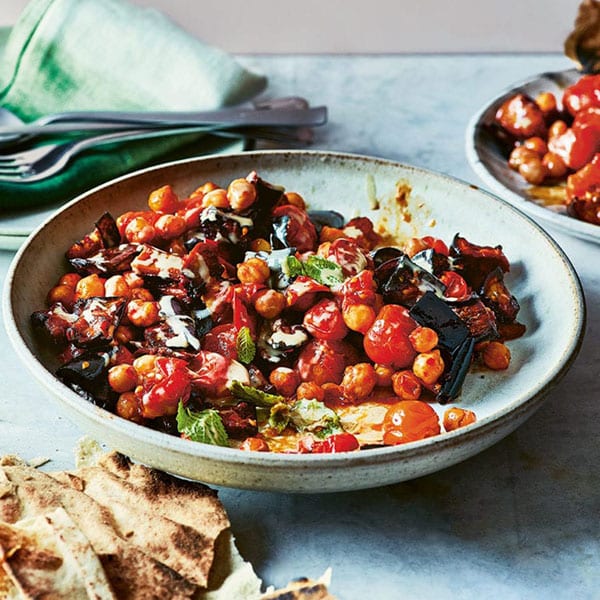 Houmous and pasta – an unlikely combination you never knew you needed in your life… until now. This unconventional take on a pasta sauce uses houmous, avocado, frozen peas and coconut milk. Trust us, the results are life-changing.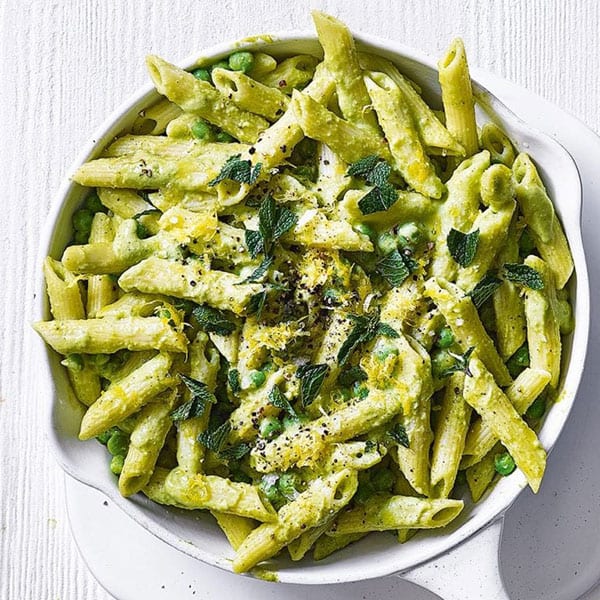 13. Dhal with spinach and tomatoes
Dhal has a special place in our hearts; it's simple, reliable and will always leave a feeling of satisfaction. In this healthy dhal, garam masala, red chilli and mustards seeds make for an aromatic trio, plus it's full of vegetables and lentils and comes served with rice.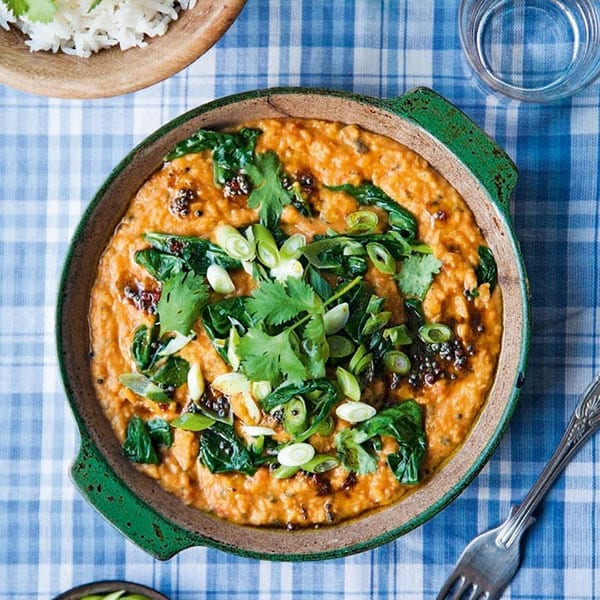 14. Pasta with wild mushroom sauce
You won't believe this creamy wild mushroom sauce is dairy-free. Made from oyster and chestnut mushrooms, the sauce can be served over pasta with wilted baby spinach leaves. Perfect for when you're in a hurry and are looking for something which is both rich and filling.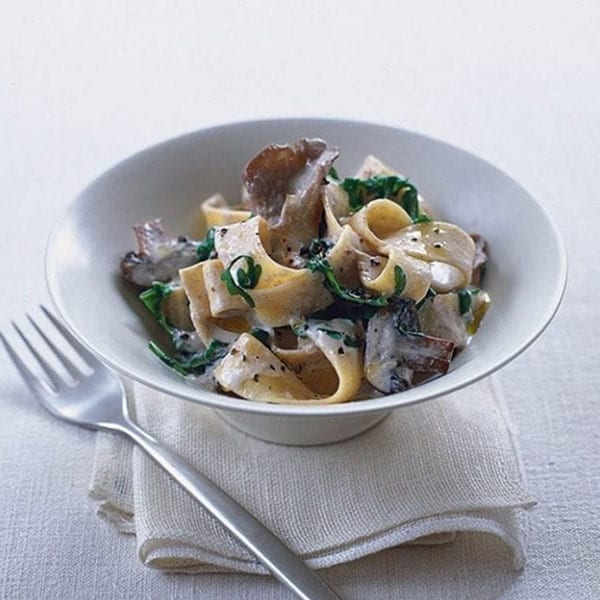 15. Aubergine and tofu stir-fry
Craving Chinese food? Instead of breaking the bank by ordering a full-blown takeaway, have a go at making this simple vegan stir-fry. This dish really brings the heat with fiery red chillies and chilli bean paste and is sure to satisfy even the most committed of carnivores.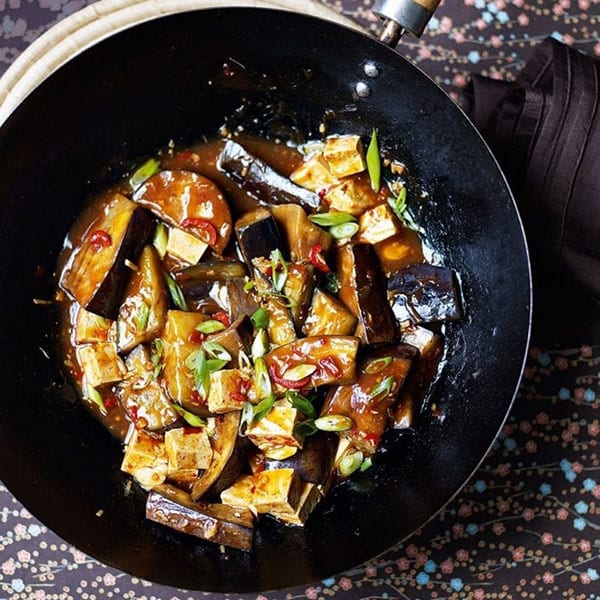 16. Roasted squash and pepper salad
A sweet and savoury salad which is packed with wintery vegetables and served a sharp dressing for extra zing, this salad makes a substantial supper or make-ahead lunch for any day of the week.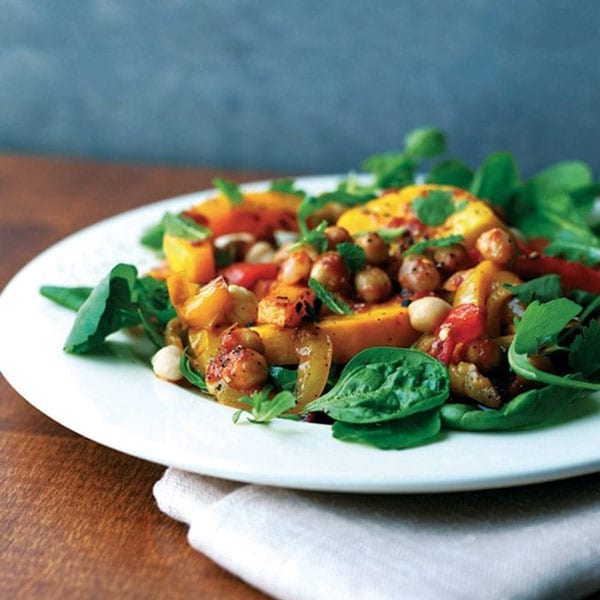 Transport yourself to New Orleans with our fragrant and filling 'dirty rice'. This recipe proves just how easy it can be to turn any dish into a meat-free meal by replacing liver with kidney beans. Skip the boiled eggs to keep it vegan.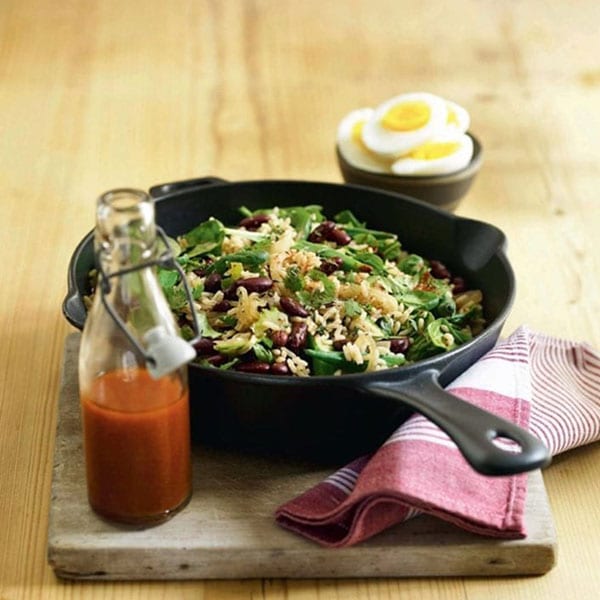 18. Black rice paella with artichokes, peppers and spinach
We've upped the ante on a traditional paella by using black venus rice and swapping the seafood and chorizo for fresh artichokes, peppers and spinach. It's a good-looking dish which is bound to impress if you're hosting guests, too.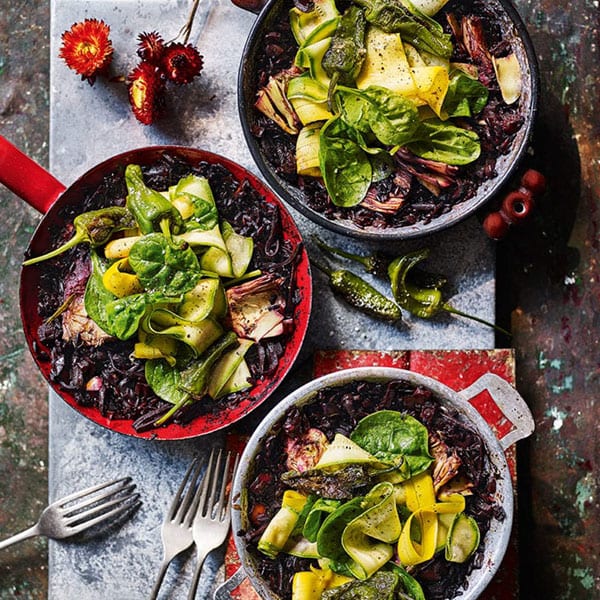 19. Butternut squash and sage macaroni
Macaroni cheese is the ultimate comfort food and although you might be sceptical, only gets better with this vegan twist on a classic. Butternut squash, sage and garlic are blended to create a thick and creamy sauce, making one impressive dairy-free alternative. It's real comfort food and surprisingly good for you, too.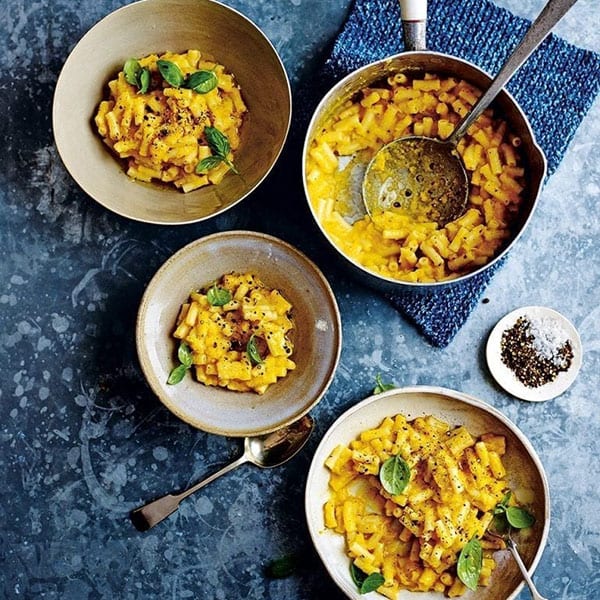 Bring the flavours of Italy straight to your table with this sweet and sour salad, featuring every colour of the rainbow including red onions, celery sticks, aubergines, capers and green olives. It's super fresh, healthy and of course, delicious.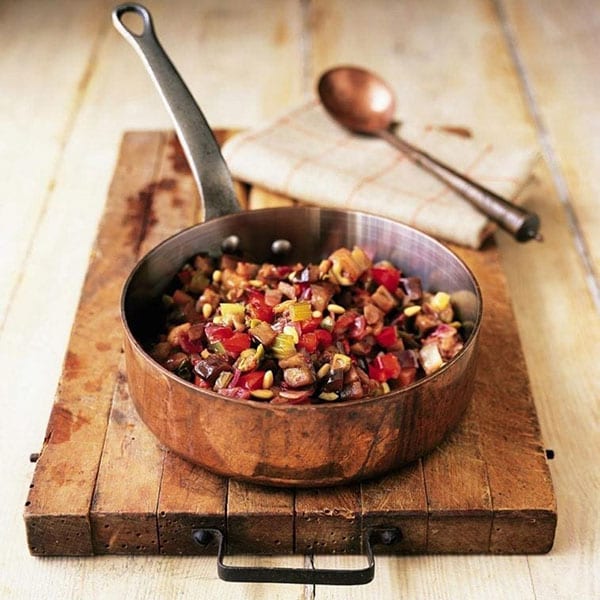 Tick off your five-a-day with this French stewed vegetable dish, packed with aubergines, peppers, courgettes, onions, garlic and more. A classic dish made meat-free; we have no doubt you'll return to this well-rounded recipe time and time again. Bon appétit!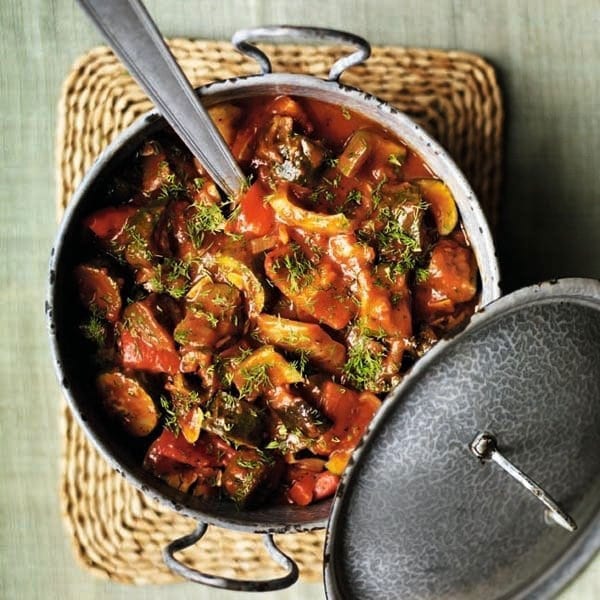 22. Vegan Turkish kebabs with chilli sweet potato mash and roasted veg
Just when you thought kebabs couldn't get any better, our meat-free makeover uses vegan mince and just the right seasoning of za'atar, baharat and chilli flakes. Thanks to this, you'll never look at kebabs the same way again.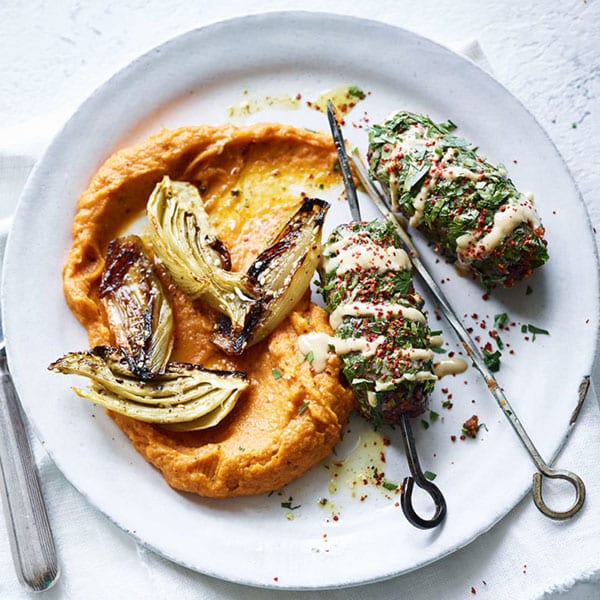 23. Five-spice smoked tofu nuggets
Going vegan doesn't mean you can't treat yourself. Indulge in some vegan nuggets made from smoked tofu, delightfully seasoned with Chinese five-spice powder and smoked paprika. We promise they taste just as good, if not better, than your average chicken nuggets.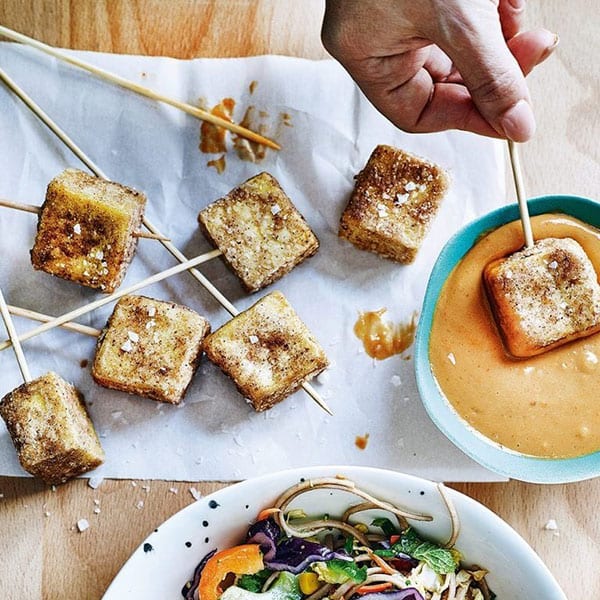 24. Spicy leek and white bean stew
Loaded with warmed up onions, leeks, tomatoes and cannellini beans, this recipe has everything you need for an icy winter's night. This spicy vegetable stew is so tasty and filling that you may start to wonder why you ever ate meat…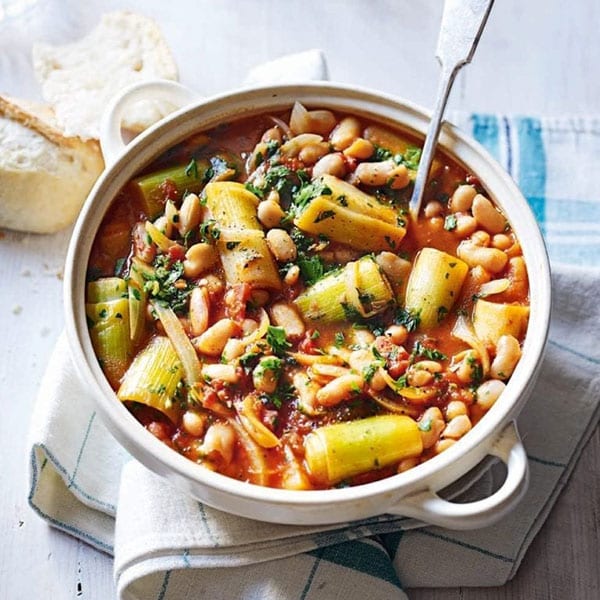 25. Quinoa risotto with pumpkin and spinach
Not only is this dish vegan, but it's also gluten free! Roast pumpkin and butternut squash are served with lots of fresh herbs, ready to combat any signs of dreary weather.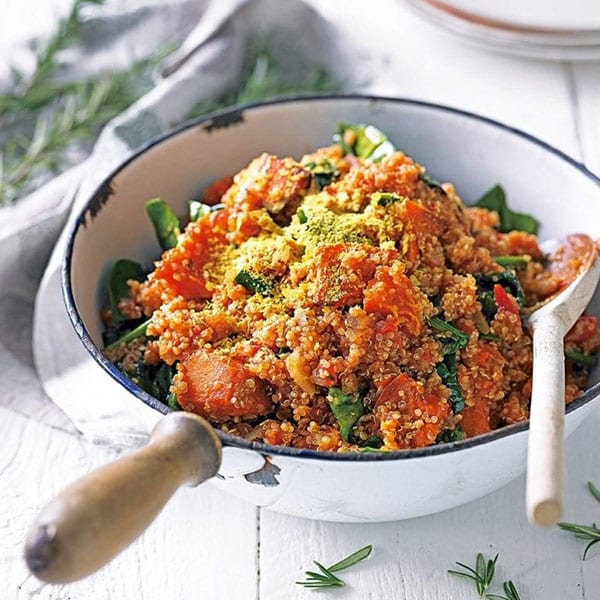 26. Aubergine and chestnut tagine with couscous
Another staple in the vegan diet, the versatile aubergine acts as the perfect foundation to accompany pumpkin and chestnuts in this tagine, served on a bed of fluffy herb couscous.
27. Cauliflower, swede and turnip curry
Looking for a dish with a health kick? This is your guy. Teeming with hearty root vegetables and an alluring array of herbs and spices, this is veganism at its most impressive.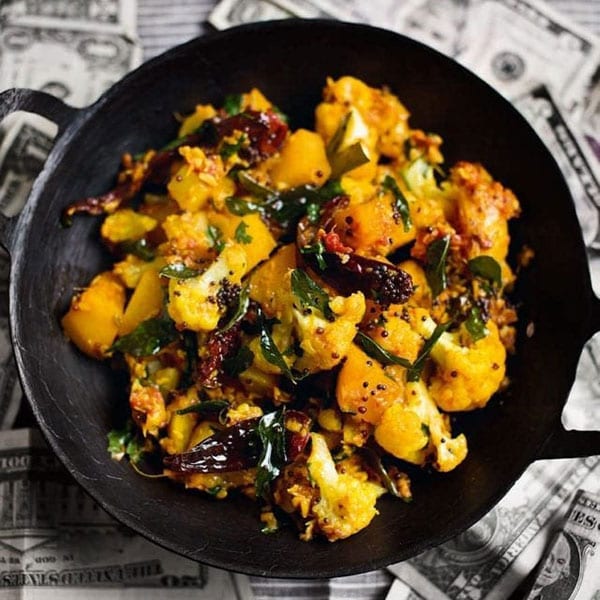 28. Soba noodles with aubergine and mango
Sweet and savoury have never tasted so good together. This Ottolenghi-inspired recipe combines fresh mango and aubergine with soba noodles in a feast for the senses.
29. Pizzette with vegan mozzarella and onion relish
Just because you're doing Veganuary, doesn't mean you can't have cheese on your pizza. Let this gorgeous pizzette topped with onion and non-dairy mozzarella be your beacon of hope in the cold and dark January nights. Comfort food at its finest!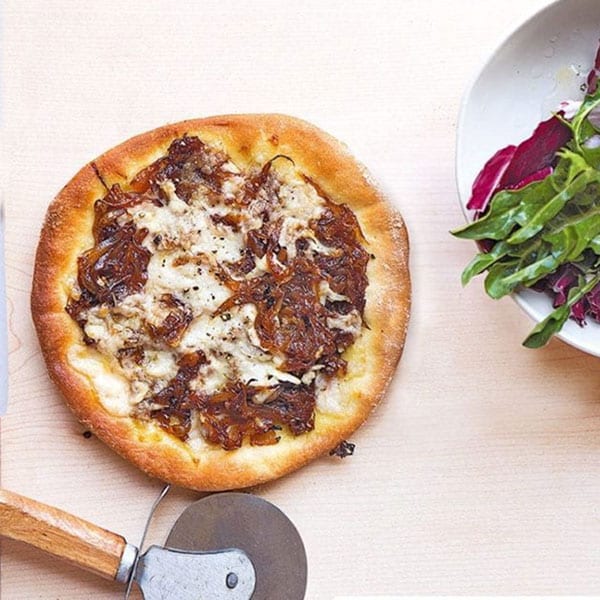 30. Herb-crusted cauliflower and leek 'cheese'
We know what you're thinking: cauliflower cheese, without the cheese?! No need to panic… This crafty recipe opts for coconut milk, miso paste and cashew nuts to make a sauce which is just as creamy and 'cheesy' as what you've come to expect. Topped with leeks and a crunchy herb crust, you'll want to keep this one all for yourself.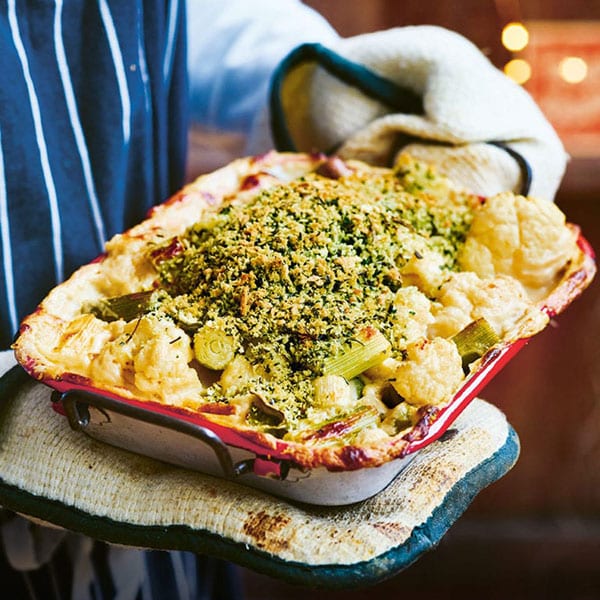 Is a katsu curry calling your name? This vegan-take-on-a-Japanese-classic swaps chicken for crispy, crunchy tofu, giving you a meat-free dish packed full of flavour. It's a curry made for the weekend, and is sure to impress meat-eaters, veggies and vegans alike.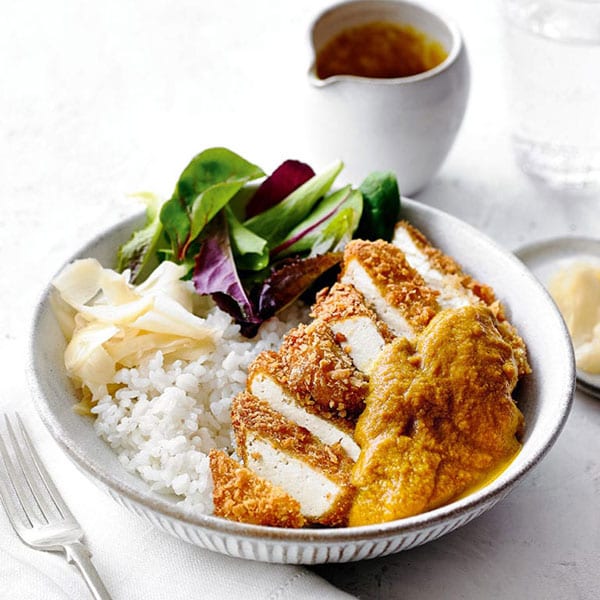 Subscribe to our magazine
Subscribe to delicious. magazine for HALF PRICE
Subscribe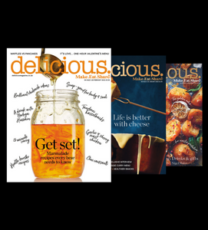 Join our newsletter
Packed with menu ideas, recipes, latest competitions and more...