Dead fly pies. Yum…
By Susan Low
I grew up in the US and autumn was always an exciting time of the year for me. My birthday is in late October for one thing, and following hot on the heels of birthday presents and parties came Halloween and trick-or-treating. What kid doesn't love dressing up, being a bit bolshy and demanding (and getting) bagfuls of sweets as a reward?
Kids at school would often have Halloween parties around this time and the food was as unlike the staid ice cream and cake that you'd get other times of year as it could be. Good taste went out the window when Halloween rocked up, and a good, ghoulish, gross-out was what we all craved…
Blood-sucking jellies
We revelled in eating the likes of 'witches' eyeballs' (peeled grapes) and 'boiled brains' (mashed-up gelatine) washed down with 'blood and guts' punch (red tomato juice with bits of orange and watermelon in it to simulate the 'guts'). The more disgusting the dish was, the more horrible it looked and the nastier the name, the more we loved it.
More than meets the eyeball?
It was only when I went to university years later and studied anthropology that I started to wonder if there was anything more to this sort of thing than met the eye(ball). By an odd coincidence, it was around Halloween-time that one of our lectures covered the topic of endocannibalism, a practice in some societies (such as certain rain forest tribes in South America and some tribes of Papua New Guinea) in which the flesh or bones of deceased relatives or tribe members are ritually consumed.
Witches' fingers with blood sauce
At a party the next weekend, I was served a grown-up version of boiled brains (red and yellow Jell-O spiked with lots of vodka) and some finger-shaped biscuits decorated with fake blood. My inner child was suitably grossed-out but my adult self was a bit discomfited. I declined the finger biscuits.
The next week, a psychology lecturer touched on a similar subject. Why, she asked us, did we students think that young children got such a cheap thrill from eating foods that resemble blood and guts? Her theory was that inverting social norms, as is done at Halloween, is a way for children to escape parental control without fear of being punished. It's a way of sticking two fingers up to the grown-ups; then eating them.
But maybe that's all be a bit too theoretical. Maybe it's just that kids like to eat things that feel a bit 'naughty', safe in the knowledge that they're not naughty at all.
If you have a child (even an inner one) that you want to serve a scary plateful too this Halloween, try these high fright-factor dishes:
Subscribe to our magazine
Subscribe to delicious. magazine for HALF PRICE
Subscribe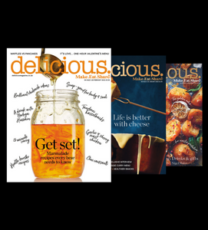 Join our newsletter
Packed with menu ideas, recipes, latest competitions and more...