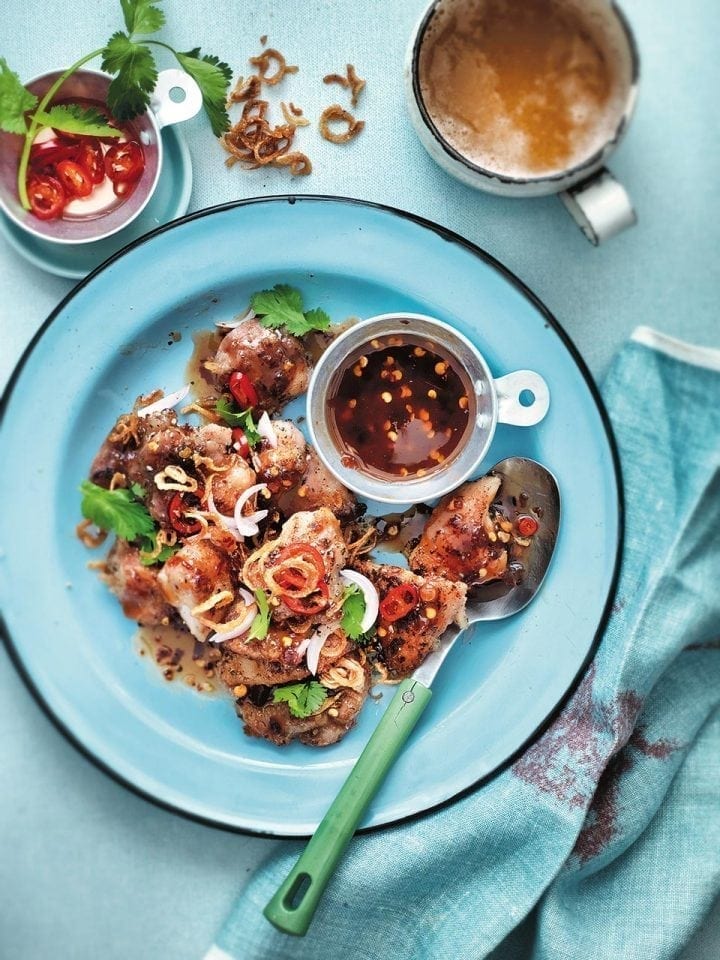 Serves 4

Hands-on time 25 min, cook time 25 min, plus 1 hour marinating
Dairy-free recipes
Ingredients
8 boneless, skinless chicken thighs, quartered (corn-fed or free-range chicken makes a big difference in flavour)
60ml fish sauce
2½ tablespoons sugar
2 garlic cloves, crushed
Cornflour, for dusting
80ml vegetable oil
2 red Asian shallots, thinly sliced into half moons
1 thumb-size red chilli, sliced and soaked in 2 tablespoons rice wine vinegar
2 tablespoons torn mint leaves
2 tablespoons coriander (cilantro) leaves
For the tamarind sauce
1½ tablespoons tamarind purée
1 teaspoon finely grated garlic
Juice of 2 limes
1½ tablespoons finely grated palm sugar (jaggery) or soft brown sugar
1 tablespoon fish sauce
2 teaspoons chilli flakes
Method
Combine the chicken, fish sauce, sugar and garlic in a large bowl and season with black pepper. Cover and refrigerate for at least 1 hour, or overnight if time permits.
Meanwhile, to make the tamarind sauce, put all the ingredients in a small saucepan and stir over low heat for 5 minutes or until the sugar has dissolved. Remove from the heat and set aside.
Drain the chicken and pat dry with paper towel. Dust the chicken in cornflour and shake off the excess. Put two large frying pans over medium–high heat and add 2 tablespoons of vegetable oil to each pan. When the oil is nearly smoking, add the chicken and cook, in batches, for 3 minutes on each side. When the chicken is browned all over, reduce the heat to medium–low and cook, turning frequently, for another 5 minutes or until cooked through. Drain on paper towel.
Transfer the hot crisp chicken to a large serving platter. Spoon the tamarind sauce over the top, then scatter with the sliced shallots, pickled chilli and herbs.
delicious. tips
The day before, pickle the chilli, marinate the chicken, cover and refrigerate. Make the tamarind sauce earlier in the day. Cook the chicken just before serving.