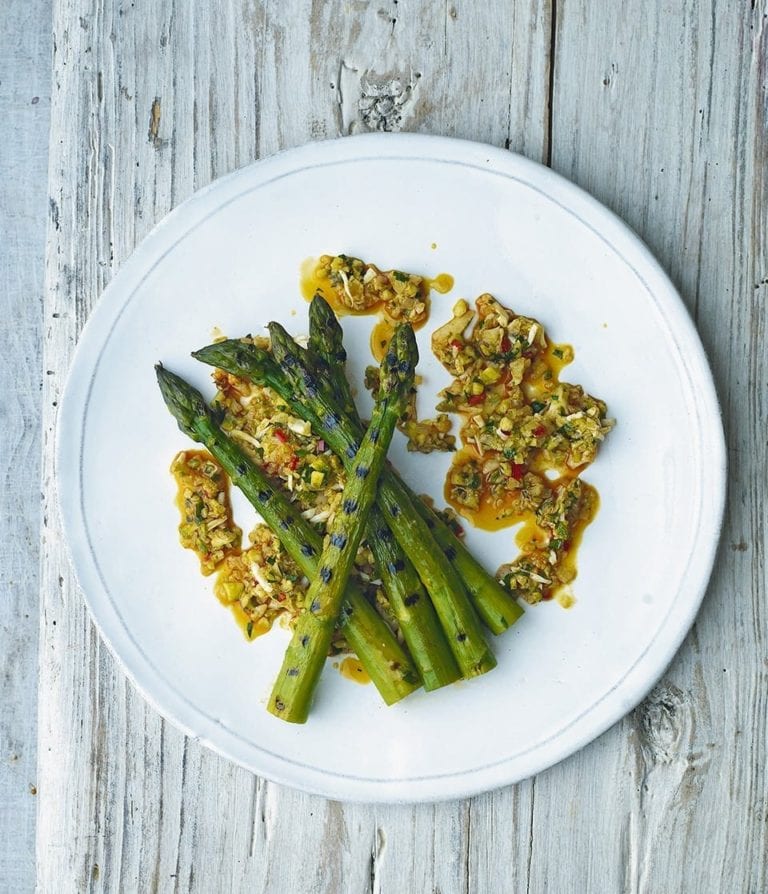 Test kitchen approved
Serves 4

Preparation time 5 min, cooking time 25 min
Raymond Blanc's elegant vegan starter marries spring asparagus and summer vegetables with a smoked paprika dressing. It would be a lovely light starter to kick off an Easter feast or summer dinner party.
Here's another starter that celebrates the bounty of the spring harvest: Gill Meller's spring vegetable soup. Or, we've got plenty more asparagus recipes.
Vegan recipes

Vegetarian recipes
Ingredients
For the paprika dressing
3 tbsp extra virgin olive oil
½ tsp smoked paprika
2 tsp lemon juice
For the hard-boiled eggs and grilled asparagus
2 eggs
20 green asparagus spears, woody ends removed
90–120ml refined olive oil
For the vegetable crumble
3 tbsp olive oil
80g baby courgettes (about 2½), pulsed in a food processor for 30 seconds
80g cauliflower, pulsed in a food processor for 30 seconds
30g banana shallot, finely diced
½ red chilli, finely chopped
3 large pinches of smoked paprika
pinch of salt
80ml water
2 tbsp lemon juice
10g parsley, chopped
5g chives, chopped
Method
For the paprika dressing: mix all the ingredients and reserve.
To hard-boil the eggs, using a spoon, slide the eggs gently into a small pan of water. Bring to a simmer for 13 minutes, then remove and immediately run under cold water. While still warm, peel the eggs then transfer to the fridge. Once cold, separate the whites from the yolks and grate each part on the coarse side of the grater (keep them separated), then set aside.
To prepare the asparagus, lay five spears side by side and secure them together with two metal skewers (thread these through one at each end, avoiding the tips, so that the spears are kept straight). Repeat with the remaining three batches of five. Blanch in plenty of boiling water for 3 minutes, then immediately plunge them into cold water to stop the cooking and dry thoroughly (leave them on the skewers).
To cook the asparagus, heat a griddle pan on a high heat. Brush the skewered spears lightly with 2 tablespoons of the olive oil. When the pan is hot, lay the asparagus flat and leave for 3 minutes to gain deep griddle marks. Turn over using tongs and griddle for another 3 minutes. If necessary do the griddling in batches; simply keep the asparagus warm in an oven set at 80ºC/gas ¼ while you grill the remaining asparagus.
For the vegetable crumble, in a large sauté pan on a high heat, add the olive oil and fry the courgette, cauliflower, shallot, chilli, paprika and salt for 30 seconds. Add the water, lemon juice, parsley, chives and egg white and boil for 5 seconds then remove from the heat. Stir in the egg yolk and check the seasoning.
To serve, place a spoonful of the vegetable crumble in the centre of each plate and arrange a stack of the grilled asparagus on top. Finish with a drizzle of the paprika dressing.