All you need to know about asparagus
Seasonal stars don't come any better than May's offering of beautiful British asparagus recipes, says Tom Norrington-Davies.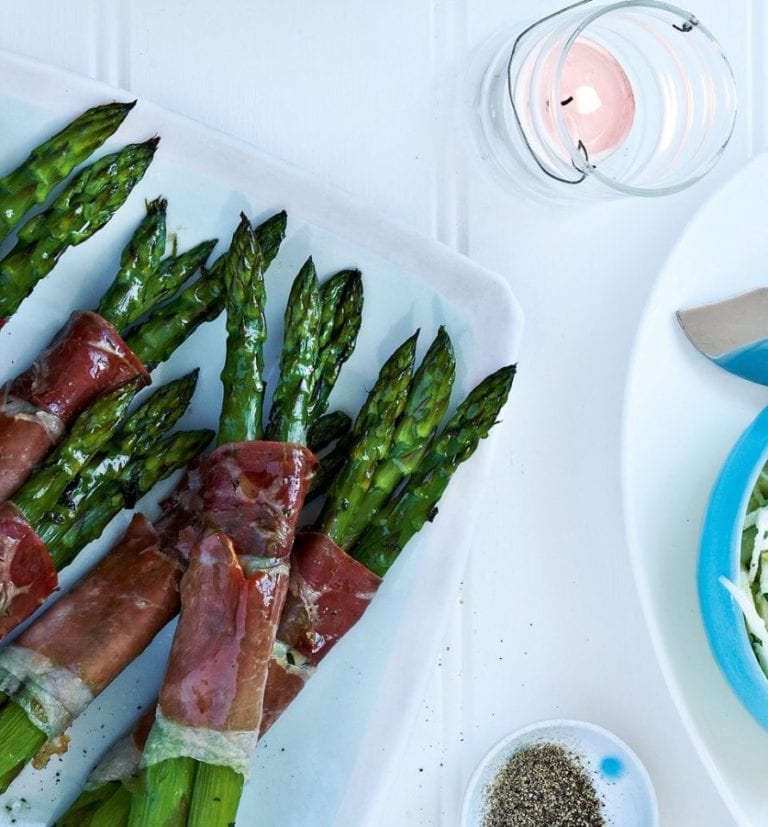 When is asparagus in season in the UK?

Although it is possible to buy asparagus all year round, the true season is with us for just eight weeks, but the fickleness of the British weather means the exact date of its appearance is anyone's guess. The season starts at the end of April, but the crop really hits its stride in May.
Why buy British?

There are good reasons why you should try to stick to the local stuff. Asparagus is full of naturally occurring sugars that turn to starch once it has been cut. Texture and flavour (not to mention goodness) deteriorates very soon after. Anyone who grows asparagus will tell you that it should be eaten within hours of its harvest. Annoying, isn't it? The majority of us, sans garden or time to nurture our own clumps of the stuff, will have to make do with buying it.
Asparagus is expensive enough to warrant a bit of quality control. Ask your local greengrocer where and when whatever he is selling was picked. Better still, find a local grower or use farmers' markets. Wherever possible, avoid the air-freighted versions. Even during the British season, the imports can seem cheaper.
How to choose asparagus
If you don't relish the idea of interrogating your friendly grocer, then do a bit of detective work yourself. There are two main types of asparagus, relating to the stage at which it was cut:
– 'Sprue' is what we call the young, thin version. It should be pea-green and flexible from top to toe.
– More mature asparagus (sometimes known as 'jumbo') will have a thicker, off-white base. The upper spear may be shot through with a hint of purple.
– Look out for damaged or wrinkled asparagus. That's your most obvious clue to how long it has been knocking around in the shop.
How to store asparagus
You should cook it as soon as possible. Of course, it isn't always possible to do this, so there are ways round it:
– Wrapping asparagus in a damp tea towel before popping it in the fridge is meant to slow down any loss of sweetness for one or two days.
– If you have enough room in the fridge you can even keep it in a shallow vase like cut flowers.
– Blanching it very briefly also works.
How to cook asparagus
– Sprue is often edible from top to bottom but thicker asparagus needs a little attention before you can cook it. The lower part of the spear is woody and needs to be removed. The best way to tell where the spear becomes woody is to hold it at either end with your thumb and forefinger and gently bend it until it naturally snaps. Then, using a paring knife or peeler, remove the outer part of the stem up to about an inch above where you snapped it. If this seems wasteful, don't throw away the lower stem or the peelings. Asparagus trimmings make great stocks and soups. See my Asparagus Vichyssoise soup recipe.
– Fresh spears are so full of character and flavour that I like to let them take centre stage. For most recipes just blanch or steam the asparagus spears for 1-2 minutes for sprue and 3-4 minutes for jumbo. Asparagus is also great cooked directly on a griddle pan.
Subscribe to our magazine
Subscribe to delicious. magazine this month, save over 40% and get a free 1 year tastecard membership
Subscribe