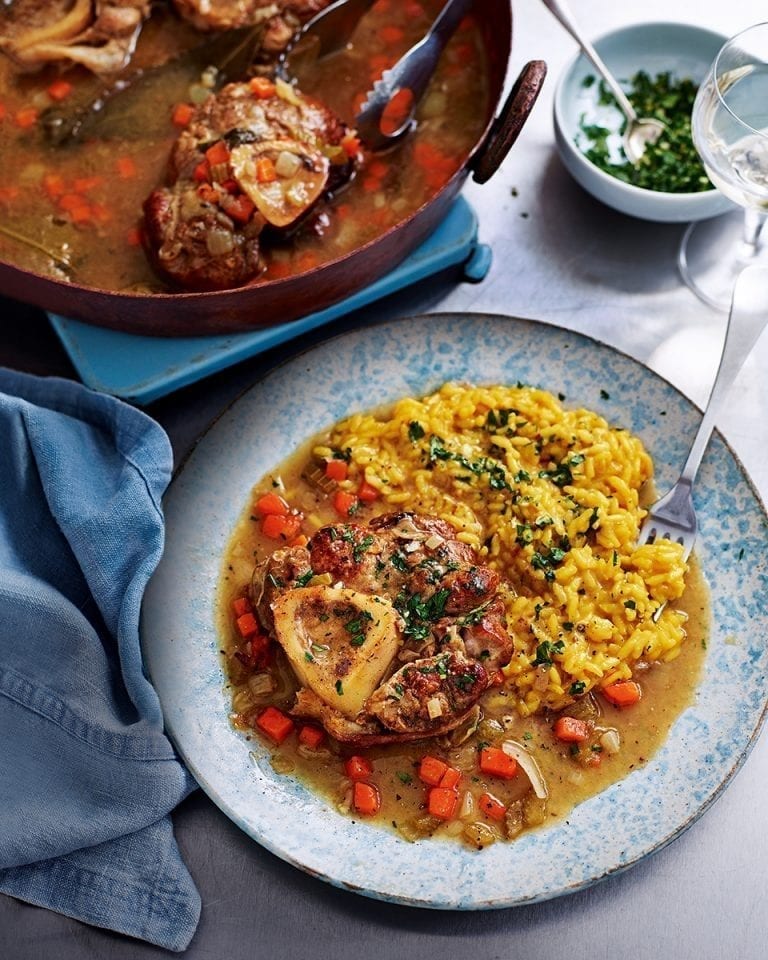 Serves 4

Hands-on time 1 hour 20 min, oven/simmering time 3 hours
As the veal shanks are slow-cooked, rich meaty flavours are released from the bone into the sauce to make this a seriously meaty dish. Jacob Kenedy serves his the traditional way, with saffron rissotto.
Freezable
For the osso bucco: 598kcals, 22.2g fat (9.2g saturated), 52.9g protein, 11.7g carbs (5.2g sugars), trace salt, 2.2g fibre
For the risotto: 547kcals, 37.1g fat (23.7g saturated), 14.3g protein, 33.3g carbs (1g sugars), 1.4g salt, 0.6g fibre
delicious. tips
Ask your butcher to saw the osso buco into 'double-cut' (double thickness) slices, at least 5cm thick.

If you can't get hold of osso buco, the closest you can get to the flavour would be to use chicken legs or quail. You could use beef shin, pork shin or lamb shank if you prefer, but veal is the most authentic.

For the risotto you can use arborio rice in place of carnaroli. Toasting the rice first isn't essential, although it does impart a lovely nutty flavour.

This dish is perfect for entertaining as the osso buco and risotto can be cooked or prepared in advance.

Cook the osso buco up to 3 days in advance; keep covered in the fridge. Reheat in the oven until piping hot and scatter over gremolata to serve. Or freeze for up to 3 months in a sealed container. Partially prepare the risotto (up to the end of step 6) up to 20 minutes in advance.