Christmas coffees taste test 2019: the best and the worst
From crème brûlée lattes to cappuccinos spiked with festive spices, it seems every coffee shop is offering Christmas varieties of their most popular drinks, and boy, are they pushing the boat (or should we say sleigh) out. But does the new line-up of festive coffee shop drinks live up to the hype? With our Keep Cups in hand, we embarked on a mission to try them out in order to sift through the good and the erm, not-so-good.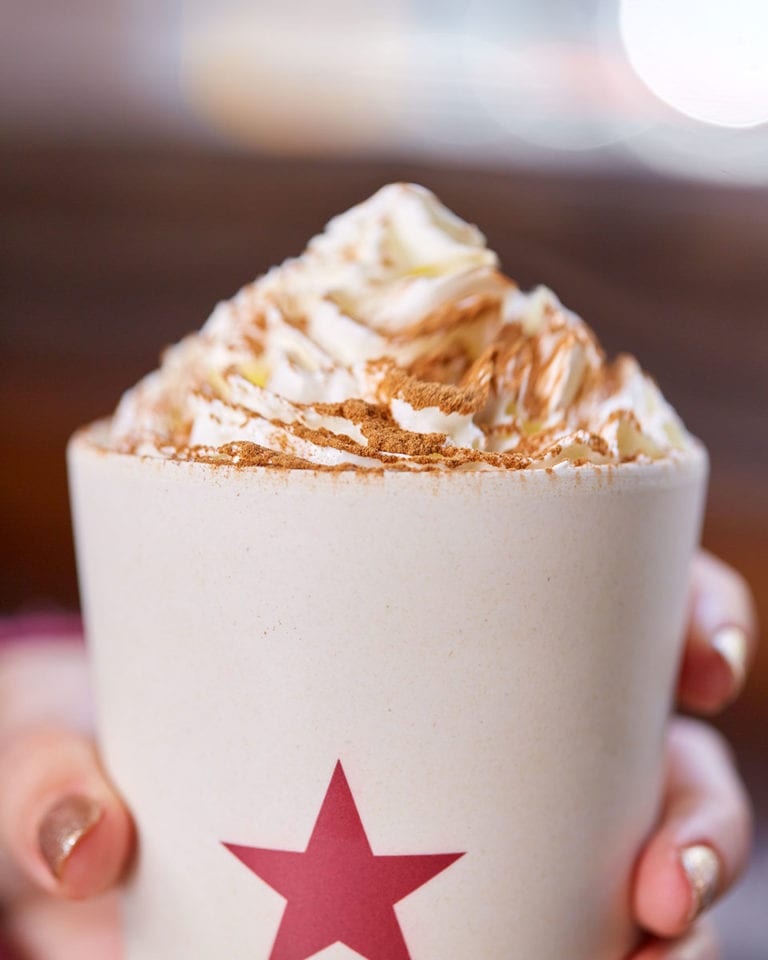 Irish velvet latte: 4/5
Costa's new velvet latte brings the flavours of Christmas to your taste buds, with an added helping of non-alcoholic Irish Cream sauce to give a warming festive kick. The dash of chocolate dusting and golden white chocolate star ramps up the sweetness but we're not complaining; it's Christmas after all.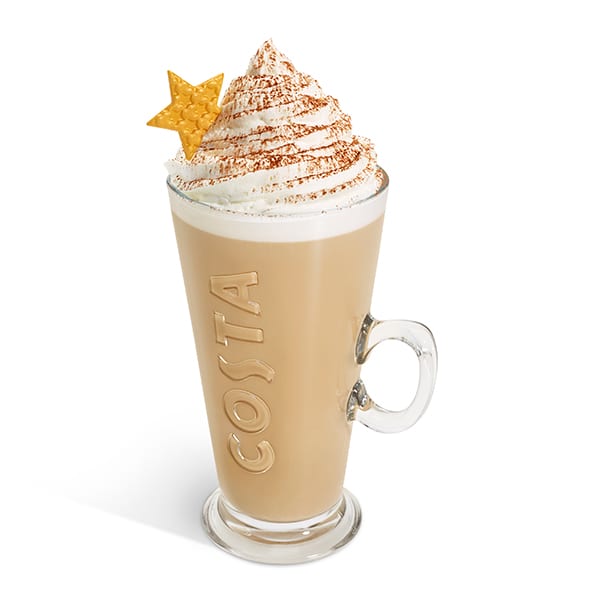 Festive spiced cappuccino: 3/5
If you're in the market for a festive drink which isn't too sweet, take a good look at Costa's new spiced cappuccino. Though if you usually take your cappuccino dusted with chocolate, this may not be to your taste as sweet notes are swapped for warming festive spices.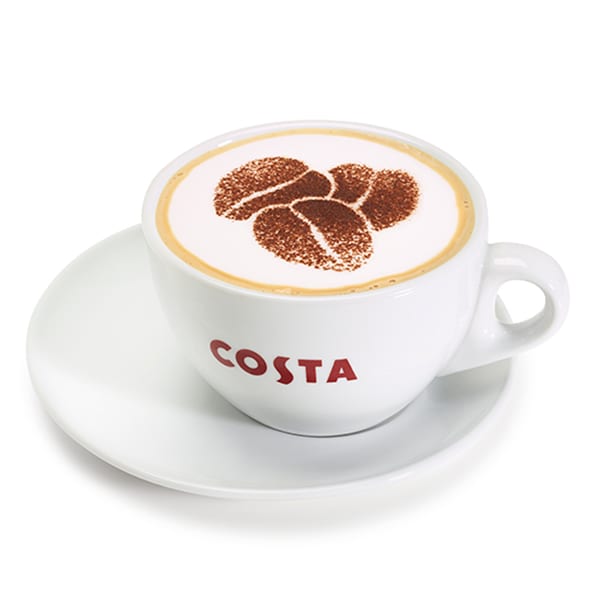 Toasted marshmallow hot chocolate 4/5
Though we're surprised to see only one new flavour from festive juggernaut Starbucks, we're pretty pleased with this toasted marshmallow drink. They've done a good job in re-creating a sweet, warming toasted flavour, but it dominates all chocolate notes and could be too sweet for some. It's a little different, which is what we like to see.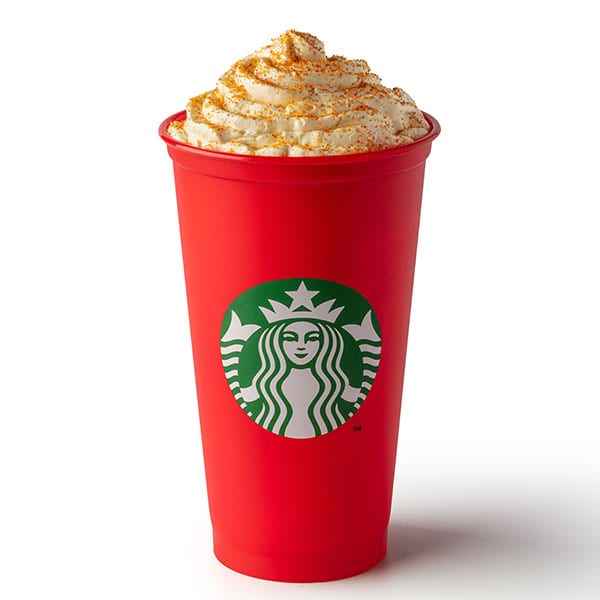 Orange hot chocolate: 4/5
It's a flavour we've seen before, but that doesn't make it any less of a festive treat. This citrussy orange hot chocolate, topped with cream and chocolate curls, makes the perfect antidote to cold wintery days and reminds us why hot chocolates are such a luxury.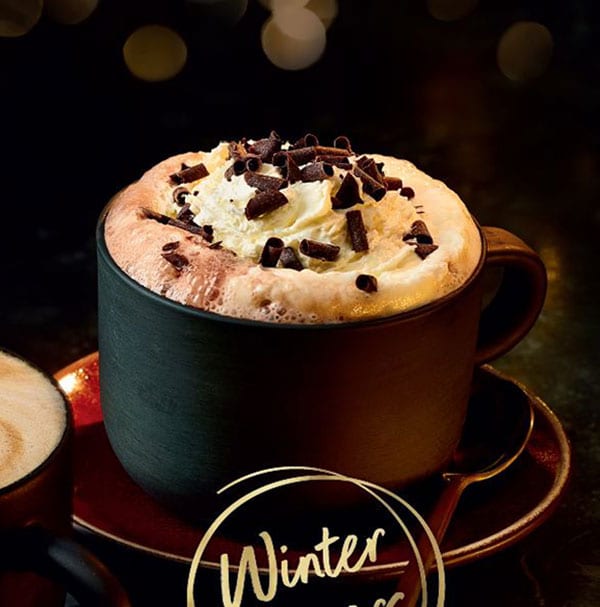 Praline and cream latte: 3/5
New to stores this year, M&S's praline and cream latte is so impressively nutty and sweet, you can't even tell it's a latte (perhaps a letdown for anyone craving caffeine). There's no doubt it's flavoured with a rich praline syrup, so if you're looking for a decadent, super-saccharine drink to sip on throughout the colder months, this is your guy. Topped with cream and golden crunch, this is the sweetest winter warmer going.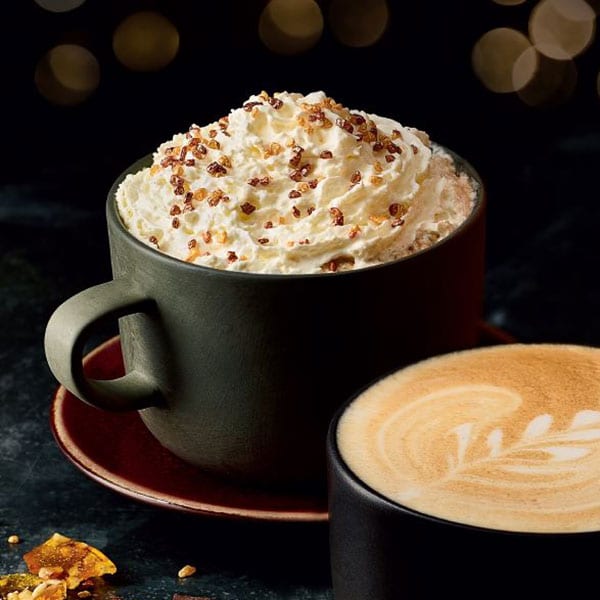 Hazelnut hot chocolate: 5/5
The cream of the crop, Pret's hazelnut hot chocolate is essentially warm, silky Nutella in a cup, making it an unmissable drink for the festive season. If you can handle the sweetness, pair it with Pret's Christmas tiffin – made of gingerbread biscuit, chocolate, cranberries and chopped pistachio – for a full-blown festive treat.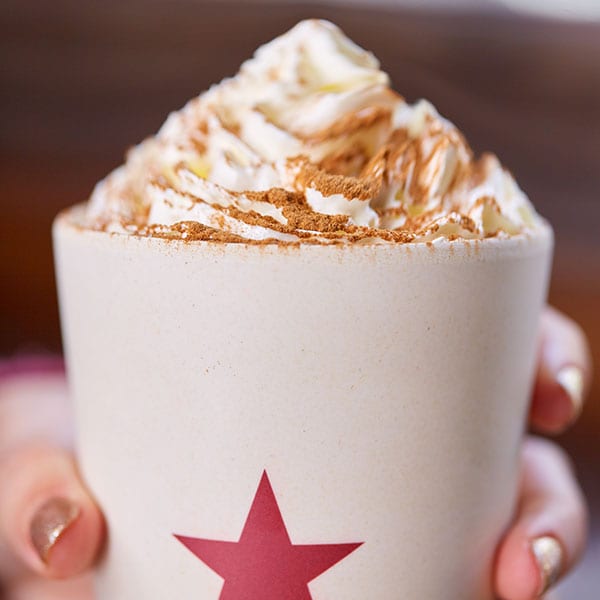 Crème brûlée latte: 2/5
We were initially on board with this idea, however the crème brûlée flavouring failed to live up to our expectations. It needs to pack a bigger punch; the taste is too subtle to class as a particularly indulgent festive drink.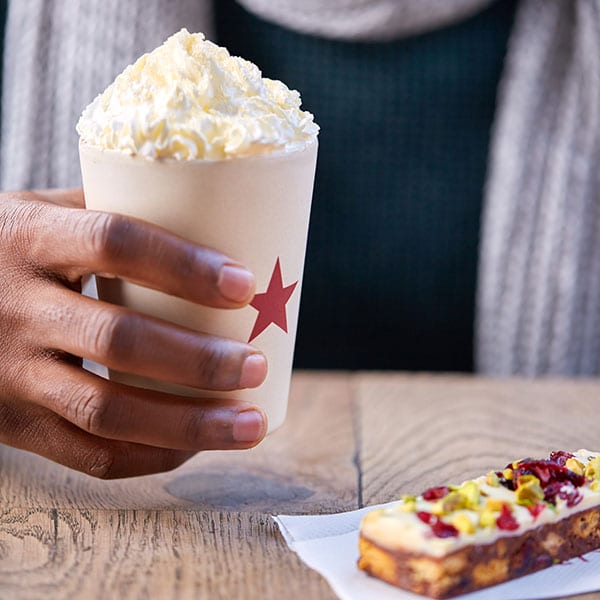 Honeycomb hot chocolate: 4/5
For those with an unrelenting penchant for all things sweet, give EAT.'s honeycomb hot choc a go. This traditional hot chocolate blends finely with honeycomb syrup to create a rich, creamy and frothy beverage, brilliant to cosy up with as the temperature drops.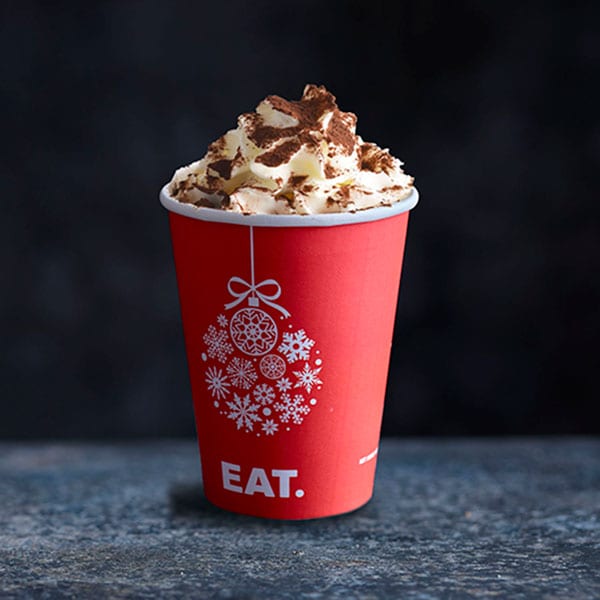 Salted caramel latte: 2/5
This festive latte doesn't quite deliver the decadent flavour we've come to expect from salted caramel, however it's still a nice change from your usual creamy coffee. But by the final sip, it tastes less like a festive beverage and more like a latte supercharged with sugar.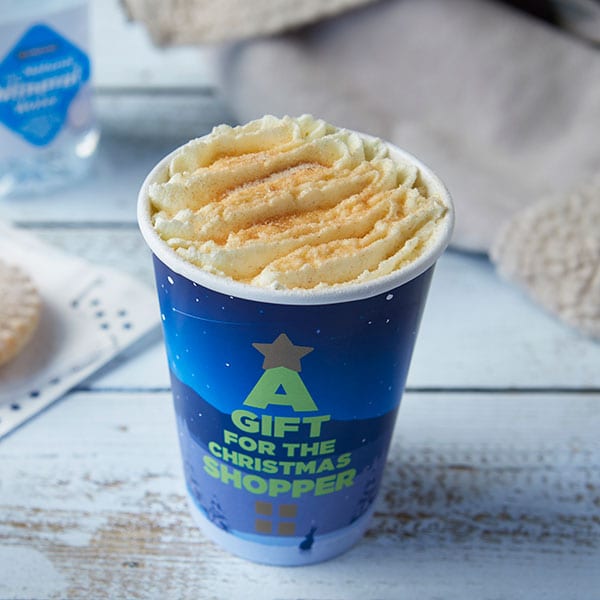 Mint mocha: 4/5
A minty twist on your regular coffee? Sounds good to us. It's nice to see a mocha make the line-up; we think it joins the best of both worlds to make something pretty special. Though it needs a touch more mint to make it a proper festive winner, it's certainly a coffee we'd like to see more of in the coming years.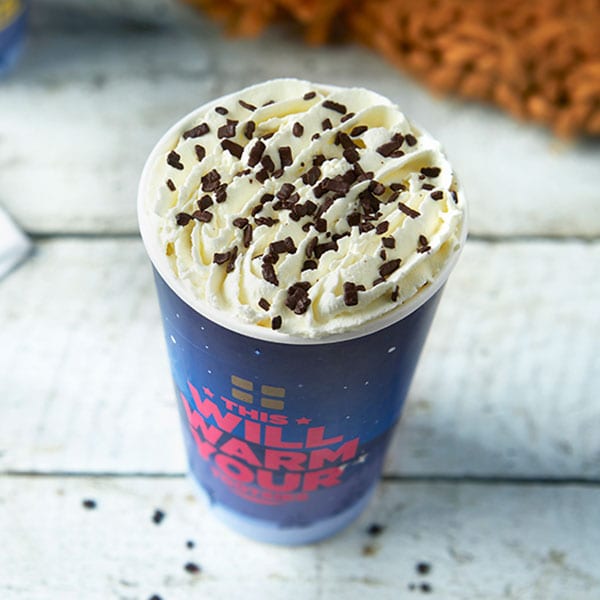 We also blind-tasted 25 different mince pies to find this year's very best; fancy knowing who won?
Speculaas latte: 4/5
If you're looking for an unapologetically milky beverage unlike any other on the high street, make this your order. It's essentially a cup of frothy milk, evoking nostalgic memories of warm milk and cookies (though if you're on the hunt for a caffeine hit, best to stay clear of this). The sweet speculaas flavour is gorgeously light, making it so drinkable that you'll consider ordering another.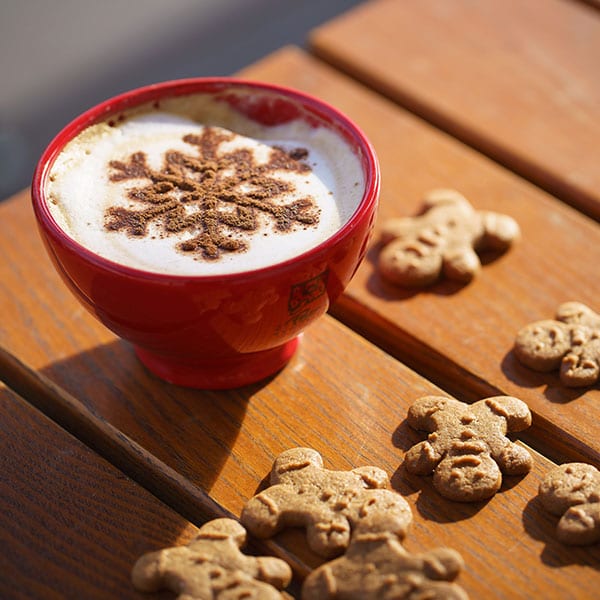 Noisella latte: 3/5
Sweet, milky, and oh-so-drinkable, this is Noisella – Belgian hazelnut spread – in its most angelic form yet. So it's not exactly what you've come to expect from a latte, but we sort of wish they tasted like this all year round…

Shop local
Although we took to the streets and tried festive favourites from large coffee shop chains, we also strongly encourage you to explore what your local coffee shops have to offer. Many try to create festive varieties at this time of year and will certainly appreciate you giving them your business.
Reduce waste
We only visited coffee shops which were able to offer us our coffees to take away in our own recyclable Keep Cups and encourage you to take yours along with you, should you be in the mood for a festive favourite.
Our scoring system
In order to keep things fair, we only visited coffee chains available nationwide. From each chain, we tried everything new from their festive menu. Each was tried with whole milk, although in every coffee shop, a dairy-free alternative is available. Each drink was ranked out of 5, based on a combination of factors ranging from innovation, flavour variety, taste, service and presentation.
Have you tried any festive drinks this year? If so, let us know in the comments which one is your favourite. Or perhaps, you hate the idea of festive coffees. Tell us why?
Subscribe to our magazine
Subscribe to delicious. magazine for HALF PRICE
Subscribe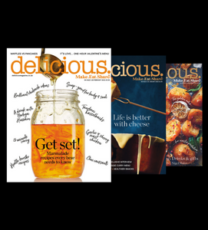 Join our newsletter
Packed with menu ideas, recipes, latest competitions and more...