Where to eat in Mykonos, Greece
Mykonos has a habit of capturing people's hearts with its charm. Mention this Greek isle to anyone who's been and they're evangelical about how much they love it and want to go back.
Until two years ago I only knew it for its reputation as a party island, second only to Ibiza. Now I've been there (twice in two years), I know there's significantly more to it – although if you like to dance, you can't do better.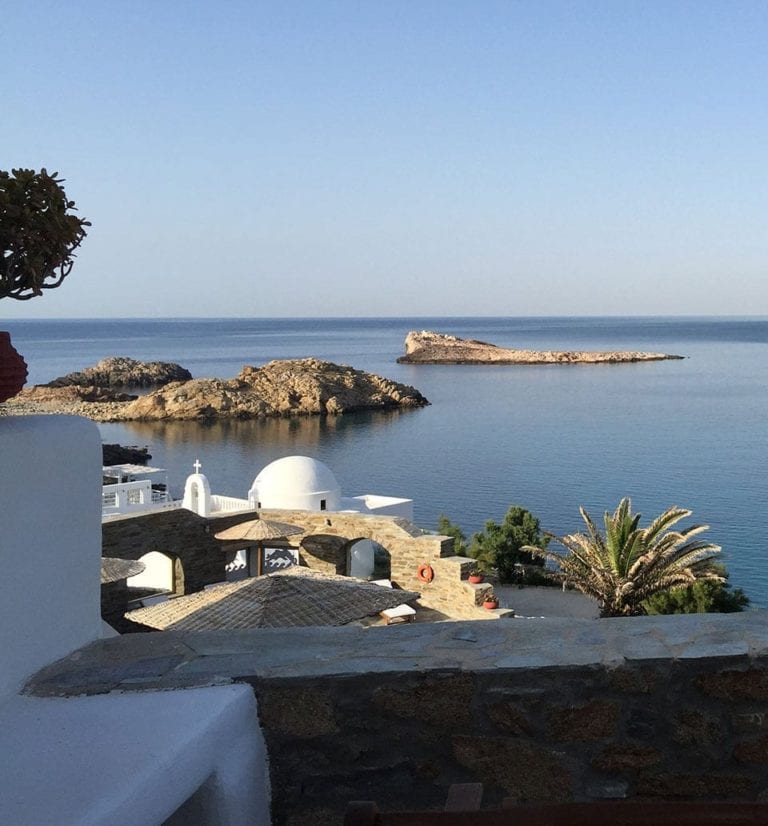 The party reputation is largely because of a bay called Nammos which, during the summer season, throbs day and night with the drumbeat of dance tracks, the DJs on duty from midday until dawn. Food is secondary; drink, dance, money (lots of it) and hedonism are primary. The owner of the boat-hire company on the bay told me that, during summer, per metre of beach, the bars and restaurants take more money than any other beach in the world. Can that be true? Seeing the amount of champagne sloshing around I can believe it. At this time of year scores of superyachts (we're talking multi-million jobs – and no, I'm not envious) jostle for position… so many of them that you could almost step across them from one side of the bay to the other.
That paragraph will either make you want to book a flight right now or cross Mykonos off your list. If you fall into the latter camp, hold off a bit until you've finished reading this blog because I'm hoping I might persuade you otherwise…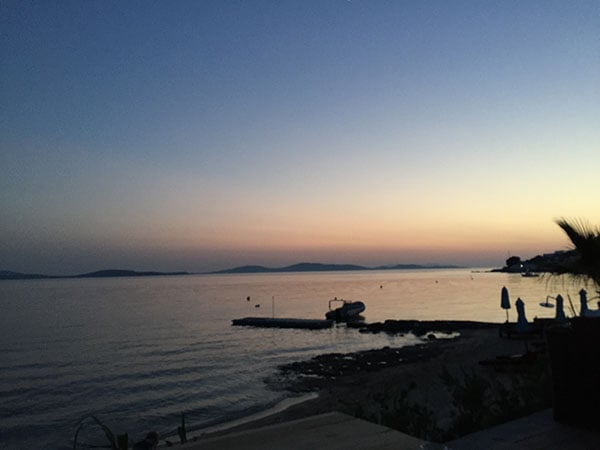 Away from the party hotspots, you'll find peace, tranquillity, great food and a sense of wellbeing far, far away from the worries of the world – even from the Greek crisis (although property owners, many of whom live for most of the year in Athens, talk in gravelly voices about the stress of it all while pulling deeply on their cigarettes).
Mykonos is small. You can get almost anywhere on the island within 20 minutes' drive, which makes it perfectly possible to do a bit of partying but escape from it the rest of the time. Or do none at all. My favourite beach is Agios Ioannis, which has the big advantage of being sheltered from the Meltemi – the boisterous summer wind that blows a lot of the time (Mykonos is known as the windy isle, but some months tend to be calmer than others so do your research if you don't like being buffeted while you sunbathe).
Where to eat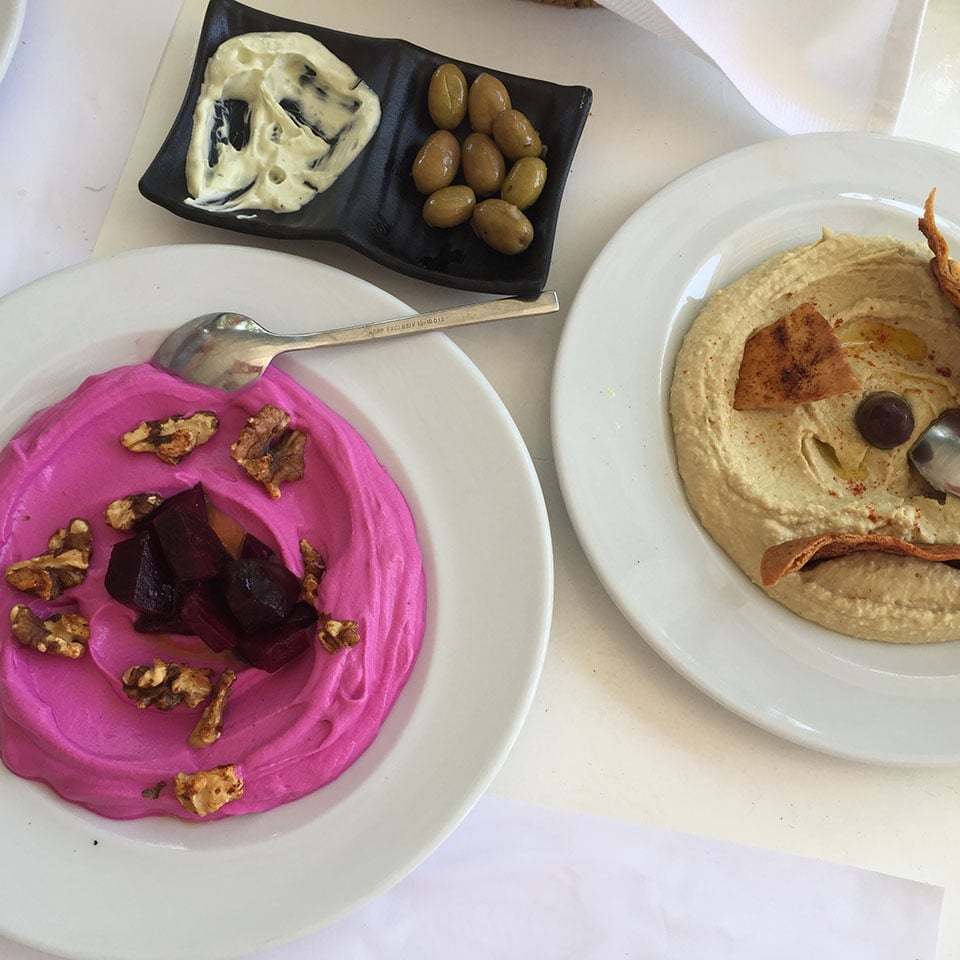 Visit Hippiefish for saganaki (that's local feta cheese, wrapped in a thin layer of crisp filo pastry, cooked until the cheese just oozes and melts, then drizzled with honey and sprinkled with nigella seeds and sesame seeds…divine); beetroot dip (vibrant, show-offy purple – see above – a simple mix of cooked beetroot whizzed with yogurt and topped with toasted walnuts… I'd have liked a bit of dill in there); cuminy hummus; and excellent, affordable seafood pastas and risotto (both Greek-island specialities).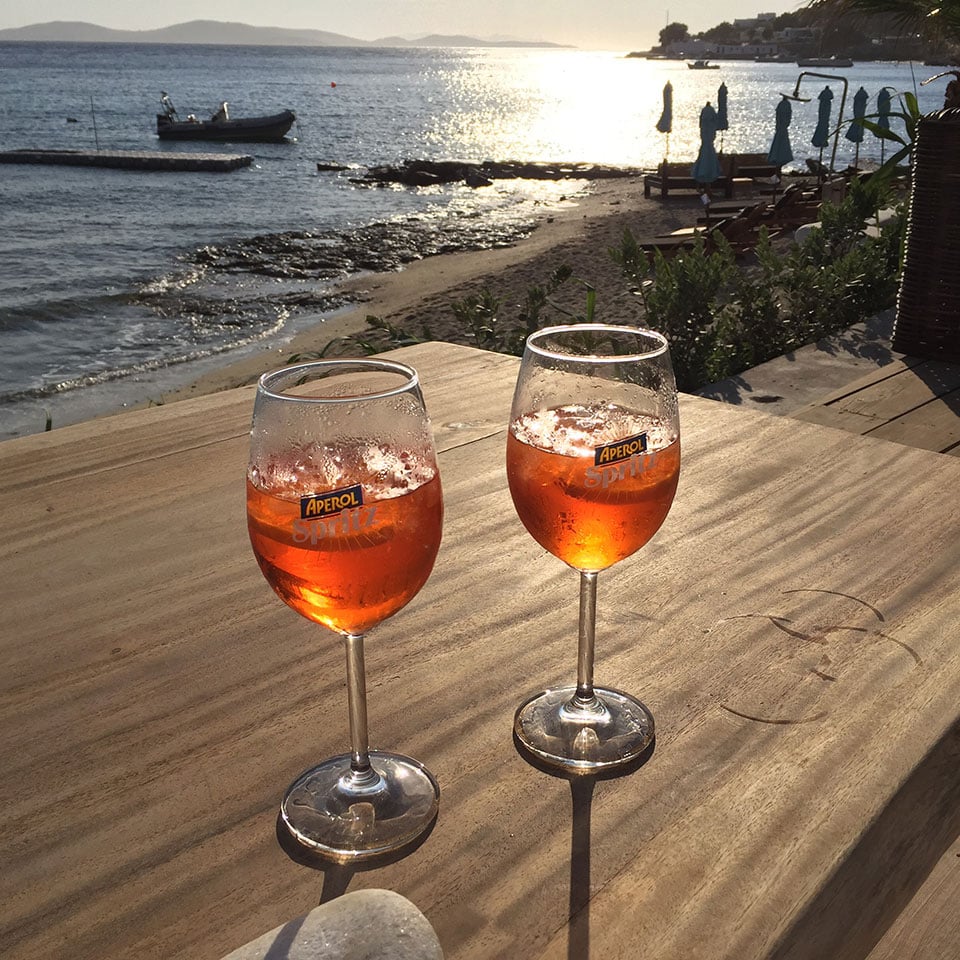 This restaurant has a claim to fame: it's where the 1989 film Shirley Valentine was filmed, only you'd never know it as it's changed beyond recognition since then. If you don't want to eat, enjoy one of the best holiday moments: walk through the restaurant, through the bar beyond and outside, where there are huge sofas to sprawl in (as big as beds), right on the water's edge. Life doesn't get much better than having an Aperol spritz here, watching the sun go down in spectacular orange, yellow and mauve style and listening to the waves lapping just below.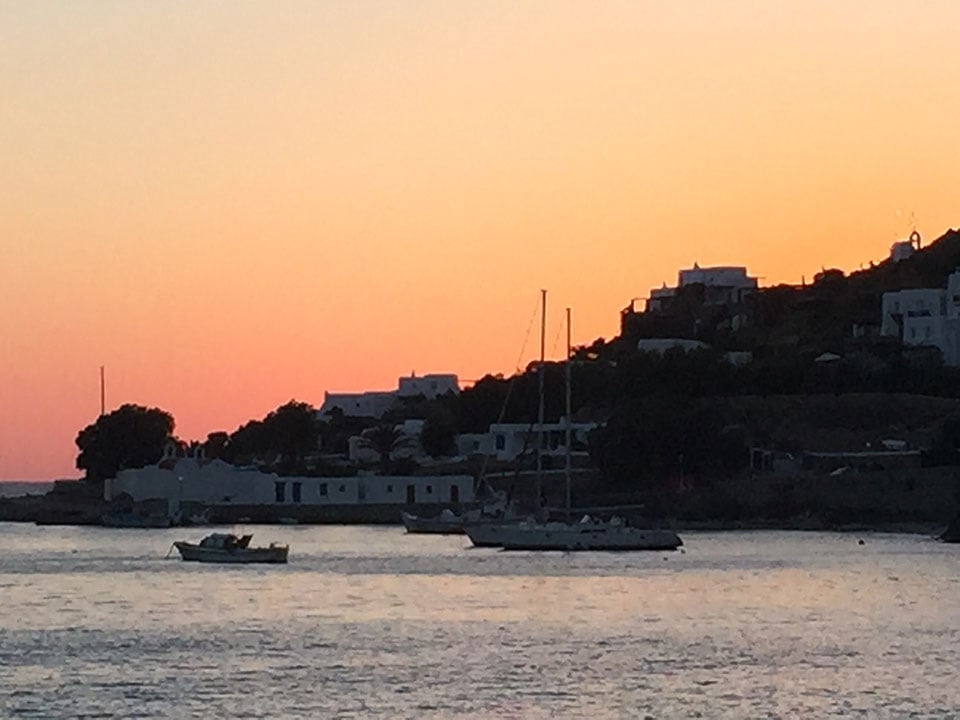 Kiki's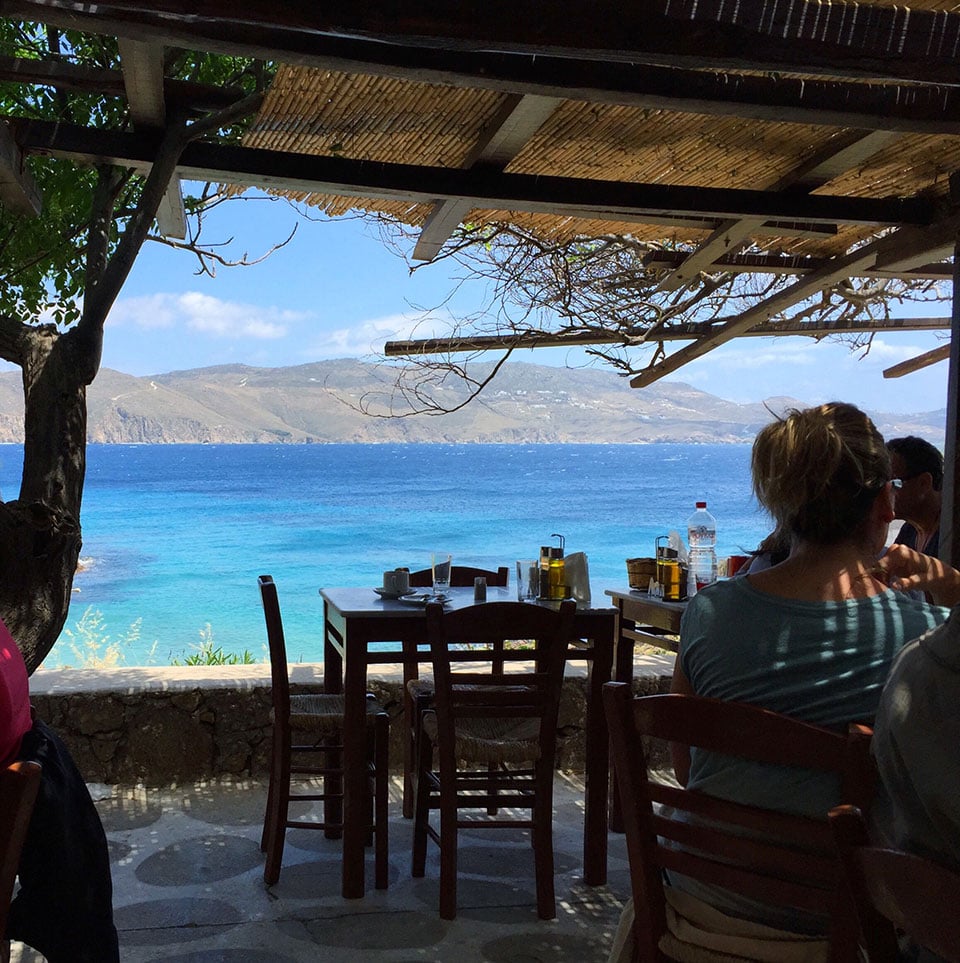 Many restaurants have a display of fresh fish to choose from but beware – it can be eye-wateringly pricey. The best place to go is the renowned Kiki's, in the north of the island at Agios Sostis. Kiki's is the best kind of rustic: no electricity, everything cooked on the chargrill by a burly Greek man. The taverna opens at 12.30pm and closes around 7pm (no lights), but be prepared to queue as scores of people arrive on foot and scooters, standing in line well before midday. The queueing isn't onerous, though, as there's shade and benches to sit on while you wait, the time eased by free glasses of rosé on ice.
The view when you get inside (think rustic tables, stone floor and a rush-covered shade) is balm to the soul. Here a whole, big seabass, stuffed with lemon, doused with olive oil and cooked to perfection over the coals, is affordable at around £11. My advice would be to order one, share it along with lots of salads (there are 10 or more to choose from) and ask for the barbecued aubergine to share as well. The other menu highlight is the chargrilled pork chop: bigger than your hand, full of porky flavour, succulent and completely delicious.
The capital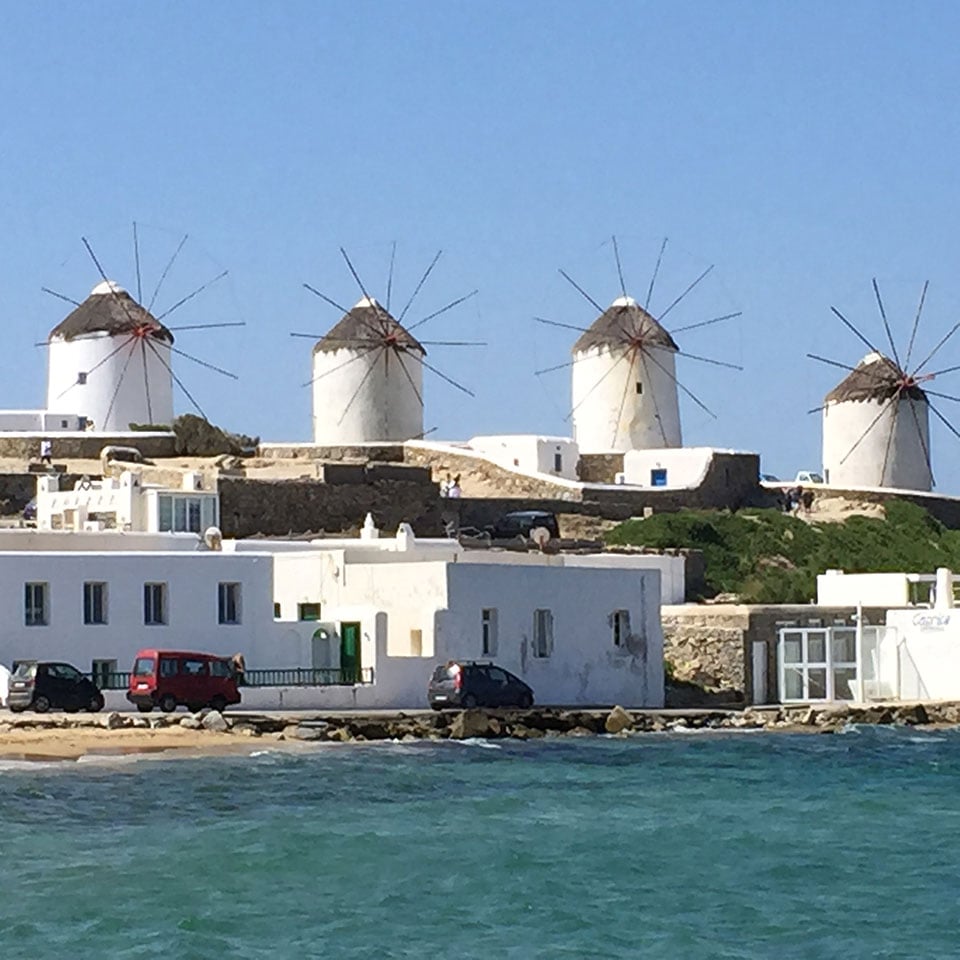 Mykonos town, with its iconic windmills jutting out into the sea, is so white and bright it's impossible to navigate without sunglasses. The streets are a higgledy-piggledy warren of shops from touristy tat to high-end designer. If you want to avoid the cruise-ship crowds in bad shorts, go early – or late, when the town comes alive for late-night eating and partying.
Gioras Wood Medieval Bakery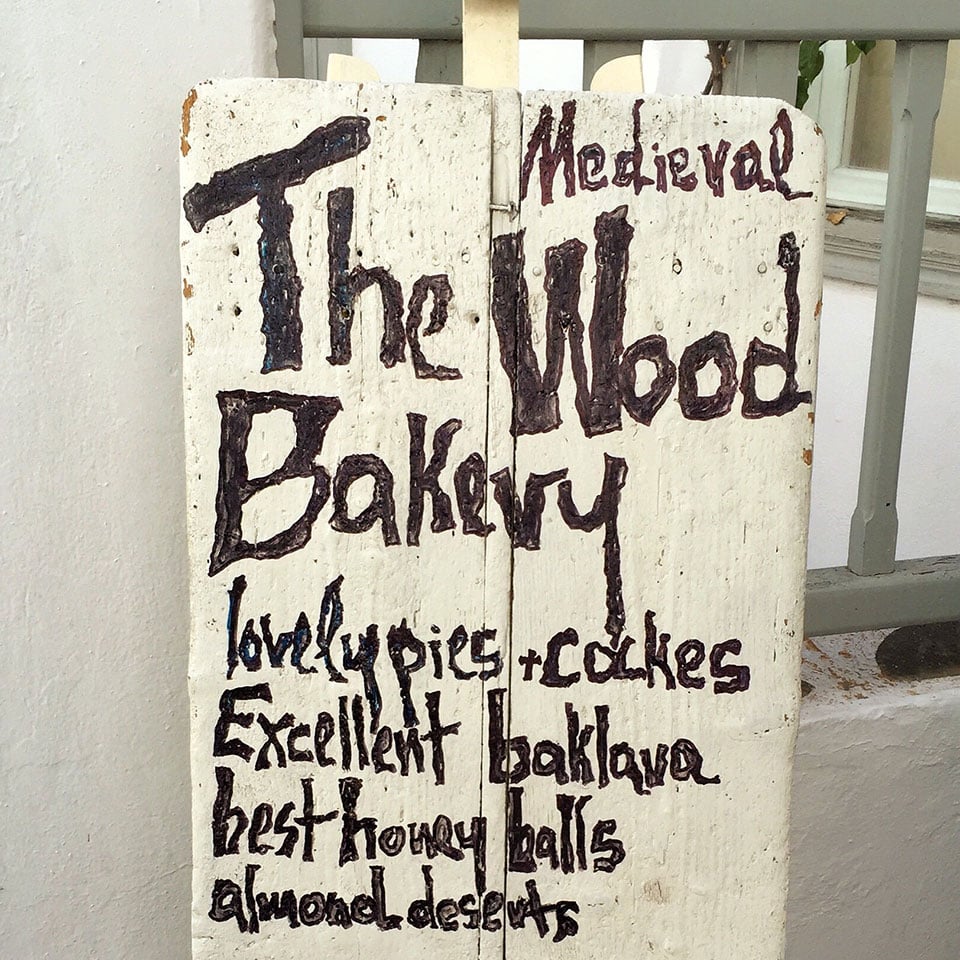 For me, the food highlight was a simple one: pastries from the Gioras Wood Medieval Bakery, Agiou Efhimiou, in the heart of the old town. Try the honey balls (doughnut-like morsels drenched in honey), spanakopita (spinach pies) and cheese pies. No calories at all. This is where the locals shop, there's a wood oven, and walking inside is like stepping back to another era.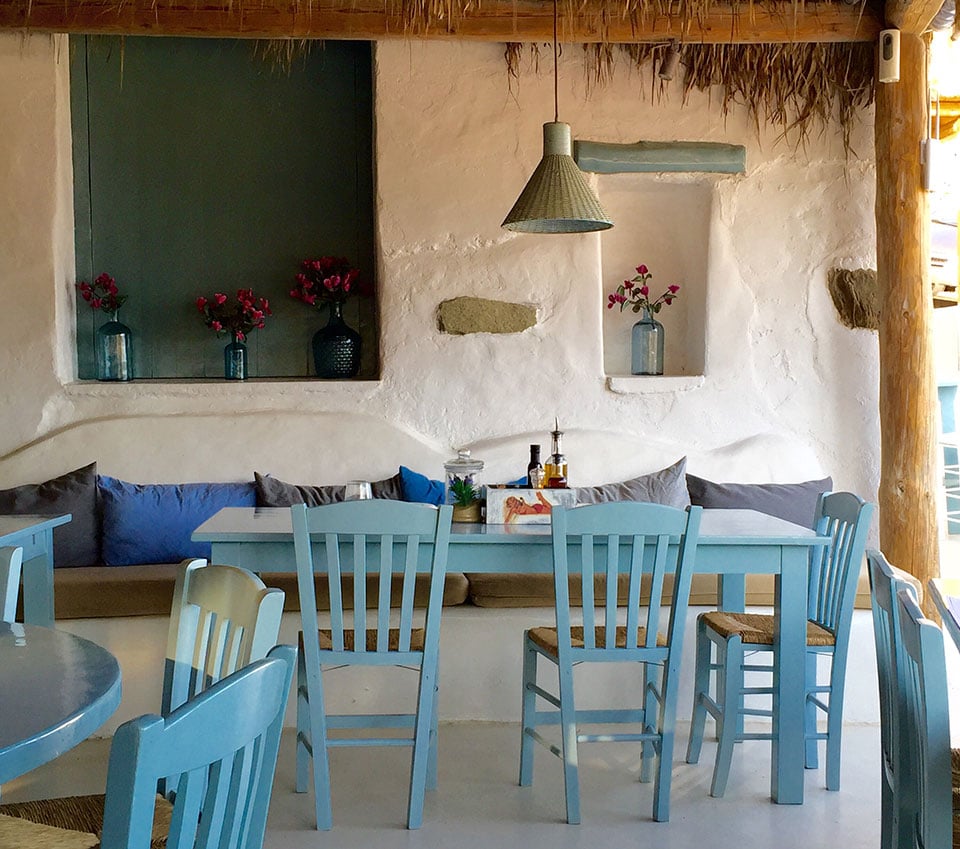 Another place worth trying is Solymar restaurant on Kala Livadi beach. We had fabulous seafood there (especially the mussels, cooked simply with wine and herbs) and the atmosphere is great, but watch out for the prices. Ouch.
Spilia taverna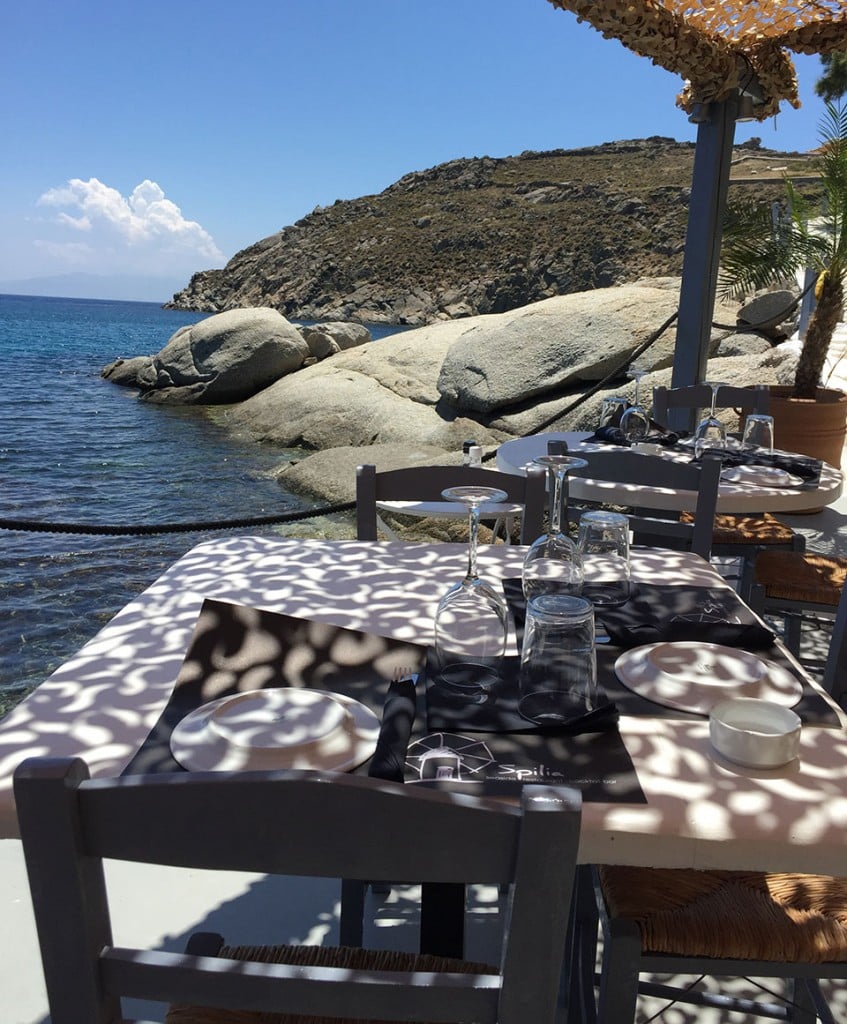 And then, just a hop and a step around the coast from there is Spilia taverna, hidden under the rocks right on the water's edge at Kalafatis Beach. Get there by walking the plank from the beach, or down through the slightly careworn Anastasia Hotel.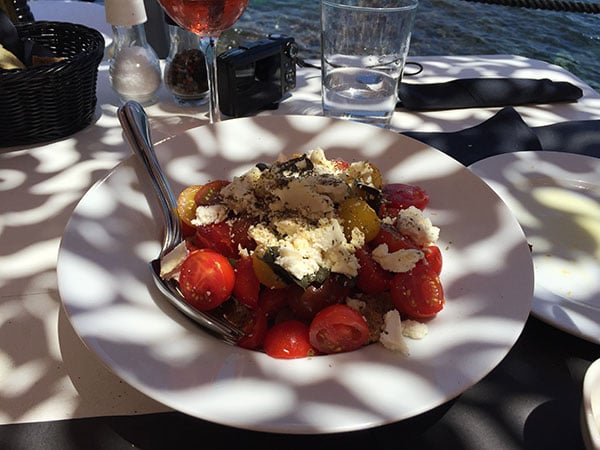 I had sea urchin spaghetti, which was ridiculously expensive, a bit mean on the sauce and not that great; instead, keep it simple, go for a light lunch and share crusty bread and a big bowl of salad made of the sweetest yellow and red tomatoes, crumbled local cheese, pickled caper leaves (hard to find in the UK but you can find them online… great, piquant flavour) and a simple oil-vinegar dressing. Wash it down with copious amounts of frosty-cold rosé, follow with a hit of Greek coffee, take deep breaths, soak up the idyllic view and the world will seem a better place. I promise.
 Where to stay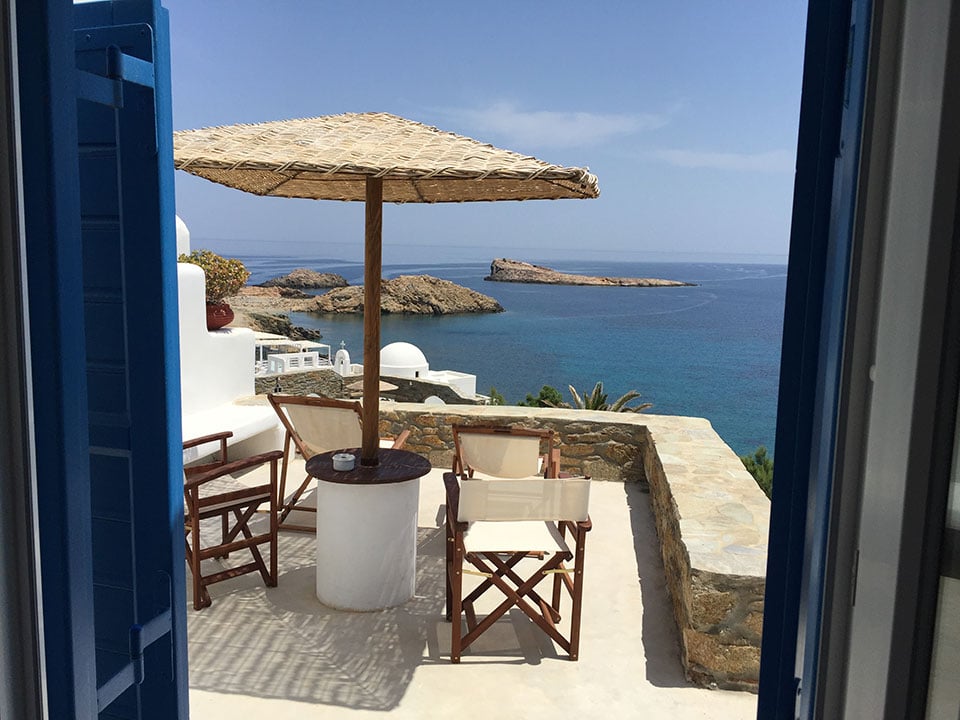 I'm almost reluctant to share it with anyone, but here goes… You can't do better than Thea, a B&B with its own secluded beach and pool, great breakfasts overlooking the sea, spotless rooms (think brilliant white walls and bright blue shutters) and an air of tranquility that's hard to beat. They'll pick you up from the airport but it's best to hire a car as it's in a fairly remote spot – with a great big plus: it's only three minutes' walk from Kiki's taverna… Go!
Subscribe to our magazine
Subscribe to delicious. magazine for HALF PRICE
Subscribe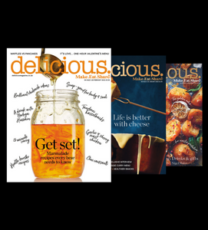 Join our newsletter
Packed with menu ideas, recipes, latest competitions and more...