How to recreate the perfect afternoon tea at home
Being stuck indoors shouldn't mean having to miss out on one of life's greatest luxuries: a spectacular afternoon tea. In fact, throwing your household an afternoon tea at home is a brilliant way to reconnect with loved ones, whether it's taking the time to converse over a pot of freshly-brewed Earl Grey or getting your pinny on to whip up a batch of fluffy scones. Fortunately, with a bit of planning and preparation, it's easy to recreate the perfect afternoon tea at home.
So, if you want to spend this weekend pretending you're being waited on in the surrounds of a beautiful tearoom, then check out these top tips for throwing an afternoon tea party at home. It's bound to make lockdown a little easier – and a lot more fun!
We enlisted the expertise of Kate Cartwright at Burleigh Pottery to share lots of useful advice and ideas.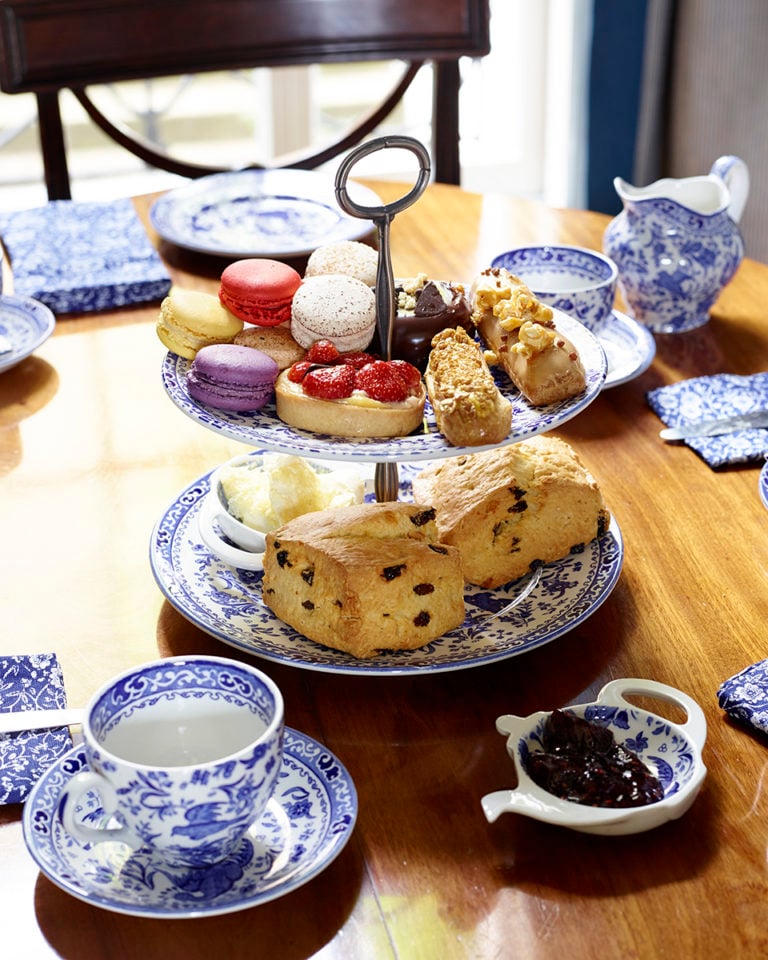 What is afternoon tea?
Traditionally, afternoon tea involved sitting down to enjoy an array of finger sandwiches, biscuits, and cakes at around 4pm. It was originally designed to help bridge the gap between lunch and dinner, when the last meal of the day was often served as late as 8pm. It became particularly fashionable in the early 19th century, thanks to Anna, the Duchess of Bedford, who was a big fan of the afternoon tea.  Perhaps that explains why enjoying this British ritual of finger sandwiches and high-quality tea can make you feel like royalty!
How to set the scene
Putting on an afternoon tea spread at home should feel like a special event so it's worth going the extra mile to make the experience feel as luxurious as possible – especially under the current circumstances.
Choose a cosy corner of your home where you can comfortably sit for at least a couple of hours.
Make sure you use a table big enough to seat all your guests comfortably and that easily holds every item of crockery required for the meal. You might need room for your phone or laptop, if you're doing things virtually!
Next, dig out your best tablecloth and place mats to set the table in style. Afternoon tea is an opportunity to unearth your finest crockery too – you know the plates that only see the light of day if the Queen comes to tea? This is that day. Oh, and don't forget the cake stand!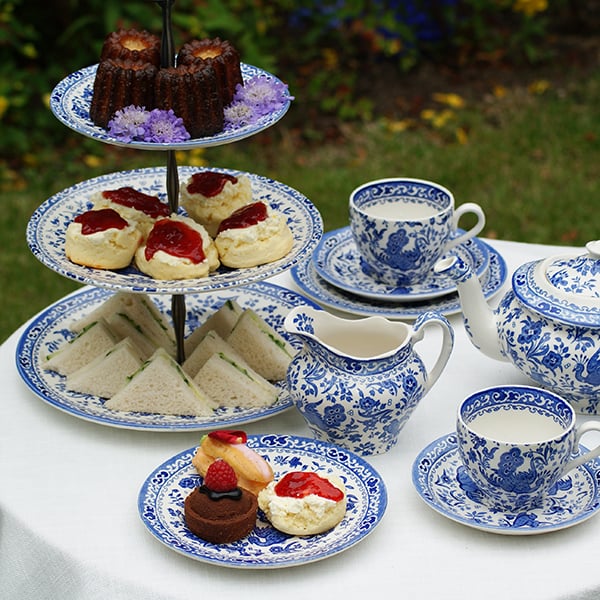 Add a touch of formality and sophistication to the affair by creating physical (or digital) menus for your guests to peruse. This contributes to the 'realness' of your afternoon tea and ensures they know what to expect from the afternoon.
Think about picking up a bunch of fresh flowers on your weekly supermarket trip. A colourful bouquet will make a stunning springtime centrepiece and is sure to make the occasion all the more uplifting.
Afternoon tea etiquette: the dos and don'ts
If you want to make your at-home afternoon tea experience as authentic as possible, there are a few rules to stick to when indulging in this British tradition. Here are a few afternoon tea dos and don'ts:
Always start with the sandwiches before moving on to the sweeter treats, which should include scones (still slightly warm, of course) and an array of miniature cakes.
When making the tea, always start with the milk first! It may feel a little counter-intuitive, but you should start by pouring a drop of milk into your teacup before topping it up with your choice of freshly brewed tea. Then, mix everything together with a backwards and forwards, rather than a circular, motion. Avoid knocking your spoon on the side of your cup as much as possible.
Finally, if you're feeling especially fancy, treat guests to a flute of champagne or sparkling wine with your afternoon tea.
What's on the menu?
To ensure you pull off your afternoon tea without any hiccups, it's a good idea to plan your menu well in advance.
The tea
To avoid any disappointment, offer a selection of classic teas such as English breakfast or Earl Grey – these really are non-negotiable. If you would like to experiment a little further, throw a couple of unorthodox options into the mix too such as chamomile, mint or jasmine green tea.
Note: you'll need an extra teapot for every new tea you introduce, so if you want to keep things simple then it's best to stick to one or two options.
The sandwiches
When it comes to the sandwiches, traditional favourites such as smoked salmon, egg and cress and coronation chicken are sure to be a hit. Slice them up into small, uniform bites, and remember to cut the crusts off! Or, dare to be different with your own personal flavour combinations. You could even throw some sausage rolls into the mix! You are the host after all – make the day unique to you!
Discover all of our homemade sandwich recipes here or find recipes for 3 fabulous finger sandwiches: egg mayo and pancetta, cream cheese and cucumber and tea-smoked salmon.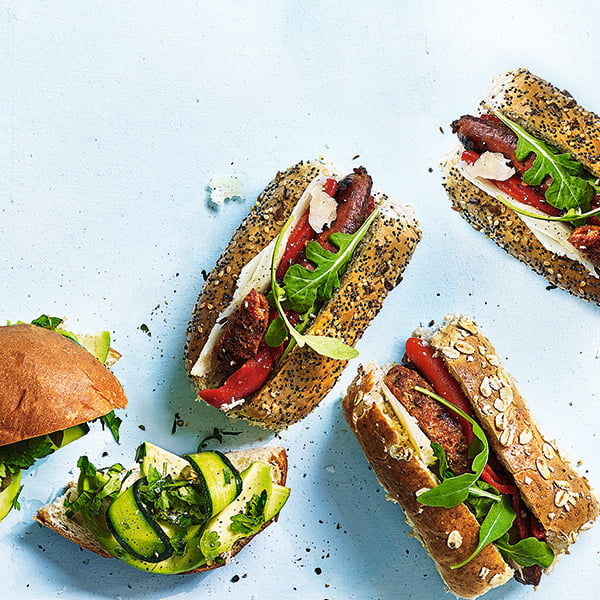 The scones
Slightly warm sweet scones served with jam and clotted cream is a mandatory element to any afternoon tea. Plus, they're ever so easy to make ; try these 3-ingredient scones (made without sugar) or this easy scone recipe for a sweeter version. If you want to get ahead by making them in advance, simply warm through in a preheated oven before serving.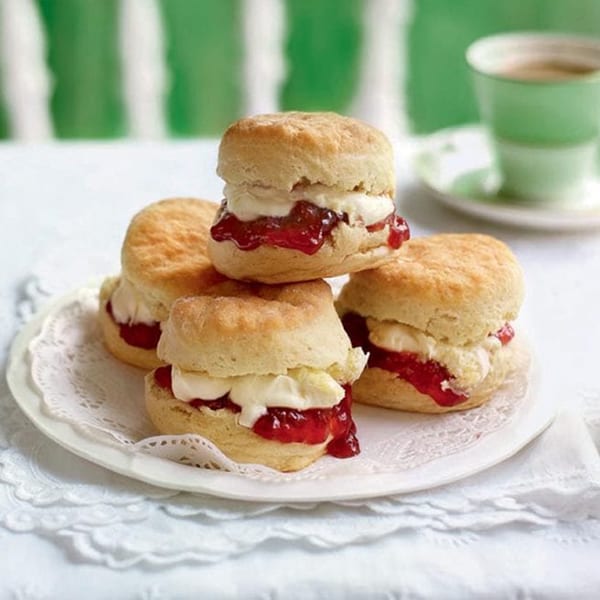 A good-quality store-bought jam would make a fine pairing with your homemade scones but, if you have the time, then do consider making your own. You can't go wrong with strawberry jam but feel free to mix up the flavours and try damson, blackberry or apricot jam instead.
Sweet scones are only half the story though! Keep everyone at the table happy and serve up savoury scones too: you simply haven't lived until you've tried these ultimate cheese scones. They're excellent served still-warm from the oven, sliced in half with a little extra butter melted on each side. Heaven.
Sweet and savoury scone ideas:
Limoncello and blueberry scones
Lemon sugar cube scones
Perfect miniature scones
Apricot and almond whipped cream scones
Spring onion and bacon scones
The cakes
If you're planning on making the cakes from scratch, it's a good idea to opt for a mix of larger cakes and smaller treats. Larger cakes tend to be more straight-forward to make and can easily be served into slices, while bite-size sweets can be fiddly and time-consuming to make (although they do look stunning!)
Find plenty of afternoon tea recipes for inspiration, including mini doughnut muffins, classic caneles, macaroons, strawberry shortcakes and more.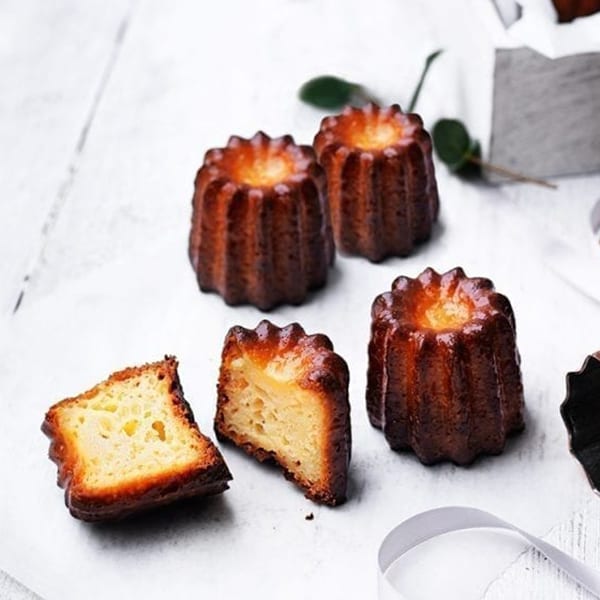 Store-bought vs homemade
Throwing an afternoon tea party is all about having fun, so don't agonise over having to make every element of the meal from scratch. Serve up a mix of homemade and ready-made treats to keep things simple; you might want to buy some of the more intricate elements, for example, which will add dramatic impact to your tea, and save the simpler elements, such as the sandwiches, to make yourself.
If you were enjoying afternoon tea in the outside world, everything would be made and delivered to the table for you, anyway!
Subscribe to our magazine
Subscribe to delicious. magazine for HALF PRICE
Subscribe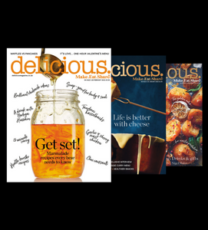 Join our newsletter
Packed with menu ideas, recipes, latest competitions and more...