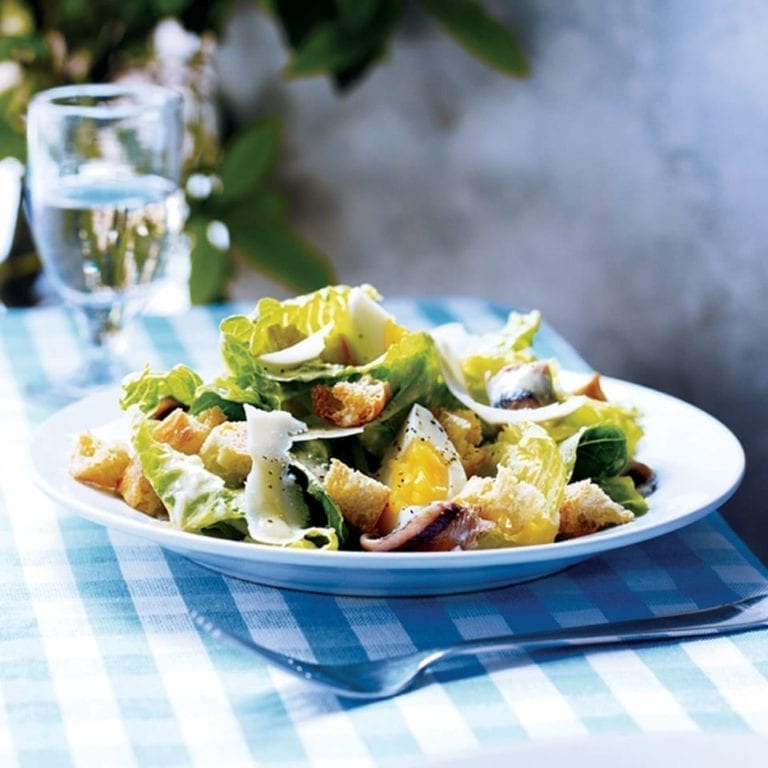 Serves 4

Ready in 20 min
A quick and easy salad recipe.
Ingredients
8 ciabatta slices
2 tbsp olive oil, plus extra for greasing
4 medium eggs
2 cos or romaine lettuce hearts
75g fresh (from supermarket deli counters) or canned anchovy fillets in olive oil, drained
Small block Grana Padano, for shaving
For the dressing
1 small garlic clove, crushed
1 large, very fresh egg yolk
1 tsp Dijon mustard
2 tbsp lemon juice
4 tbsp finely grated Grana Padano
150ml extra-virgin olive oil
2 tbsp double cream
Method
Preheat the oven to 180°C/fan160°C/gas 4. Tear the ciabatta into small pieces and toss in a bowl with the olive oil. Spread out on a lightly oiled baking tray and bake for 5-7 minutes or until crisp and golden. Remove from the oven and leave to cool, then season lightly with salt.
Meanwhile, put the eggs into a pan of boiling water and boil for 7 minutes. Drain and cover with cold water.
Make the dressing. Put the garlic, egg yolk, mustard, lemon juice, grated cheese and some seasoning into a small bowl. Mix together briefly with an electric hand whisk, then slowly whisk in the extra-virgin olive oil to make a smooth dressing. Stir in the cream. Chill until needed.
Discard the outside leaves of the lettuce and tear the rest into small pieces. Toss with 4 tablespoons of the dressing. Divide between 8 serving plates or bowls.
Peel the hard-boiled eggs and cut into quarters. Arrange over the lettuce leaves with the anchovy fillets, then scatter with the croutons. Just before serving, drizzle over the remaining dressing. Using a sharp potato peeler, shave the Grana Padano cheese all over the salad and serve.
delicious. tips
Note: this recipe contains raw egg.