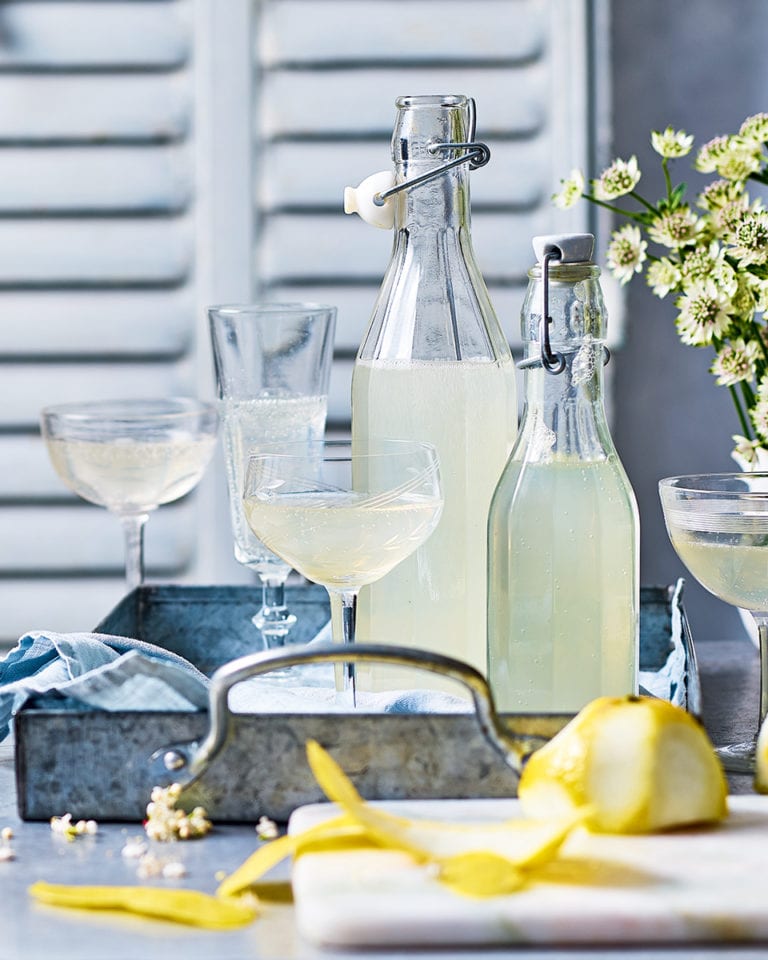 Makes about 3 litres

Hands-on time 10 min, plus infusing and fermenting
This summer refresher is easier to make than you might think. A light and fragrant drink, it's a fantastic alternative to shop-bought bubbly, and has hardly any alcohol.
For something completely non-alcoholic, you could try our traditional homemade elderflower cordial instead.
Nutrition: per serving
Calories

62kcals

Fat

nil

Protein

nil

Carbohydrates

15.6g (15.6g sugars)

Fibre

nil

Salt

nil
delicious. tips
The bottles you use need to be able to withstand the pressure from the carbon dioxide produced by fermentation. Two-litre plastic drinks bottles work well as they have a tight screw cap and are less dangerous in the event of an explosion than glass.

Wash bottles in hot, soapy water and rinse well before using. If you notice a bottle has become taut, 'burp' it by letting out some of the gas. The drink will ferment until it's put in the fridge. When the fizz is ready, decant it into pretty glass bottles to serve, if you like.

If using glass bottles throughout, only use cylindrical, fermentation grade ones (from wilko.com) and sterilise bottles first.

Keep finished fizz chilled for up to 3 weeks. Simply double the recipe for a bigger batch.

Elderflowers are easy to identify and pick. Look for sprays with lots of open, clean, white, star-shaped flowers. Trim at the fork in the stem below (the stalks are bitter) and use within a few hours.

As with all foraging, pick away from busy roads, where flowers may have been tainted by fumes, and don't leave any of the elder tree branches too barren as this will prevent them producing berries later in the year. If you're concerned about confusing elderflower blossom with other white flowers, give it a sniff – elderflower has a distinctive fresh scent, which you'll recognise easily if you've ever had elderflower cordial.

Making elderflower fizz involves controlling the reaction between naturally occurring wild yeasts on the flowers, the sugar the yeast feasts on and oxygen. After you've made it once, you can try tweaking the proportions to suit your tastes (reducing the sugar, for example, or adding another flavouring) or improve the outcome – adding more sugar or leaving the fizz to ferment for longer before bottling, if you think it's too flat.