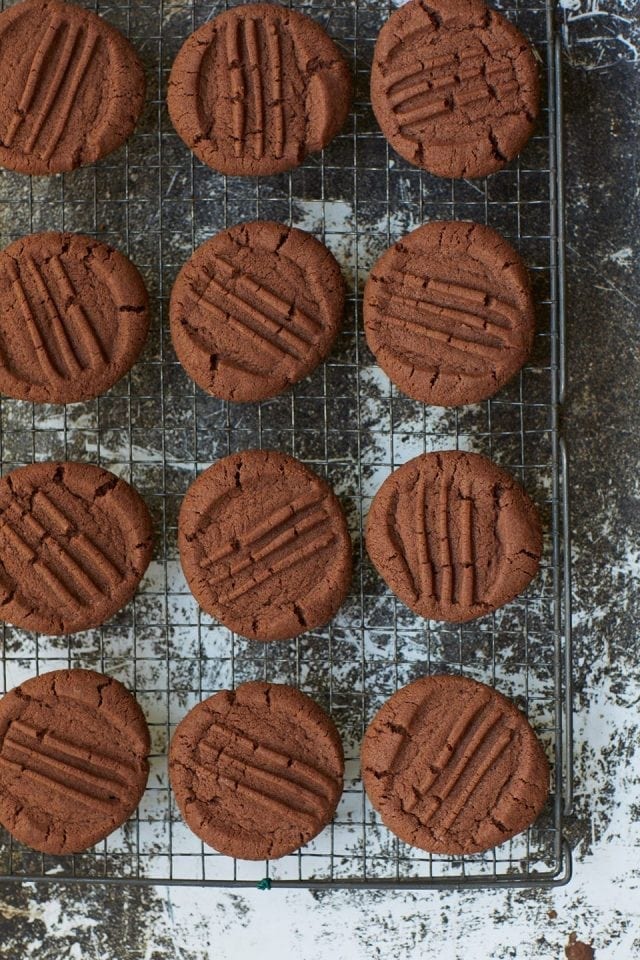 Makes 24 biscuits

Prep-time 30 minutes, 20-25 minutes
Nigella Lawson calls these simple chocolate biscuits 'Granny Boyd's biscuits' after her editor's granny, who gave her the recipe.
And, as Felicity Cloake says in her article on how to cook the perfect chocolate biscuits, 'these biscuits are so fine-textured they actually melt on the tongue'.
If you prefer cookies, we can guarantee our best ever chocolate chip cookies won't disappoint.
Ingredients
300g self-raising flour
30g cocoa powder
250g unsalted butter (room temperature)
125g caster sugar
You will also need…
2 or 3 flat baking sheets (or bake in batches)
Method
Preheat the oven to 190°C/170°C fan/gas 5. Sift together the flour and cocoa powder into a mixing bowl and set aside.
Cream together the butter and sugar until light and pale in colour (you can use a wooden spoon but it's easier and quicker with an electric hand whisk).
Mix in the sifted flour and cocoa – the mixture might look as if it needs liquid to bring it together, but keep working in the ingredients and it will form a dough.
Working quickly, roll the dough between the palms of your hands into walnut-sized balls and arrange on the baking sheets, spaced well apart. Flatten the cookie dough balls with the back of the fork.
Bake the cookies in the preheated oven for 5mins, then turn the temperature down to 170°C/150°C fan/gas 2 for a further 15-20 mins.
The biscuits should feel firm on top but not hard. Remove from the oven and transfer to cool on a wire rack, before storing in airtight container.