17 tasty rhubarb recipes you should be making in 2022
Every year, we go potty for this pretty pink fruit. Its sweet-tart flavour and candy-pink colour makes it a dream in numerous desserts, from crumbles to tarts, pies, cheesecakes and more! Take a look at our best-ever rhubarb recipes and find something spectacular to make to brighten up your day.
For more eye-catching baking inspiration, order the next 5 issues of delicious. magazine for just £5!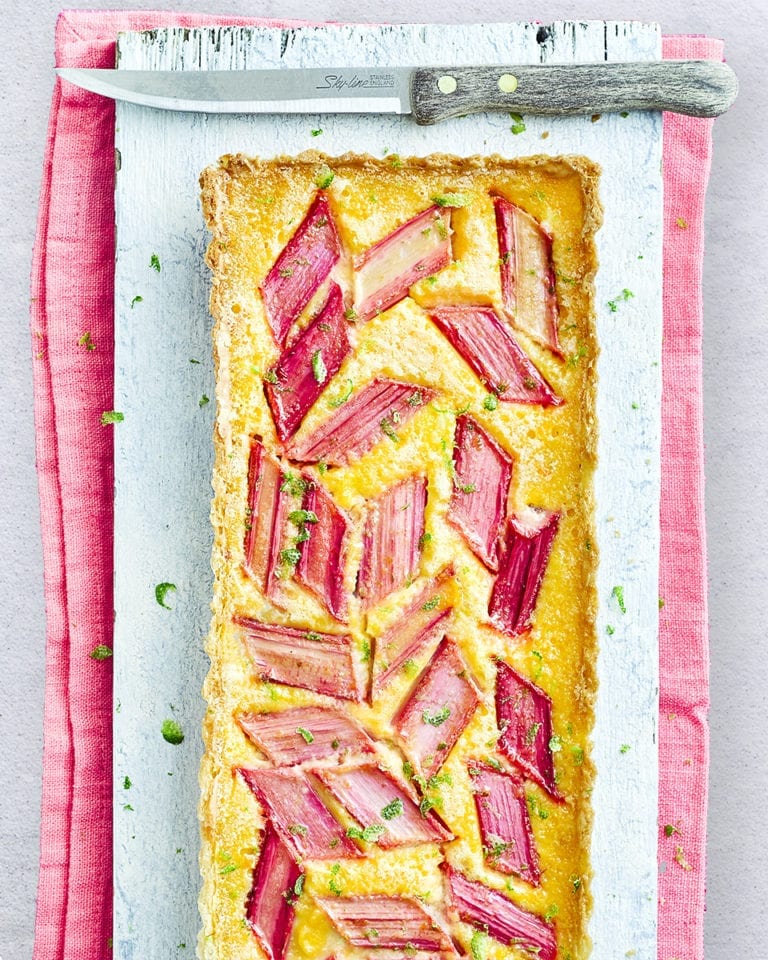 When is rhubarb in season in the UK?
Forced rhubarb starts to appear at the beginning of the year – between January and March – while field grown rhubarb is in season between April and June.
What's the difference between rhubarb and forced rhubarb?
Forced rhubarb is grown without light in 'forced' conditions in order to speed up the growth of the plant and extend its harvest period. This means rhubarb is available much earlier in the year than its seasonal cousin. Forced rhubarb is bright pink in colour with a delicately sweet-yet-tart flavour.
Tip: forced rhubarb is cultivated to grow so fast that you can actually hear it cracking and creaking as the buds open!
Our best-ever rhubarb recipes…
Rhubarb and strawberry cobbler
Rhubarb and strawberries make a pretty pink duo in this summery cobbler, topped with puffed-up scones, honey and pistachios.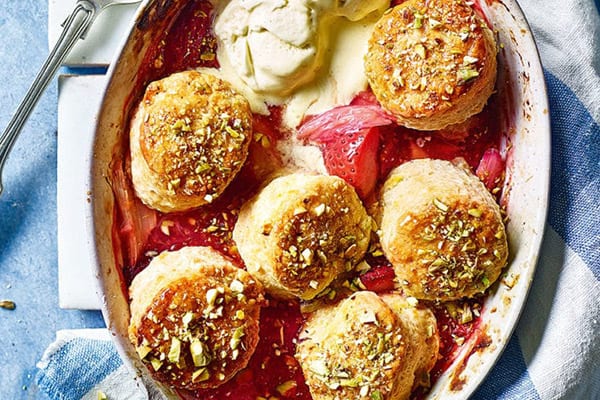 Rhubarb, lime and ginger custard
We've added a little zing to this classic flavour match – rhubarb and custard – with lime and stem ginger.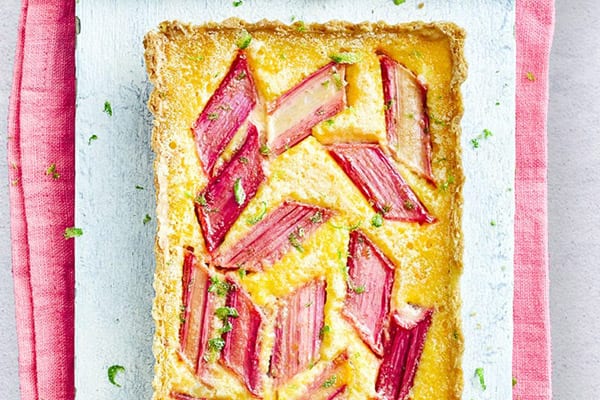 Oaty rhubarb and ginger streusel cake
This seriously moist cake comprises layers of almond sponge, roasted rhubarb and an oaty streusel crumble. We like that it's really versatile too – serve with a cup of earl grey in the afternoon or as a dessert with thick crème fraîche.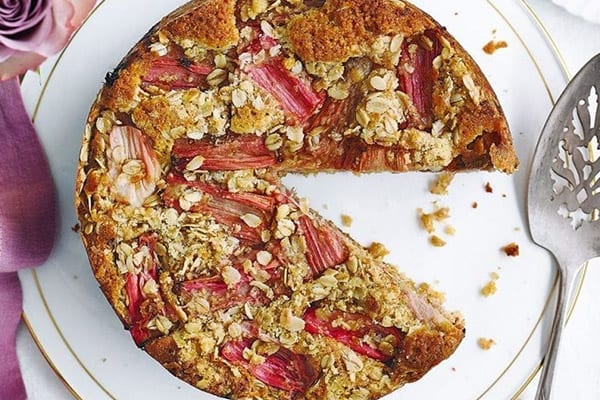 Rhubarb, vanilla and almond lattice pie
Learn how to lattice with our recipe for this impressive rhubarb pie. We've added ground almonds to the pastry, too, for extra richness.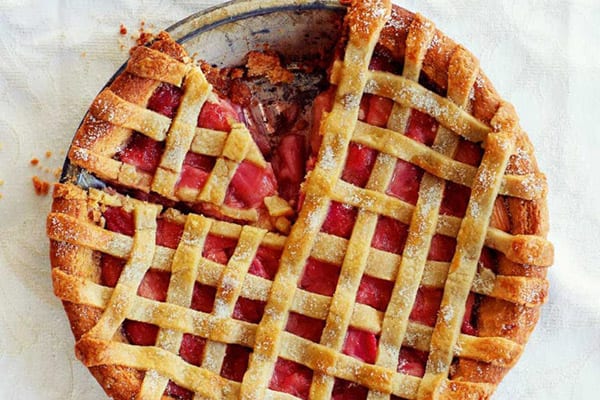 White chocolate rice pudding with rhubarb and passion fruit compote
We're not going to lie to you, this creamy white chocolate rice pudding is tremendously rich and sweet (it's made with full-fat milk and cream). But that's where the slightly tart rhubarb and passion fruit compote comes in… Give this heavenly pairing a go for a pudding to complete your Sunday roast.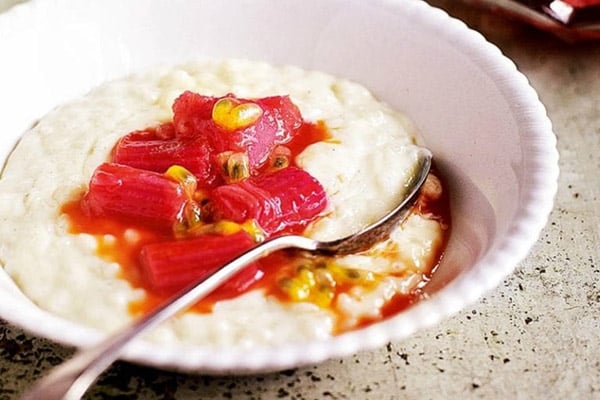 Rhubarb and vanilla sponge pudding 
This is possibly one of our most-popular rhubarb recipes ever – and it's so simple to make! Velvety vanilla-roasted rhubarb is baked beneath fluffy sponge. Serve with vanilla custard or vanilla ice cream – just don't make this one if you don't like vanilla!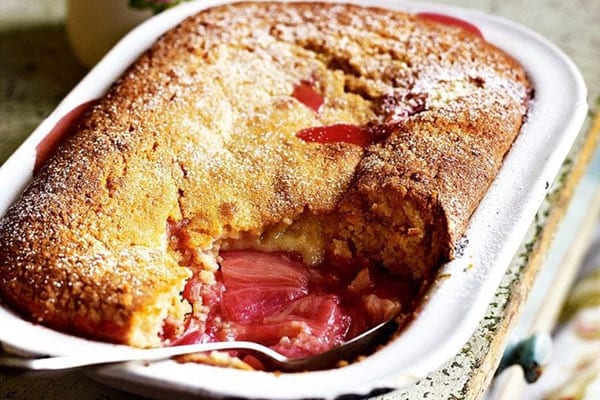 Boozy rhubarb and custard tart
If you're looking for a dessert to showcase the colour of this candy-pink fruit, try our boozy tart topped with an eye-popping rhubarb liqueur jelly.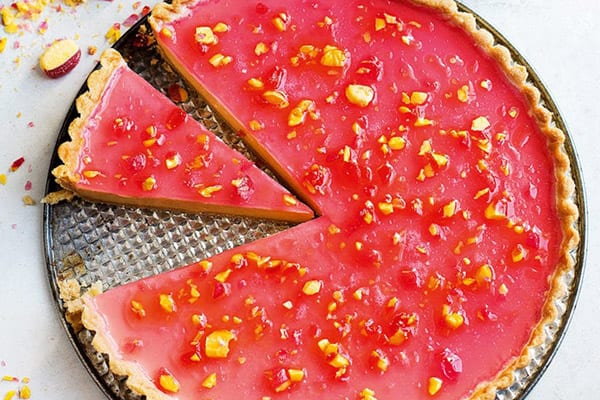 Rhubarb and apple flapjack crumble 
Flapjack and crumble? Sign us up! The addition of jumbo oats to the crumble topping gives it a fabulously moreish texture.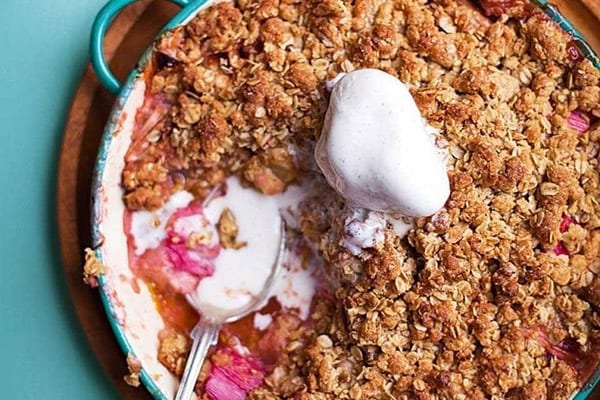 Rhubarb and lemon baked cheesecake
Serve up thick slices of this baked cheesecake to dinner party guests. We've swirled a boozy rhubarb curd through the creamy filling for added impact – everyone will go mad for it.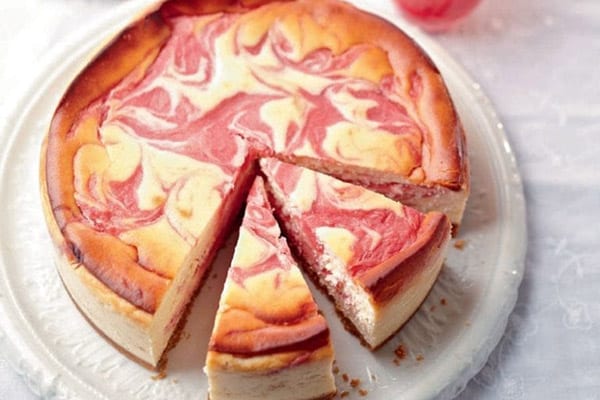 Rhubarb and saffron cream tart
You don't have to include saffron in this rhubarb and custard tart, but it really amps up the colour of the custard and makes the dessert even more eye-catching. We highly recommend.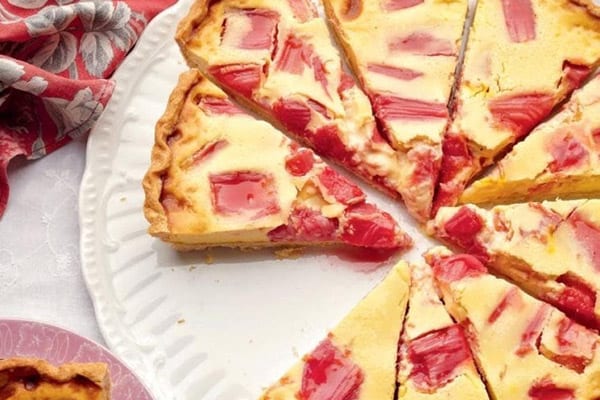 Baked rhubarb and orange cheesecake
Rhubarb and orange makes a surprisingly pleasant pairing and contrasts nicely to the rich creaminess of this baked cheesecake.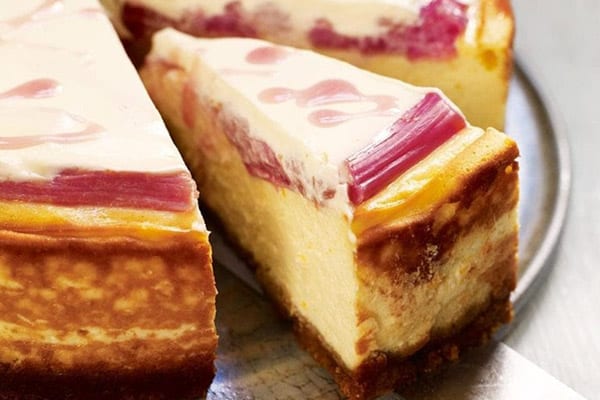 Rhubarb and custard crumble tart
Short and buttery pastry, silky custard and a crunchy crumble topping is a trio we can get on board with.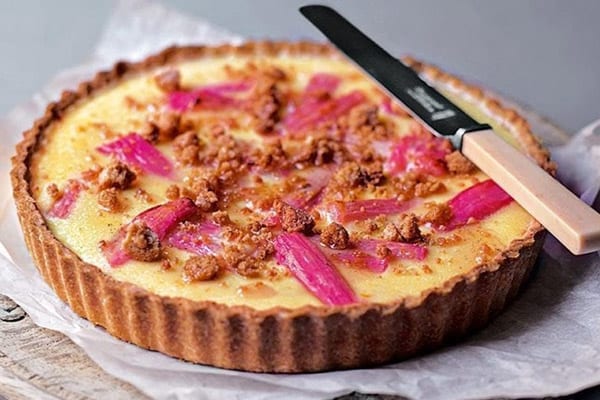 Rhubarb and coconut meringue tart
Lemon meringue pie can take a back seat while this fantastic fruit is in season – say hello to our rhubarb and coconut meringue tart.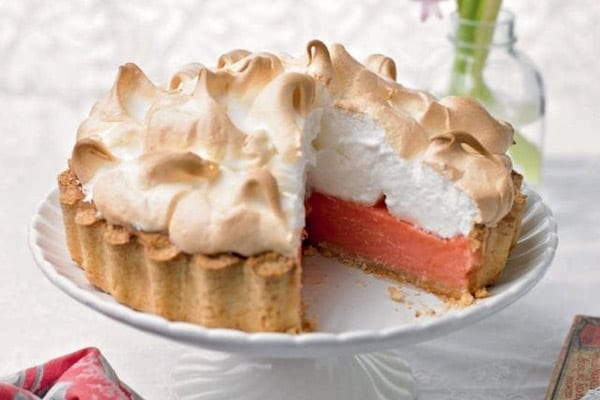 Calling all frangipane fans! This one's for you…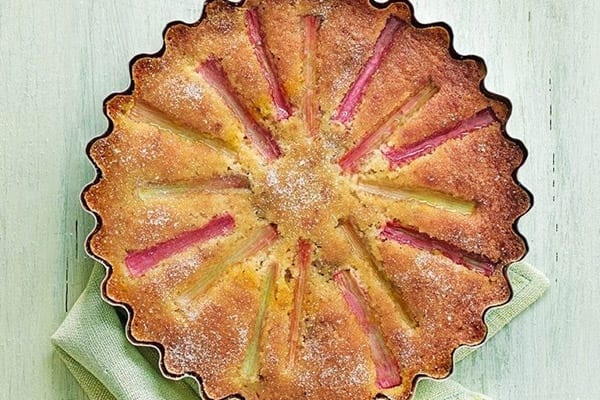 Rhubarb and ginger twice-baked soufflé
Soufflés are notoriously difficult to master, but this recipe yields soft and fluffy puds every time. Finish off by baking them with the rhubarb compote, cream and brown sugar, then dive in spoon first!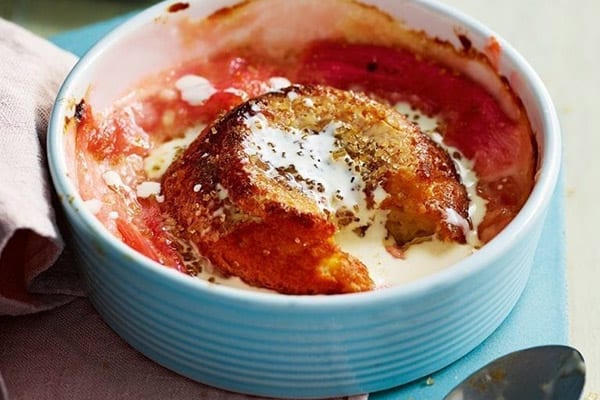 Rhubarb jelly and Bird's custard ice cream
To all those who grew up eating Bird's custard, here's a dessert that's dedicated to the stuff. We're going crazy for this retro pudding!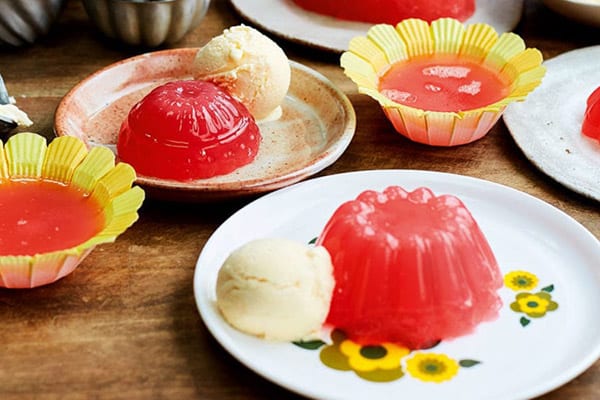 If you're lucky enough to have a glut of rhubarb lying a round, then whip up a batch of spiced chutney to see you through the rest of the year.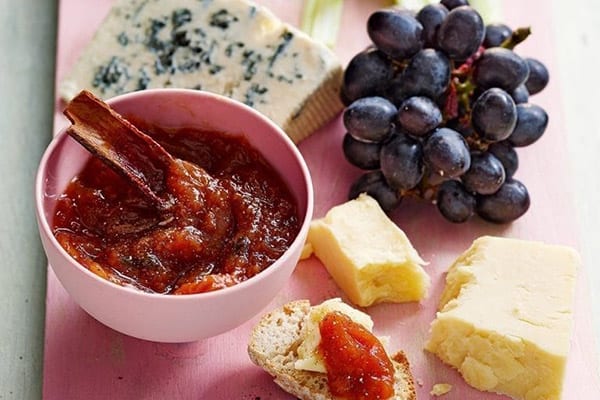 Find all our rhubarb recipes for even more inspiration. 
Subscribe to our magazine
Subscribe to delicious. magazine for HALF PRICE
Subscribe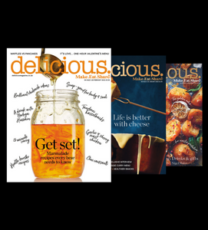 Join our newsletter
Packed with menu ideas, recipes, latest competitions and more...