15 best lasagne recipes
A structurally sound dish that combines a slow-cooked, meaty ragù, smooth béchamel sauce and layers of pasta sheets with a little bite… That's what the ultimate lasagne requires.
Check out our ultimate guide to making the perfect lasagne, including 15 of our best-ever lasagne recipes.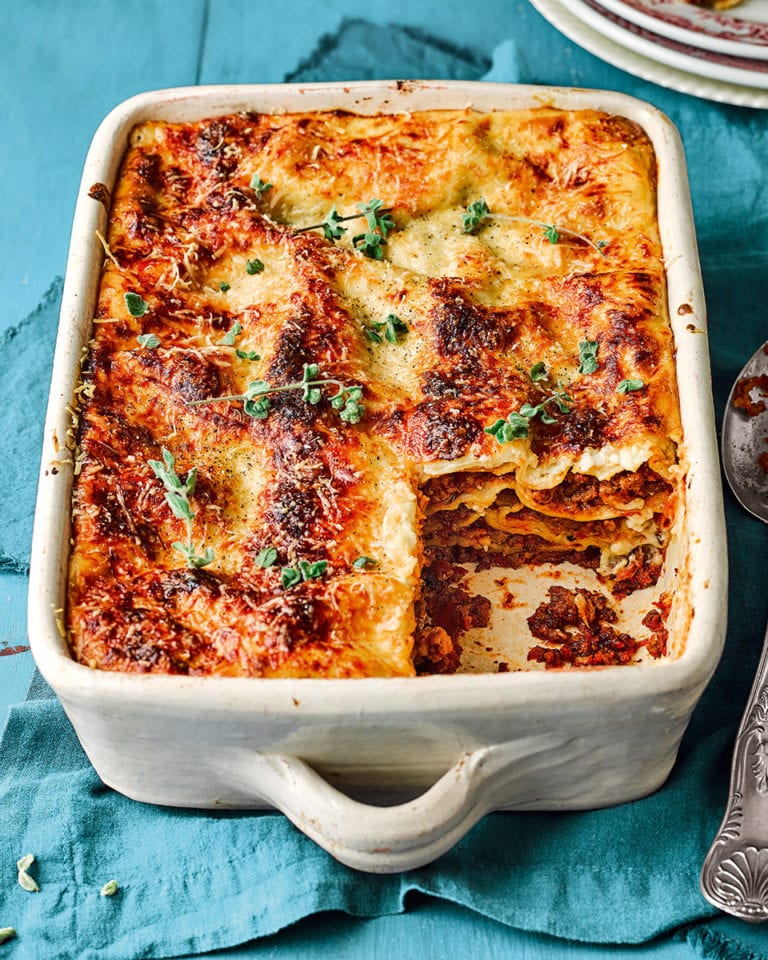 How do you make a lasagne from scratch?

How to make bolognese sauce
There are lots of ways to make a bolognese sauce and it's important to get it right. In its simplest form, good quality beef mince, tinned tomatoes and a splash of red wine will yield a fantastically rich and meaty sauce – we recommend our easy midweek recipe which is ideal when time is a limiting factor.
For best results, check out some of our top tips for making the ultimate bolognese sauce:
The longer you leave a bolognese to cook, the better. We recommend simmering it for at least an hour, but anything up to 6 hours is optimal for producing a melt-in-the-mouth, richly-flavoured sauce.
For a more authentically Italian bolognese, use a mixture of pork and beef mince. This adds even more layers of flavour to the finished dish – we love the addition of smoky bacon or pancetta, too!
Season well. You want to do this twice, first when you're cooking the meat and again at the very end.
It may sound like an odd addition but many recipes call for milk in the ingredients list. This is entirely up to you, of course, but it does lend a mellow sweetness that works well with the deeply-flavoured sauce. If you want to make it extra rich, try adding a dash of cream instead. Don't knock it 'til you try it!
You can use red or white wine, it doesn't really matter which, but we recommend that you do use some form of wine in your sauce. Red will yield a darker bolognese while white wine produces a slightly lighter flavour.

How to make béchamel sauce
An essential element to any lasagne is a smooth and silky white sauce (also known as a béchamel or roux). It's made by mixing flour and melted butter over heat to form a paste, before slowly stirring through milk to make a thick, smooth sauce. Find out how to make one with our step-by-step guide, including lots of tips and tricks to ensuring it's lump-free.
You can also use the all-in-one method, which sees the butter, flour and milk whisked vigorously over heat to make a sauce. You may find the end result is a little lumpier than with the traditional method, so we'd recommend using the latter if you want to be on the safe side. Check out our video to see the all-in-one technique in action.
Learning how to make a white sauce is a key component of any chef's repetoire. Once you've mastered this recipe, you can use it in anything from fish pie and macaroni cheese, to a parsley sauce with fish or mustard sauce with meat.

Which pasta to use in lasagne
Shop-bought pasta sheets are absolutely fine to use and there are some really good options out there. Plus, it will save you bags of time!
If, however, you'd like to make the pasta from scratch then check out our guide to making homemade pasta dough, including tips on using a pasta machine to roll out the dough.  

How to layer a lasagne
Bolognese, pasta, white sauce, bolognese, pasta, white sauce… The trick to creating a structurally sound bake is all in the layering.
Make sure you have all three elements laid out in front of you before you start. Begin with the bolognese, using just enough to cover the base of the dish, followed by the pasta sheets – you may need to break up some of the sheets into smaller pieces to ensure they fit. Then, spread over a layer of white sauce and repeat until both sauces are used up.
Finish with a layer of bolognese or white sauce – whichever you have left – and sprinkle with cheese (we like parmesan and cheddar).
Tip: take care not to be too generous with each layer of sauce, or you'll end up with a sloppy mess when you try to serve it.
Check out our quick and easy video tutorial to nailing this stage of a lasagne recipe.
Our best-ever lasagne recipes…
The bolognese in our ultimate lasagne recipe uses beef, pork mince and smoky pancetta for a rich and meaty flavour. But the real secret to success lies in the cooking – low-and-slow for at least 3 hours. Trust us – it's well worth the wait.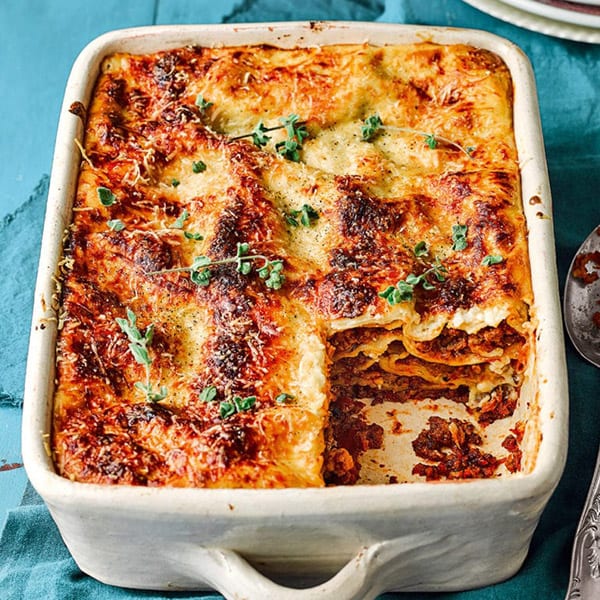 We get it – sometimes there really isn't time to prepare, cook and assemble every element of a lasagne. That's where this all-in-one version comes in! A lentil and tomato sauce is layered between wholemeal pasta sheets, topped with cheese and baked until bubbling and crisp. It's totally vegetarian too – serve it up for meat-free Monday.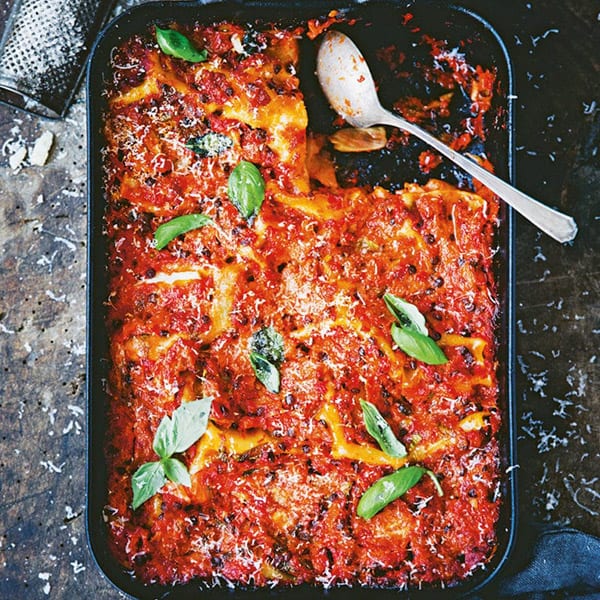 Our low-fuss classic lasagne is the perfect recipe if it's your first time making this dish.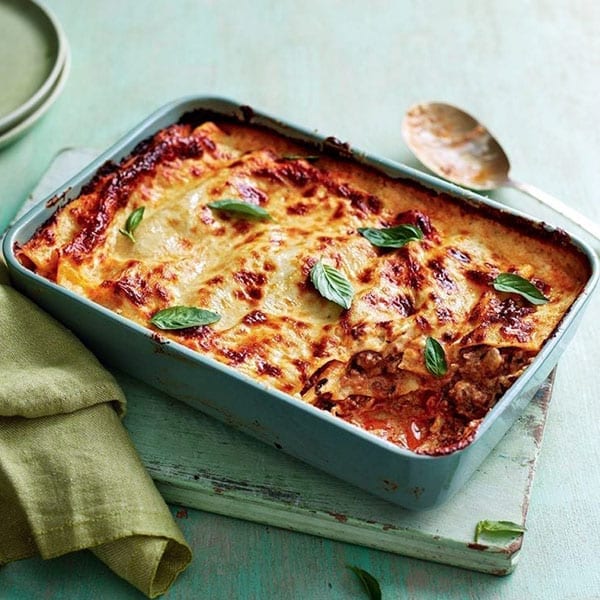 A fantastic lasagne doesn't have to be meaty!  Our roasted vegetable and lentil lasagne is just as hearty as a traditional version and made with a fabulously creamy mascarpone white sauce.
You can vary the vegetables depending on what's in season too. Try starchy squash in the autumn months, while peppers, aubergines and courgettes make this a great summer dish to feed a crowd.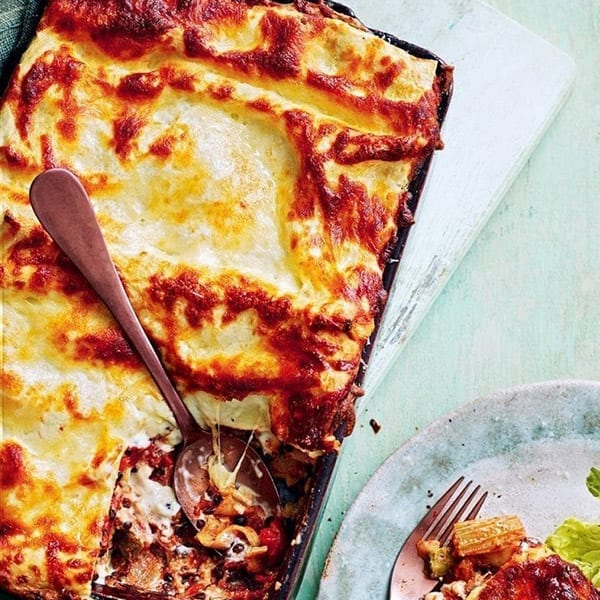 A gorgeously creamy and cheesy vegetarian alternative – you can't go wrong with these spinach and ricotta lasagnes. Instead of using bolognese and béchamel, we've swapped them for a red wine tomato sauce and an alluring spinach, ricotta and mascarpone sauce. Oh and we've topped it with mozzarella and parmesan, too, for good measure!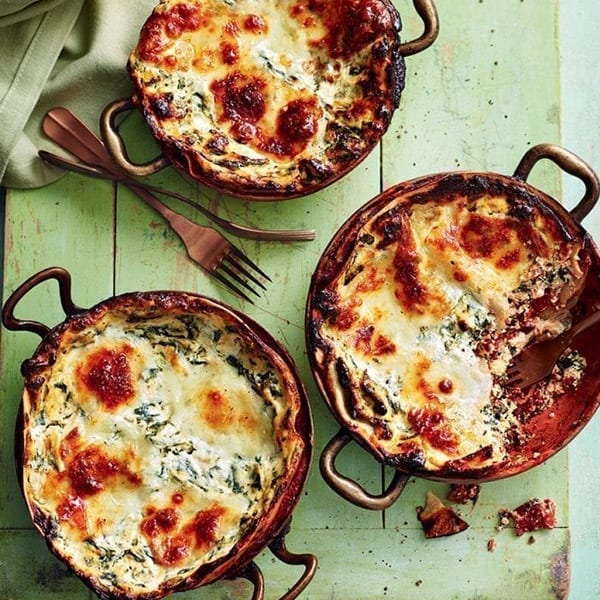 Greek-style lasagne (pasticcio)
Yes, the Greek's have their own version of this crowd-pleasing bake too! Similarly to lasagne, pasticcio is made with pasta, béchamel and a minced meat sauce. However, the Greek recipe tends to use chunkier pasta shapes, such as rigatoni or penne, rather than flat sheets. The results are just as brilliant though – give it a go and find out for yourself.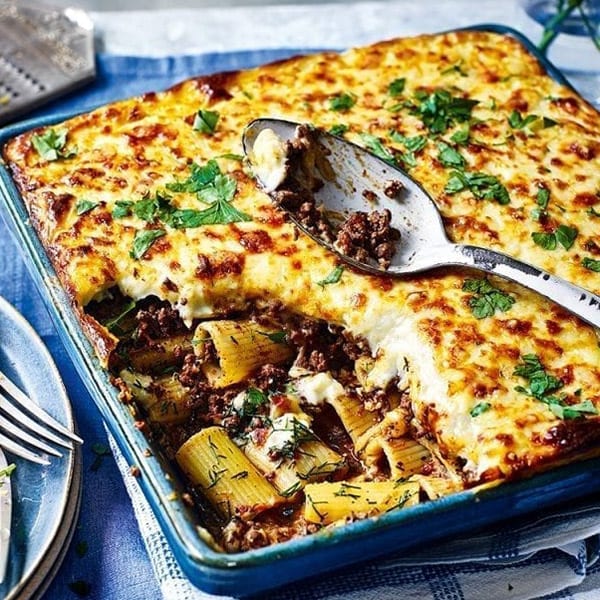 Gennaro Contaldo's big meatball lasagne is just that! Big, bold and bursting with meatballs. He also adds salami and parma ham to the mix for a feast to please true meat-lovers.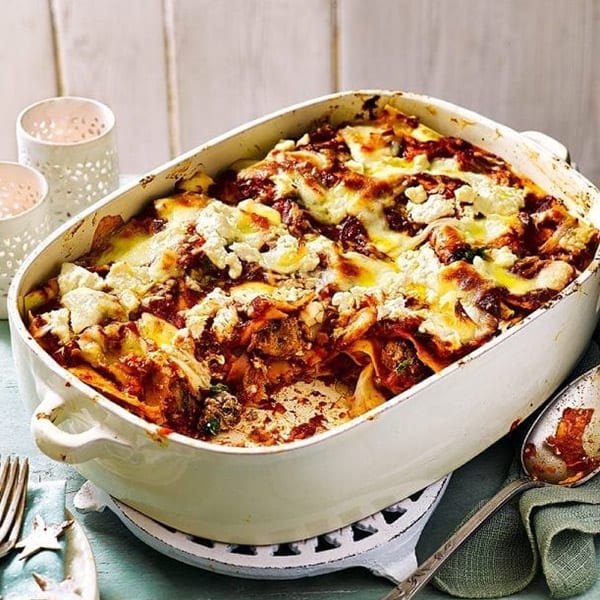 There's no getting away from the fact that a lasagne – laden with pasta, meat and cheese – can be a little heavy on calories. That's why we've created this lighter version. Don't worry, it still contains pasta, meat and cheese (we're not animals, guys) but a few clever tweaks ensure it's not unnecessarily rich and heavy. Make it at the weekend and store in the fridge to feed the family during the week.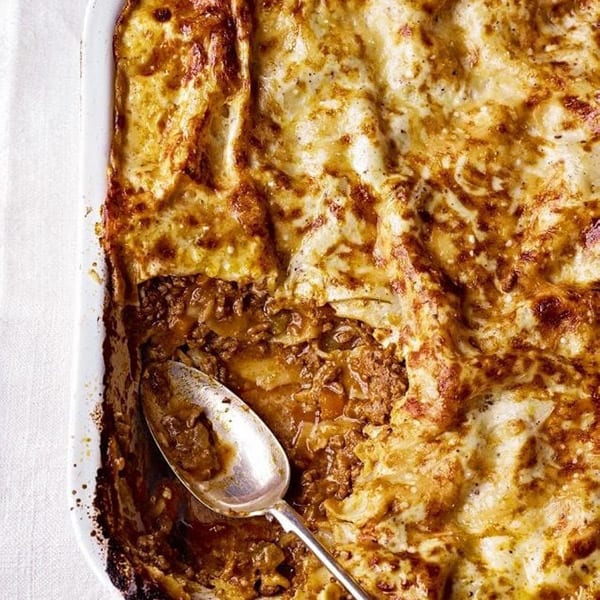 Rabbit has a deep, gamey flavour that stands up well to the cheese sauce and big textures in this hearty bake. Try this knockout recipe and serve to guests at a dinner party – just make check that no vegetarians are attending!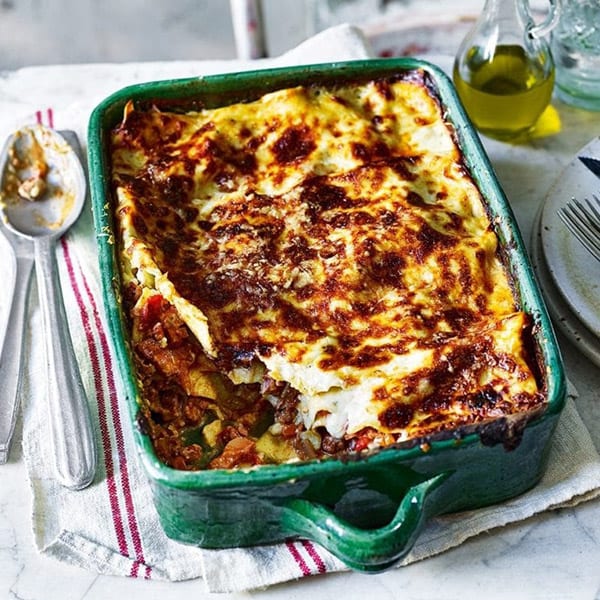 This recipe is essentially glorified pesto pasta in lasagne form. It doesn't require much more than fresh pasta sheets and a really good homemade pesto. Then, simply layer up and bake until cooked through and golden on top – simple, light and so, so good.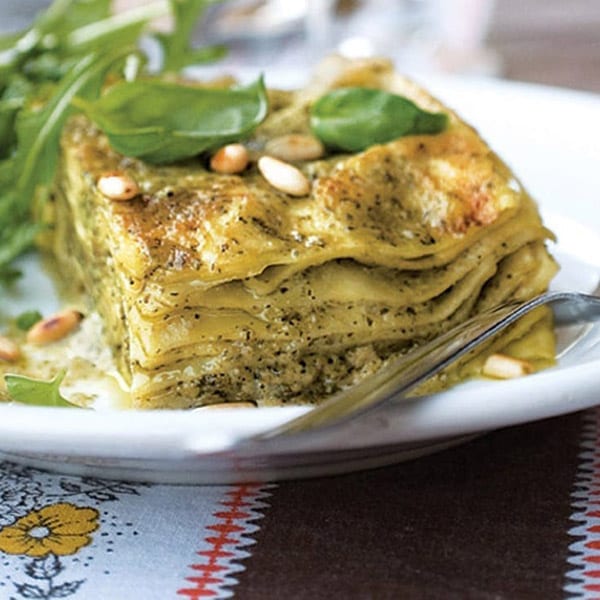 Quick prawn, spinach and salmon lasagne 
Say hello to our FISH PIE LASAGNE! Layers of parsley sauce, prawns and salmon, spinach and pasta create a creamy but oh-so simple dish. We've cheated and used store-bought parsley sauce to save time, but it's easy enough to make yourself.
Make this recipe is just 10 minutes (yes!) before popping in the oven to bake for half an hour. It's that quick.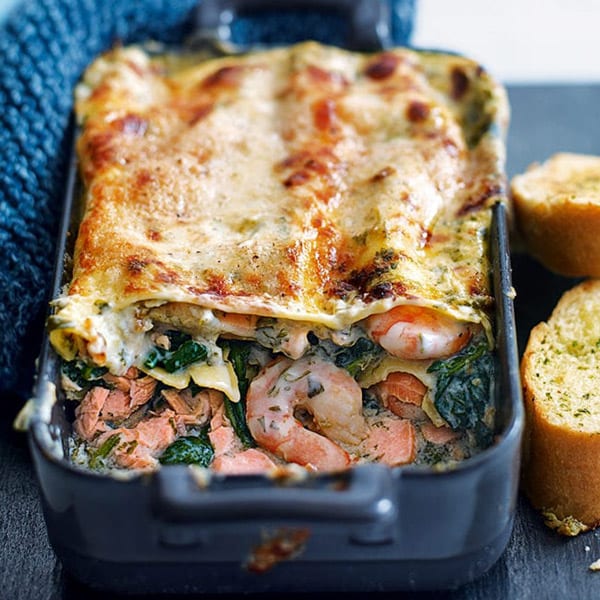 This lighter twist on a lasagne is less than 500 calories per serving and uses lean pork mince to to make the meaty sauce. It still tastes rich and indulgent, but is a little bit better for you!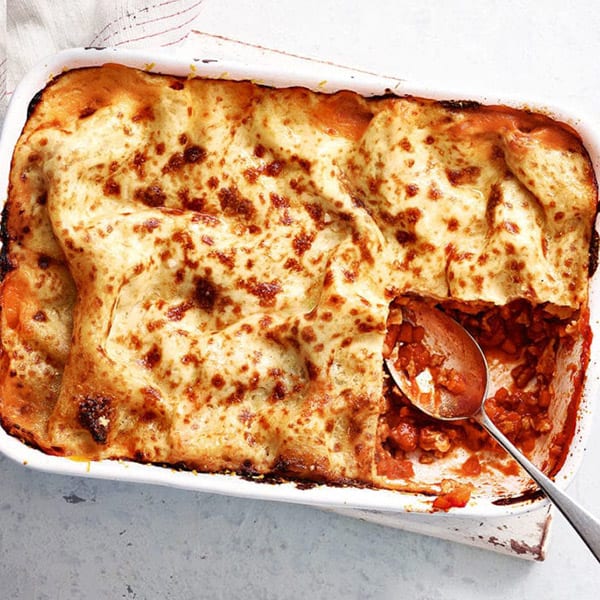 A really stunning dish for lazy summer lunches…Layers of pasta, asparagus, fresh mint and lemon are cooked in a creamy ricotta sauce to make a seasonal and vegetarian open lasagne.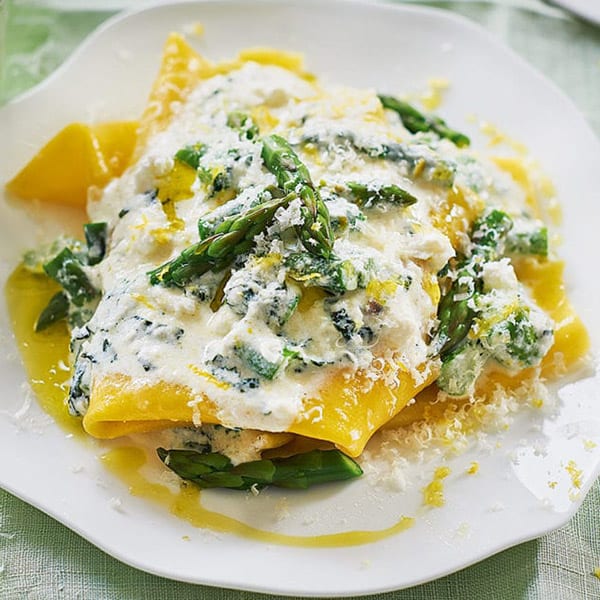 Need to use up leftover bolognese? Or not sure what to do with that batch in the freezer? Pep up your sauce second time round with spinach and sun-dried tomatoes, then layer it up in our easy-peasy lasagne recipe.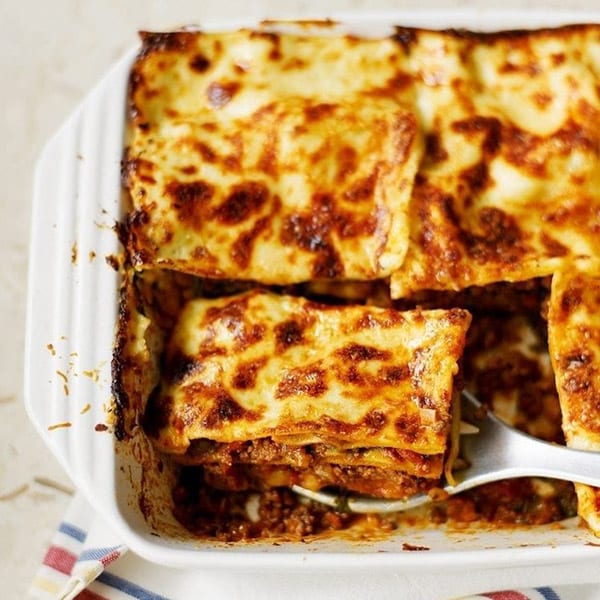 Mushroom, parma ham and mascarpone lasagne
There are lots of bold flavours in this creamy dish: a meaty pork mince and mushroom sauce is dotted with tangy taleggio, salty parma ham and thick layers of mascarpone sauce. It's really rich, but who cares?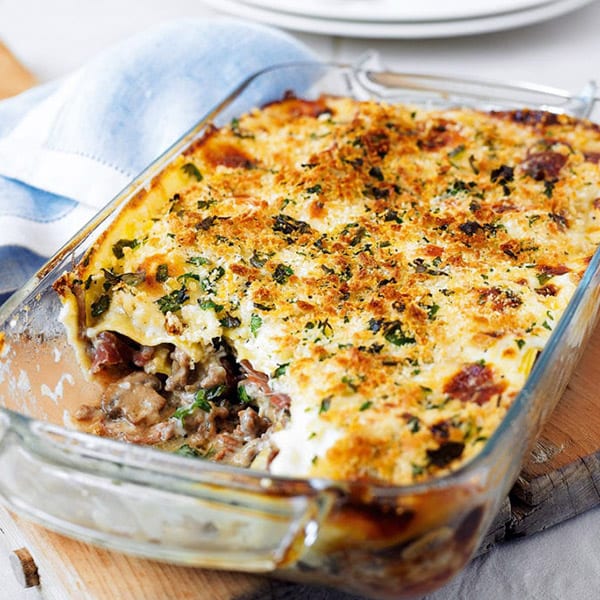 Hungry for more? Check out all of our lasagne recipes.
Subscribe to our magazine
Food lovers, treat yourself this Christmas... Enjoy 12 months of magazines for £29.99 – just £2.50 an issue.
Subscribe
Unleash your inner chef
Looking for inspiration? Receive the latest recipes with our newsletter