18 brilliant Mini Egg recipes you'll want to eat right now
As far as I'm concerned the time around Easter, when Mini Eggs are on sale, is the best time of the year. I know other people feel the same, there was even an official petition calling for Mini Eggs to be on sale all year round. I signed it but apparently it was deemed an issue that is "outside the responsibility of the government". Pah.
Just one crunch of a Mini Egg sugary, pastel-coloured shell and milky Cadbury's chocolate and you know it's impossible to stop at one… bag.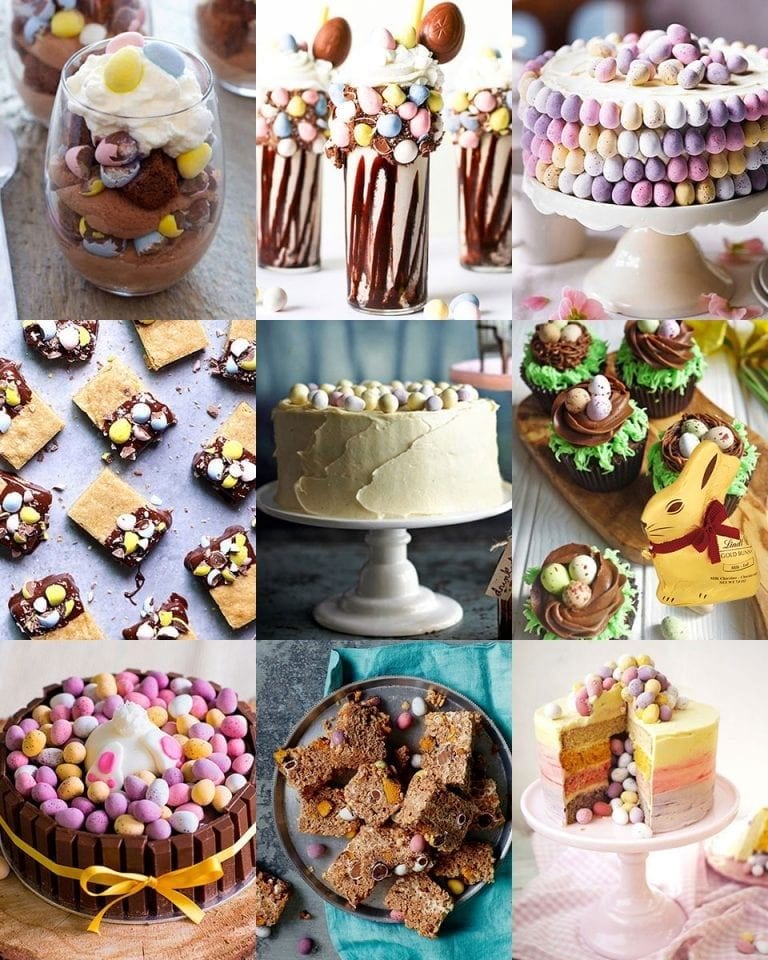 You don't have to enjoy these little beauties on their own, make the most of the short-lived Mini Egg season and use them in everything from cheesecake to fudge, brownies to ice cream.
Here are some of our favourite recipes from around the web.
1. delicious. chocolate and Malteser cake
It doesn't get more decadent than layers of chocolate Malteser cake, covered in a rum, malt and white chocolate icing, then topped with Mini Eggs.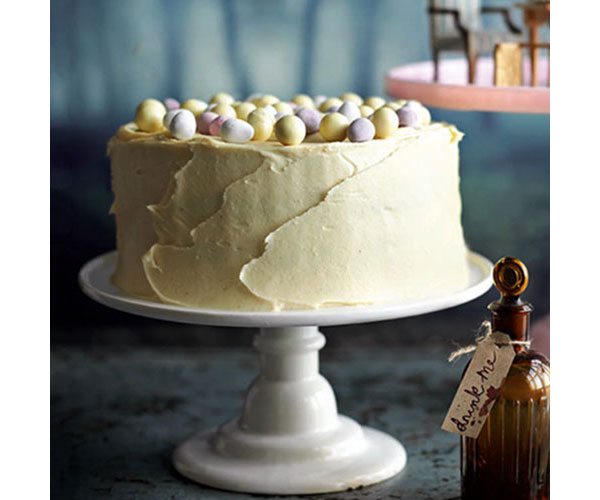 2. delicious. sweetshop crispy treats
Crunchies, Curly Wurly bars, Rice Krispies, marshmallows and Mini Eggs come together to form a treat for serious sweet-lovers.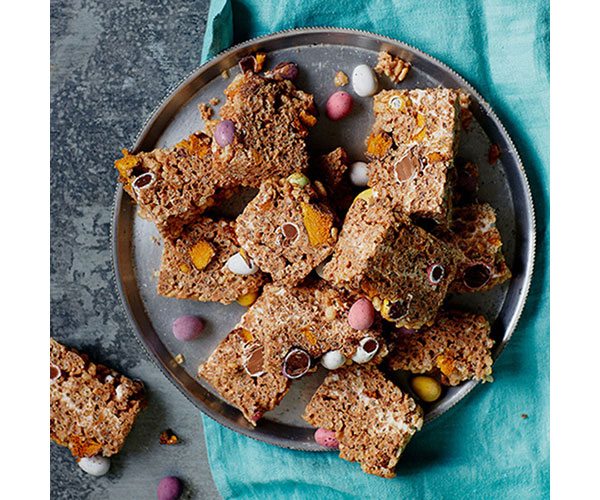 3. Tutti Dolci's chocolate dipped blondies
Chewy white chocolate blondies taste even better when dunked in chocolate and topped with Mini Eggs.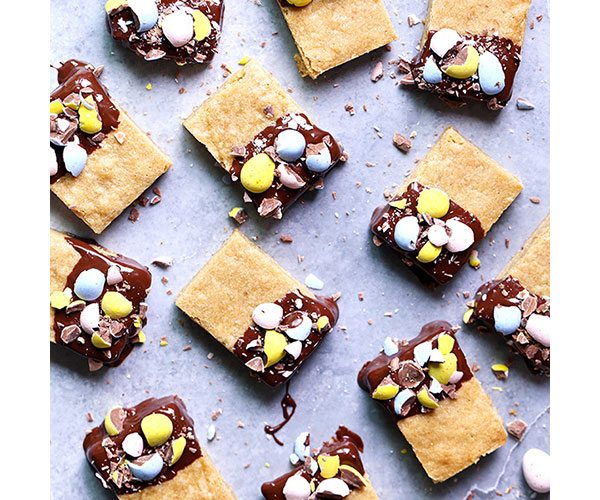 4. Salty Canary's Mini Egg milkshakes
Next level chocolate milkshake with a cake icing and Mini Egg-adorned rim.
5. The Busy Baker's Mini Egg brownie parfait
Fudgy brownie pieces, chocolate whipped cream and Mini Eggs go into this Eton-mess inspired dessert.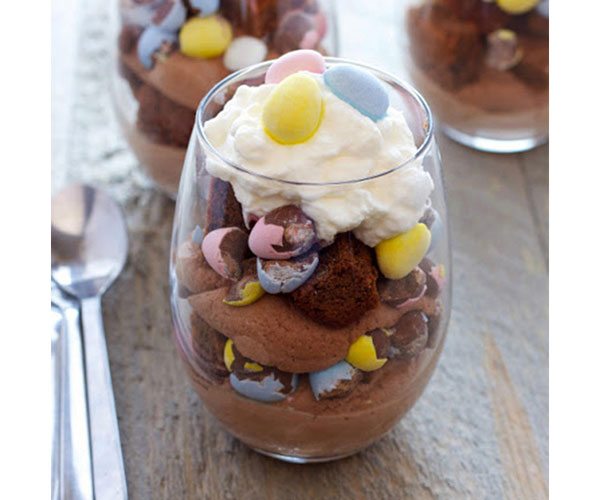 6. Martha Collison's Mini Egg cake for Waitrose
Great British Bake Off contestant Martha covers a light vanilla sponge with white chocolate buttercream and covers it in Mini Eggs.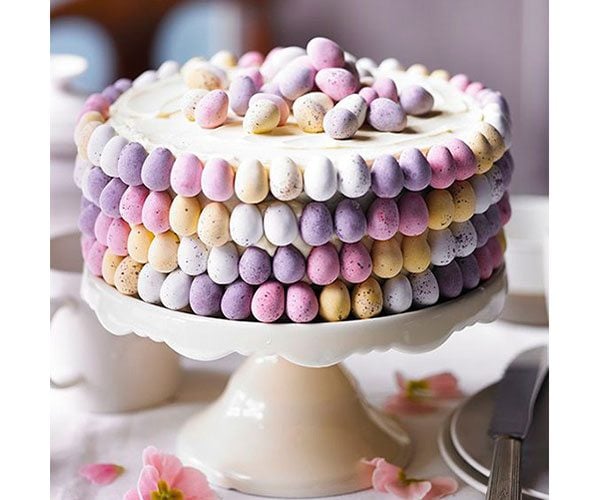 7. Taming Twins' Mini Egg nest cakes
These cupcakes, topped with buttercream nests for those precious Mini Eggs, are great to make with children this Easter.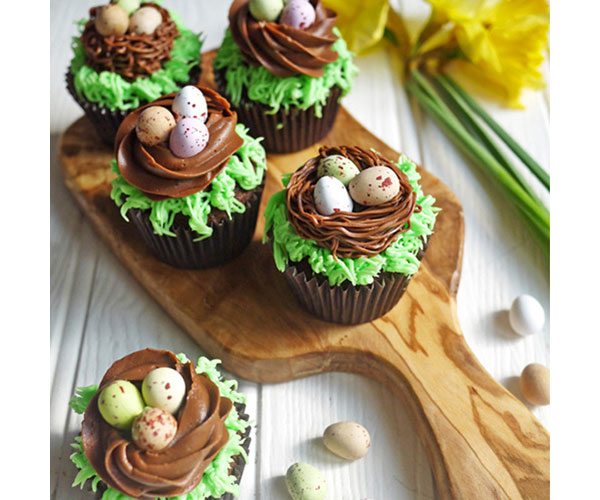 8. Haut Appétit's Mini Egg ice cream
Coconut milk ice cream and Mini Eggs makes a great sunny day treat – here's hoping the sun shines this Easter.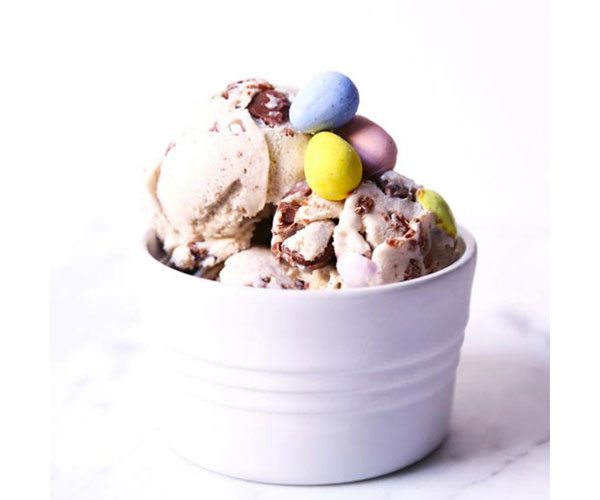 9. Baking Mad's Mini Egg bunny cake
Make an Easter centrepiece with this rich chocolate cake layered with cream filling. It's then covered in dark chocolate ganache, edged with Kitkats and covered in Mini Eggs.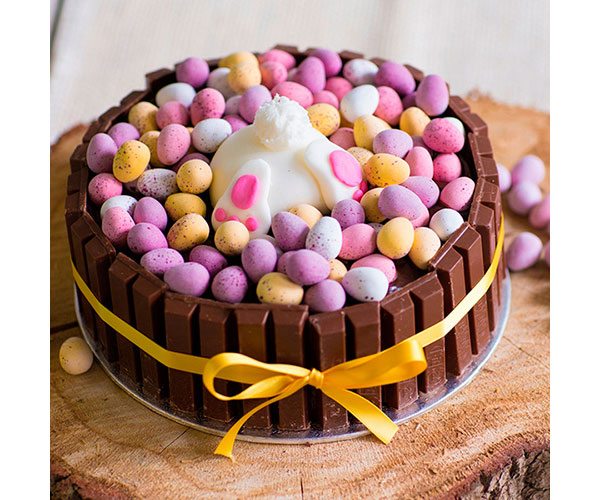 10. The Pink Rose Bakery's Mini Egg bark
This is a full-blown Easter chocolate fix, it's easy to make by swirling together white, milk and dark chocolate then sticking Mini Eggs in and sprinkling with hundreds and thousands.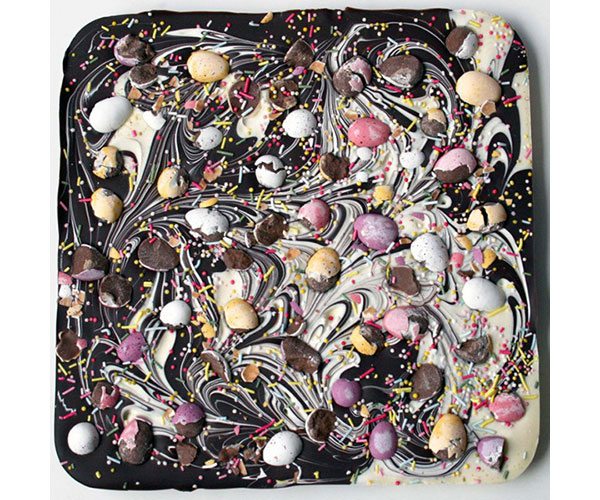 11. Taming Twins' ombre piñata cake
What's more fun than a real piñata? A piñata cake which, when sliced open, reveals a tumbling mass of Mini Eggs. Heaven.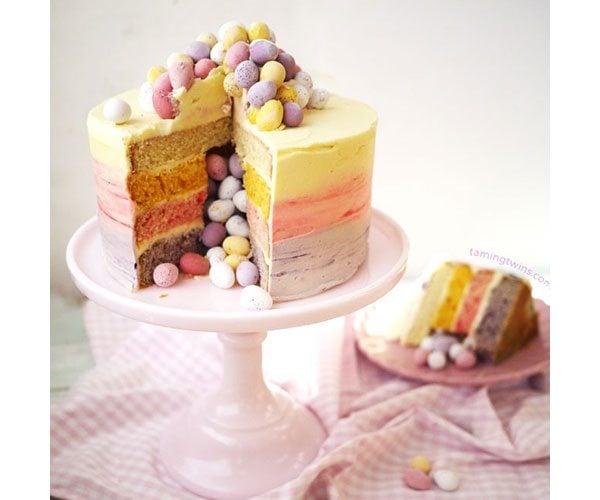 12. A Pumpkin and a Princess' Mini Egg cheesecake dip
When crisps and dip don't satisfy your sweet cravings, dunk biscuits into this cheesecake-style mixture.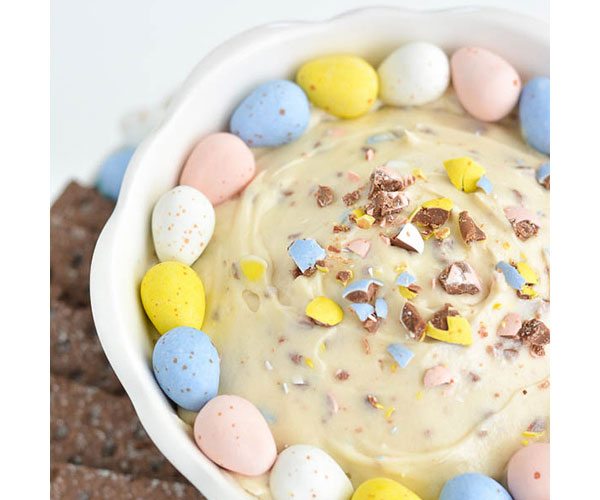 13. Annie's Noms Mini Egg fudge
We've all tried festive Christmas fudge, now it's time to try Easter fudge, packed with smashed Mini Eggs.
14. Satisfy My Sweet Tooth's chocolate chip cookie cups stuffed with Mini Eggs and chocolate ganache
A cookie cup filled with a dark chocolate ganache and a Mini Egg nestled, pride of place, on top.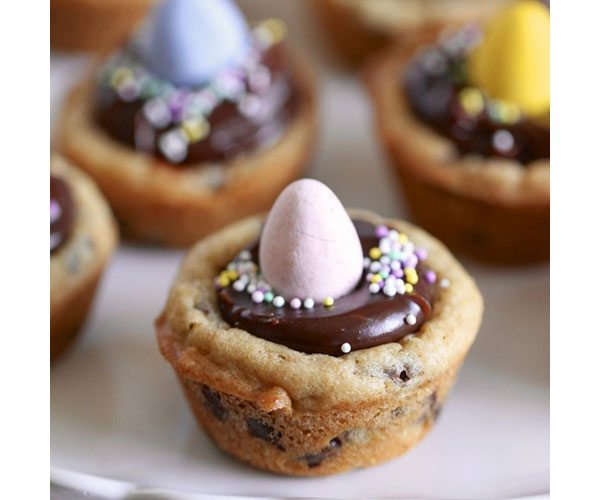 15. Garnish and Glaze's white chocolate Mini Egg cupcakes
Beating the egg whites separately means these little cakes are especially light and airy. Serve them in an egg carton for a very Instagram-worthy treat.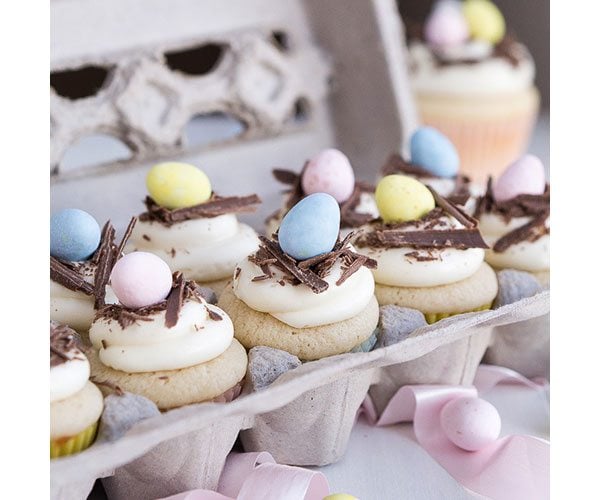 16. Globe Scoffers' Easter surprise Mini Egg cupcakes
Just when you thought these pretty Easter cupcakes couldn't get any better, you take a bite to find a marshmallow hidden inside.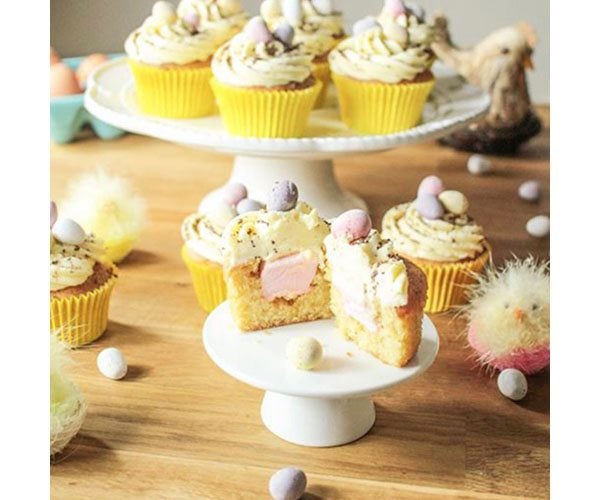 17. Jane's Patisserie's no-bake Mini Egg cheesecake
No baking, no hassle, just a vanilla cheesecake that's studded with Mini Eggs and topped with them too.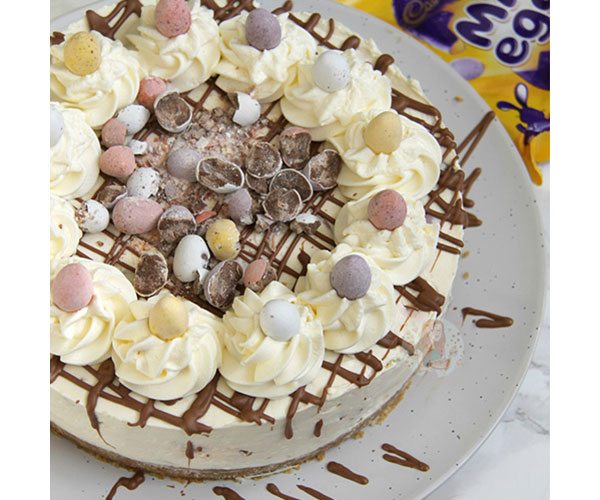 18. delicious. Mini Egg ice cream chocolate layer cake – give it a crack this year.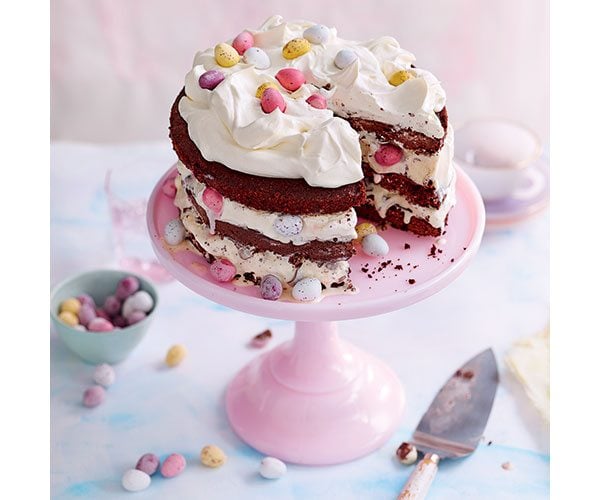 Subscribe to our magazine
Subscribe to delicious. magazine for HALF PRICE
Subscribe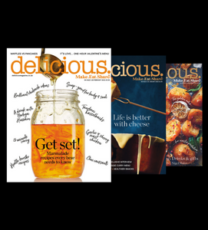 Join our newsletter
Packed with menu ideas, recipes, latest competitions and more...