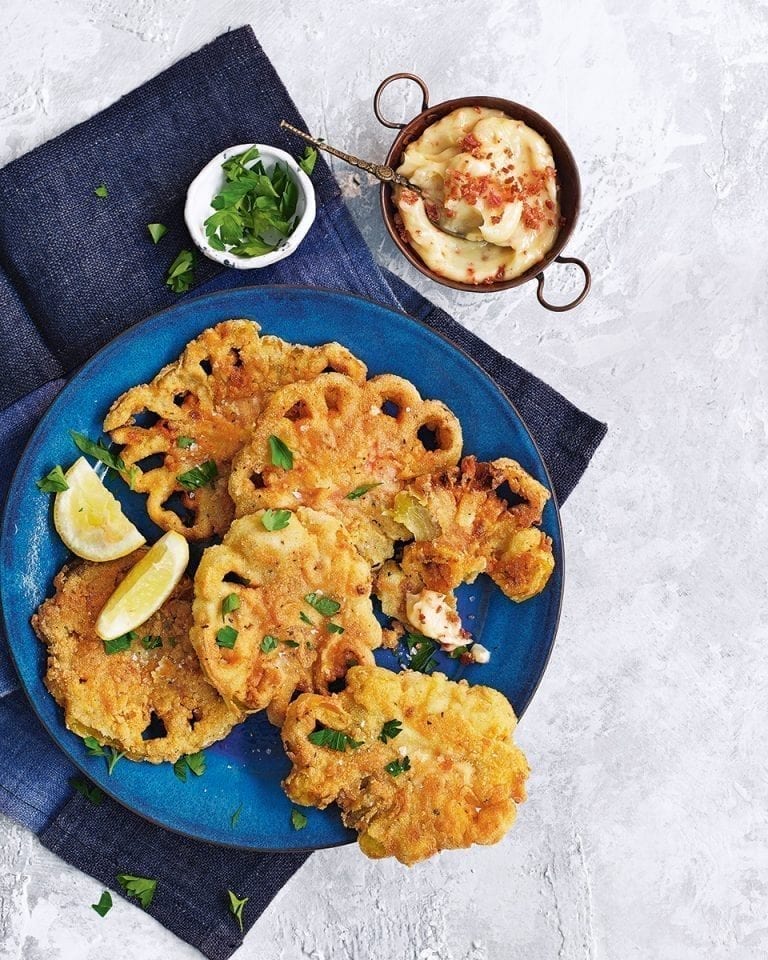 Serves 4, with leftover mayo

Hands-on time 60 mins
Sophie Michell's golden tomato fritters are crying out to be dunked in bacon mayo. Serve these beauties with cold iced tea to transport yourself to the American Deep South.
For a Greek twist on this recipe, try our Santorini tomato fritters with a yogurt dip.
For the tomatoes: 594kcals, 23.1g fat (2.6g saturated), 16g protein, 78.4g carbs (4g sugars), 0.1g salt, 4.3g fibre
Per tbsp mayo: 109kcals, 11.8g fat (1.4g saturated), 0.7g protein, no carbs, 0.1g salt, no fibre
delicious. tips
You can also make the bacon mayo with bacon fat, so drain the fat off and save it when you can, although the method below is a quicker way to get bacon flavour.

You can use shop-bought mayonnaise but making your own is easy.

If you can't get green tomatoes any firm, fleshy tomatoes are good (such as plum tomatoes) – or try other vegetables such as thick slices of onion, peppers or fennel.

Coat the tomatoes a few hours before you want to eat, then fry to serve. Make the mayo up to 48 hours ahead and keep covered in the fridge.