15 best gnocchi recipes
Can you imagine what life would be like without gnocchi? Those soft and fluffy potato dumplings are a joy to cook with and can upgrade mundane midweek meals in a millisecond. Whether you like yours drizzled with sage butter or baked under a tomatoey bed of mozzarella, we've got endless recipe ideas with gnocchi to satisfy you.

Check out our ultimate guide to making homemade gnocchi from scratch, or save time by using the shop-bought variety, and take a look at our 15 best-ever gnocchi recipes.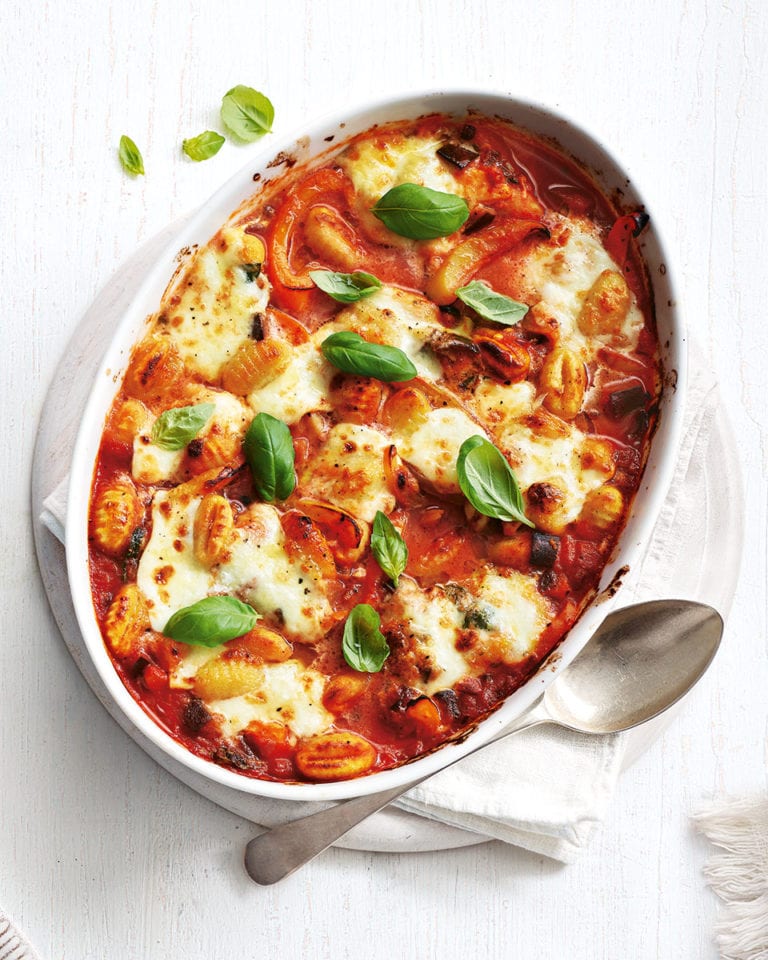 How do you make gnocchi from scratch?
Although you can pick up packs of fresh gnocchi in supermarkets, if you're keen for a challenge, making your own gnocchi can be so rewarding. So, what exactly is gnocchi? Essentially, gnocchi is small balls of dough made out of cooked, starchy potatoes, flour and egg yolks. After being formed, they're usually cooked in salted water, but you can pan fry them too.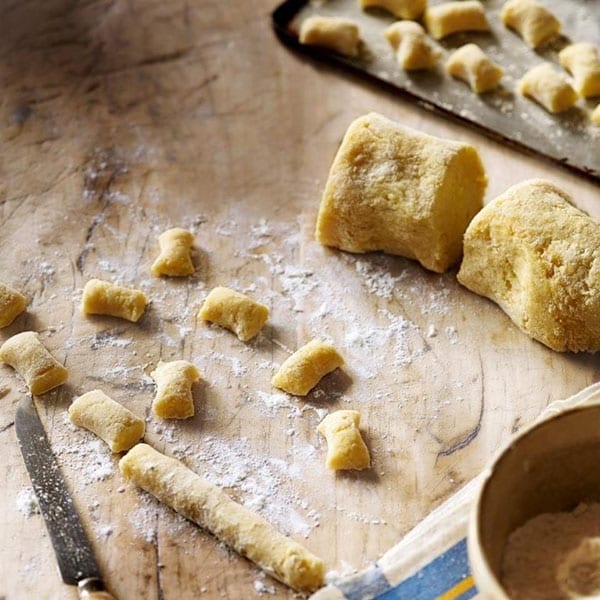 For best results, check out some of our top tips for making homemade gnocchi:
We recommend you use '00' grade (very fine) flour, but plain flour will also do.
Use potatoes that are roughly the same size so they cook in the same amount of time.
Don't use waxy potatoes! Floury potatoes such as maris piper or rooster work best.
If you're going to make gnocchi a regular thing, it's worth investing in a potato ricer or mouli – nothing else will give you that perfectly smooth finish.
Don't worry too much about using the exact flour quantity with gnocchi – add just enough to bring the dough together (if it starts to crack a little, rework it lightly until it comes back together ).
Click here for our entire guide on making homemade gnocchi from scratch.
Can you make gnocchi vegan?
Although our recipe uses egg to bind the dough together, this isn't strictly necessary. Simply use water instead, if you're looking to make vegan gnocchi.
Which flour is best for gnocchi?
We recommend you use '00′ grade flour, as it has a higher gluten content which makes the best, sticky gnocchi. Plain flour work too, if you can't get your hands on '00' flour.
Can you freeze gnocchi?
Gnocchi dough will keep well for a few days in the fridge, or if you'd prefer, you can freeze the dough for longer. Don't cook the dough – form into gnocchi shapes and freeze before cooking.
What should you serve gnocchi with?
Treat gnocchi like any other pasta; the variety of dishes you can make with gnocchi is endless. Try it drizzled with pesto and parmesan for a spin on pesto pasta, or serve alongside sausages for a twist on sausages and mash.
Our best-ever gnocchi recipes…
Made with just six ingredients, our gnocchi-take on the classic cacio e pepe pasta will be a firm favourite in no time. It's a simple one, which doesn't take long to put together – perfect if you're in a dash.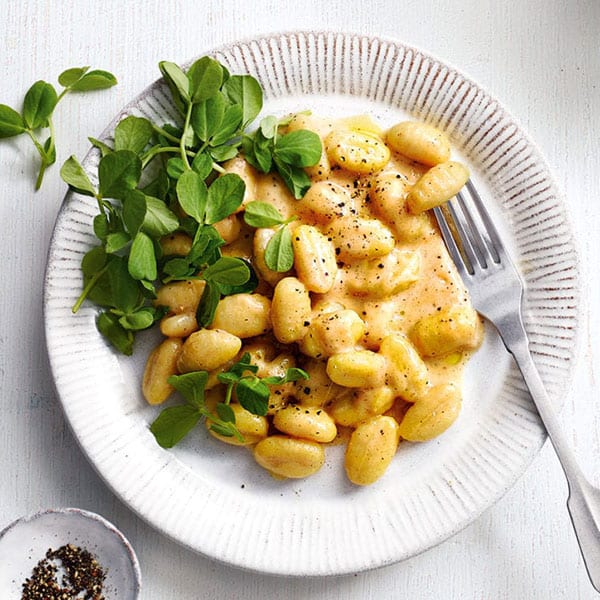 One pot cheesy tomato and mozzarella pasta bake
Simply baked in tomato sauce with a scattering of mozzarella on top is one of our favourite ways to serve up gnocchi. Dig into this easy-to-make family meal; it's a one pot wonder made with the classic tomato, basil and mozzarella flavour combination.
How's this for different? Try our updated version of the family classic: fish pie. Instead of mashed potatoes on top, we've added a crispy layer of gnocchi. Genius…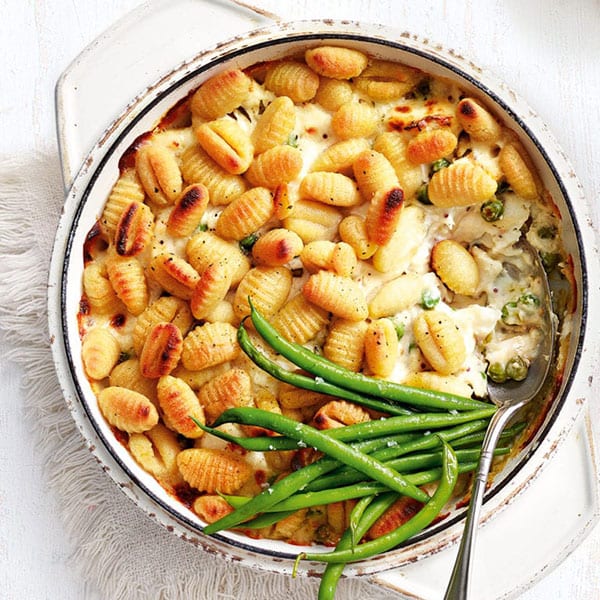 Gnocchi with brown butter and sage
Gnocchi in one of its simplest (and best) forms: with butter, sage and a squeeze of lemon. You need little else to make this flavour-packed gnocchi recipe. It's great with a glass of white over a catch-up with friends.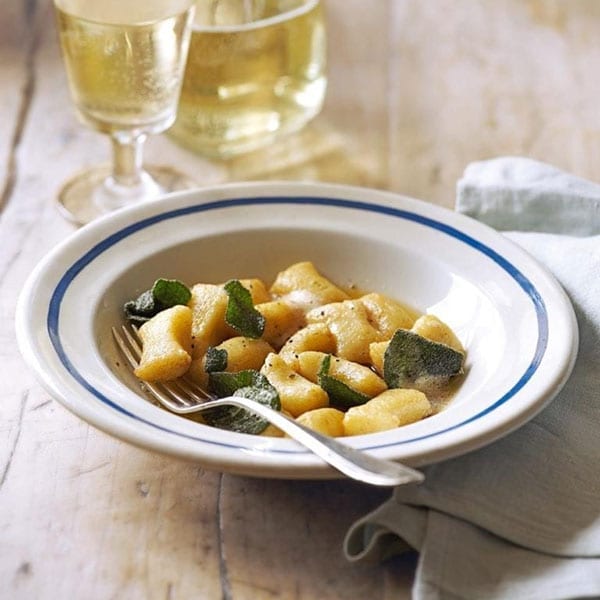 Sausages and gnocchi go hand-in-hand. All you need is a pack of pork sausages, a generous pinch of chilli and some store-bought gnocchi to make this comforting weeknight wonder. And it only takes 20 minutes to make!
Tomato, spinach and black olive gnocchi
The addition of salty black olives to this simple gnocchi dish changes the game. Make this speedy supper in just 25 minutes and create BIG flavour using sweet sun-dried tomato pesto and black olives.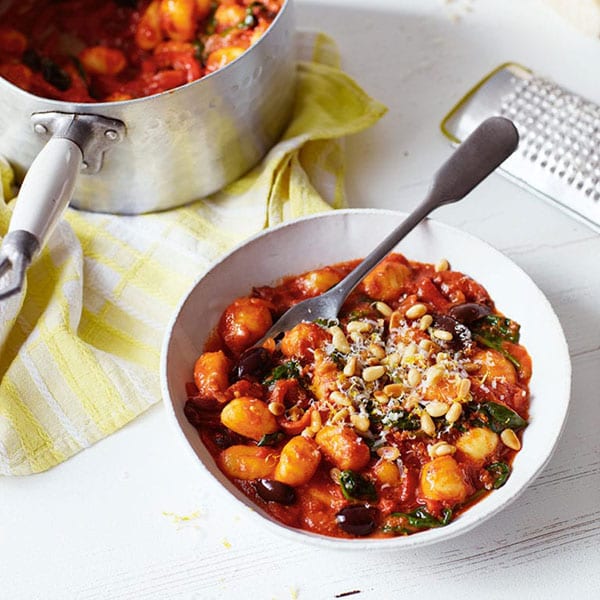 Roman-style gnocchi with sausage ragu
A hearty sausage ragù topped with cheesy gnocchi and sprinkled with basil leaves is just the sort of dish to get you ready for the weekend. It's great for a crowd and the oozy, cheesy topping will cause jaws to drop around the table.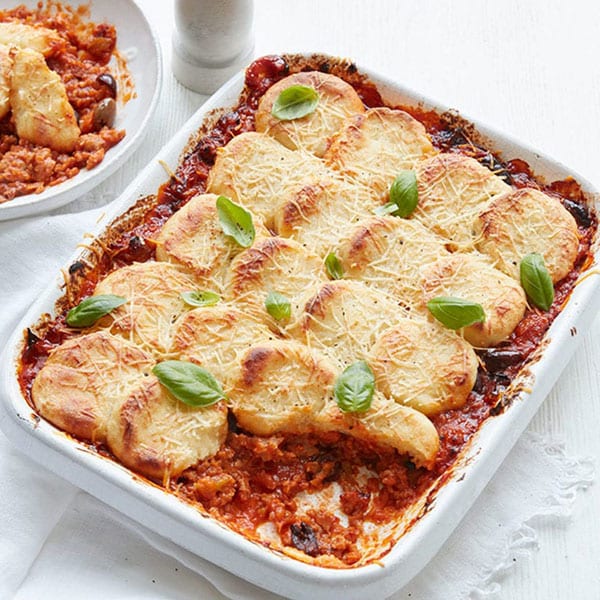 Baked gnocchi with cream, mushrooms and blue cheese sauce
Blue cheese fans: rejoice! This recipe of soft, pillowy gnocchi baked in a creamy blue cheese mushroom sauce is a great dinner for a cold winter's night.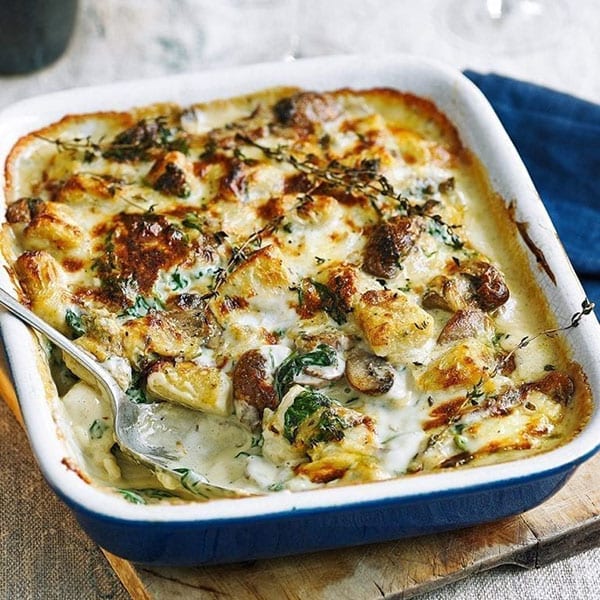 Gnocchi with artichokes, pancetta and mascarpone
You don't need many ingredients for this creamy dish – just some smoked pancetta, artichokes, mascarpone and fresh herbs. The salty-creamy flavour combination gets us every time.
White bean gnocchi with lamb ragù
Don't let anyone tell you that ragù needs to be served with spaghetti – just ask them to try this gnocchi dish first. We've even made the gnocchi gluten-free by using cannellini beans, but you can use shop-bought gnocchi if you'd prefer.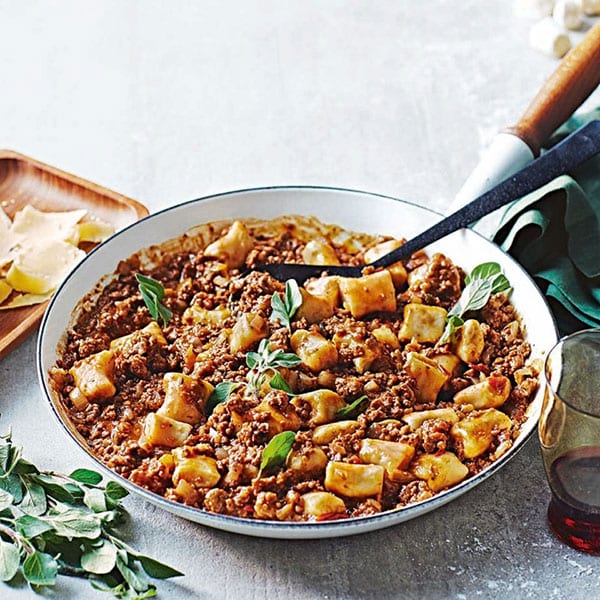 Ricotta gnocchi with cherry tomatoes and sage
Save yourself the drama of a long ingredients list and keep things short and sweet with this fresh, seasonal recipe using ripe tomatoes and a dollop of creamy ricotta.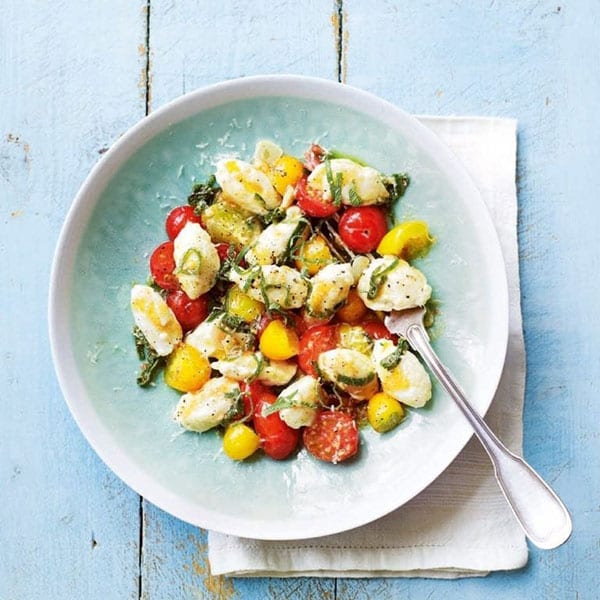 Creamy mushroom and speck gnocchi
Speck and mushrooms are cooked in sage butter, them combined with crème fraîche to create this creamy gnocchi dish. Treat the family to a bowl of comfort food this week – all it takes is 25 minutes!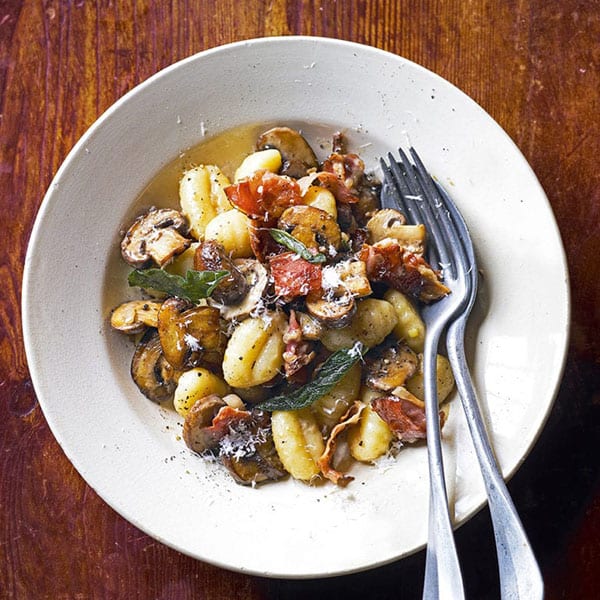 Name us a better combo than salmon, cream cheese, chilli and lemon – we'll wait… This salmon gnocchi bake has been a reader favourite for years, and it's easy to see why.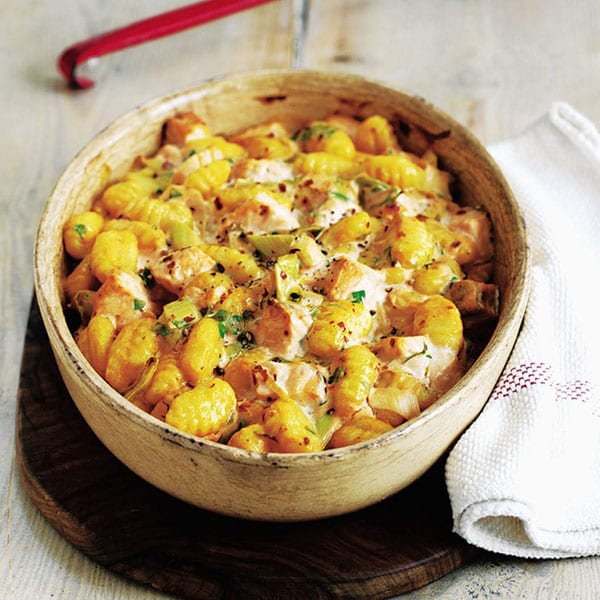 Baked gnocchi with gorgonzola, spinach and walnuts
Oh, so it's comfort food you're after? This quick, easy and comforting gnocchi recipe, made with blue cheese and plenty of parmesan, takes just 15 minutes.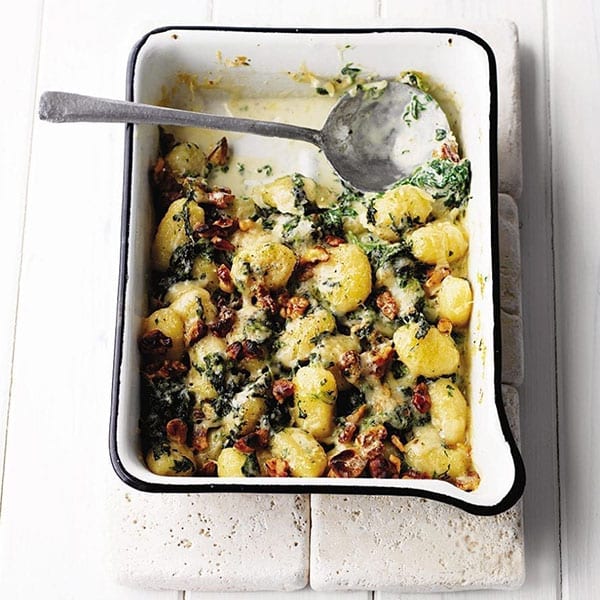 This is a super simple gnocchi recipe, made with just a few shop-bought ingredients, that's great to have etched in your memory. The best bit? You can create a meal for two in just 12 minutes…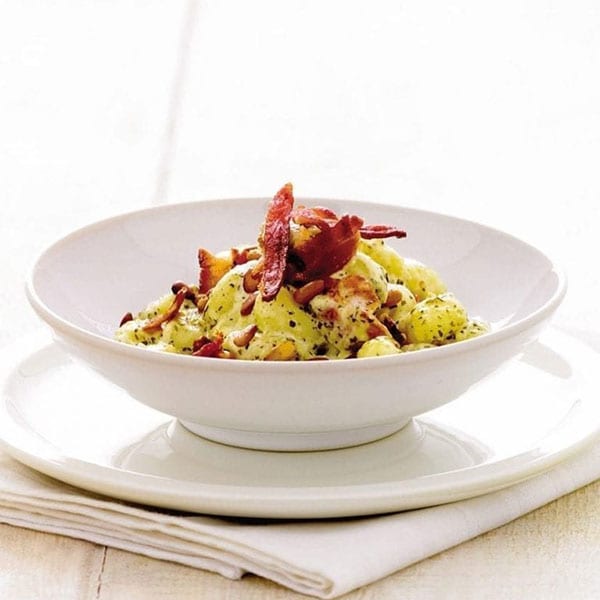 Haven't spotted something that takes your eye? Fear not, we've got 50 more gnocchi recipes that await you here…
Subscribe to our magazine
Subscribe to delicious. magazine for HALF PRICE
Subscribe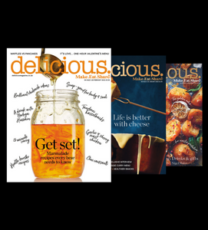 Join our newsletter
Packed with menu ideas, recipes, latest competitions and more...