18 tasty prawn recipes you've simply got to try
If there were one food to remind you of going on holiday, we reckon it'd be prawns. Prawns (or shrimp as they are known across the pond) are always a guaranteed good time. They're a great source of vitamin B and they're ever so versatile, so we've rounded up 18 of our favourite must-try prawn recipes.
From prawn saganaki to shrimp spaghetti, prawn curry to seafood tacos these are our favourite ways to enjoy the sweetest of seafoods. Whether it's the little shrimp or the king prawns you favour – these recipes are our must-tries for prawn lovers everywhere. And of course, you better expect a mention of that most famous of starters, the classic prawn cocktail…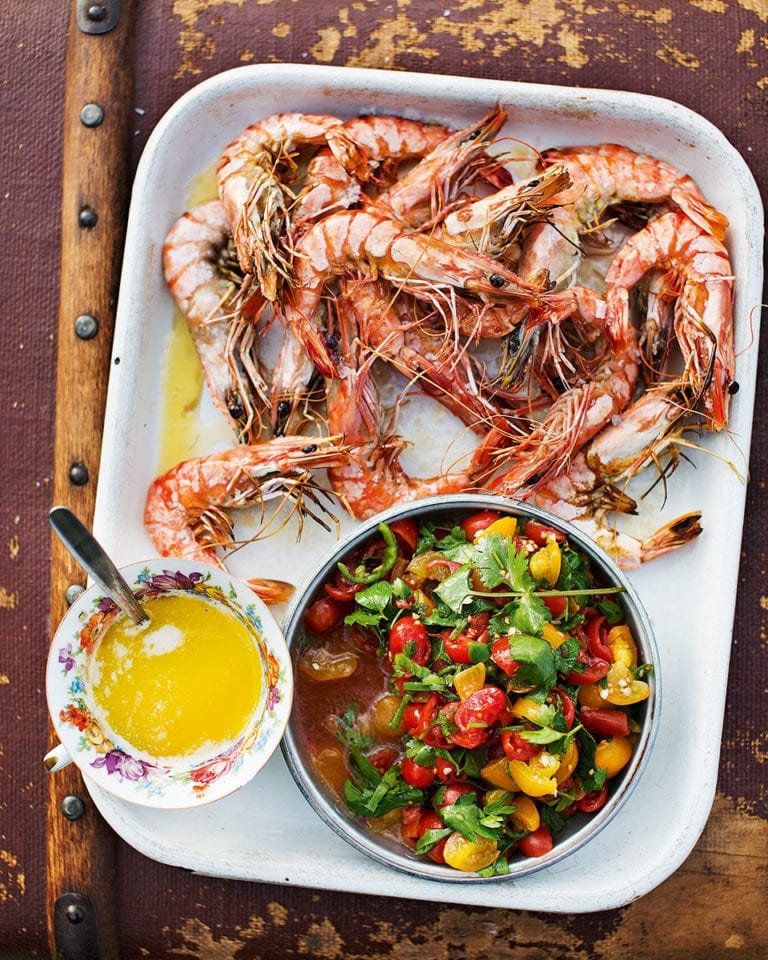 How to prepare fresh prawns
Buying fresh prawns with their shells intact results in prawns that taste much better than ready-cooked or peeled varieties.
Preparing them is easy enough to do: hold the body of the prawn in one hand and firmly twist off the head with your other hand. The bonus here is that you can save and freeze the heads and shells to make stock (or use it in the prawn bisque recipe below). You then need to open out the shell by breaking it where the legs are attached. Pull the legs and shell off, starting from the head end. You can leave the tail on for its aesthetic value if you like.
Watch our video for a more thorough tutorial.
Our 18 most-loved prawn recipes
Saganaki prawn and feta traybake
Here, prawns are added to a rich, chilli-laced tomato sauce and left to bake in the oven with courgettes and aubergines. The traybake is then topped with creamy feta and olive oil before being served with lemon wedges and herbs. We shall affectionately name it 'the holiday traybake'.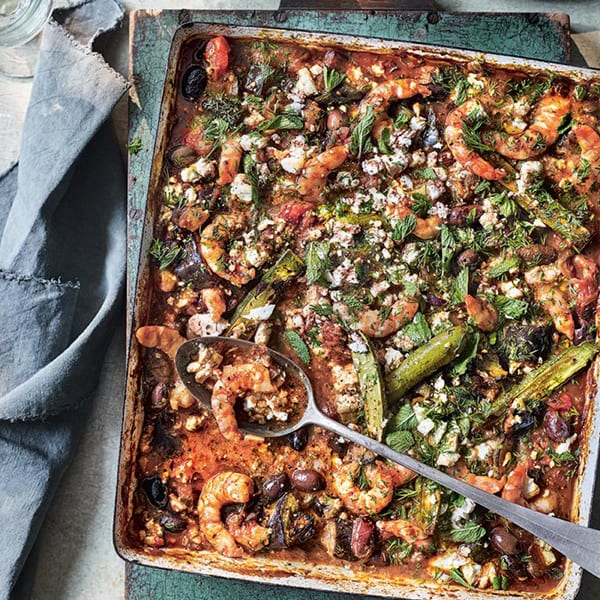 Prawn, chilli and lemon tagliatelle
Juicy prawns and pasta are a happy marriage – and this tagliatelle is heavy on the oil, lemon and garlic for seriously good results. You might not be able to go on holiday this year, but you can definitely pretend you're there while eating this.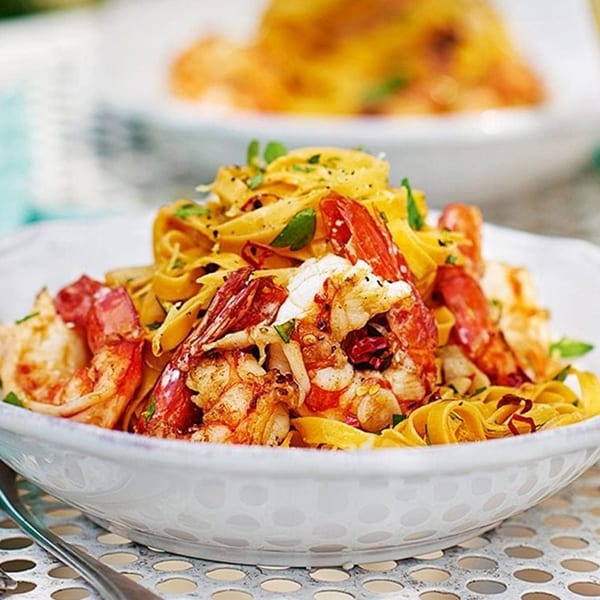 Valencian seafood noodle paella
If you're a paealla fan, then this Valencian seafood speciality known as 'fiduea' will definitely be up your street. You can buy the special Spanish noodles from Brinidsa or Sous Chef, but angel hair pasta broken up works just fine too. With the prawns, squid, and mussels, this is a seafood lovers' dream. Add a glass of Albariño and we think you're going to really enjoy this…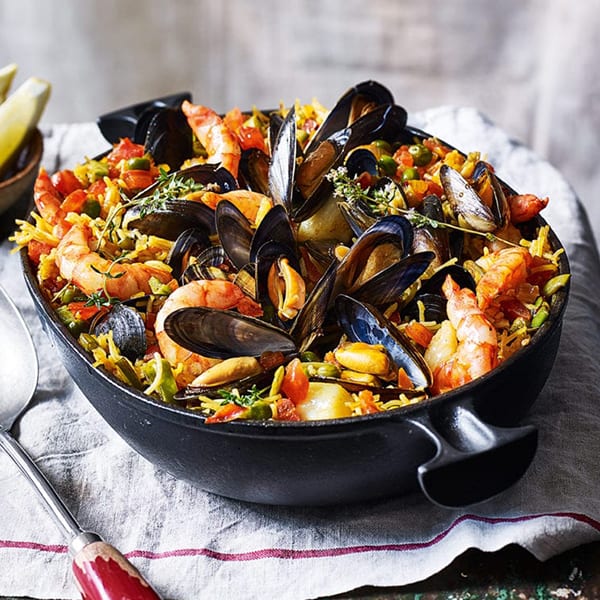 Take the classic mac and turn it up to 10 with the addition of king prawns and monkfish. With comforting flavours galore, a portion of this is a plate of food that is sure to leave you feeling satisfied.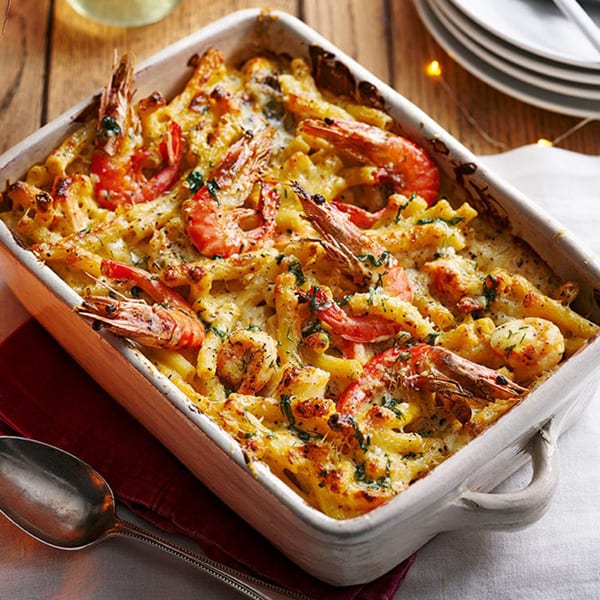 Is it the starter of all starters? We certainly think so. The British version of prawn cocktail has had a place at the table since the 1960s. It's the small details that make all the difference: a Marie Rose sauce with just the right amount of cayenne, ketchup and lemon juice is key. And a touch of snipped chives adds a welcome oniony hit.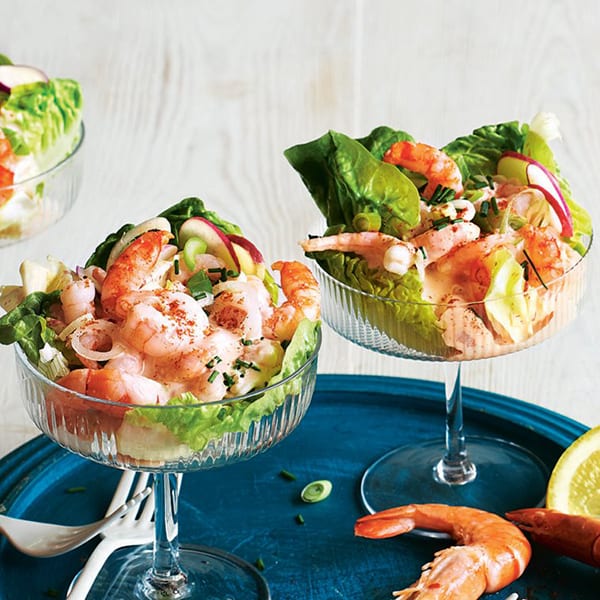 Good sesame prawn toast is addictive stuff, and this recipe uses kimchi and red chilli for a real tangy kick. It's the optimum level of crunchy and tasty – everything you want from a starter.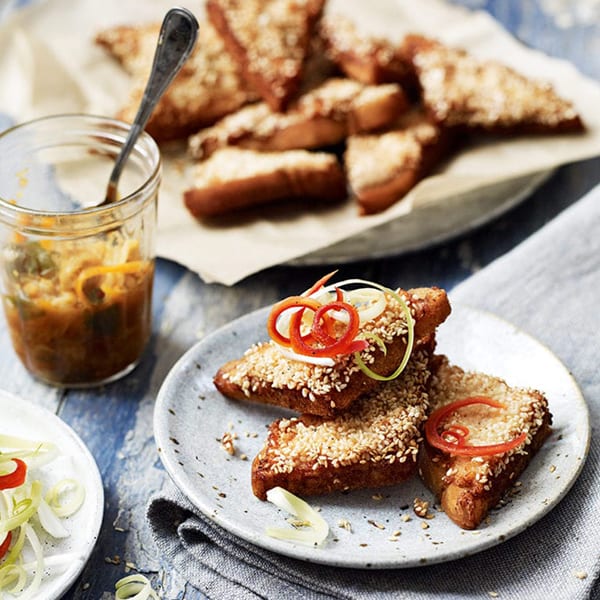 In this Goan prawn curry, garlic, ginger, desiccated coconut, and spices form a paste which gets added to well-softened onions and cooked until fragrant. Next up, green chillis go in, along with coconut milk and the all-important prawns, for a speedy curry that is really much simpler than you might think.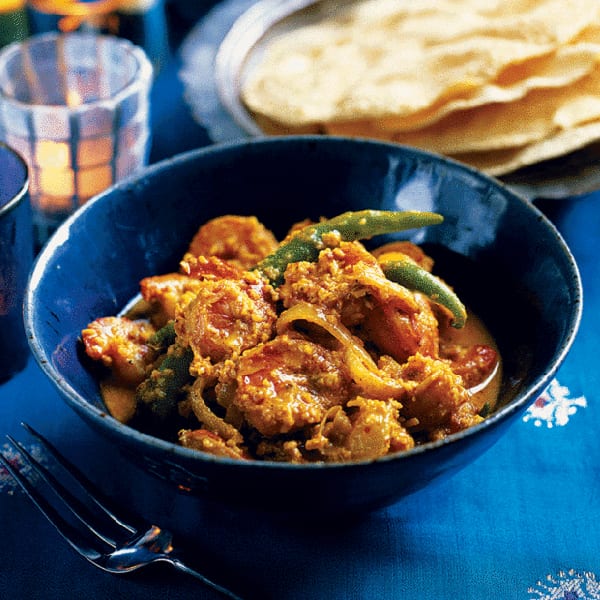 Fennel, beetroot and orange salad with griddled prawns
Prawns are a god-tier addition to a salad, really raising its game from a side to a main. This one is crunchy, citrusy, earthy and fresh, and with chunk of fresh bread on the side, you've got yourself a winning meal here.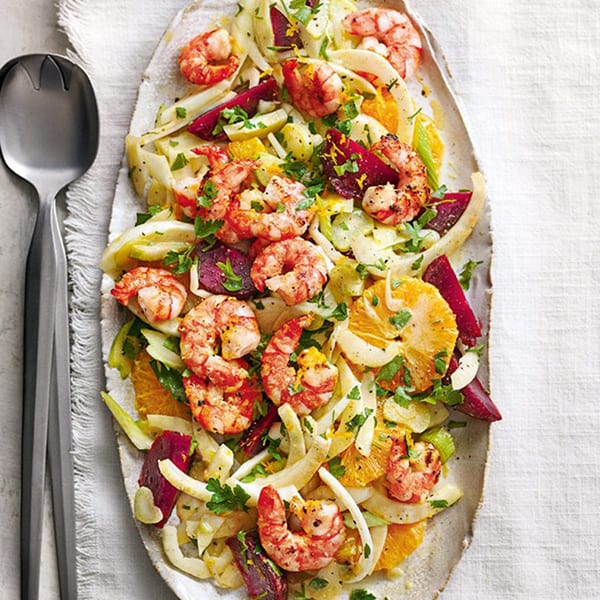 Griddled prawns with garlic butter
The truth of the matter is that when prawns are fresh, they really don't call for much more than a the hiss of a hot grill and the kiss of some garlic butter. This is perfect spring/summer fare, and the chilli tomato salsa adds a hot-sweet kick that goes so well with the garlicky shellfish.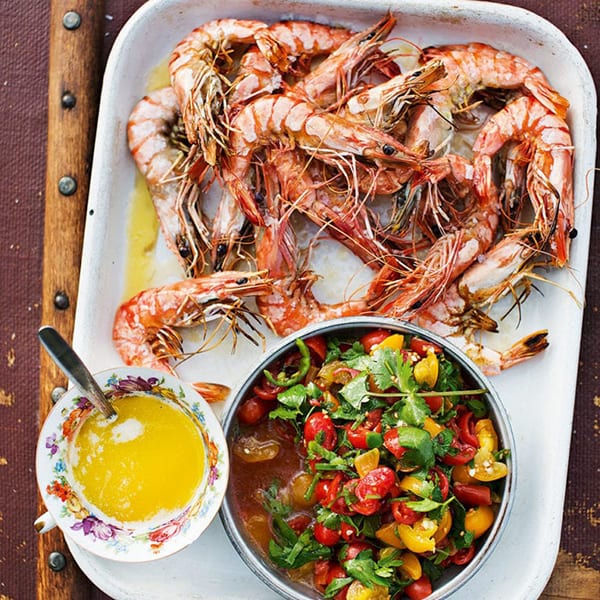 This meal can be ready in 30 minutes, but is impressive enough to feed to guests. The sweet prawns are complimented by crunchy lime-pickled red cabbage, soft corn tortillas, and creamy avocado for a truly satisfying dinner.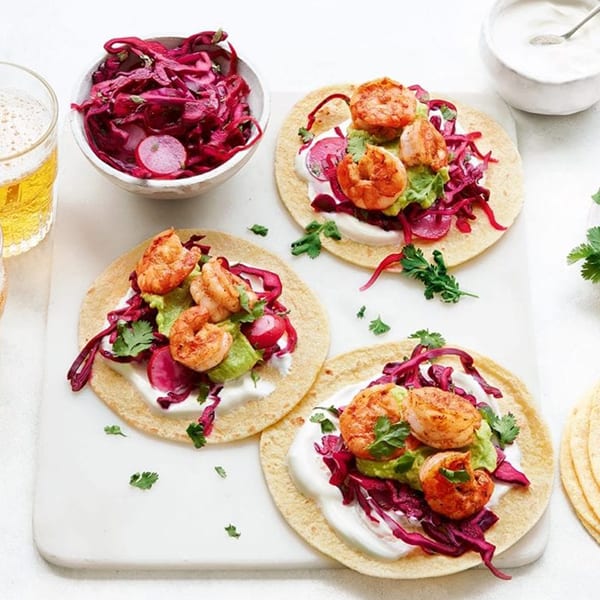 For those that like it spicy, these coconut prawns from Chetna Makan are given warmth from curry leaves and fennel seeds. The dish is ready in a matter of minutes, so have all the ingredients prepped and ready before you start. With rice or roti (and perhaps a dhal if you want to go all-out), this is a winning dinner!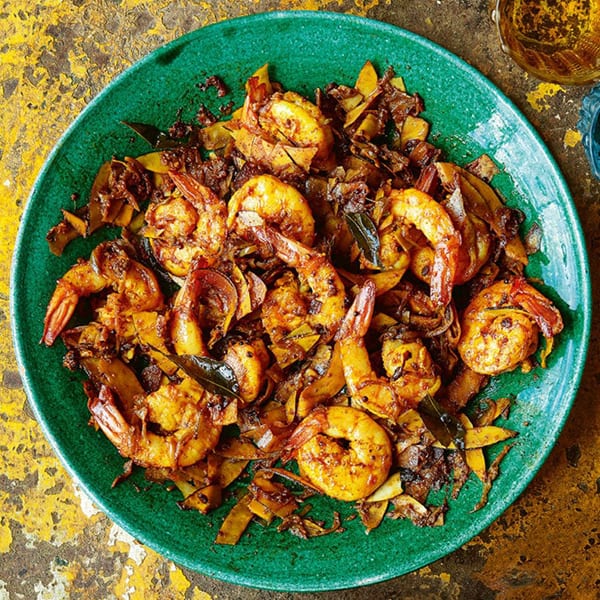 Smoky prawns with tomato and coriander
Try this Spanish-style dish for a starter or as part of a tapas spread. The smoked paprika and red wine vinegar bring out the prawns natural sweetness. These are seriously good, and if you're a coriander-hater, try it with parsley or dill instead. No one should miss out on this!
This super quick, Scandi-style salad has notes of the prawn cocktail about it. With 6 ingredients, it makes a wonderful lunch on rye bread or crackers. Give it a go.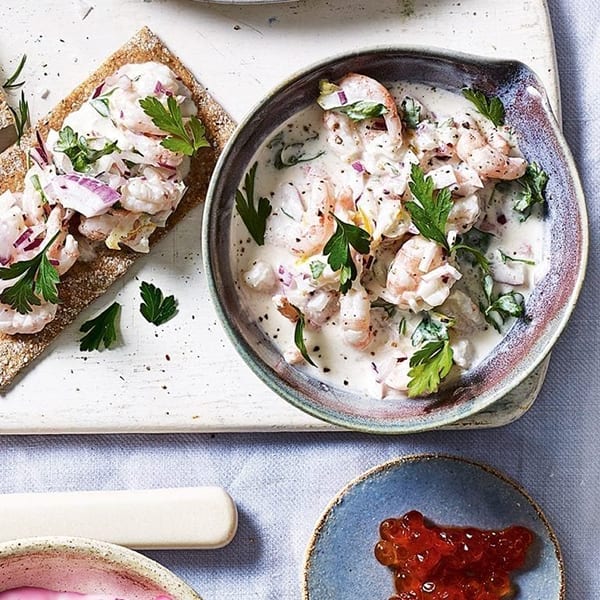 Prawns pil pil takes just 15 minutes to make and pays back with BIG flavours. Sweet padrón peppers, smoked paprika and lots of lemon accompany the garlicky prawns in this classic Spanish dish. We love it with sourdough toast and a handful of fresh parsley.
Singapore prawn and pork noodles
In this recipe, prawns are joined by pork mince, pak choi and egg noodles for a speedy and satisfying dinner. With heat from red chilli and warmth from the curry powder, it's an easy-peasy flavour bomb of a recipe.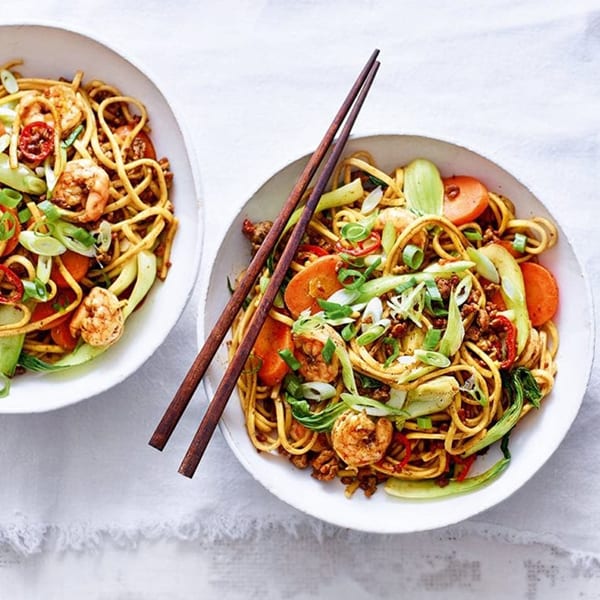 This French classic might be a challenge, but our recipe takes you through step-by-step, and the results yield a deep, rich and creamy soup, made with homemade stock from the prawn shells, brandy, and cayenne pepper. Finish it with a generous splash of double cream and watch your guests' mouths widen with glee.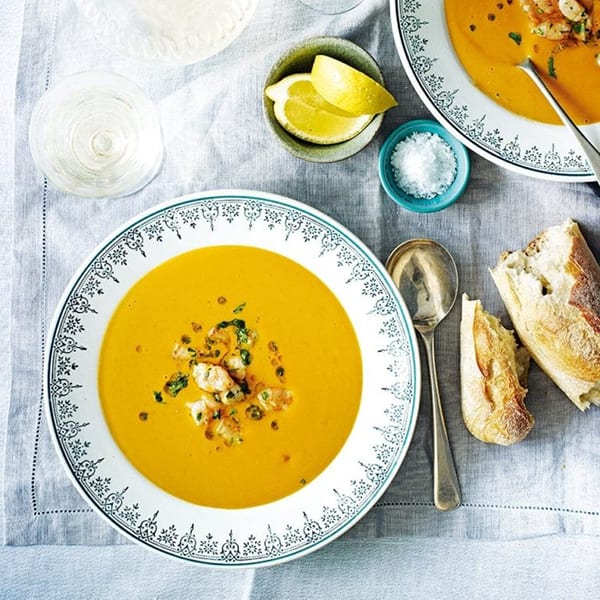 Prawn and cucumber sushi squares
This sushi recipe uses only 5 ingredients but is so cute, it hurts. Give it a go the next time you have sushi on the brain – just add soy sauce and wasabi.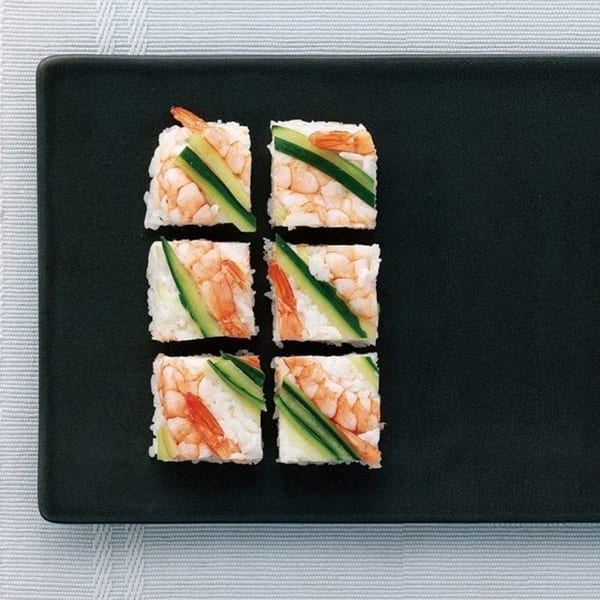 Chilli, prawn and tomato pasta
This is one of the most popular recipes on our website, and it's easy to see why. Chilli, tomato and prawn pasta is ALWAYS a winner. Even more so when it's guaranteed to be on the table in 20 minutes all-up.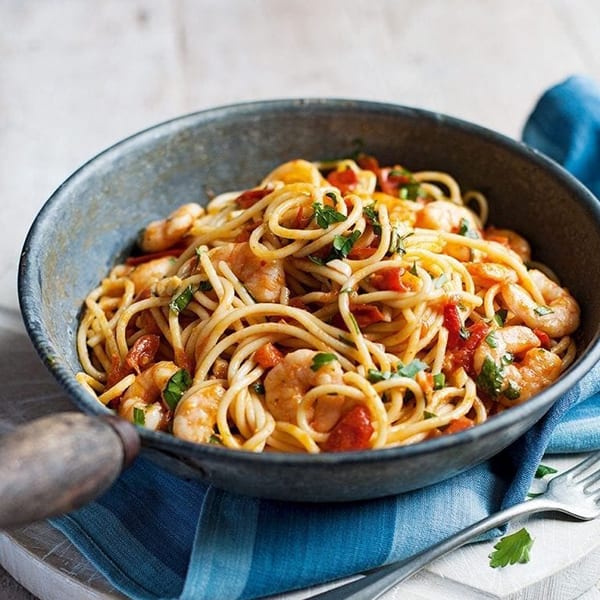 Hungry for more? Dip into all of our prawn recipes here for more inspiration.
Subscribe to our magazine
Subscribe to delicious. magazine for HALF PRICE
Subscribe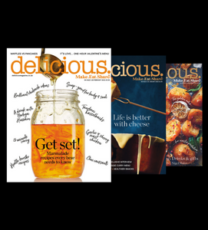 Join our newsletter
Packed with menu ideas, recipes, latest competitions and more...