12 fantastic recipes that use new potatoes
New potatoes, how we love you – let us count the ways… Also known as baby potatoes, new potatoes are harvested before they fully mature. This gives them a unique flavour, and their size and immaturity means they have thinner, softer skins, with the potatoes themselves having a relatively high moisture-lower starch content.
All of this means new potatoes retain their shape when cooked – making them ideal for tartiflette, potato salad, and many more delights.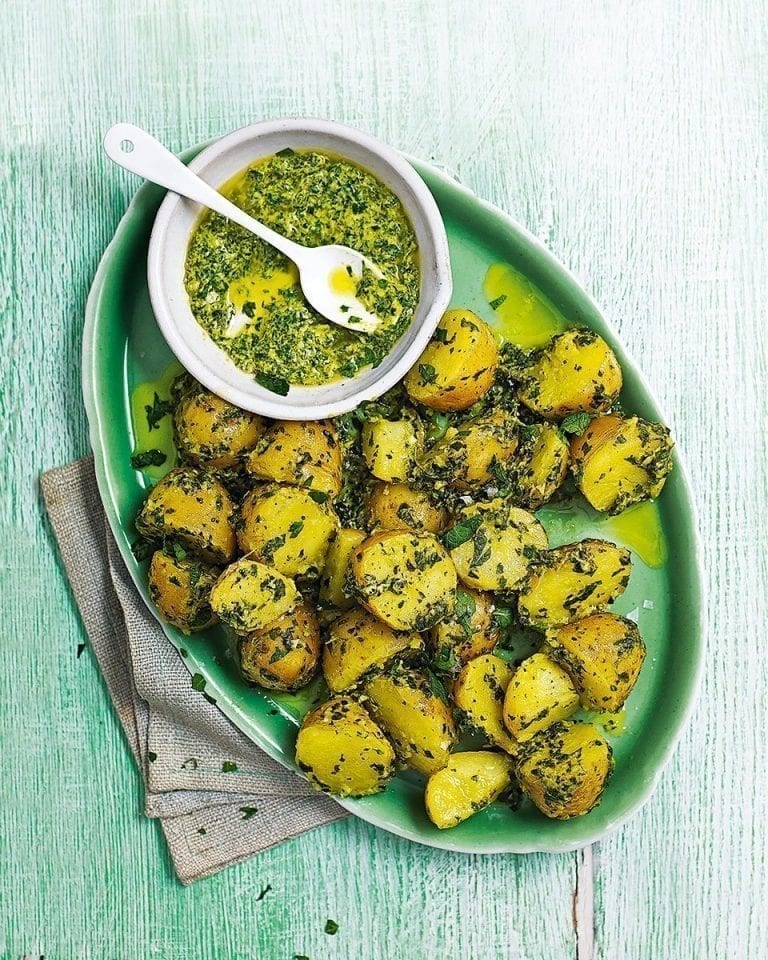 When are new potatoes in season?
In season from April to July, new potatoes are one of the most anticipated spring vegetables. We love them for their versatility, and unique texture. AND we love that they don't need peeling.
What different varieties of new potatoes are there?
The cream of the crop are Jersey Royals, which usually appear in late April and mark the coming of the warmer weather. Other varieties like Pentland Javelin, Charlotte, Anya and even Fingerling potatoes, are also available and can be used in the below recipes.
Our very best new potato recipes
Warm potato salad with green tahini and herb dressing
Do you recoil at the thought of a gloopy mayo-dressed potato salad? Allow us to reacquaint you with the picnic dish in the form of this warm potato salad with green tahini and herb dressing. It's lip-smackingly good.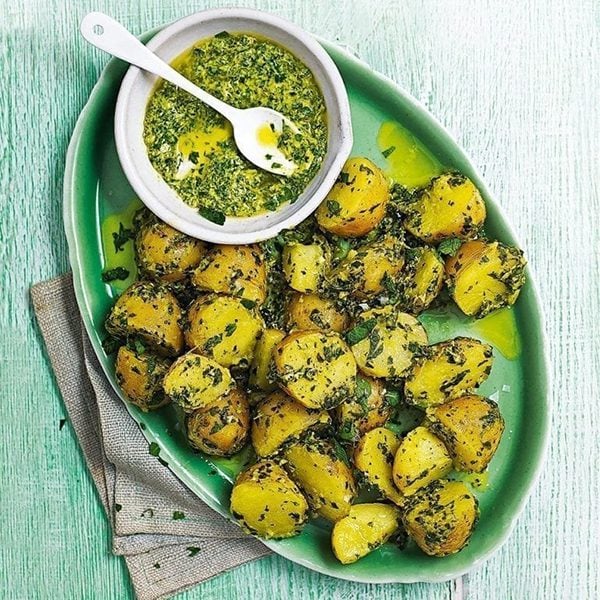 Sherry braised Jersey royals with broad beans and serrano ham
In this recipe Jersey Royals are braised in sherry and stock and they soak up a tonne of flavour. Mix with broad beans and crispy serrano ham and you have yourself a grown-up potato salad with all the right textures.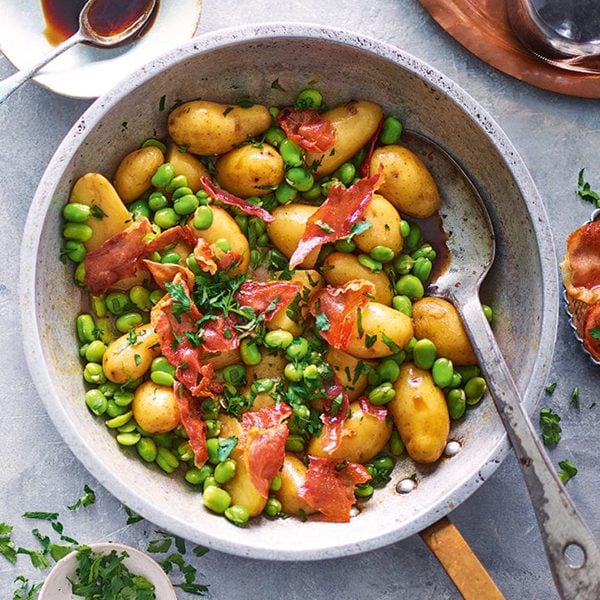 Find the recipe here

Jersey Royal chips with homemade aioli
Is the chip the ultimate form of potato? You could say that. And well, these Jersey royal chips with saffron aioli are a cut about the rest. Golden, crisp with tender, fluffy centres that are full of flavour, just as a good chip should be.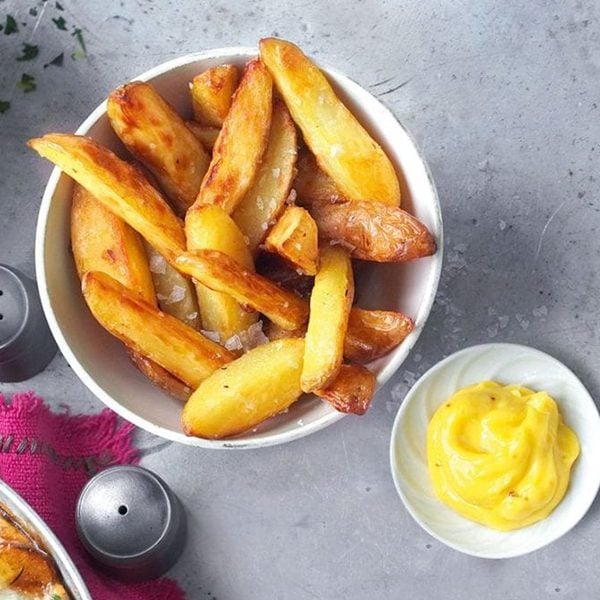 Asparagus and new potato salad
In this recipe, lemony asparagus salad is served with jammy boiled eggs and new potatoes as a starter, side dish or light lunch. Mustard, parsley, chervil, or tarragon add loads of flavour to the dish.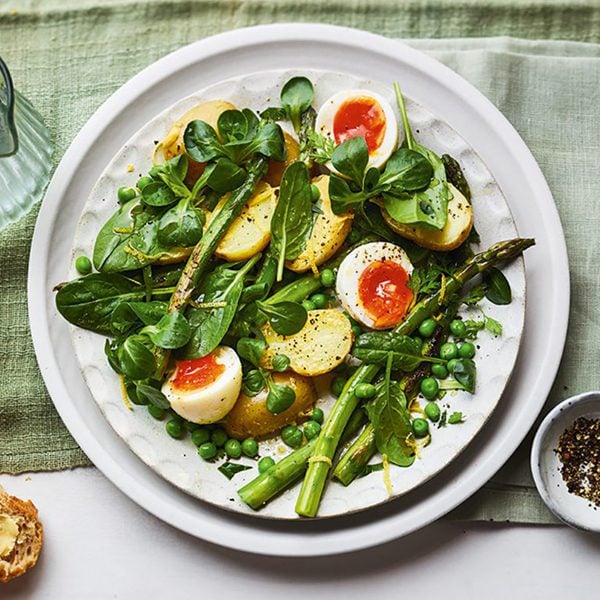 Top crispy potatoes with dollops of homemade wild garlic pesto mayo. Serve as part of a laid-back Sunday roast. Spoon the potatoes onto a serving plate. Swirl a few tablespoons of pesto into the mayonnaise, then dollop onto the potatoes. The pesto will keep for up to 2 weeks in the fridge, covered with a slick of oil.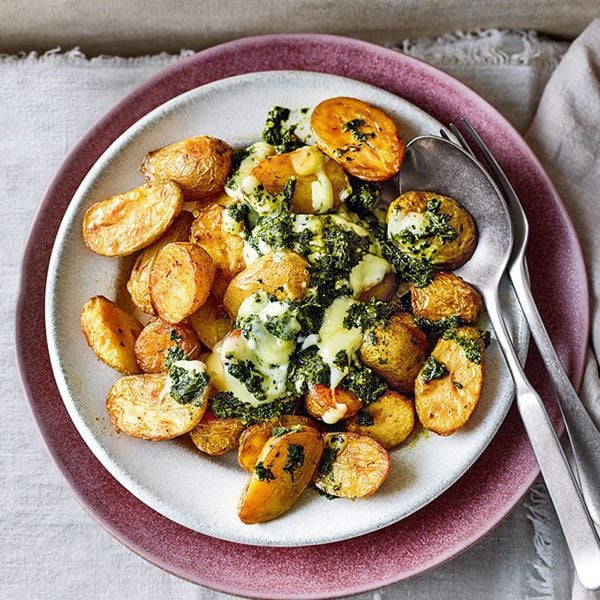 Dishoom fans know that these potatoes are outstanding. The green chillies and lime juice are essential. Turn a simple side into something outstanding, either to serve as part of an Indian-inspired feast or just to liven up your Sunday roast.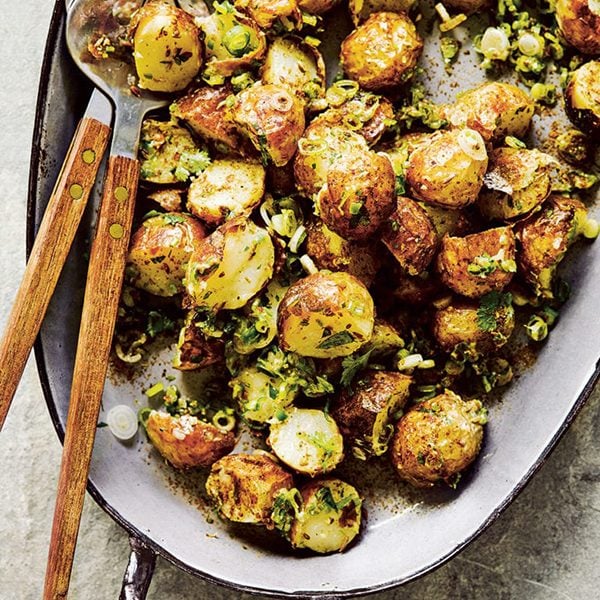 Crispy new potatoes with brown butter
Keep it sweet and simple with these browned butter crispy new potatoes. Let the butter bubble until it starts to turn brown and smell nutty, then immediately drizzle over the potatoes. Season with sea salt and serve with lamb, fish, or a spring time savoury tart.
Fancy a luxurious dinner? French tartiflette makes a perfectly indulgent midweek supper, and the new potatoes stand up so well to the rich cheesiness of the dish. Side salad with lots of vinaigrette/a glass of dry white is strongly recommended.
We had to include the classic new potato dish! In this recipe spring onions, hard boiled eggs, gherkins and fresh herbs bring richness, texture and piquancy. Your next picnic or barbecue is sorted!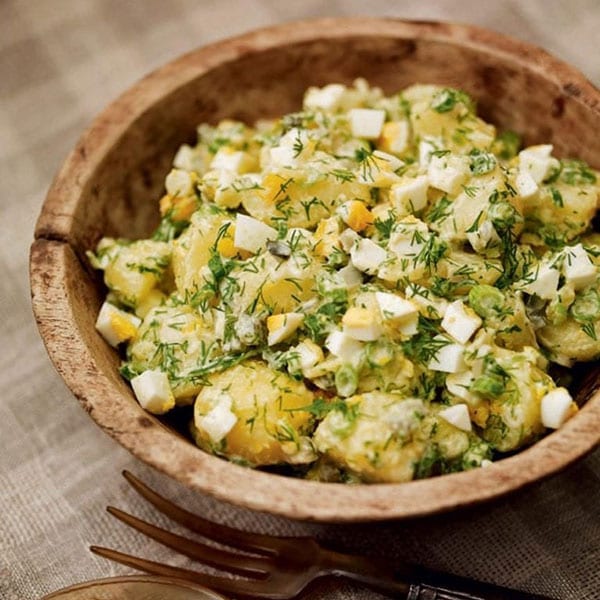 Let the potatoes do the talking in this recipe, which knows that simple preparations are so often the best. Douse Jersey royals in butter and loads of fresh chopped herbs, and dig into a pile on their own or as a side.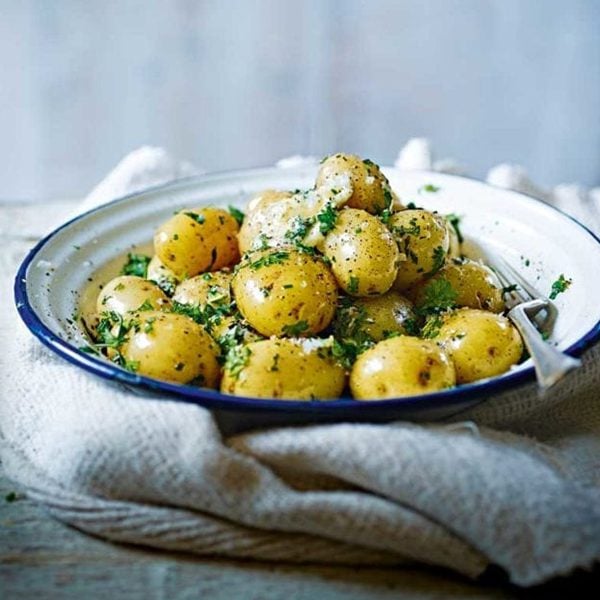 New potato, smoked garlic and cheddar omelette
Enjoy new potatoes in an omelette in this ultra rich and gooey recipe which makes a fantastic weekend brunch. This is going to stand out from your average frittata, trust us.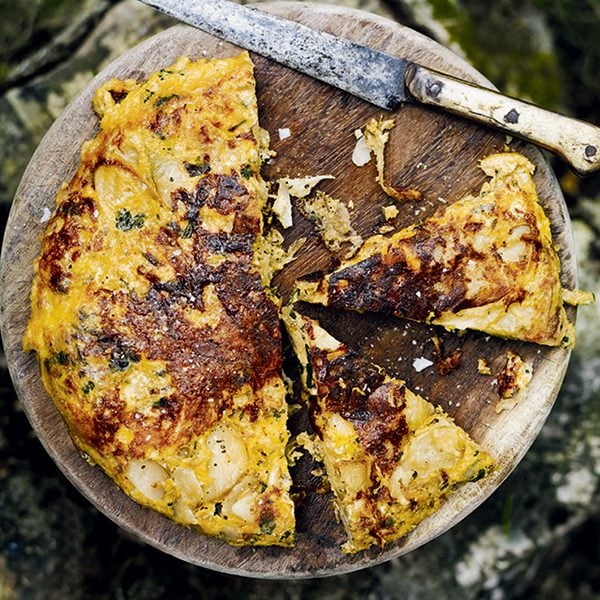 Charred baby potatoes with chilli butter
If you like your carbs with a bit of a kick, these charred baby potatoes will hit all the spots. Zing comes from capers and lemon zest, and the chilli butter brings a comforting hum.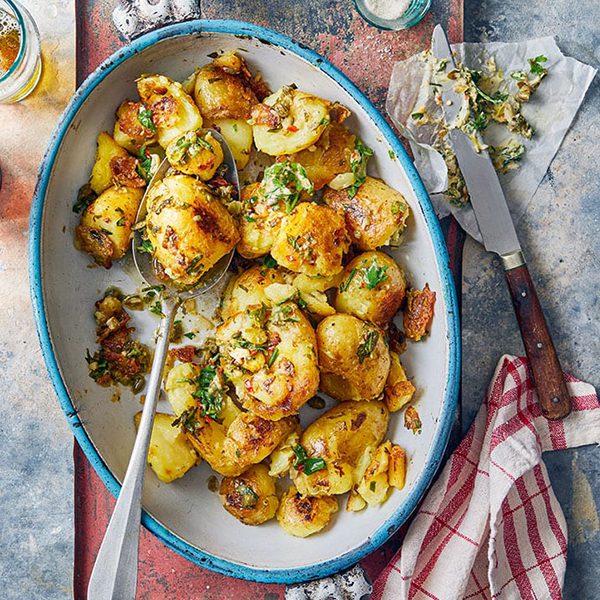 Find more new potato recipes right here.
Subscribe to our magazine
Subscribe to delicious. magazine for HALF PRICE
Subscribe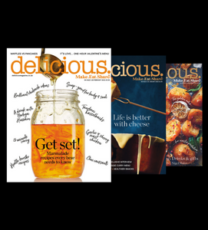 Join our newsletter
Packed with menu ideas, recipes, latest competitions and more...