15 best asparagus recipes
When British asparagus arrives in the shops, it's our duty to enjoy it to its fullest. It's a cinch to prepare, and takes moments to cook, so happily most asparagus recipes are not going to lead to hours in the kitchen.
We've brought together 15 of our favourite asparagus recipes – from risotto and lasagne to an easy brunch dish on toast, these are dishes which celebrate the most anticipated vegetable of springtime. They all have simplicity in common: because when it comes to asparagus, letting it shine is key.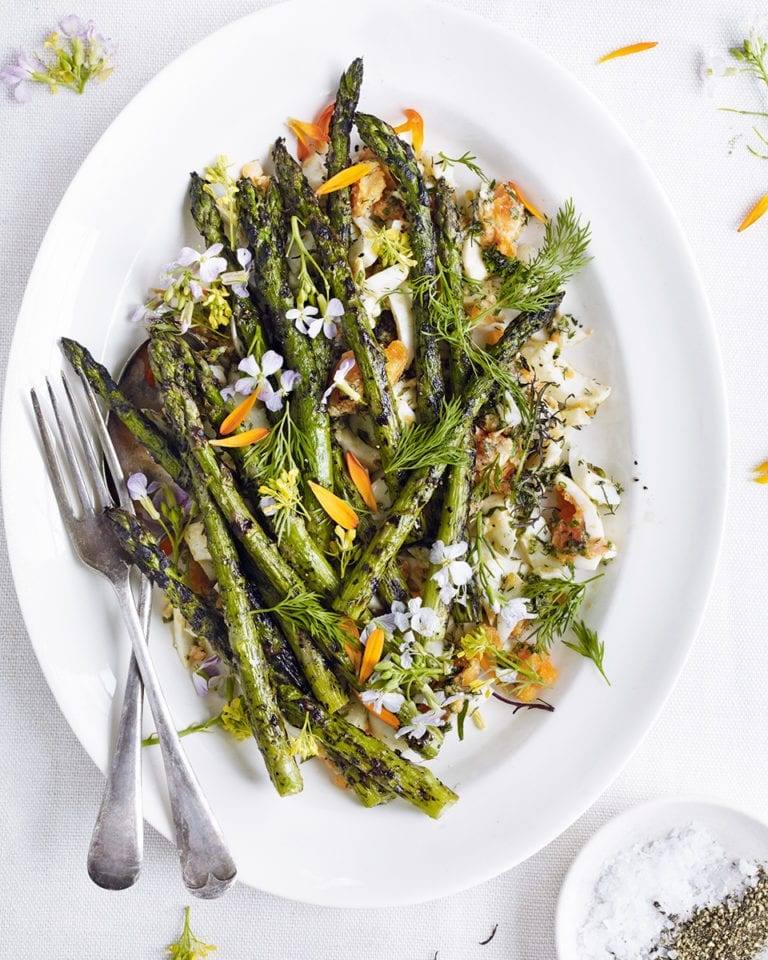 When is asparagus in season in the UK?
Although it is possible to buy asparagus all year round, the true season is with us for just eight weeks, but the fickleness of the British weather means the exact date of its appearance is anyone's guess. The season starts at the end of April, but the crop really hits its stride in May.
There are good reasons why you should try to stick to the local stuff. Asparagus is full of naturally occurring sugars that turn to starch once it has been cut. Texture and flavour (not to mention goodness) deteriorates very soon after. Anyone who grows asparagus will tell you that it should be eaten within hours of its harvest although, for most people, this is impossible. There are a few steps you can take, though, to make sure you get your hands on the freshest stuff possible.
How to choose asparagus
If you don't relish the idea of interrogating your friendly grocer, then do a bit of detective work yourself. There are two main types of asparagus, relating to the stage at which it was cut:
Type 1: 'Sprue' is the younger, thinner version. It should be pea-green and flexible from top to toe.
Type 2: More mature asparagus (sometimes known as 'jumbo') will have a thicker, off-white base. The upper spear may be shot through with a hint of purple.
Tip: look out for damaged or wrinkled asparagus. That's your most obvious clue to how long it has been knocking around in the shop. If your asparagus is few days old, don't throw it away! It'll still taste great in a lovely soup or a recipe where it is baked.
How to store asparagus
You should cook asparagus as soon as possible. Of course, it isn't always possible to do this, so there are ways round it:
Wrapping asparagus in a damp tea towel before popping it in the fridge is meant to slow down any loss of sweetness for one or two days.
If you have enough room in the fridge you can even keep it in a shallow vase like cut flowers.
Blanching it very briefly will help preserve freshness and crispness.
How to cook asparagus
Sprue is often edible from top to bottom but thicker asparagus needs a little attention before you can cook it. The lower part of the spear is woody and needs to be removed. The best way to tell where the spear becomes woody is to hold it at either end with your thumb and forefinger and gently bend it until it naturally snaps. Then, using a paring knife or peeler, remove the outer part of the stem up to about an inch above where you snapped it. If this seems wasteful, asparagus trimmings make great stocks and soups. Give it a go in this easy asparagus Vichyssoise soup recipe – you could serve it hot or cold as a spring starter.
Fresh spears are full of character and flavour. For sprue, simply blanch or steam the asparagus spears for 1-2 minutes or 3-4 minutes for jumbo. Asparagus is also great cooked directly on a griddle pan.
Our 15 best ever asparagus recipes
Asparagus and goat's cheese tart
This DEEP DISH tart showcases asparagus most beautifully, alongside other springtime favourites peas, broads beans and fragrant herbs.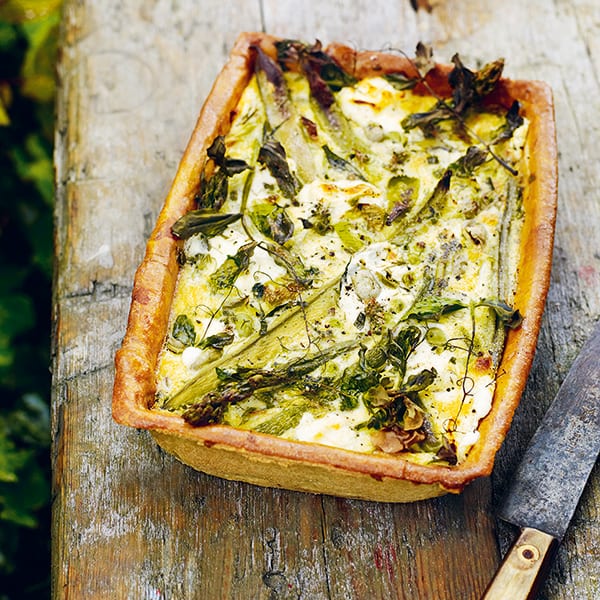 Black sesame tempura asparagus with miso mayo
When it comes to starters, this is a revelation. Light and crispy tempura batter melts in the mouth as you sink your teeth into each tender asparagus spear. The lime, tamari and miso mayonnaise is the perfect accompaniment.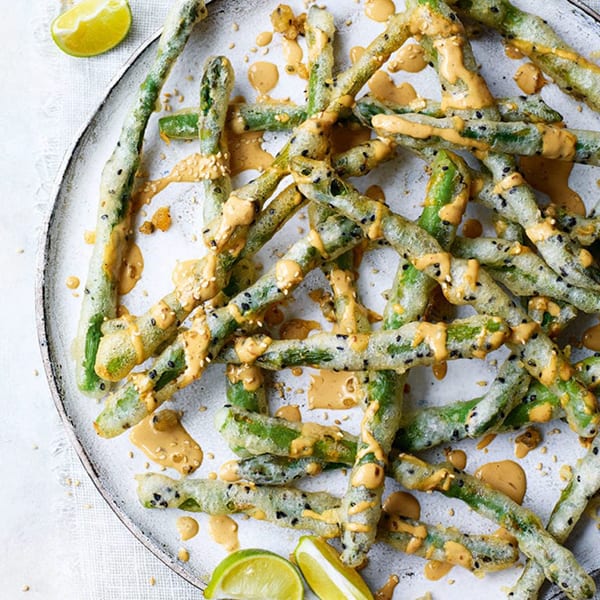 This green and sprightly springtime soup is a bowl of comfort. It's an ideal recipe for using up vegetables and half-used packets of pasta. The hit of pesto lifts it to a magical place.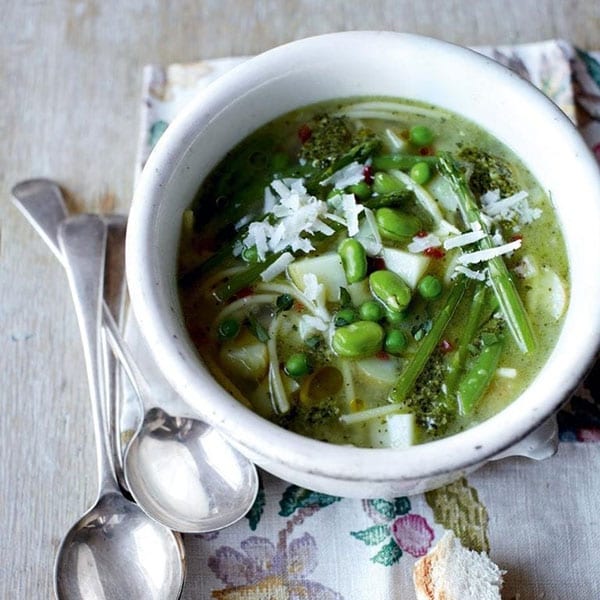 Asparagus and gruyère soufflés
For something with a real touch of sophistication, these light-as-a-feather soufflés are perfect. Springtime lunch never looked so good.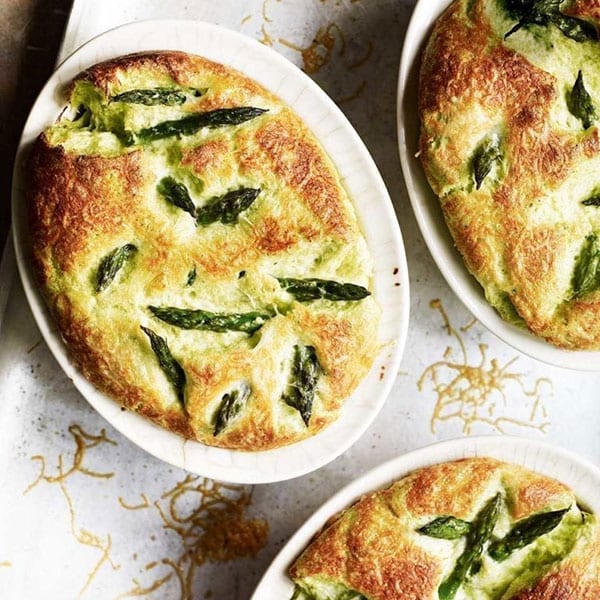 Eggs and asparagus are a match made in heaven. This quick and easy tortilla recipe from José Pizzaro has just five ingredients and takes only 10 minutes to prepare.
The simplest of pastas gets a springtime twist. Never have so few ingredients tasted so good. This dish can be made with pici or spaghetti – if you fancy making pici yourself, check out our guide to making fresh pasta.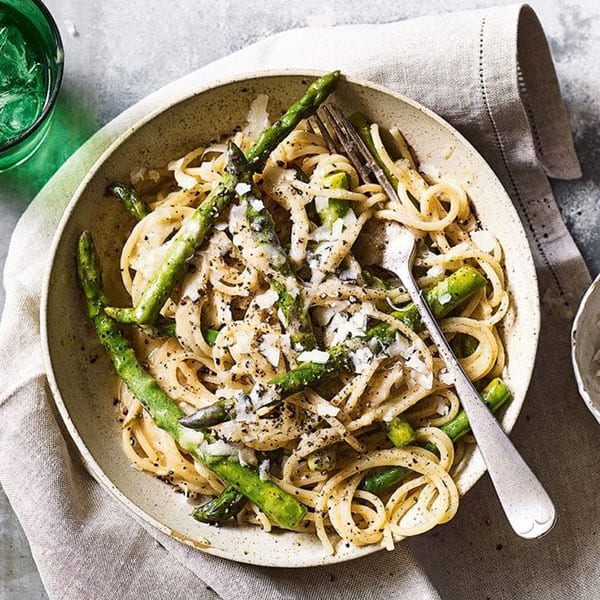 Asparagus, pea and mint risotto
Our springtime risotto is as cheering to look at as it is to eat. The pea purée and mint salsa bring this risotto alive, and the pecorino garnish is just right.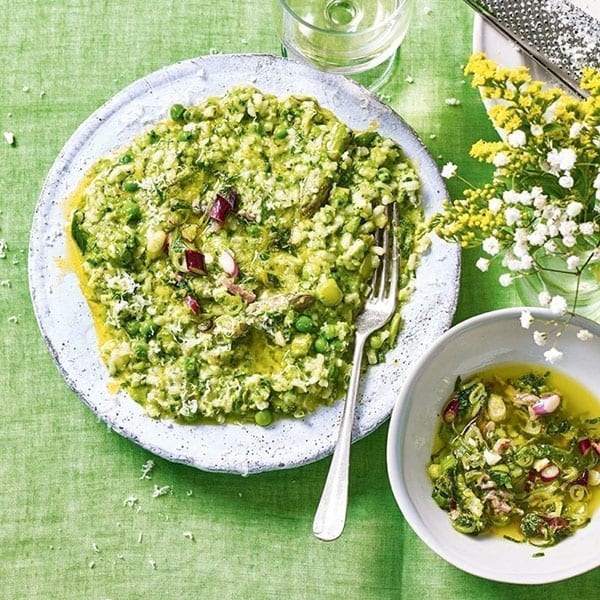 Lasagne, but make it spring-like! Here layers of pasta, asparagus, fresh mint and lemon are cooked in a creamy ricotta sauce for a light and refreshing take on the classic dish.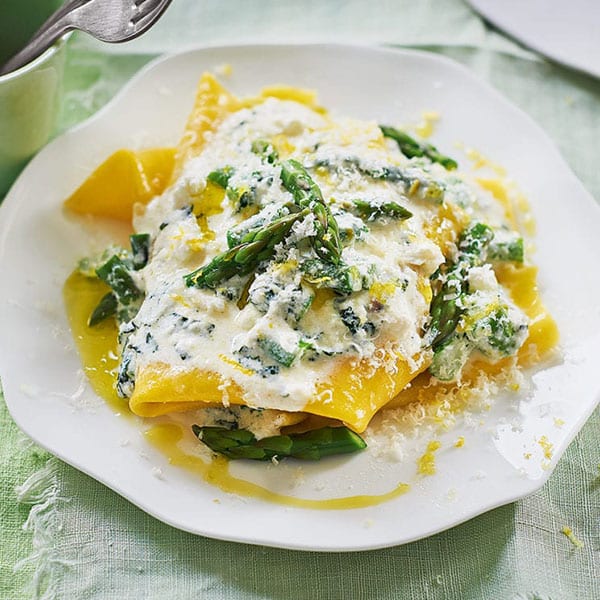 Asparagus, crispy potatoes and radishes with herb hollandaise
A spring salad that is both healthy and simple to prepare? Yes please! Packed with seasonal produce and topped with herby hollandaise, this dish salad is lovely with roast meat on a warm weekend – but just as good as a meal in its own right.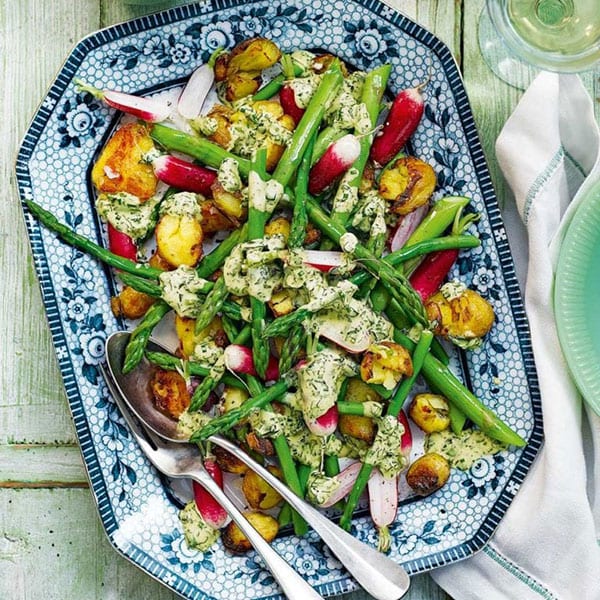 Asparagus and spring onion tart
Here asparagus and spring onion come together in a beautiful tart. Perfect for lunch or a picnic, this is quick, easy, and most importantly: cheesy.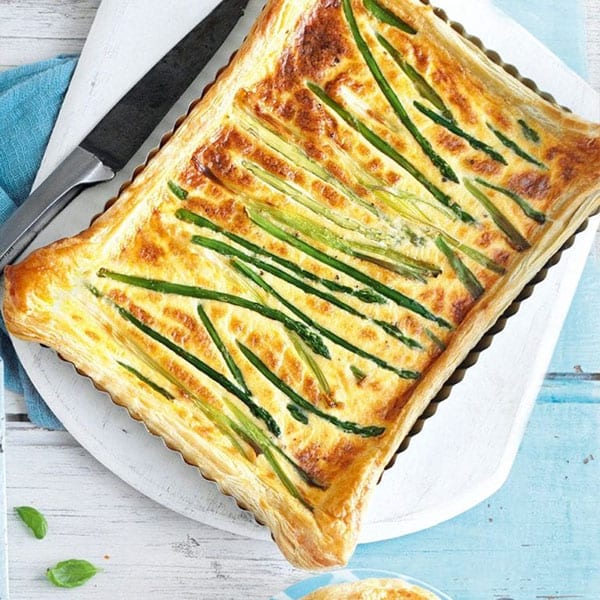 Barbecueing asparagus brings out its natural sweetness. Here it's dressed with chopped egg, herbs and a mustardy dressing, for 
a wonderful starter or side dish.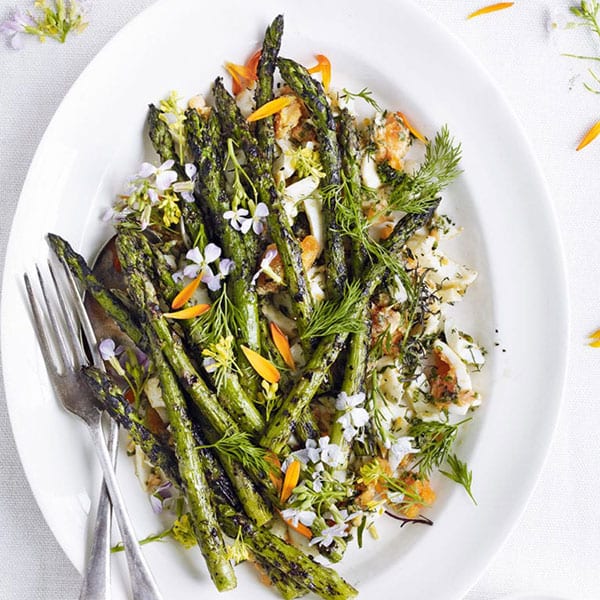 Grilled asparagus and parma ham on toast
This is the easiest lunch or starter. 10 minutes of preparation reaps great rewards. Parma ham, feta, mint, honey, lemon and asparagus on toast is the ultimate satisfaction.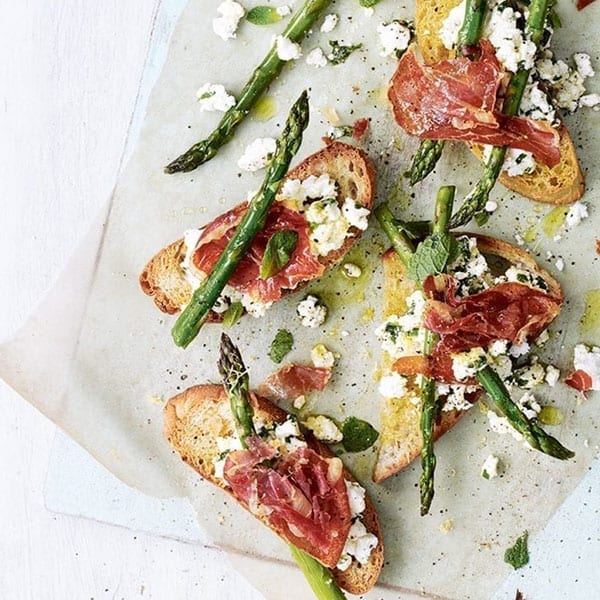 Asparagus, smoked trout and poached egg on toast
Asparagus for breakfast? We could get used to this… Smoked trout and poached eggs make a winning combination for the sweet and gently blanched vegetable. Heaven.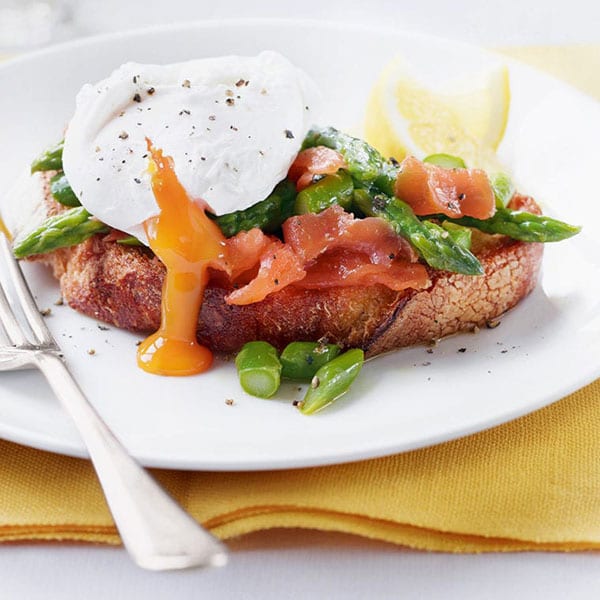 Hot-smoked salmon and asparagus tart
Take things up a notch with a classic tart. Here the sweet asparagus meets salty and intense smoked trout. The tart uses shop bought pastry so can be whipped up in just ten minutes. We like it with new potatoes and a salad, but serve it up however you like.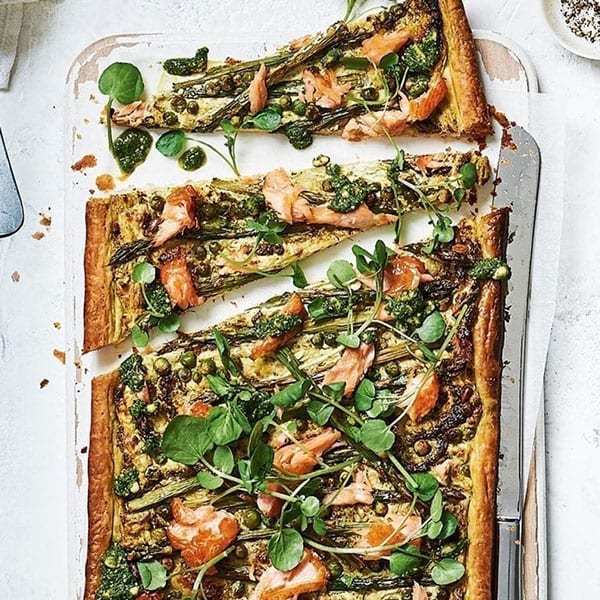 Pasta with asparagus and wild garlic pesto
A simple supper that screams springtime! Wild garlic pesto with peas, asparagus and a touch of cream. It's a crowdpleaser.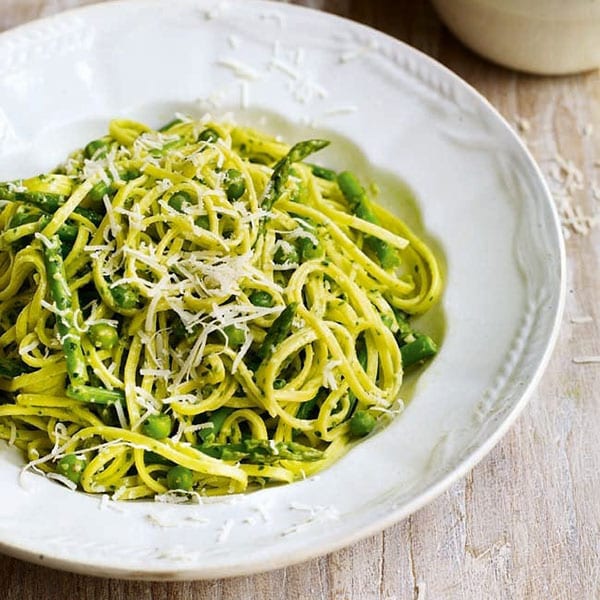 Hungry for more? Dip into all of our aspargus recipes here for more inspiration.
Subscribe to our magazine
Subscribe to delicious. magazine for HALF PRICE
Subscribe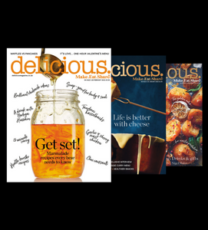 Join our newsletter
Packed with menu ideas, recipes, latest competitions and more...