21 best aubergine recipes plus different types explained
According to a study, approximately a third of the UK's households eat aubergines. Reasons cited for people not buying aubergine was that consumers were 'unfamiliar with the taste', didn't 'know what to do with it' or had 'no idea how to prepare it'. As lovers of aubergines, we are on a mission to change this with the recipes below.
Our 21 best aubergine recipes are only the tip of the eggplant-shaped iceberg… Check out all our aubergine recipes and discover just how many ways you can use this versatile vegetable.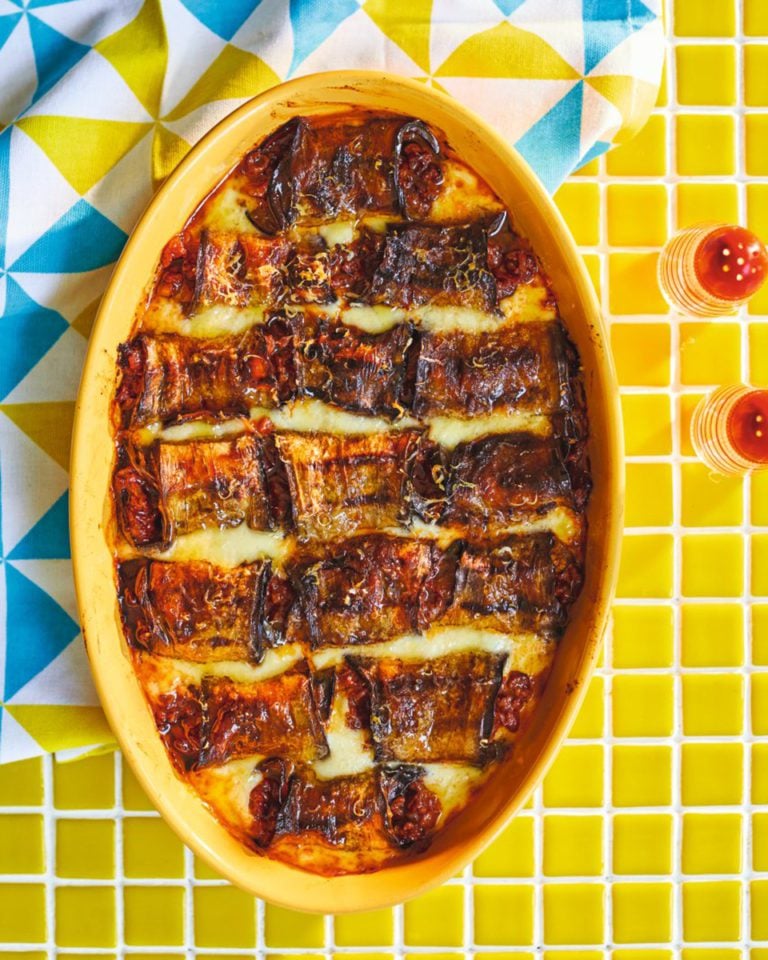 What are the different types of aubergine?
There are more than 10 different varieties of aubergine, so even if you think you don't like the common kind, we are sure that you'll find an aubergine to suit you. The varieties on offer change depending on where you are in the world; in East Asia, for example, they tend to be longer and thinner and a brighter purple. In Italy, more than 4 kinds of aubergine are commonly used: the 'graffiti' striped aubergine, being the most striking. Another favourite of ours is the Italian round aubergine, which is creamier in texture with no bitterness.
In South Asia, you'll find both longer thinner aubergines alongside mini 'baby aubergines' which are often stuffed in Indian cooking. In Thailand, aubergines can be even tinier still – you can find these in many Asian supermarkets – what's more, they resemble mini watermelons, what's not to love? In a nutshell then, we are talking about 5 main types of aubergine: classic globe aubergines (purple, striped and white), fat round aubergines, long thing aubergines, baby aubergines, and Thai aubergines.
What different ways can aubergine be cooked?
Like most vegetables, aubergine can be fried, grilled, roasted, steamed or even boiled. It's also happily stuffed, or, blitzed – there are SO many ways to make this bulbous vegetable sing. Most commonly, it is fried or roasted, though we've included recipes which see them boiled below (Thai green curry we love you). Aubergine can also be cooked directly on a flame, and then peeled and mashed up to create the delightfully smoky dip baba ghanoush, or in South Asia, the baingan bharta – a heavenly spicy mashed aubergine side dish.
There are two top rules when cooking aubergines: do not skimp on the oil (you want it to be golden and silky when fried or roasted, not charred and dry, which happens if not enough oil is used). Aubergines are like a sponge, mopping up flavour, so don't leave your sponge to dry and wither! Which leads us to the second rule: do NOT undercook it – aubergine is most pleasant when its interior is completely soft – stab each piece with a knife to be sure, and save yourself from any rubbery textural nightmares.
To salt, or not to salt?
Many people are put off cooking aubergine as the salting process can seem too much like hard work. The good news is, most mass produced aubergines available in the UK have had the bitterness bred out of them, so the salting becomes null and void. If you're using heirloom or organic varieties, the general rule is if they are very seedy inside, they may benefit from a bit of salting to tease out any bitterness (taste first) but adding salt after cooking can also provide a counter to this – so don't sweat it.
Excited yet? Take a dive into our best-ever aubergine recipes and discover the possibilities for yourself..
21 best aubergine recipes and the aubergine to use for it…
Grilled aubergine with a peanut spice crust
This recipe was developed by Vivek Singh as part of his 20th anniversary celebration meal – and it's a marvel. The sweet peanuts compliment the bitter savouriness of the aubergines perfectly and the tamarind paste adds delightful sourness. It's a wonderful side dish or a vegan main and it's something you may not have tried before.
Which variety? If you live somewhere with a South Asian grocers nearby, opt for the veg isle and look for the long and thin 'Japanese' aubergines for this recipe.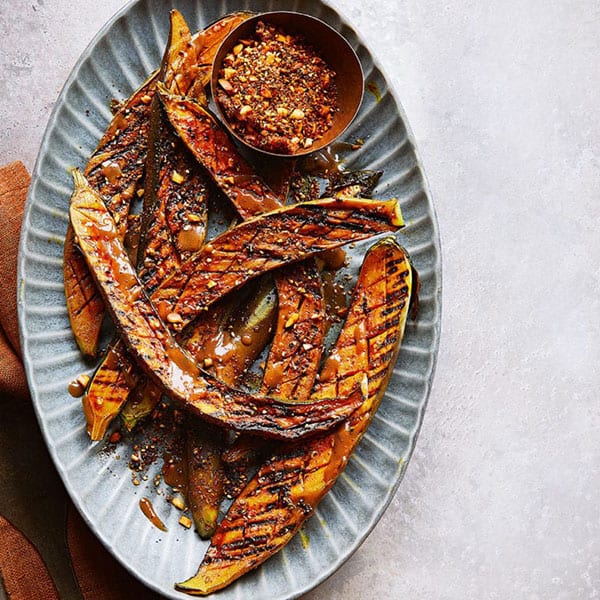 Sticky peanut butter glazed aubergines
If you're new to cooking with aubergine, this is one of the easiest recipes to start-out on. Criss-crossing, then roasting aubergines provides an incredible vehicle for flavour, and the aromatic paste spread on top gently melts into the silky flesh as it cooks. Served with a simple combo of lentils and shallots, this is a dish this is a healthy and easy weeknight meal.
Which variety? Go for regular globe aubergines for this one, to give you plenty of room to score without piercing the skin.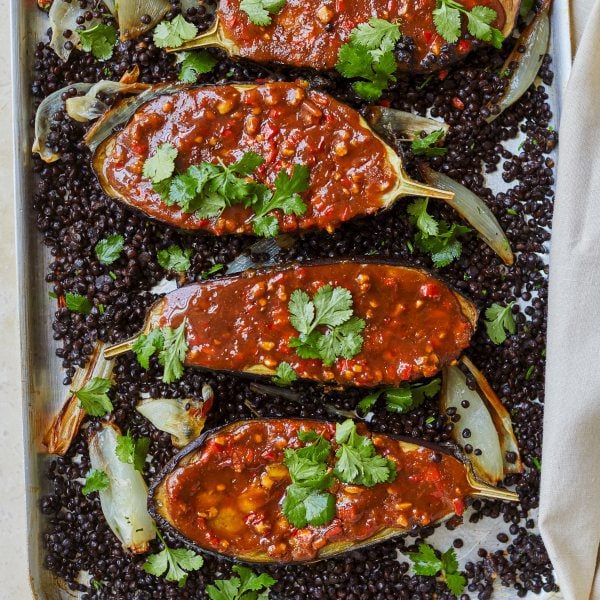 We love moussaka (see below) but it is a labour of love. So when you don't have the hours requires to bake one, these snackable rolls are the answer. This recipe is great for bringing to a friend's house as it just needs a quick blast under the grill before serving.
Which variety? Globe aubergines will give you the best envelopes for your aubergine parcels in this recipe.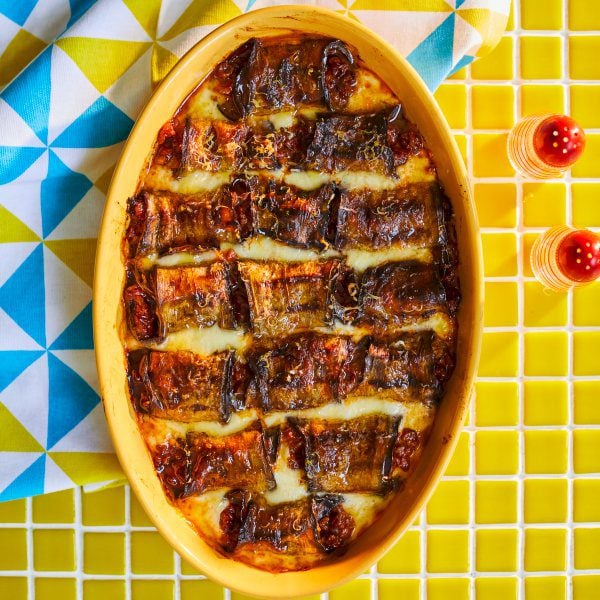 Aubergine and chickpea traybake
Elly Pear turns a handful of store cupboard ingredients into a spicy, gooey vegetarian traybake. Make sure to toast plenty of pitta breads, too, for dunking into this fabulous roasted mish-mash.
Which variety You can use either the globe or large round varieties of aubergine in this recipe. You'll need either one large round aubergine or 2 globe aubergines.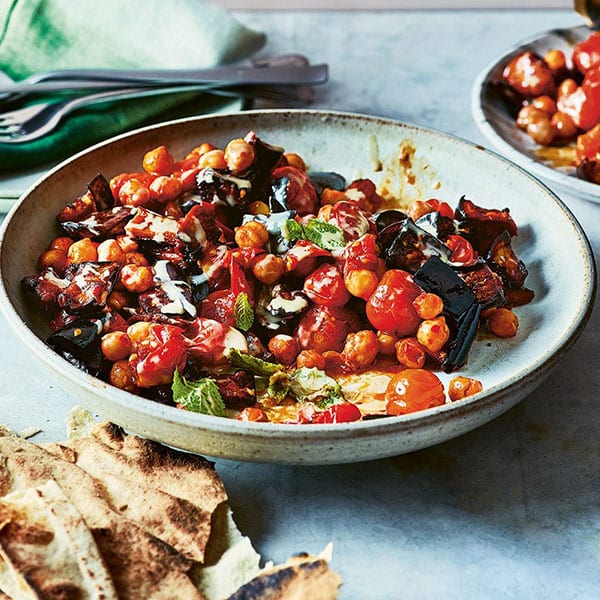 The quintessential baked aubergine dish would have to be a melanzane parmigiana – and who can resist the moreish combination of silky fried aubergines layered up with a killer tomato sauce and parmesan? This recipe uses a béchamel on top, but if you prefer a less heavy version, try our lighter parmigiana which uses mozzarella for ooziness. Or go even bigger and opt for our aubergine parmigiana sandwich.
Which variety? We like Italian round aubergines here, see suppliers below, but globe aubergines also make for a killer parmigiana.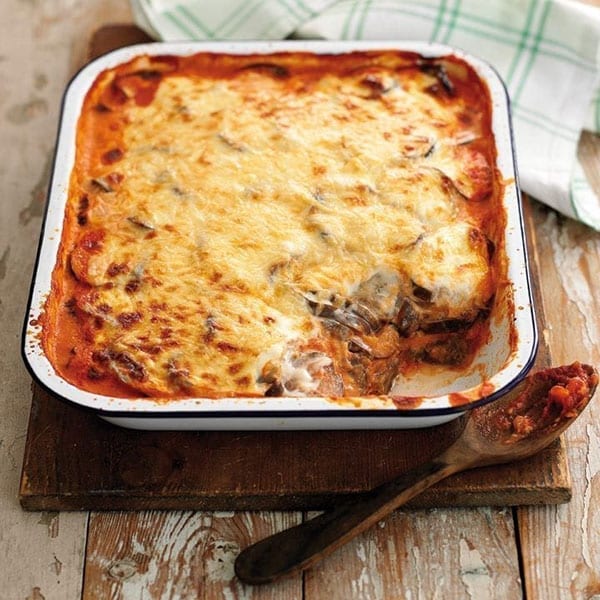 Once you have the hot chilli bean paste in your pantry, this quick vegan stir-fry recipe is so quick and easy to make. This fiery side dish is a great accompaniment to a Chinese feast.
Which variety You can use any of the globe varieties of aubergine in this recipe, but the large round aubergines sometimes found in Chinese supermarkets (almost identical to the round Italian variety but with a paler skin) offer an ideal creaminess here. Alternatively the thinner and paler Chinese variety are another great option.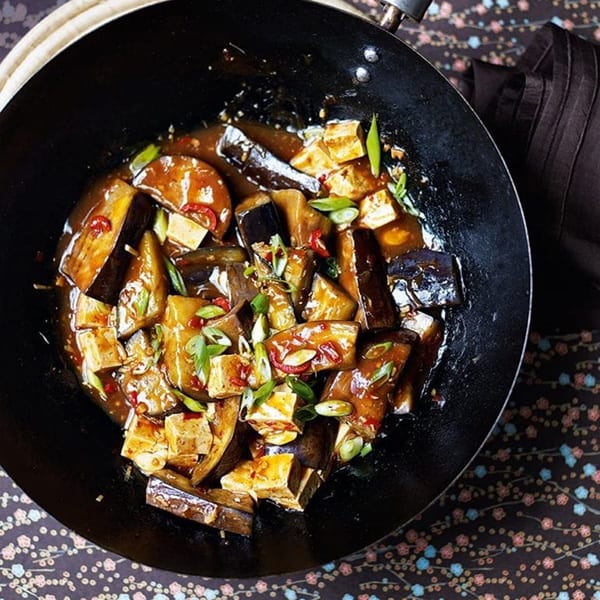 If spending a few hours meditatively rolling up little aubergine parcels sounds like your idea of heaven, come hither. These rolls, also known as involtini di melanzane alla parmigiana, are as pleasing to make as they are to eat.
Which variety? Any of the Italian globe varieties will be lovely here: purple, white, or zebra striped.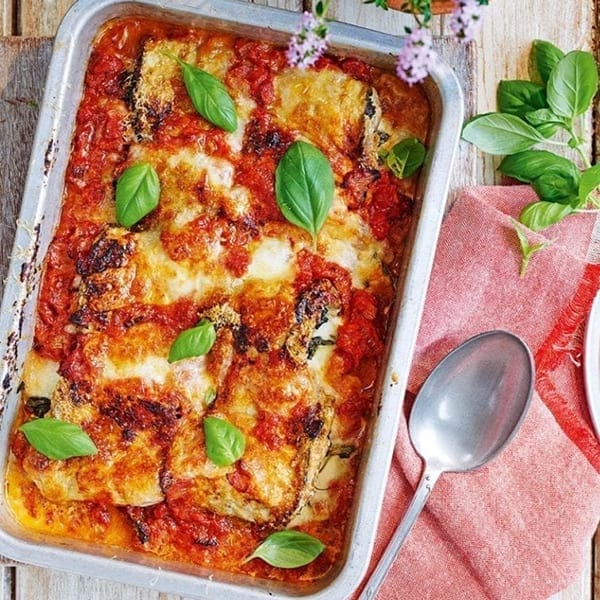 This green curry features chicken, potatoes and baby aubergines. The aubergines steam-cook in the curry sauce along with the other vegetables so they take on its full flavour.
Which variety? Baby Thai aubergines are harder to come by, but they are available online at Thai grocers (see below).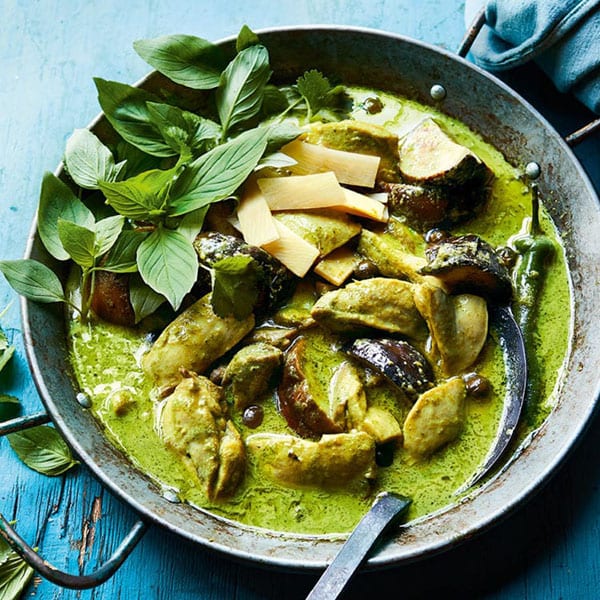 Tamarind aubergine curry (imli baigan)
This 20-minute curry from Chetna Makhan is a quick aubergine recipe with bags of flavour: fried onions and aubergine are full of umami meatiness while fennel adds its distinctive hum and tamarind its signature tang.
Which variety? You can use any aubergine variety here but something with plenty of flesh is ideal.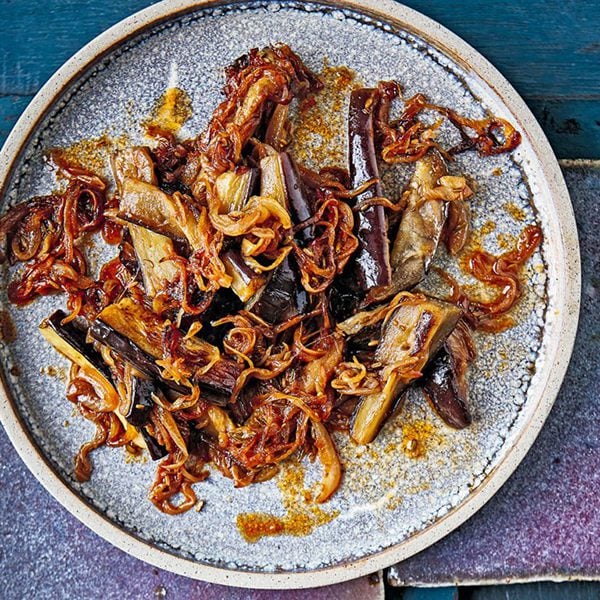 Sticky miso and tahini aubergine wedges
You haven't lived until you've mixed miso and tahini to make one rich, nutty, creamy dressing…Ooh it's so good!
Which variety? For the optimum wedge, opt for globe aubergines in this recipe.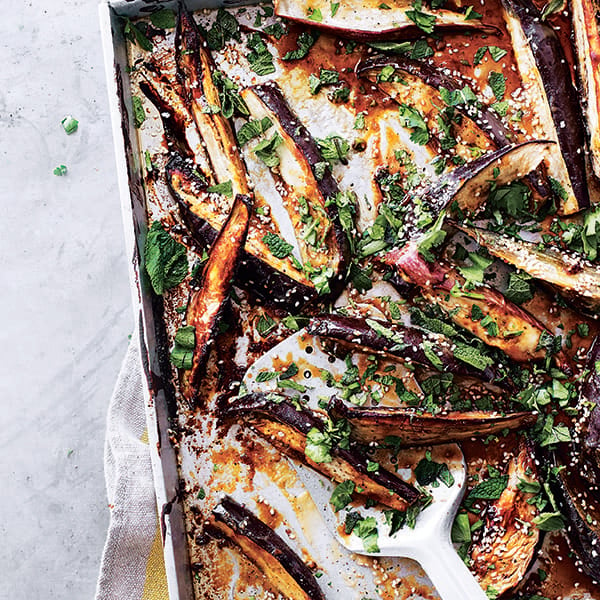 Aubergine in a stew is a wonderful thing. Here, Antonio Carluccio's caponata brings out the vegetable's naturally meatiness – it's paired with its favourite Mediterranean bedfellows, onions and tomatoes and is brought to life with capers, olives and white wine vinegar. Enjoy room temperature or cold for optimum flavour.
Which variety? Try the classic globe aubergine here, or the white variety if you're feeling extra snazzy.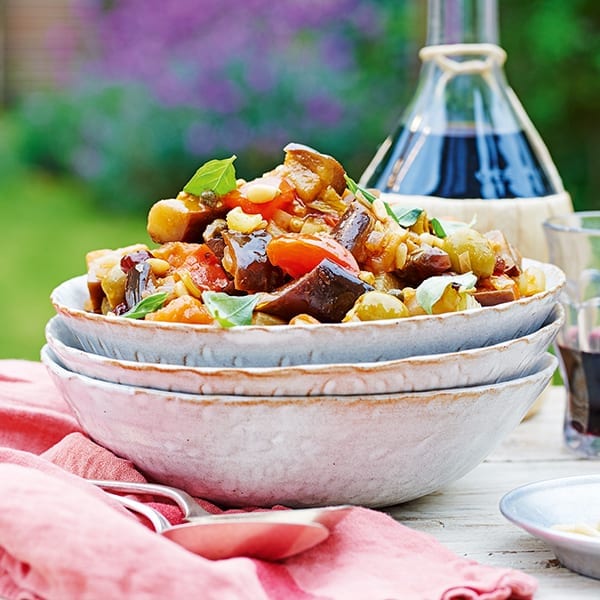 Aubergine al forno with 'nduja
What do you get if you combine an aubergine parmigiana with everyone's favourite Calabrian hot and spicy sausage paste? This aubergine al forno with 'nduja! It's clever: the milky mozzarella cools the hot and intense sausage beautifully.
Which variety? We like to make this one with regular aubergines or stripy purple aubergines which will give you long thin slices.
Tip: you could easily make it vegetarian instead by swapping the 'nduja for 1tsp of chilli flakes.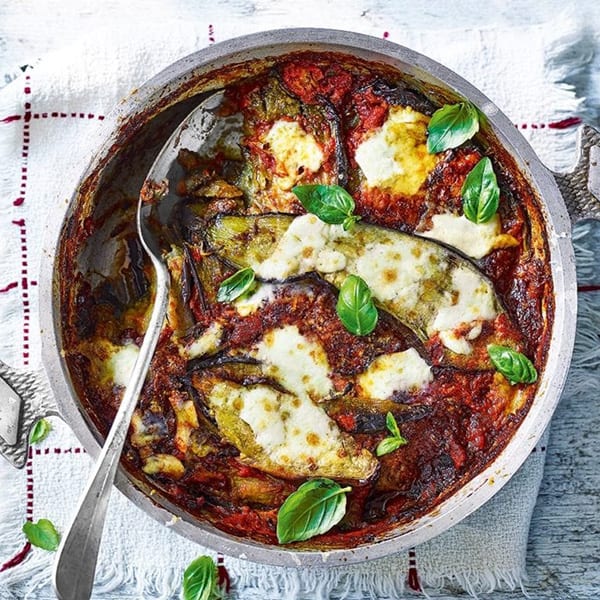 Aubergine and red lentil curry
Make it to payday with this budget curry recipe, made using wallet-friendly red lentils, aubergine, stock and spices.
Which variety? This recipe will work with any variety of aubergine, but skinny Indian aubergines or the regular globe variety will keep things budget.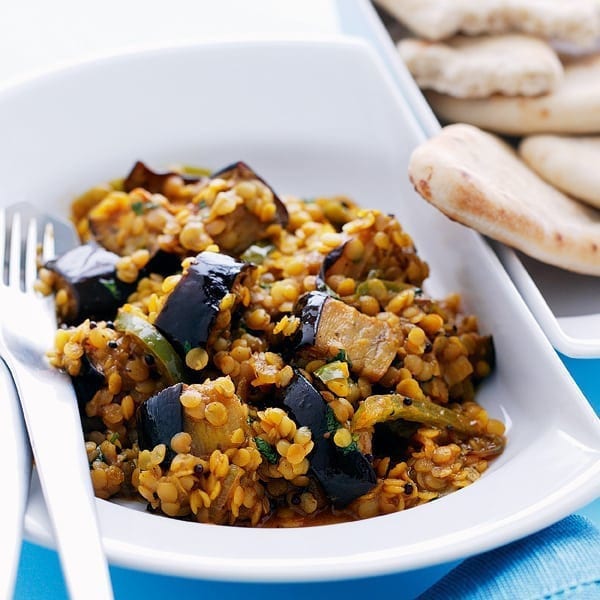 Stuffed with buckwheat and tomatoes and finished off with crumbly goat's cheese, this is a delightful and quick vegetarian dish.
Which variety? Go for the classic teardrop shaped aubergine for this recipe – it gives you the optimum space for stuffing and a half makes a perfect sized portion for 1.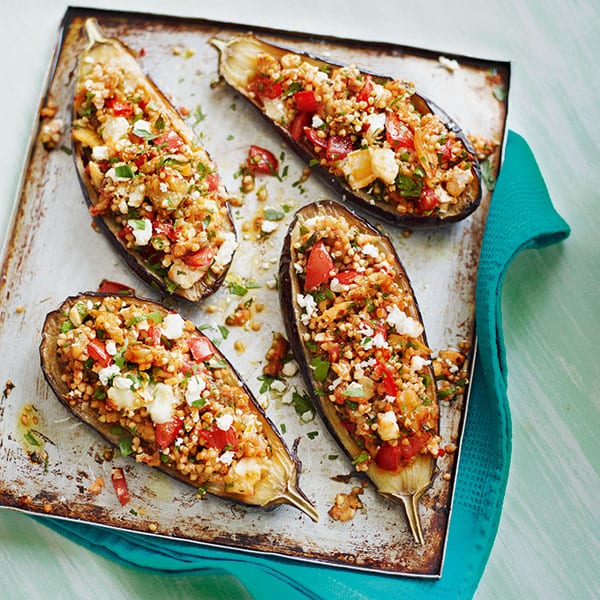 Roast aubergines with giant couscous
This quick and easy aubergine dish is a perfect balance: roast aubergines are served with pitta, giant couscous and tzatziki for a filling vegetarian lunch or dinner that's ready in 15 minutes.
Which variety? Try globe aubergines or fat round aubergines here.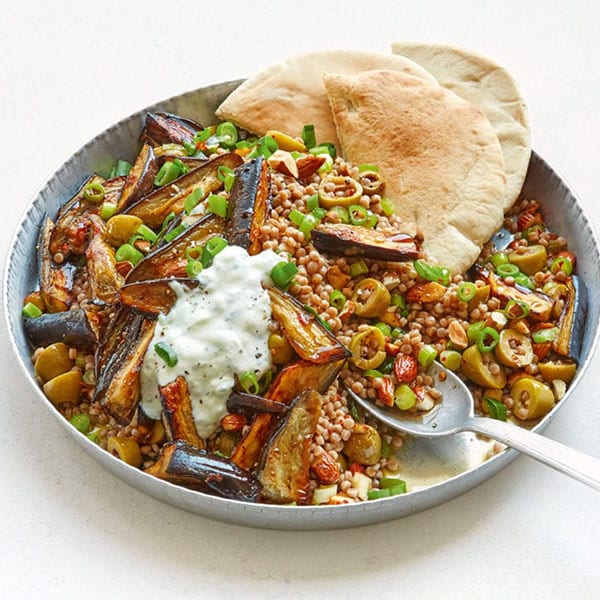 Teriyaki and sesame aubergines with rice
This teriyaki aubergine traybake makes an easy, healthy midweek dinner, with very little washing up involved. Adjust the heat according to taste!
Which variety? If you can find them, long and thin Japanese aubergines are lovely for this recipe. If not, the classic globe won't let you down.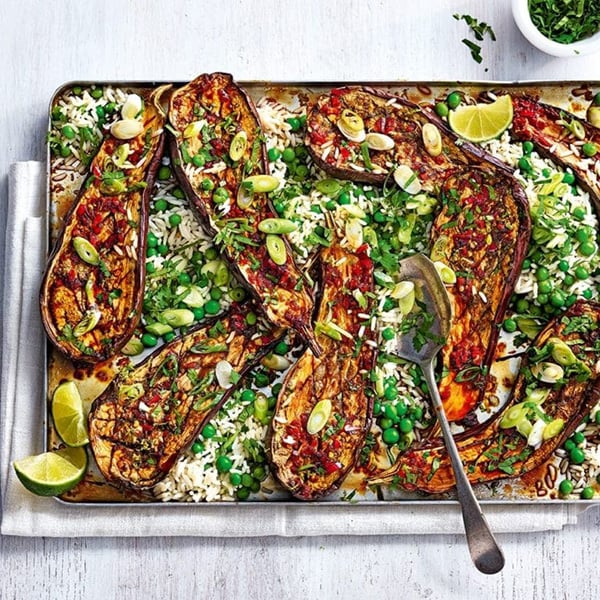 Aubergine steaks with freekeh salad
This grilled aubergine with buttermilk dressing can be prepared in just 30 minutes. We love this recipe for its brightness, speediness and simplicity. The dill and mint pair beautifully with the creamy vegetable.
Which variety? Try classic globe aubergine here – the longer the better – so you can fit more in your griddle pan (although you will still need to cook in batches).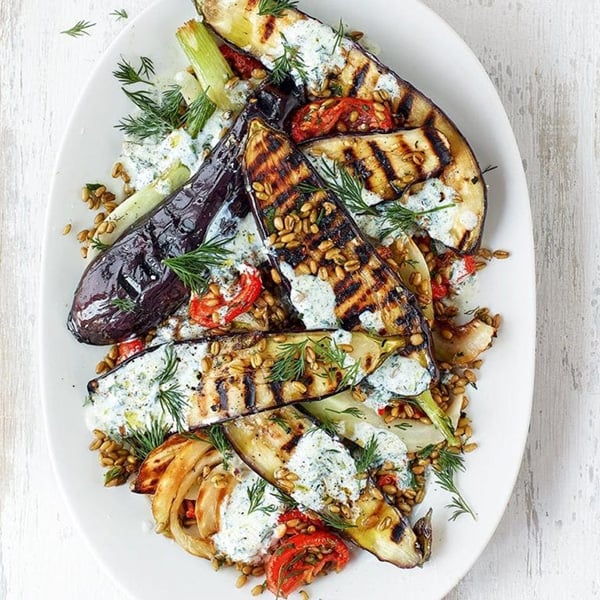 This classic pasta dish from Sicily is a joy in summertime. The traditional cheese used for the dish is ricotta salata – which is an aged, salted ricotta – but if you can't find it pecorino performs the job just fine!
Which variety? We find the best aubergines to use for this dish are the fat, round, Italian aubergines, but it will also work brilliantly with the stripy purple variety or your standard aubergine.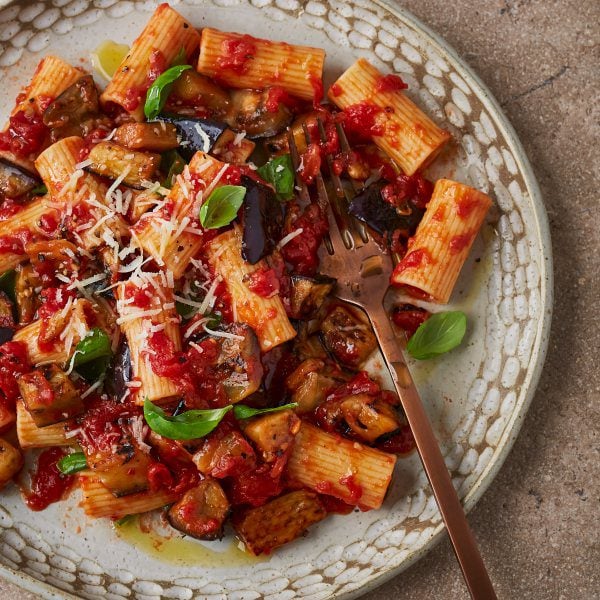 It's one of the most popular dips in a mezze for a reason! Aubergine loves a bit of char, and cooking aubergines directly over a flame imparts a smokiness which takes the vegetable to new levels.
Which variety? Try globe aubergines here – round fat aubergines are too large to cook through over the flame, and anything skinnier will be too fiddly to peel.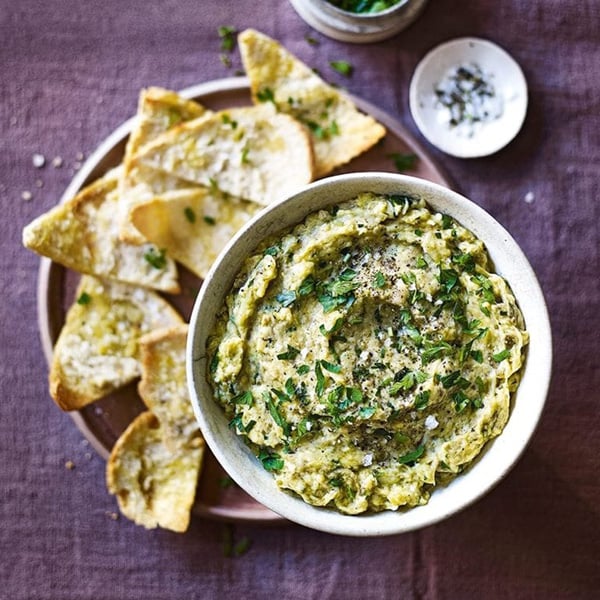 And if you like baba ghanoush, chances are you'll love it encased in pastry too! Check out these pretty aubergine tarts, perfect as a make-ahead vegetarian starter.
Which variety? You guessed it: standard globe aubergines are perfect here.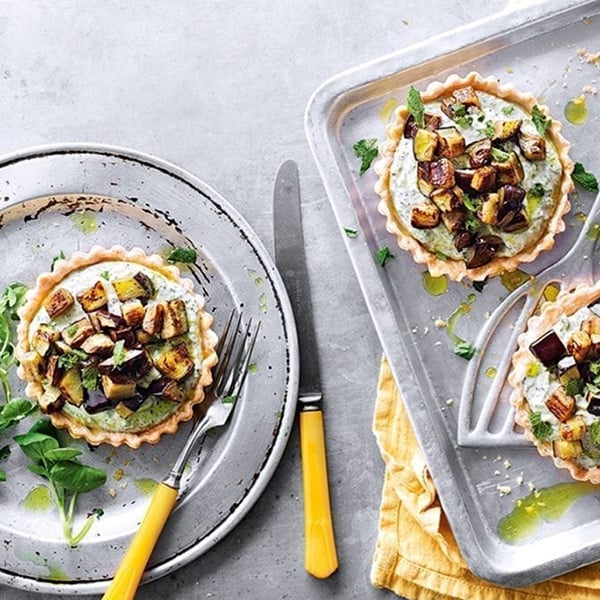 You'll need 2-3 aubergines for this recipe, and if you make this 2-3 days ahead and chill it, the flavours will intensify beautifully. The meaty aubergine makes this Greek classic what it is.
Which variety? Go for a globe or round aubergine here, cut into rounds.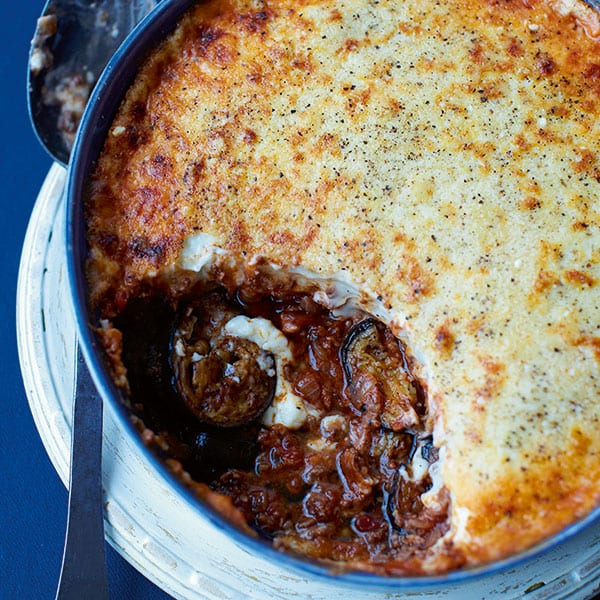 Where to find them?
For Italian varieties including striped and large round aubergine, try Natoora.
For South Asian varieties, Red Rickshaw will bring the goods.
For Thai aubergines try Thai Food Online.
For Japanese and Chinese aubergines go to See Woo.
Hungry for more? Check out all of our aubergine recipes here.
Subscribe to our magazine
Food lovers, treat yourself this Christmas... Enjoy 12 months of magazines for £29.99 – just £2.50 an issue.
Subscribe
Unleash your inner chef
Looking for inspiration? Receive the latest recipes with our newsletter