20 best aubergine recipes
Cooking with aubergine is easy to get wrong and oh-so wonderful when done correctly. Upon precise application of time and heat, it's spongy-when-raw flesh becomes soft and velvety. Just add olive oil (and bread).
Try it roasted, fried, charred, stuffed, baked, blitzed and more with our best-ever aubergine recipes. There are SO many ways to make this bulbous vegetable sing.
And these top 20 recipes are only the tip of the eggplant-shaped iceberg… Check out all our aubergine recipes and discover just how many ways you can use this versatile vegetable.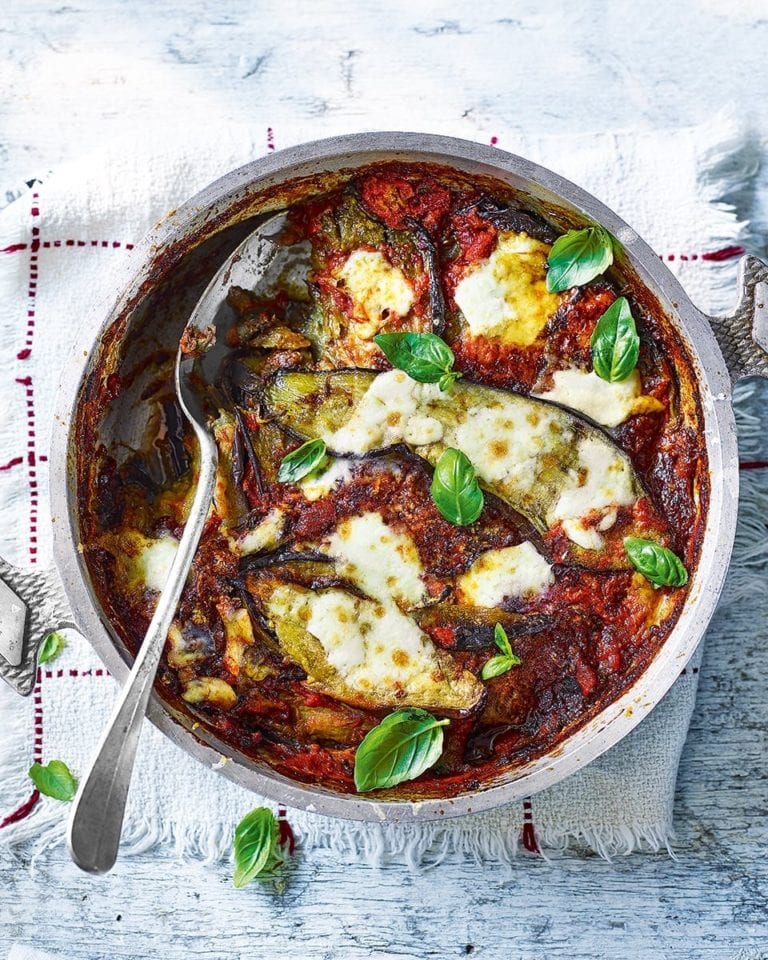 Aubergines act like giant, purple sponges and will happily soak up any flavours you pair them with. Their delicate flavour makes them brilliant carriers for various spices and seasonings, too: opt for the chilli-heat of fiery harissa paste or add a hit of umami with a sticky miso glaze. Excited yet? Take a dive into our 20 best-ever aubergine recipes and discover the possibilities for yourself…
Miso paste, honey and sesame oil form an umami-rich glaze that turns thick and sticky as it cooks in the oven. This super tasty dish makes a quick, easy and flavour-packed dinner – simply serve with rice and steamed pak choi.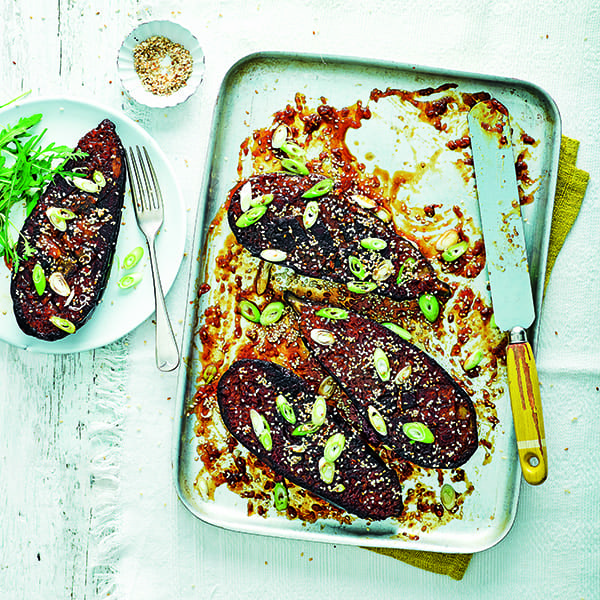 Aubergine and chickpea traybake
Elly Pear turns a handful of store cupboard ingredients into a spicy, gooey vegetarian traybake. Make sure to toast plenty of pitta breads, too, for dunking into this fabulous roasted mish-mash.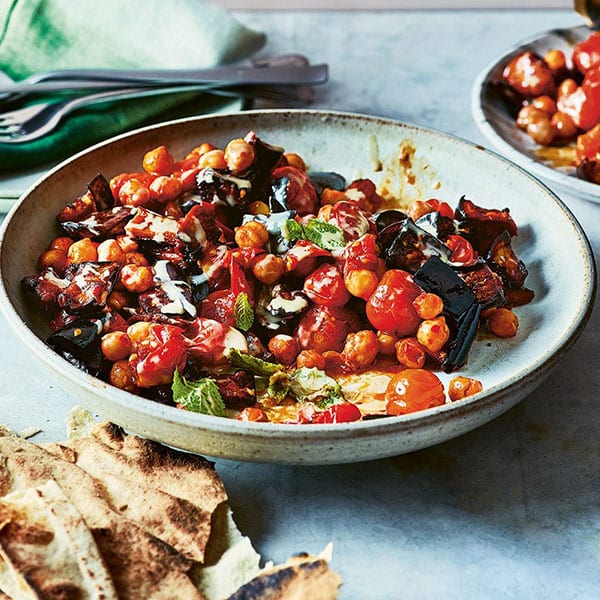 Aubergines, tomato sauce, cheese, aubergines, tomato sauce, cheese… you get the drill. Turn to this easy Italian bake when you're in need of something comforting – for very little effort!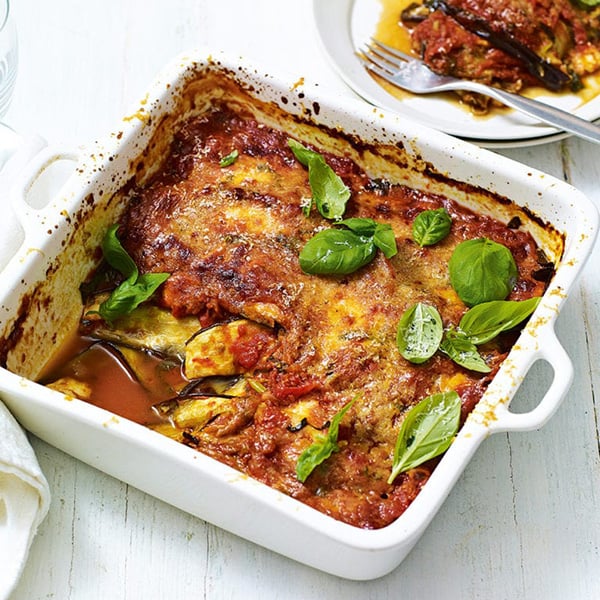 There's so much to love about this aubergine and tofu stir-fry – namely the sweet and sticky chilli bean sauce. Whip it up in 25 minutes, served with fluffy rice.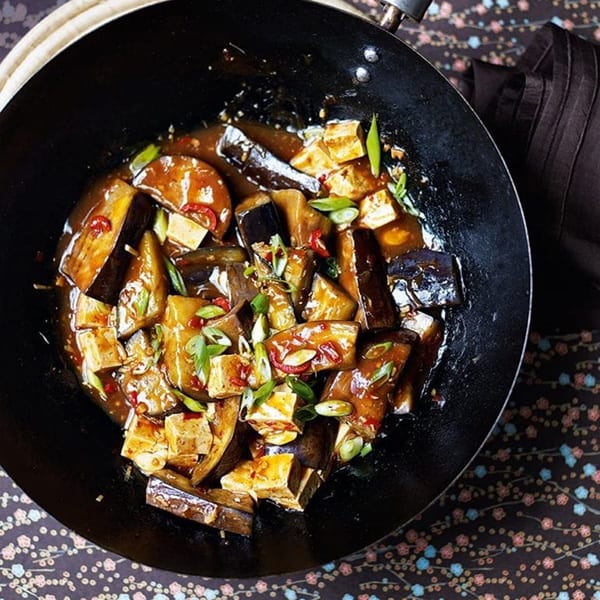 It's really easy to create a big-flavoured curry sauce in a short amount of time; you just have to be clever with the ingredients. Here, we've used mango chutney, curry powder and Greek yoghurt to make the spiced and creamy sauce, then paired it with crispy aubergine and tofu. Give it a go!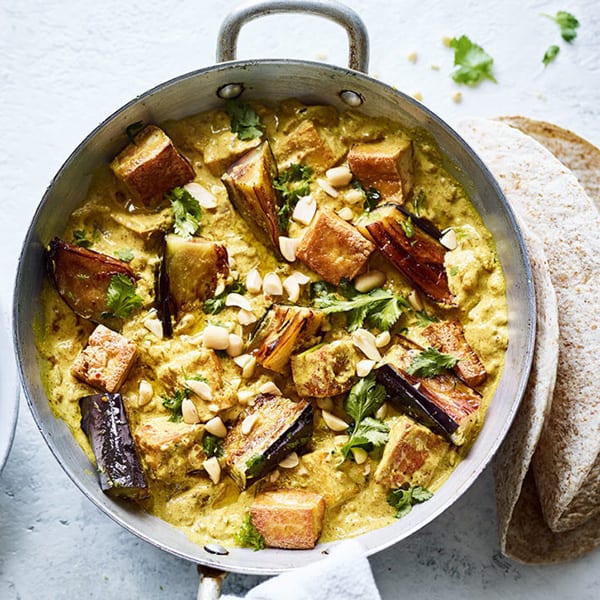 Spicy miso charred aubergine with rib steak
You might think it's the steak that stands as the star of this dish, but we'd have to disagree. In fact, it's the velvety, smoky charred aubergine that steals the show in this fantastic barbecue dish. For added wow-factor, serve the steak ready-sliced on a big sharing board or dish and let guests dig in themselves.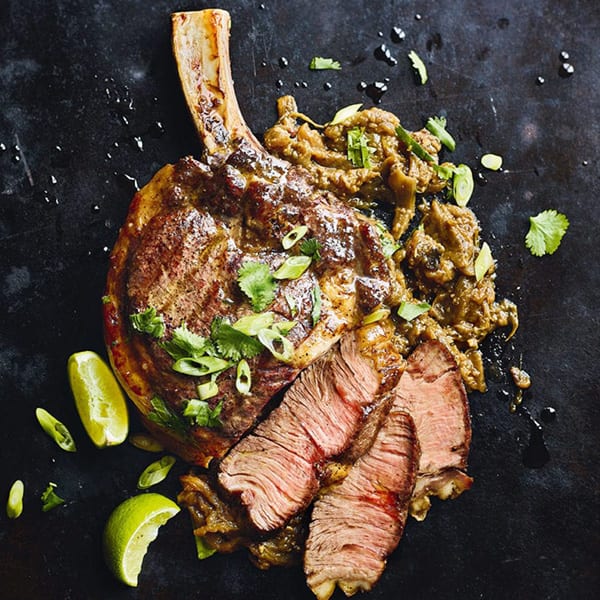 Is it possible to have too much feta? Surely not. Such was our thinking when creating this go-big-or-go-home aubergine and feta frittata.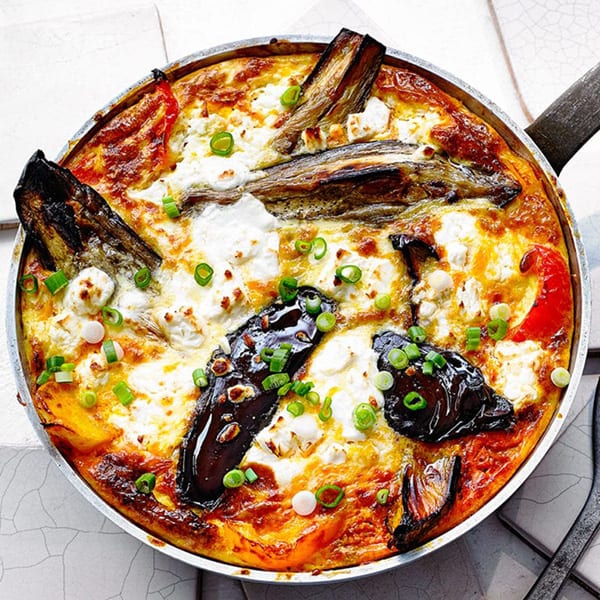 Aubergine salad with shallots and pomegranate molasses
Good news! You only need five ingredients (plus a splash of olive oil) to create this barbecued aubergine salad with crispy shallots. Or, if you're making it without a barbecue, simply cook the aubergines over a gas flame or under a grill for similar smoky results.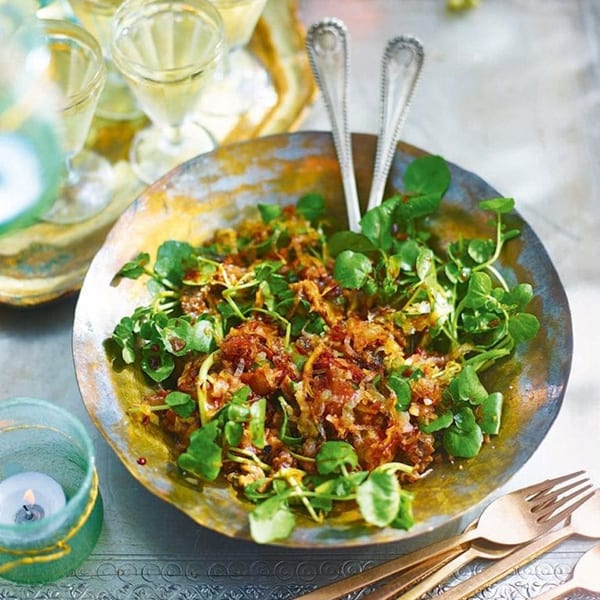 Sticky miso and tahini aubergine wedges
You haven't lived until you've mixed miso and tahini to make one rich, nutty, creamy dressing…Ooh it's so good!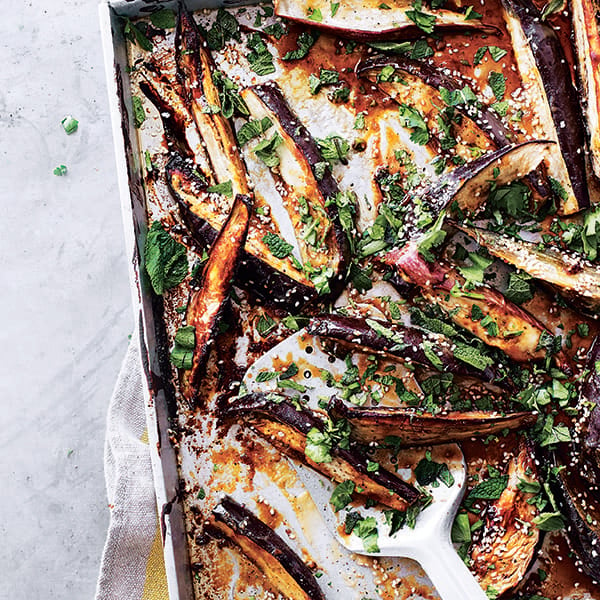 Roast aubergine salad with chickpeas and tamarind
The great thing about the tamarind marinade for this warm aubergine salad is that doubles as a tasty dressing. Make extra and store in the fridge to use in multiple dishes throughout the week.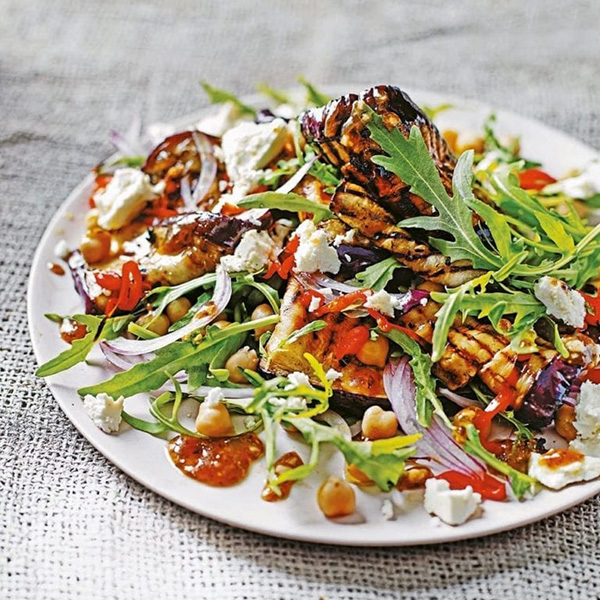 Aubergine al forno with 'nduja
Indulge in the richness of mozzarella, grana padano, 'nduja -spiked tomato sauce and roasted aubergines, all baked until oozy, soft and bubbling.
Tip: you could easily make it vegetarian instead by swapping the 'nduja for 1tsp of chilli flakes.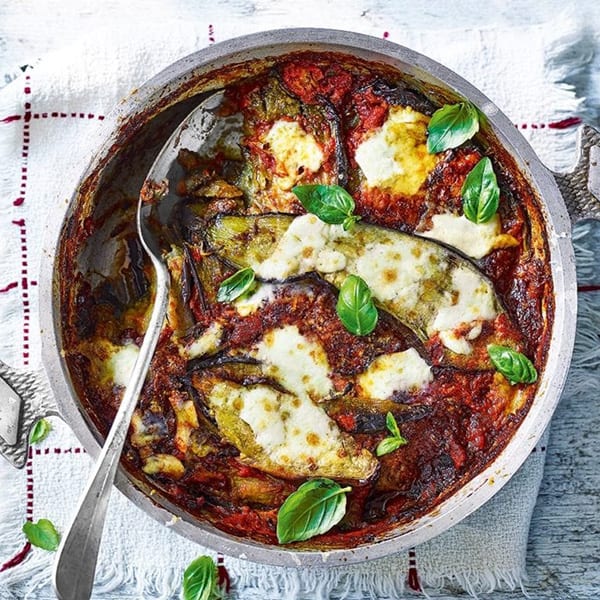 Aubergine and red lentil curry
Make it to payday with this budget curry recipe, made using wallet-friendly red lentils, aubergine, stock and spices.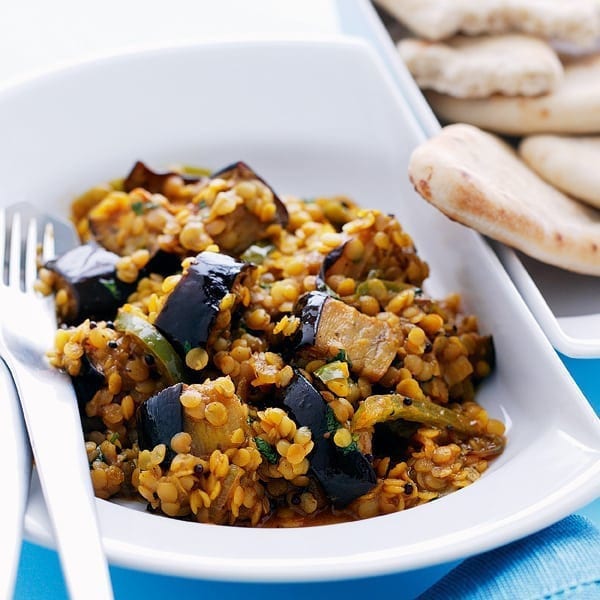 Whole roast aubergine with tahini yoghurt and Greek salad
A whole roast aubergine is a beautiful thing – as is a properly good Greek salad. We've served them both up in one knockout recipe, drizzled in a creamy tahini sauce, that's perfect for alfresco summer dining.
Roasted aubergines with buttermilk dressing
Pull out this show-stopping roasted aubergine and jewelled rice dish the next time you have vegetarian guests round.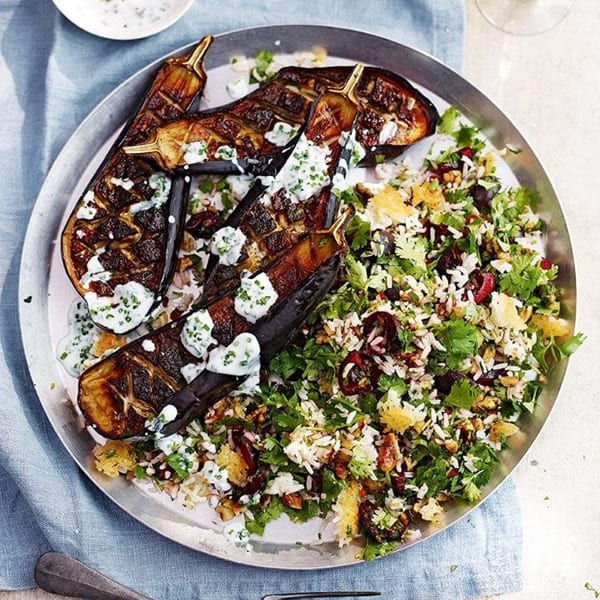 Teriyaki and sesame aubergines with rice
Packed full of vegetables and punchy Asian flavours, this teriyaki aubergine traybake makes an easy, healthy midweek dinner. Remember to adjust the heat according to taste!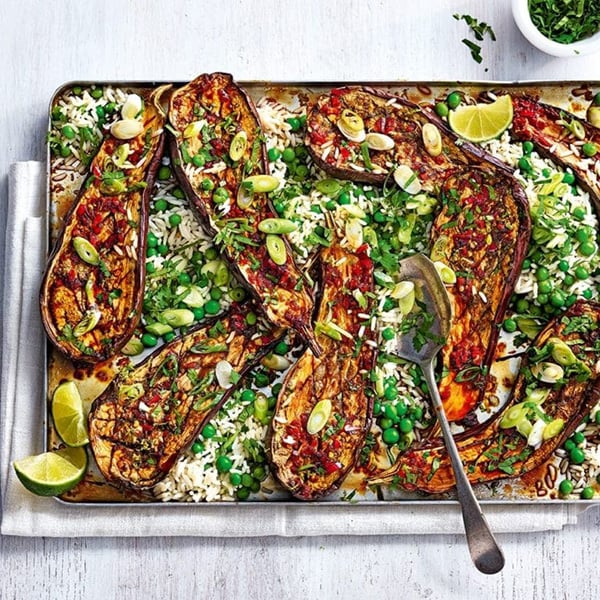 Aubergine steaks with freekeh salad
Don't freekeh out! But you're not going to believe it's possible to whip up this stunning summery dish in just 30 minutes. Take a look at the recipe and let us convince you…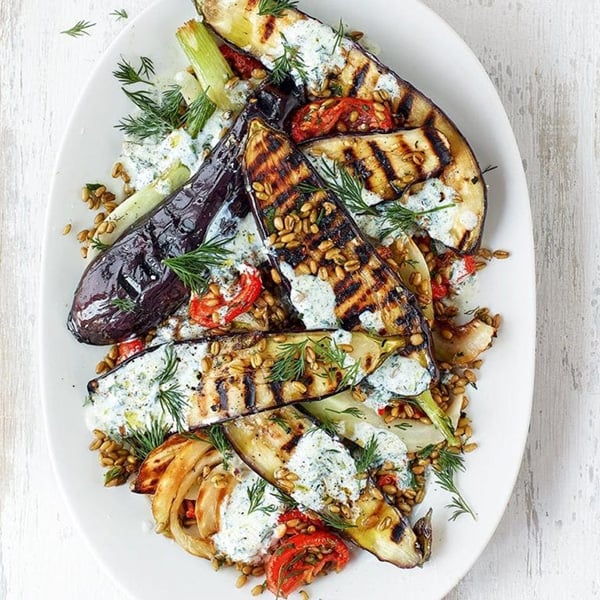 Miso and maple aubergine burger
Veggie burgers usually come in the guise of salty halloumi or meaty mushrooms, but we're here to introduce you to a new burger on the block: this miso and maple aubergine number!
Food waste tip: save any offcuts of aubergine and cook and use in pasta sauces or rice dishes.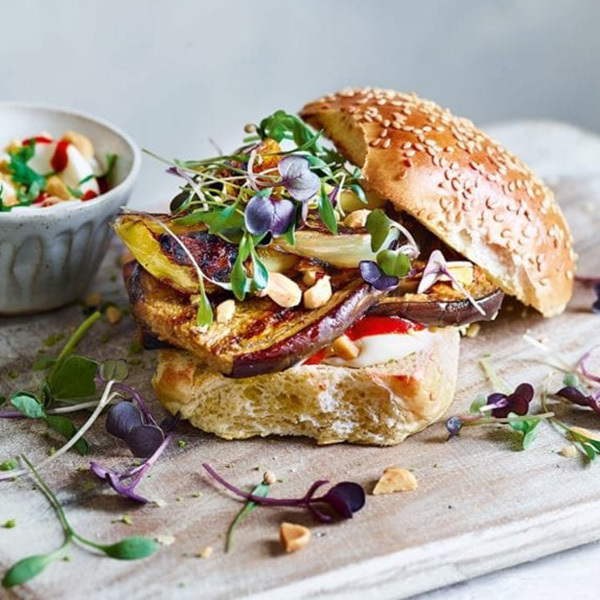 Warning: will-power is most definitely required when eating this one. If you let us, we'd happily gorge on bowlfuls of this rich aubergine and tahini dip all day…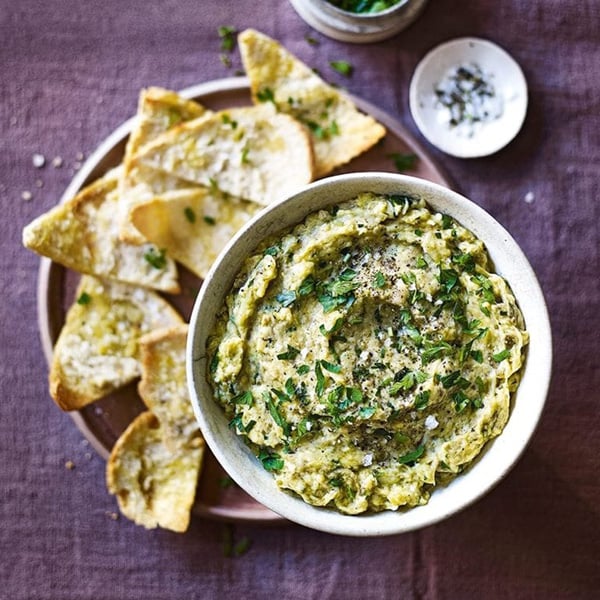 And if you like baba ghanoush, chances are you'll love it encased in pastry too! Check out these pretty aubergine tarts, perfect as a make-ahead vegetarian starter.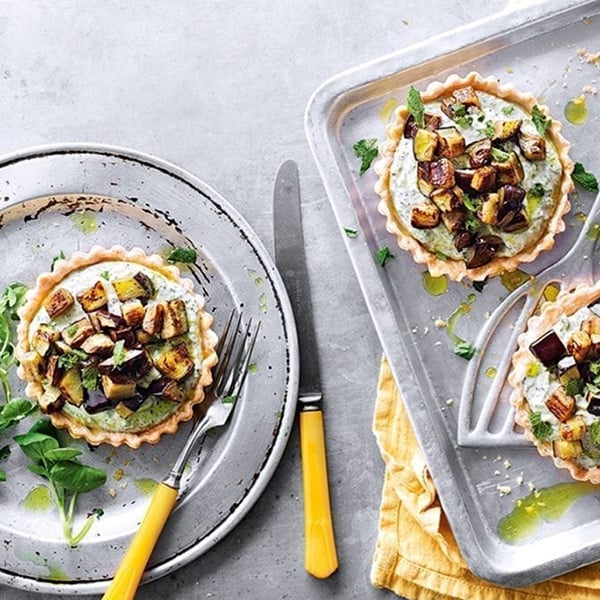 Moussaka is like the Greek version of its Italian cousin, lasagne, but layered with potatoes and aubergines instead of pasta sheets. We're big fans. Check out this lighter (but just as good) version you can enjoy an extra big slice of…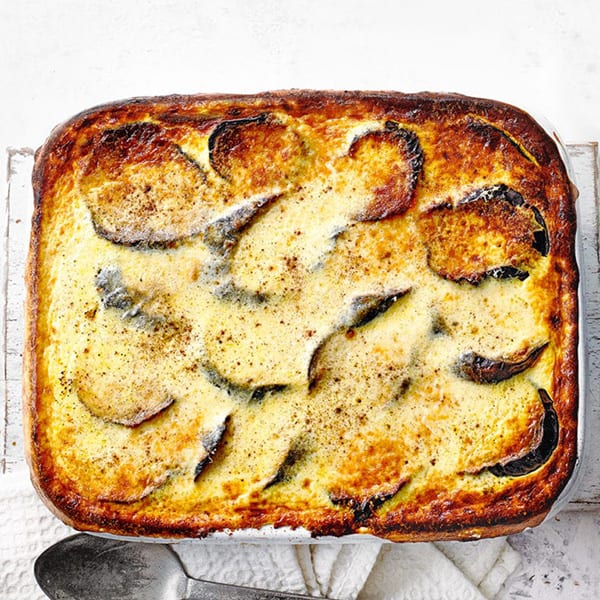 Hungry for more? Check out all of our aubergine recipes here.