11 best mince pie recipes
Buttery, sweet and perfectly spiced; the humble mince pie is a festive hero around Christmas time.
But the real star of the show is the mincemeat itself; from a classic palm sized mince pie, to a show-stopping royal mincemeat pie with meringue, this boozy, fruity concoction knows no bounds.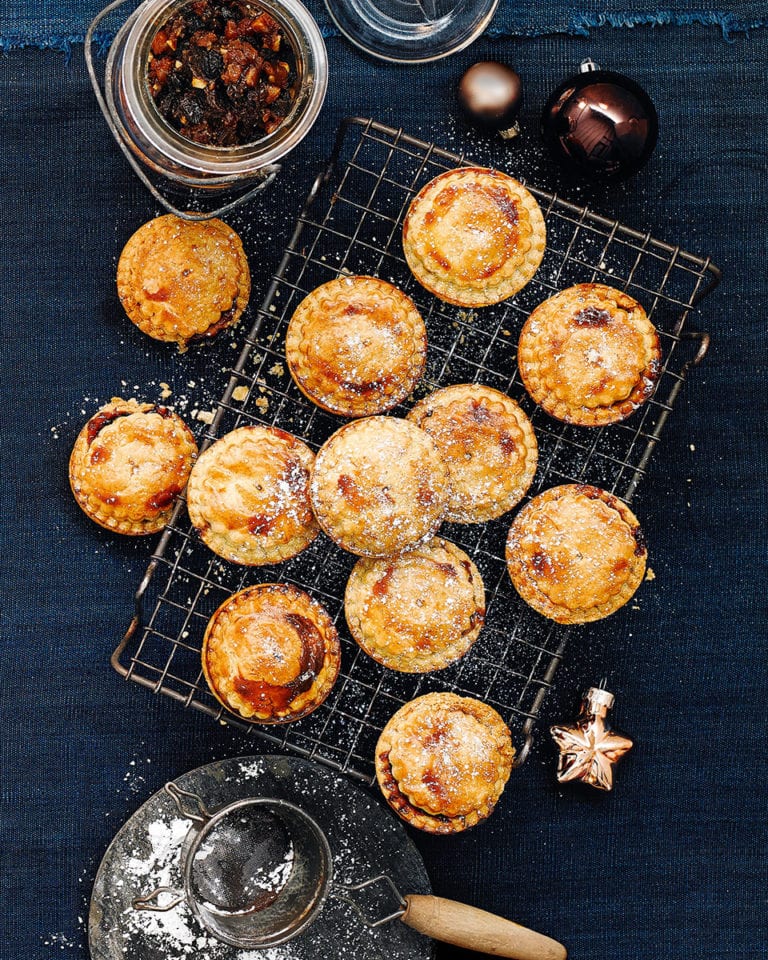 So, we've all thought it, why is it called a "mince" pie?
Yes, you guessed it, that sweet, spiced filling we refer to as "mincemeat" was actually originally meat. Mixed meats, such as mutton, beef, rabbit, pork and game were cooked with spices and dried fruits to create a (supposedly) delicious filling for a pie. Back in the Middle Ages, this would have been considered a total showstopper main at a banquet or feast! And for those food-history lovers, we have a traditional recipe that you can actually recreate at home…
What is mincemeat made of nowadays?
If that doesn't get your tastebuds tingling, fear not. Nowadays, mince pie "mincemeat" is a fully vegetarian, sweet pie filling, made up of warming spices and a mix of dried fruits such as sultanas, raisins, apples and candied peel. If you've never made your own mincemeat before, this quick mincemeat recipe is a great place to start.
What can you add to mincemeat?
Since it's Christmas, we're all about adding a little extra spice or festive touch to our mincemeat. From a splash of liqueur, to an additional fruity element, there's plenty of ways to jazz up these favourite festive pastries. If you're a lover of mince pies but usually spend Christmas on the beach, this boozy rum and pineapple mincemeat recipe will transport you to the tropics! Alternatively, this pear and apple mincemeat resonates more with a crisp, winter's day at an English orchard…
Shortcrust or puff pastry for mince pies; which is best?
Honestly, we believe there's no right or wrong answer. Although it is more common to find shortcrust pastry mince pies, a light, buttery, flakey puff pastry works just as well with our favourite mincemeat fillings. Plus, the sky is the limit when it comes to making use of your mincemeat…
When is it acceptable to eat a mince pie?
Traditionally, it was believed that if you ate a mince pie every day from Christmas until 5th January (Twelfth Night), you would receive good luck and good health for the rest of the year. Contrastingly, others say it's bad luck to eat mince pies outside the month of December. But, we think it can't do much harm to have a cheeky mince pie in November… So, we'll leave this up to you!
Should you serve mince pies solo, or with something alongside?
Hot, cold or slightly warmed. Top off or top on. Custard, cream, clotted cream, ice cream, brandy cream, brandy butter or, dare we say it, hard, crumbly cheese… The ways to serve a mince pie are practically endless. But, whether you prefer a quick all-in-one gobble as a post-lunch snack or, one oven-warmed with lashings of double cream, the dependable mince pie hits the spot all the same.
And finally, top marks for anyone who knows the average amount of mince pies eaten by one person around Christmas time?
The answer: 15. Yes, in the UK, on average, one person will enjoy 15 of these festive treats. That's a population consumption of around 781,177,935 mince pies over the festive period. Not bad, Britain.
Best mince pie recipes to make this Christmas
This recipe uses a buttery, apple mincemeat encased in a slightly citrusy shortcrust pastry. It's certainly a more traditional recipe (we're talking 21st century traditional) but, nonetheless a real crowd pleaser.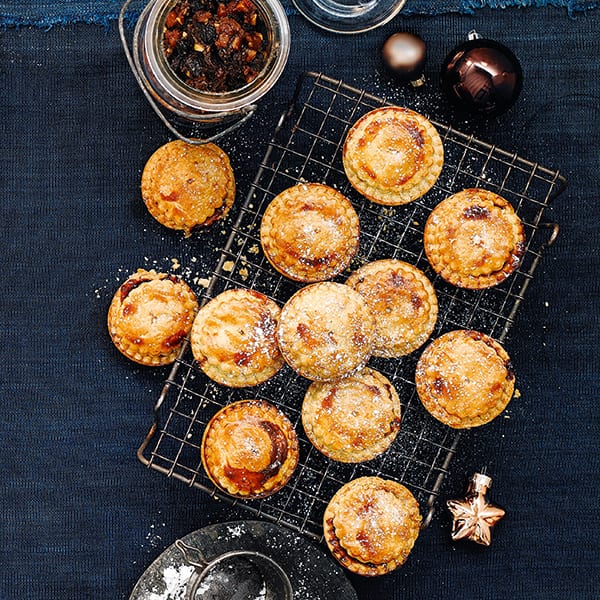 Rich mince pies with homemade mincemeat
Give your mince pies a boozy kick by adding Calvados to your mincemeat. The deeply rich flavours are reminiscent of apples and pears but work perfectly against the chopped Brazil nuts used in this recipe.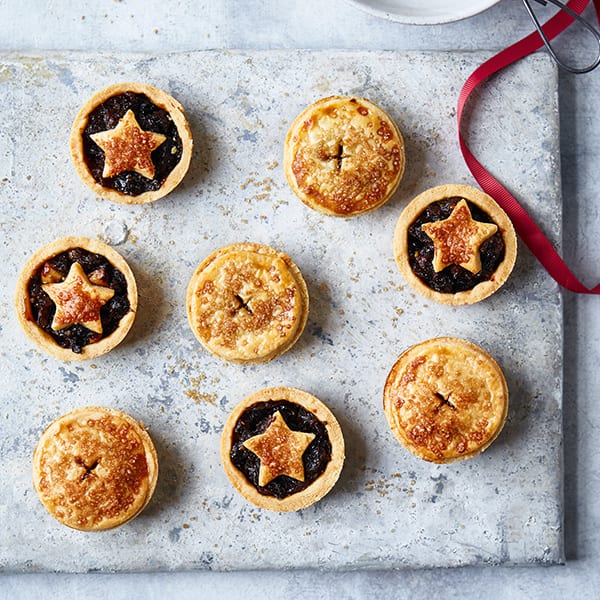 Love brownies? Love mince pies? Then you can't go wrong with our brownie mince pie recipe. A gooey, chocolatey batter and a sweet, boozy mincemeat come together to make a Christmas hybrid of dreams.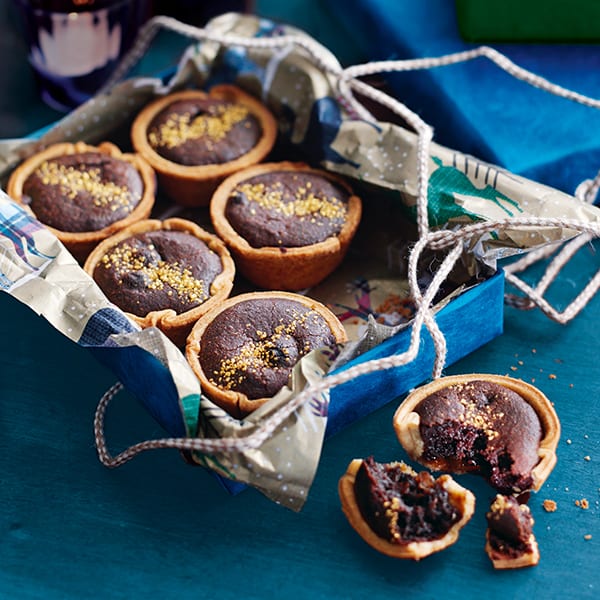 Perfect for a family of mince pie lovers; this spectacular giant mince pie can be sliced and served on Christmas Day as an alternative to the classic Christmas pudding.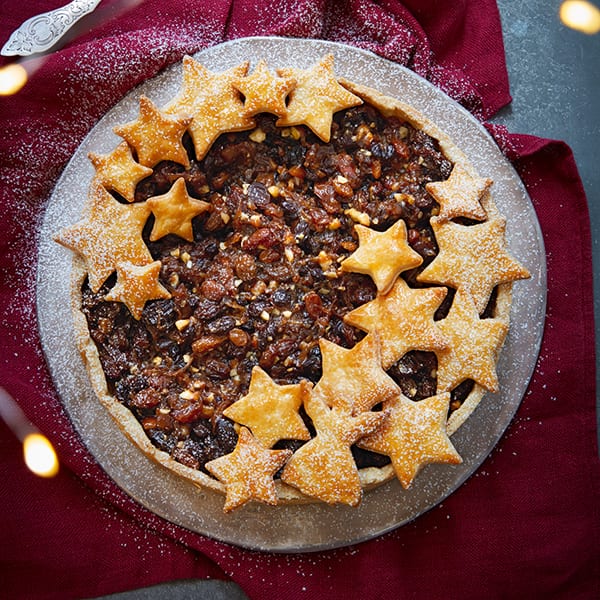 Mince pie loaf cake with streusel filling
A buttery, custard enriched sponge encases a sweet mince pie streusel to make this gorgeous loaf cake. It's light, fluffy and goes perfectly with a cup of tea.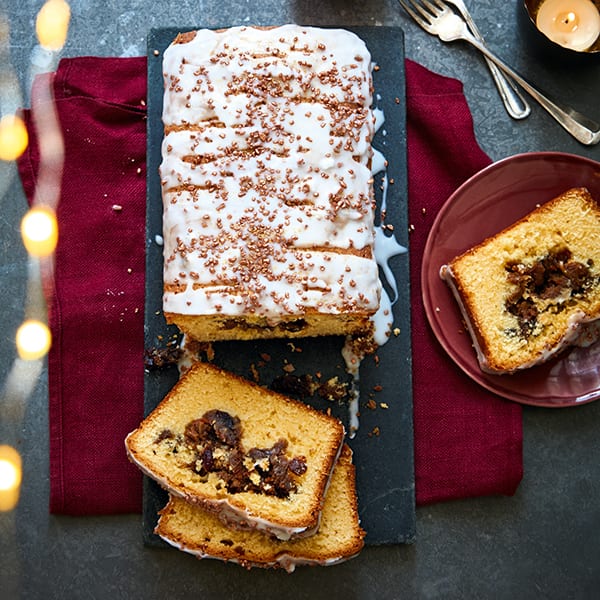 Jewelled mince pies with tahini pastry
These "on trend" mince pies require pomegranate, figs and pistachios for the mincemeat filling and use tahini in the pastry for a Middle Eastern twist. Nutty and sweet; these will certainly impress.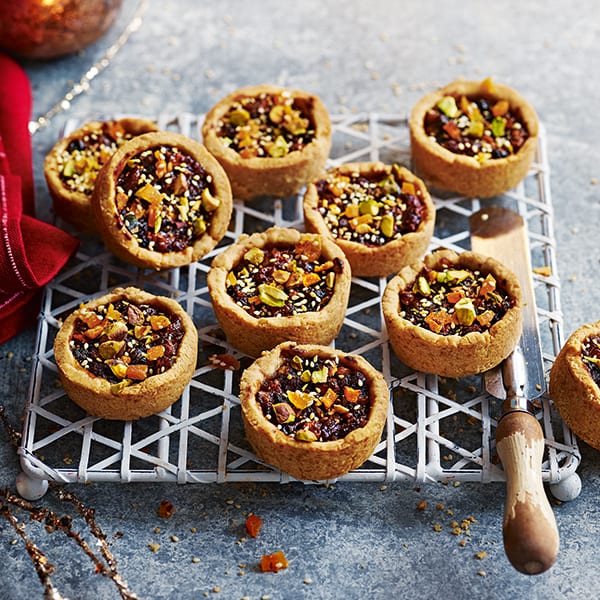 Here's another festive hybrid for you: comforting crumble and sweet mince pies come together to make a mince pie crumble traybake. Perfect for a family dessert or, for slicing, sharing and giving to friends at Christmas.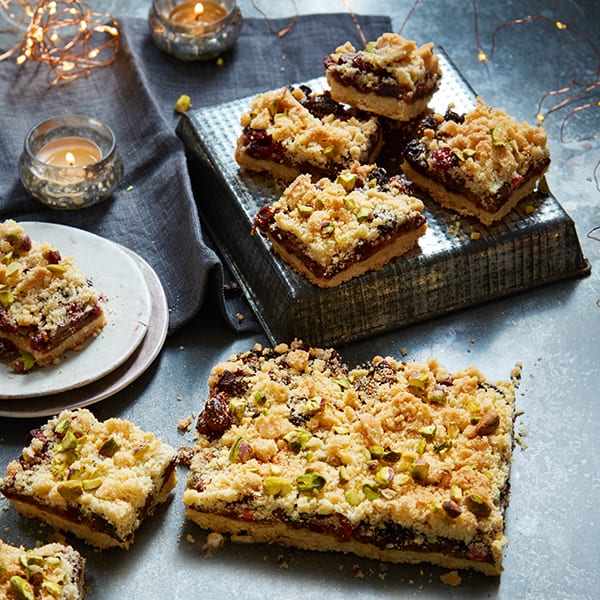 Here's a showstopper dessert if we ever did see one: this meringue-topped, baked, giant mince pie will no doubt "wow" when it comes to dessert. Plus, we love this for being an easy-to-make, prepare-ahead dish that still looks spectacular!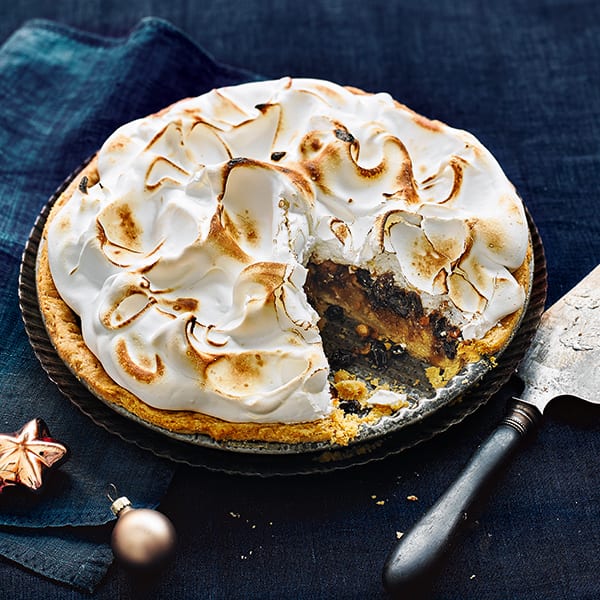 Nut, gluten and dairy-free mince pies
Do not let food allergies ruin the magic of mince pies. This gluten-free, dairy-free and nut-free recipe is easy to make, packed with flavour and one you'll want to repeat again and again.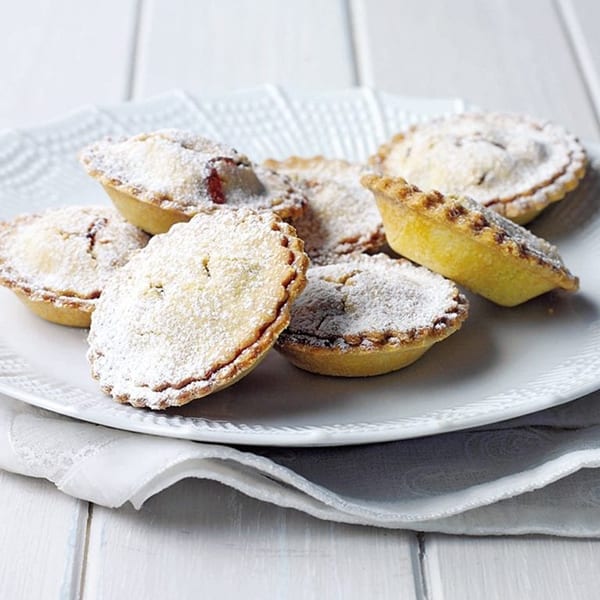 Cranberry, orange and almond mince pies
We really thought about the best of Christmas flavours when making these fruity favourites. Cranberry and orange add a slight zing to complement the sweet dried fruit plus, savoury almonds create a nutty texture against the soft, crumbly pastry.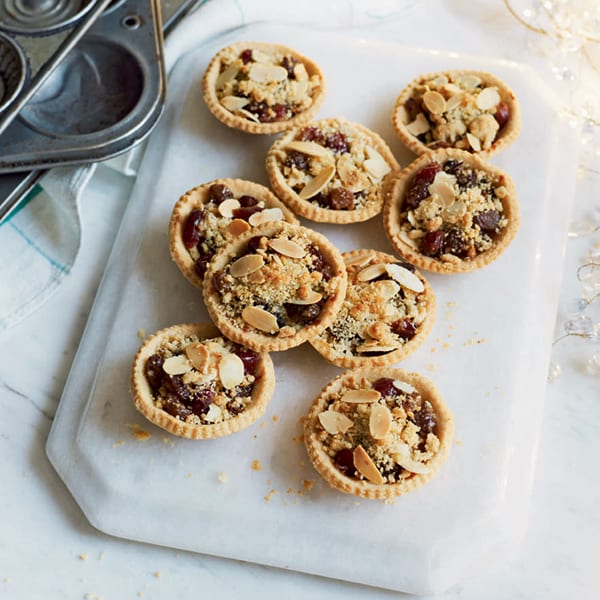 Sometimes, all you need is a little amuse-bouche to curb those post-dinner sweet cravings. These mini mince pies are certainly sized-down, but we've made no compromises when it comes to flavour. A fun, easy recipe that's great to make with kids too.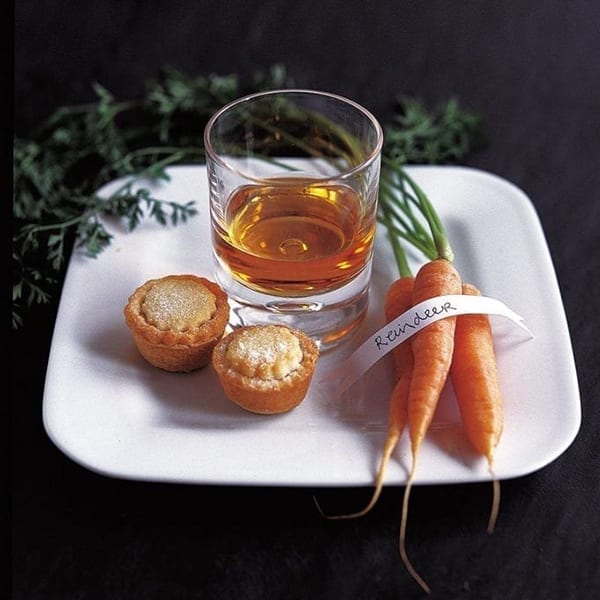 Hungry for more? Click here for our entire mince pie recipe collection!
Subscribe to our magazine
Subscribe to delicious. magazine for HALF PRICE
Subscribe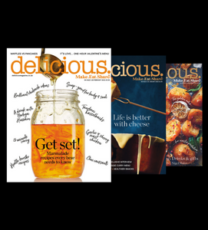 Join our newsletter
Packed with menu ideas, recipes, latest competitions and more...