Cooking for one: single-serving recipe ideas to fill you with joy
Consider this the ultimate delicious. guide to being alone – in a good way. You see, there are so many brilliant things about cooking for yourself. With a free-pass to cook whatever suits you, go for something whacky, indulgent, special or basic – there are no limits to the type of dish you can come up with.
Follow a recipe, or don't. Eat cacio e pepe for lunch and cheese on toast for dinner. Smother scrambled eggs in brown sauce or drizzle poached eggs with hollandaise. Make, eat and relish the meal that YOU love the most.
We've listed some of our top recipes for one here, spanning scallops with cauliflower purée to curried eggs on toast. Or go off-piste with one of your own creations. These are the kind of meals you make when no one else is looking…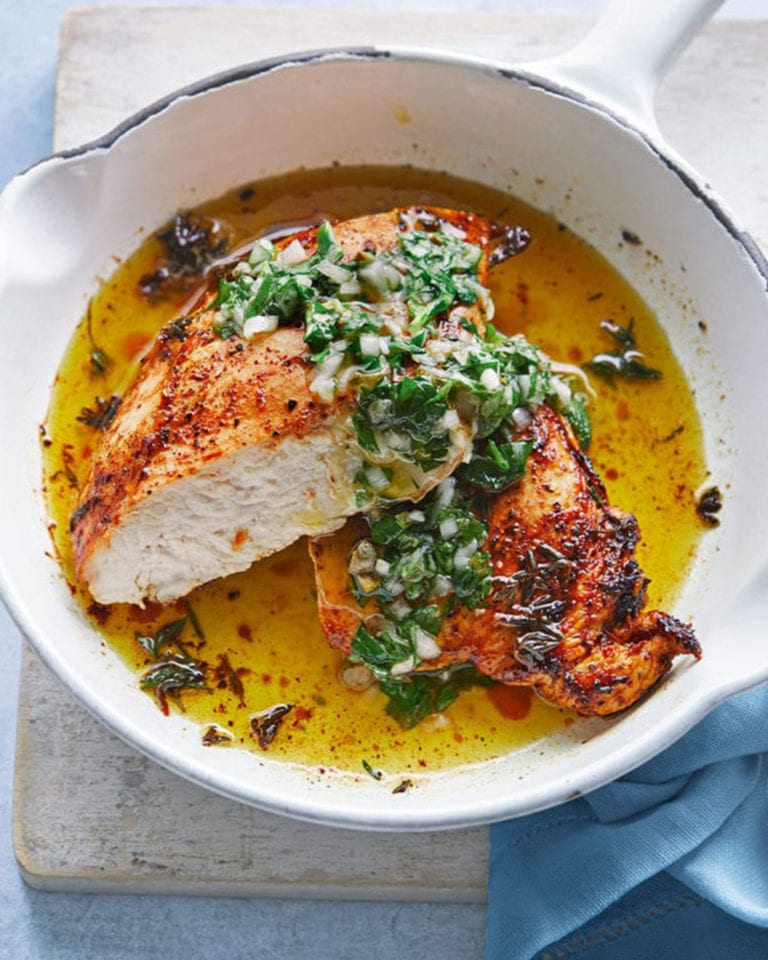 Cooking for one: The Golden Rules
Rule number one: Don't compromise. You are worth every bit of that hollandaise sauce, that because-I-felt-like-it salsa verde and that fancy scallop dish for lunch (see below). Some call it cooking for one, others call it self-care, we just call it cooking.
Rule number two: Cooking for one can mean cooking for many. Don't forfeit a comforting slow-cooked casserole or a big batch of chilli because you're worried you won't eat it. Freeze half for rainy days and remember, you can always rework yesterday's spag bol into tomorrow's chilli con carne. Simply serve up the same meal in a totally different way!
Rule number three: Basic is brilliant, too. Getting home at the end of a busy day with nothing in the cupboards is what makes beans on toast so majestic – right? It's the reason pesto pasta is still very much a thing and why we'll never give up a good old jacket potato. When time and energy isn't on your side, a box of eggs and a good non-stick frying pan always is.
Rule number four: There are no rules. In fact, the weirder the better! Now's your chance to use your imagination, get creative with flavours and test out your ideas. If it doesn't work – well, no one was looking. And if it does, then we rest our case! Plus, we all have those weird guilty food pleasures that we'd rather not share with the group: chips dunked in milkshake, crisps dipped in chocolate and marmite and marmalade on toast (you heard it here first). Cooking for yourself just means you get to enjoy all your favourite things in a judgement-free zone.
Cooking for one: our favourite solo recipes…
Potato, green tapenade and herb flatbread
A flatbread is like a blank canvas that's calling out to be covered in delicious meaning. Bread is one of the greatest vessels for all manner of ingredients, after all! To keep things easy, pick up a ready-made flatbread, pizza base or naan bread from the supermarket (or make your own if you have time). We love the carby combo of potato, green tapenade and fresh goat's cheese, but the choice really is yours.
Make it your own:
For more topping ideas, check out all our pizza recipes. Our favourites include fig, pancetta and burrata, taleggio and broccoli and courgette and blue cheese.  The whackier the better!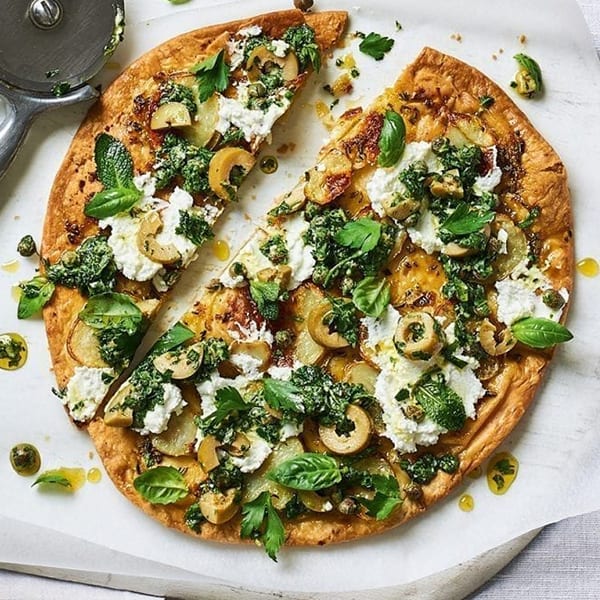 Sesame tuna steak with cucumber salad and rice
Sure, the tinned stuff is great, but on those days when you're feeling a touch more indulgent, treat yourself to fresh tuna steak. It's delicate flavour and meaty texture pairs well with Asian flavours – as we have done in this recipe. Sear to your liking, then serve with the sesame, soy and lime cucumber salad for a punchy 15-minute meal.
Make it your own: Serve with fluffy jasmine rice for a more filling meal, or not if you want something a little lighter. If Asian flavours aren't really your thing, try combining olive oil, capers, lemon juice, tomato, harissa and chopped coriander to make a dressing, as we have done in this Mediterranean-style recipe. Tuna steak pairs well with avocado too: mix together a speedy salad of chopped avo, red onion, lime and a dash of Tabasco.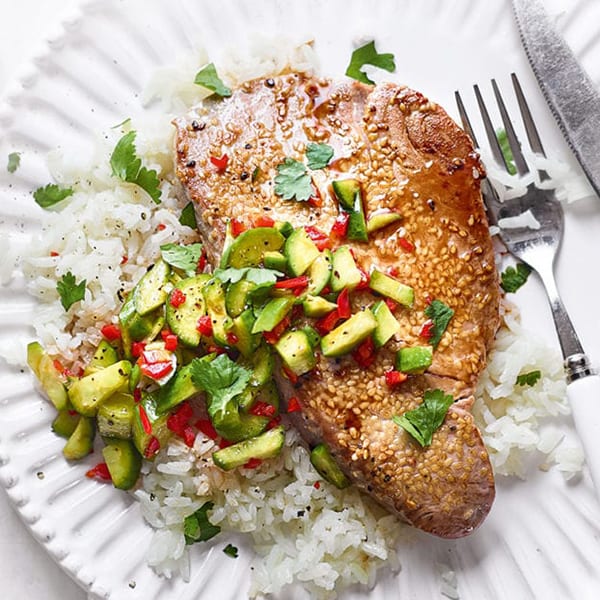 Scallops with cauliflower and bean purée
Don't invite people over and instead, save this stunning scallop dish all for yourself. It's restaurant-style food that you can easily whip up in 20 minutes (yes, that's 20 minutes).
Make it your own: Scallops give this dish an extra-special edge but any other white fish would work well here. Simply sear in a pan until nice and crisp, then drizzle with the soy-chilli dressing.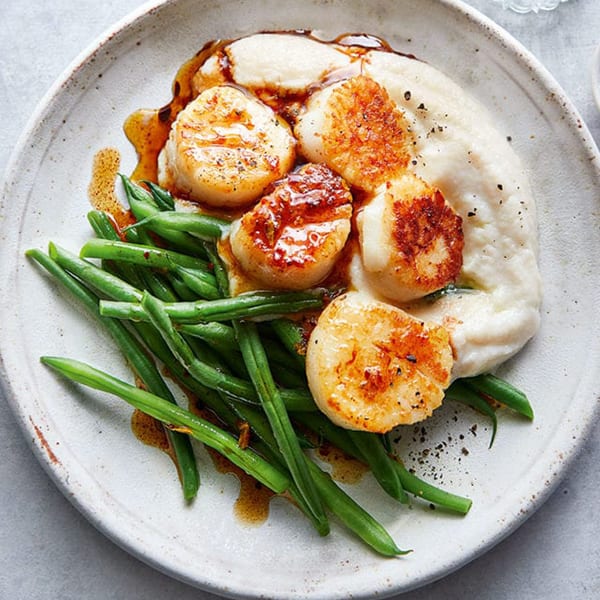 There are few simple pleasures finer than garlicky fried mushrooms on toast. We've cooked this marvellous ingredient with cider and fresh thyme too, to create a sweet and sticky sauce. Take your breakfast up a notch or enjoy as a light lunch or dinner.
Make it your own: The addition of cider and thyme is wonderful, but not strictly necessary. Simply cook with butter/olive oil and garlic if you're feeling lazy and omit the egg to keep it vegan-friendly. For an indulgent twist, fry the mushrooms with a dash of cream instead of cider.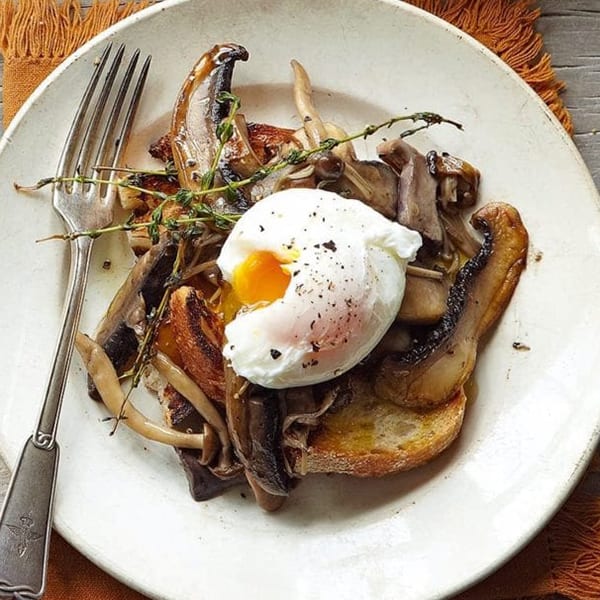 Crisp-skinned chicken breast with salsa verde
If finding an evening to yourself is one in a million, then make yourself a meal to match with this standout crispy-skinned chicken dish. We recommend using lashings of butter, olive oil and white wine. No one's judging.
Make it your own: This recipe is a brilliant way to use up leftover herbs – simply use a combination of whatever you have in the fridge.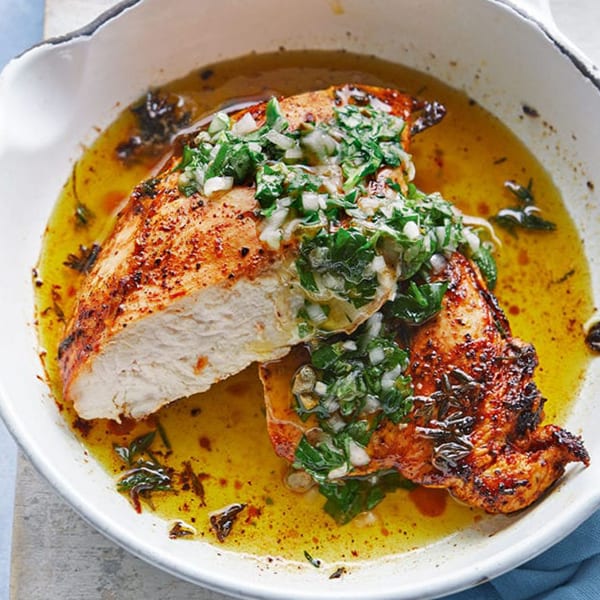 Oh, eggs on toast – you are the saviour of the recipe world. The meal that asks so little of your wallet and time, yet gives so much back in return. Never have you failed us.
Our take on this classic dish offers up oodles of flavour with the addition of  garam masala, red chilli, spring onions and coriander. Serve with big, cooling dollops of Greek yoghurt and mango chutney.
Make it your own: Love the idea of adding spice to scrambled eggs? This masala version is rich with fragrant spices (and double cream). Or try cooking eggs with cheese and chorizo sausage for a fiery kick. But if plain and simple is more your thing, then scramble gently with a knob butter and a good pinch of salt and pepper – you can't go wrong.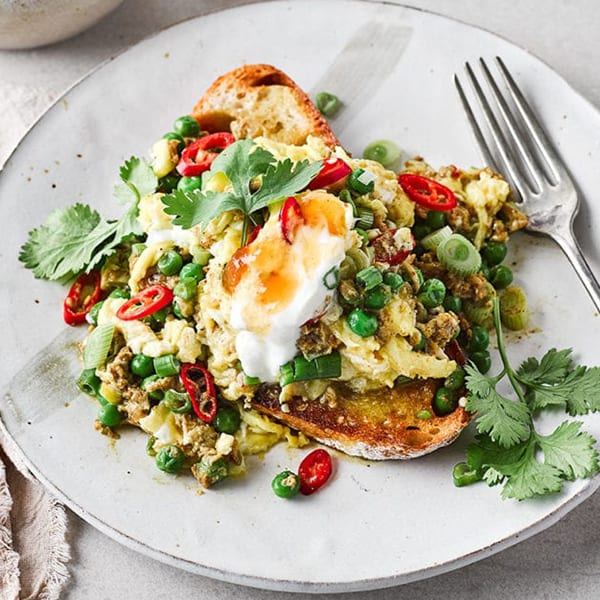 Pan-fried pork chop with sage and apple mash
This take on a British staple – meat, potatoes and veg – gets a tasty upgrade with a creamy apple mash and crispy sage leaves. It's nourishing, filling and easy-to-make fare that's guaranteed to make you feel good.
Make it your own: Swap the pork chops for sausages, if you like, and take a look at all our mashed potato recipes if this apple version isn't for you.
Add some flair to a classic omelette with this masala-spiced recipe. All you need are six ingredients and a good non-stick pan – then you're 15 minutes away from a meal.
Make it your own: It would be impossible to count the ways you can make an omelette. The base is pretty much the same every time (eggs and occasionally milk) but the added extras are entirely up to you. Have a proper fridge clear out and fill your omelette with anything you have to hand! From leftover cheese and vegetables to chopped-up salami, cooked potato, fresh herbs, flaked fish, chopped onions and more. This is a party and all your favourite ingredients are invited!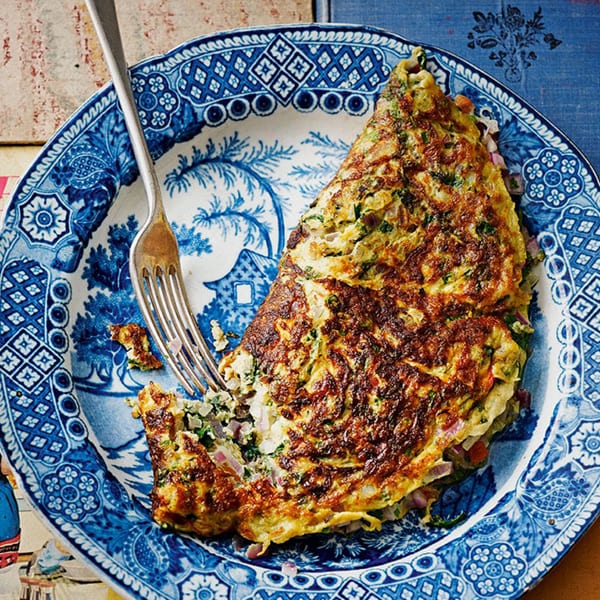 But that's not all! We've got plenty more recipes for one, including sandwiches, salads, brilliant bowlfuls and more. 
Subscribe to our magazine
Subscribe to delicious. magazine for HALF PRICE
Subscribe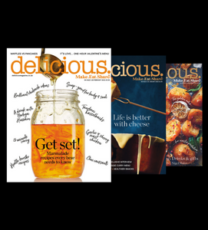 Join our newsletter
Packed with menu ideas, recipes, latest competitions and more...