The best foods to eat when you're sick
Wondering what food to make to soothe your lurgy (or, better still, have someone cook it for you)? You've come to the right place. We've rounded up our best recipes to cook and eat when you're sick with winter colds, flu or stomach upsets. Our list of options includes quick recipes for when you're seriously low on energy.
There's nourishing veg-packed casseroles, soups and easy traybakes to give your ailing bod some serious TLC. Plus we've included plenty of soothing drinks, soups and broths for sore throats, bunged-up heads and poorly stomachs.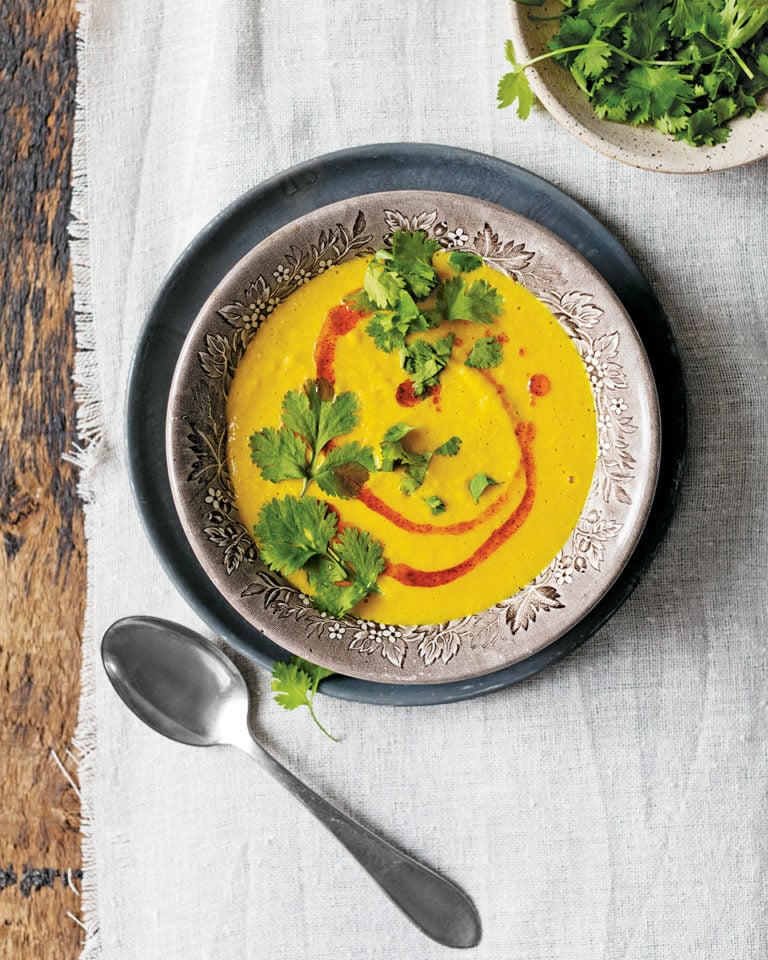 What to eat when you're under the weather
What are the best foods for a cold or flu?
When you've got a cold or flu, the usual sensible advice about healthy eating applies. The NHS advice for the common cold is to drink plenty of water. It also advises drinking hot drinks and eating at least one hot meal a day during the winter months.  Eating a wide variety of fruit and vegetables, plenty of fibre and fermented foods, such as kimchi or sauerkraut is the best way to support your immune defenses all year round, according to registered nutritionist Kerry Torrens.
I don't feel like cooking or eating much – what should I try?
Gentle broths and comforting starchy dishes like porridge and the Chinese dish congee are just the ticket when you need something easy to digest. Chicken soup is a classic for a reason. It's light on the stomach, the meat provides protein, and you can add a starchy carb like noodles, rice or macaroni for more energy.
If you're recovering from a stomach upset and are just getting your appetite back, the NHS advises plain foods like soup, rice, pasta and bread.
Is there really such a thing as healing foods?
Sorry, not really. There's no such thing as an instant cold-zapper, but eating a wide variety of fruit and vegetables is sound advice all year round, and particularly when you're feeling poorly. Food rich in certain vitamins and nutrients, including vitamins A, B12, B6, C and D plus zinc, copper, folate, iron and selenium, all contribute to a healthy immune system.
I've heard zinc can cut the length of a cold. Is this true?
Taking zinc supplements may help cut the length of your cold and flu symptoms by up to 2 days, according to a large-scale review of 20 studies published in November 2021. The studies were based on zinc supplements. Foods naturally high in zinc include seafood, beans, pulses, meat, nuts and seeds. We've included lots of these ingredients in our recipes round-up.
Our best recipes for when you're feeling sick
Turmeric chicken noodle soup with chard
Chicken soup is an under-the-weather classic. Whether its reputed cold-busting benefits are real or not, a soothing broth made with real chicken stock is ideal when you want something  gentle on the stomach. Studies suggest turmeric may help support the immune system, while chard is rich in vitamins A, C and K.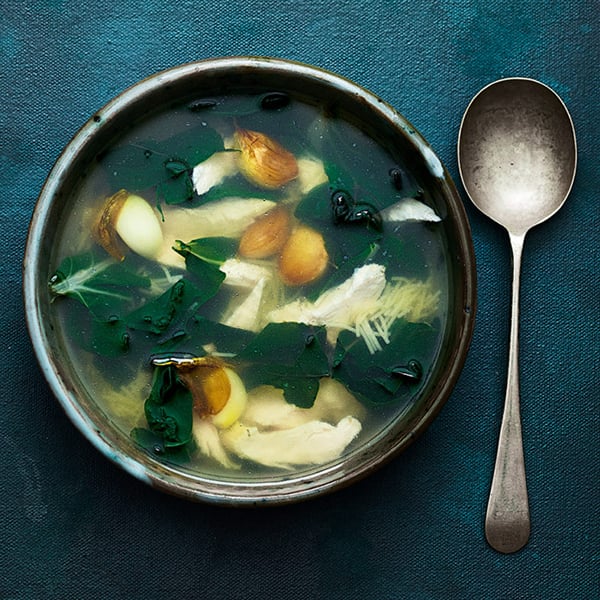 Roasted vegetable quinoa salad
This zesty and filling salad is dressed with the juice of one whole lemon, perfect for upping your vitamin C intake. The recipe is flexible too, so go ahead and add any veggies lurking in the fridge. Perfect for when you're isolating or  don't feel up to a trip to the shop.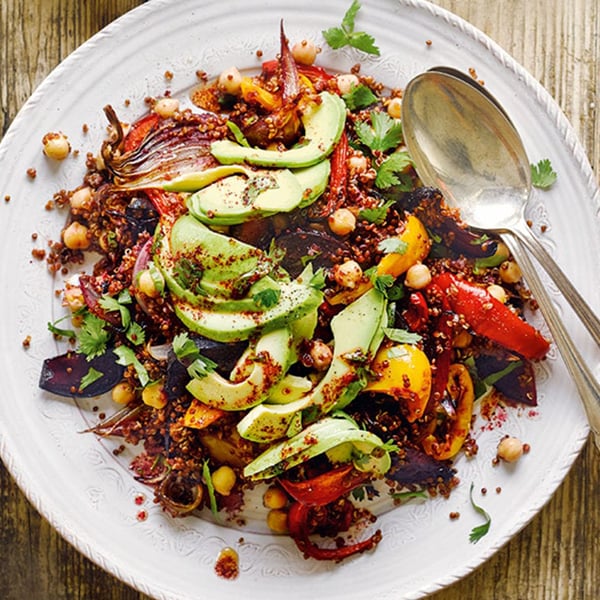 Cashew corn chowder with chipotle oil
Cashews are a good sauce of zinc. Unlike most chowders, this one is dairy-free, so it's a good pick for vegans or if you're feeling bunged up. The soup also contains turmeric, cayenne and a squeeze of vitamin C-rich lime.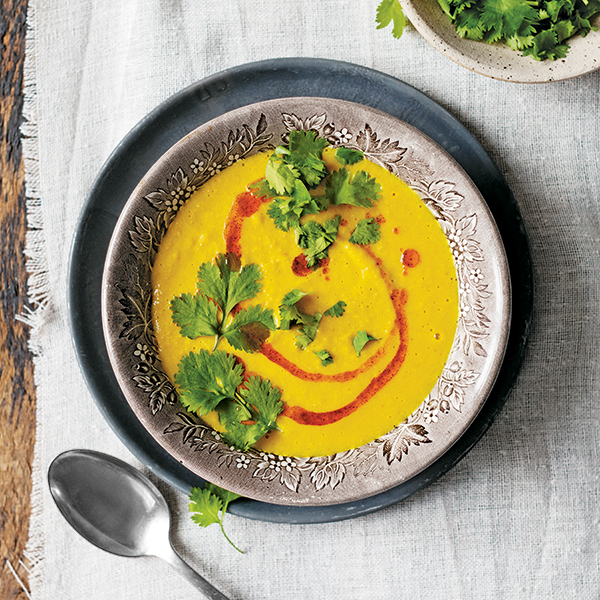 Beef meatballs in tomato sauce
Feeling listless? Charm someone into making you  our beef meatballs in tomato sauce. The beef will give you a protein, iron and zinc hit while the tomatoes are a source of vitamin C.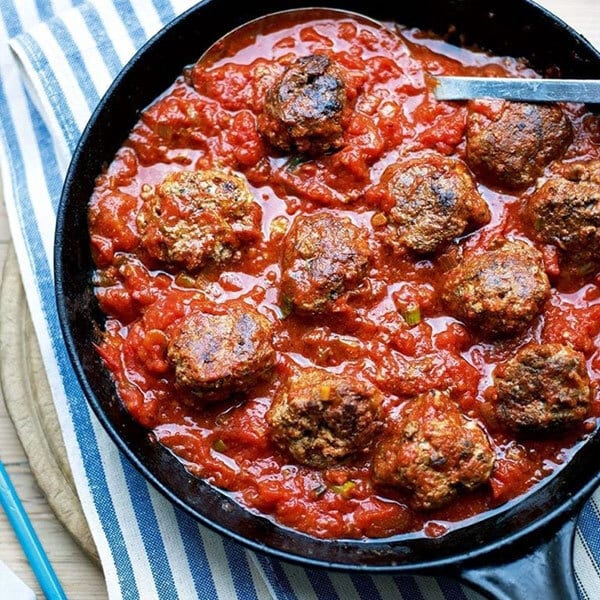 Bunged up and fed up? Snuggle under a blanket with a mug of hot toddy. This traditional cold remedy is made with honey or sugar, hot water, cloves and a slug of Irish whiskey, and is a great decongestant.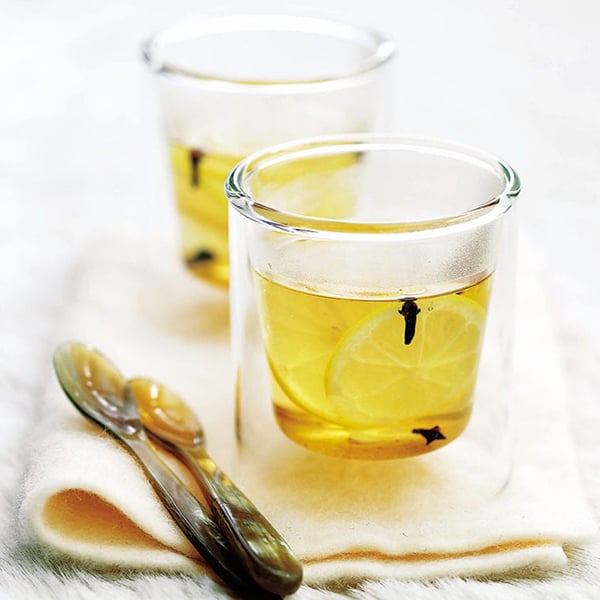 Breakfast for dinner is our kind of cold-season comfort food. Give your gut health a boost with a stack of kimchi potato pancakes. Top with a fried-egg and serve with sesame seeds, wilted spinach and a squeeze of lime.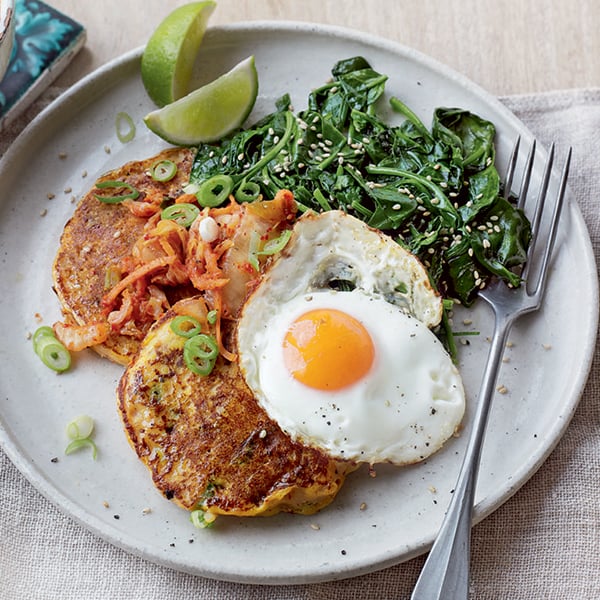 Lemongrass prawn laksa noodles
This comforting prawn broth takes just 15 minutes to throw together, so you can be back on the sofa watching Netflix in no time. The prawns are a good source of zinc.
Beans and greens on toast for chorizo and egg
Lots of goodies here: the fibre-rich white beans are also a source of zinc, the greens will boost your vitamin intake, and an egg adds protein. Swap white sourdough for wholegrain or rye for more fibre.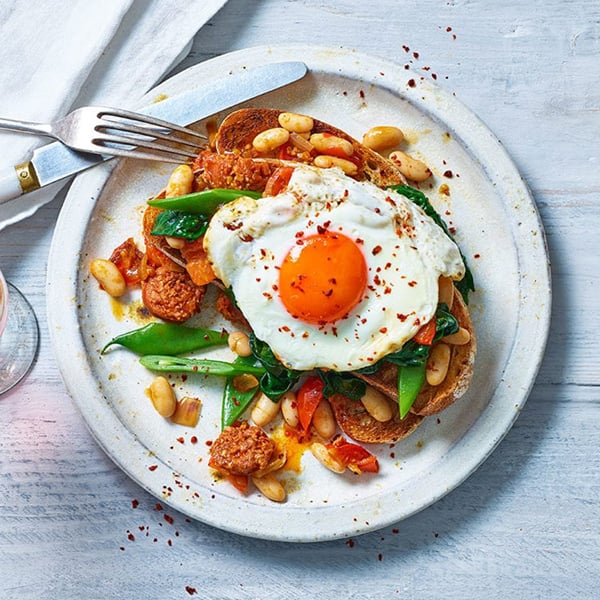 Ginger chicken congee with kimchi
Congee is eaten in China and other parts of Asia for breakfast or to soothe maladies and delicate stomachs. The thick rice porridge is gentle on the tummy, while the chicken, ginger, kimchi and greens turn it into a balanced dinner.
Root vegetable and lentil tagine
Cold season is upon us. Why not get organised and batch cook some nourishing meals to store in the freezer, like our vegetable-packed lentil tagine? Future You will be very grateful.
If you're struggling to get out of bed, knowing there's a nourishing bowl of creamy oats, and pumpkin seeds already in the fridge might just give you that extra boost to pull on your dressing gown and make it to the kitchen.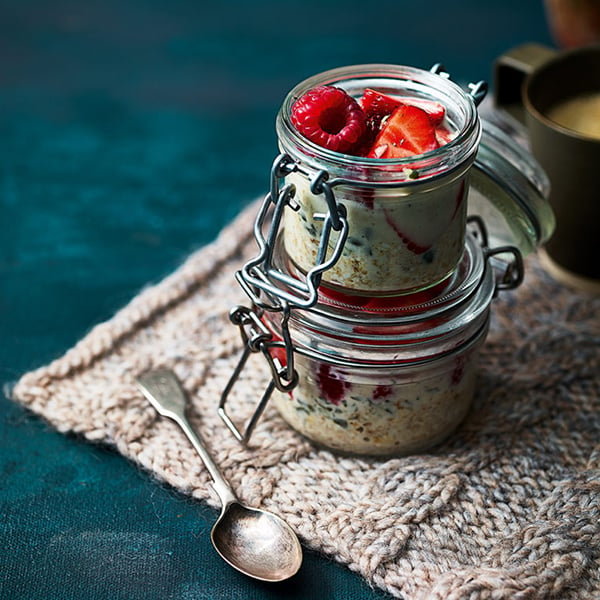 Take one easy soup base of onions or leeks, carrots and celery, then add garlic, tomatoes, herbs and whichever veggies are lurking in the fridge. Pasta adds bulk: use leftover macaroni or other small shapes, or swap for cooked grains or giant couscous.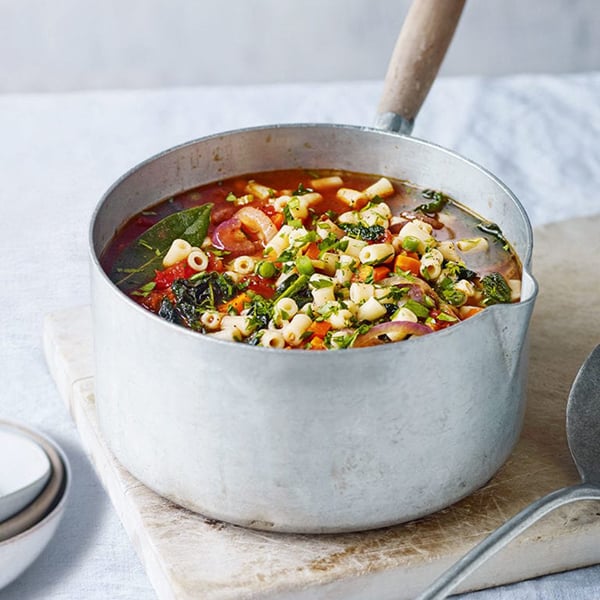 Honey and mustard baked chicken and rice
A low-effort, max comfort dinner. The rice is baked with the chicken in this all-in-one traybake with the soothing flavours of honey and lemon.  Save some extra clear honey to use in your hot toddy.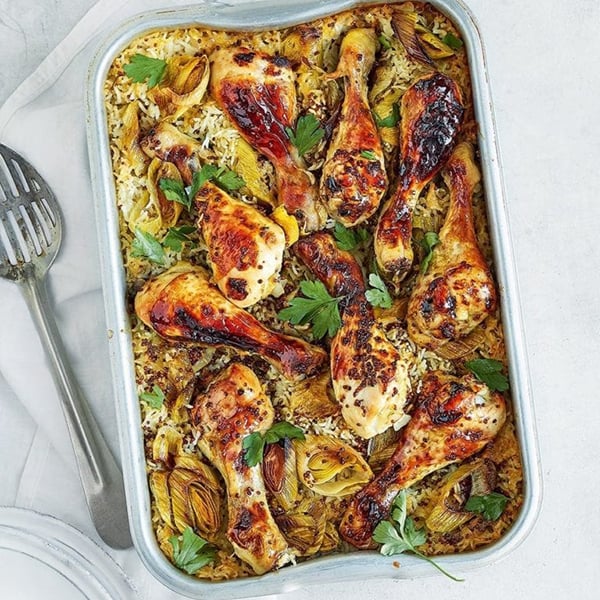 Take the edge off a sore throat with a cooling sorbet. Our pomegranate sorbet takes 15 minutes to whizz up, but this is another recipe you might want to make ahead and store in the freezer. And if you manage to dodge sore-throat season, you'll have a delicious dessert for six ready to go instead.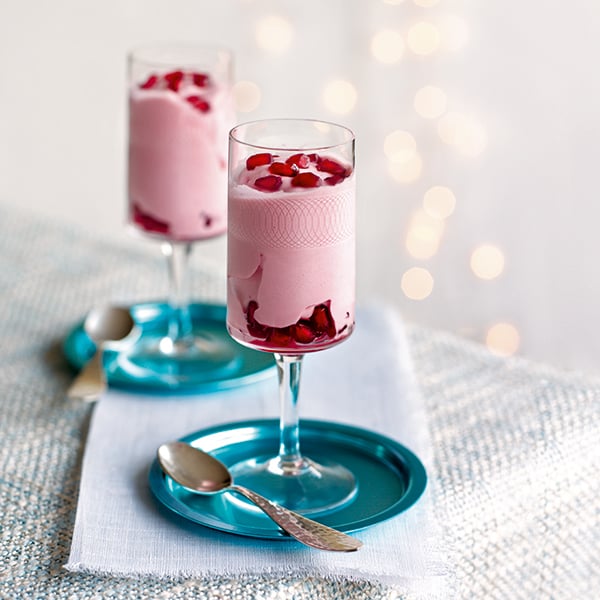 Peanut butter, sweet potato and spinach curry
This plant-based curry from Dale Pinnock, AKA The Medicinal Chef, needs just 15 minutes prep time before leaving it to simmer. Serve with brown rice for extra fibre and squeeze lemon or lime over the top to serve for a vitamin C boost.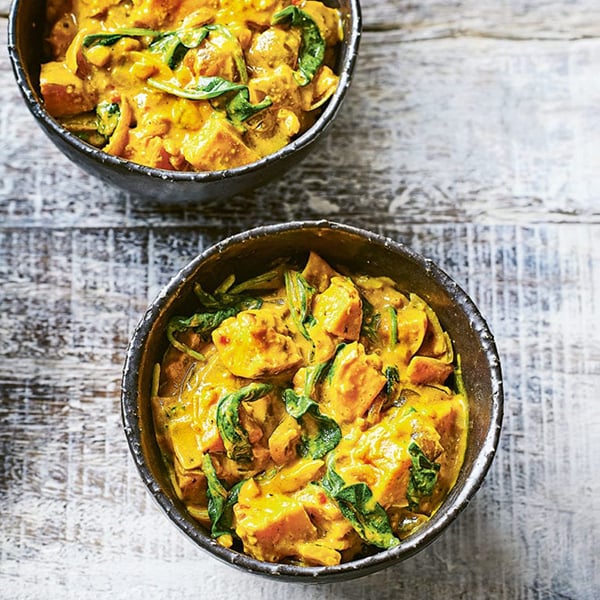 Subscribe to our magazine
Subscribe to delicious. magazine for HALF PRICE
Subscribe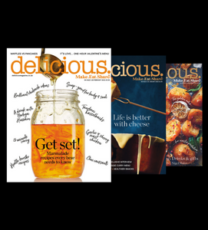 Join our newsletter
Packed with menu ideas, recipes, latest competitions and more...