10 top tips for cracking Christmas cocktails
Go a bit professional with your festive tipples this year. Our tips for Christmas cocktails are sure to keep the mood high. Sure, a gin and tonic is great – but so too is a snowball, whisky sour or a Campari fizz.
Whether you're looking for that special recipe for a Christmas breakfast fizz, or you're in the mood for a hot buttered rum, we've brought together tips and ideas for the season here. Espresso martini for 6, anyone?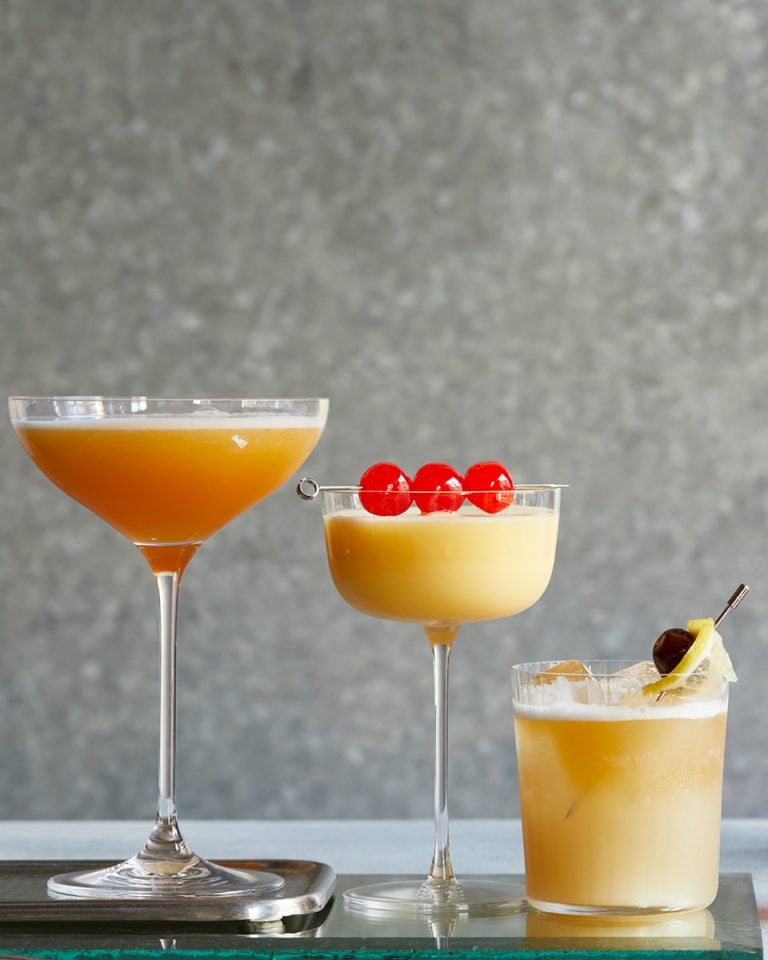 Tip 1: Use a range of different glasses
Just like with food, what you serve your cocktail in can have a huge impact on its appeal. So, if you can use a variety of glasses, you'll reap the benefits. A fizz or sparkling cocktail is most at home in a flute-like glass or coupé. Stirred cocktails such as an old fashioned or negroni are often served neat, and these are best served in a tumbler or similar. For a shaken cocktail like a margarita or an espresso martini, a martini glass always adds class! Christmas is a time to go all-out, so why not use use your best, most decorative glasses when it makes sense? We love these from Ferm Living.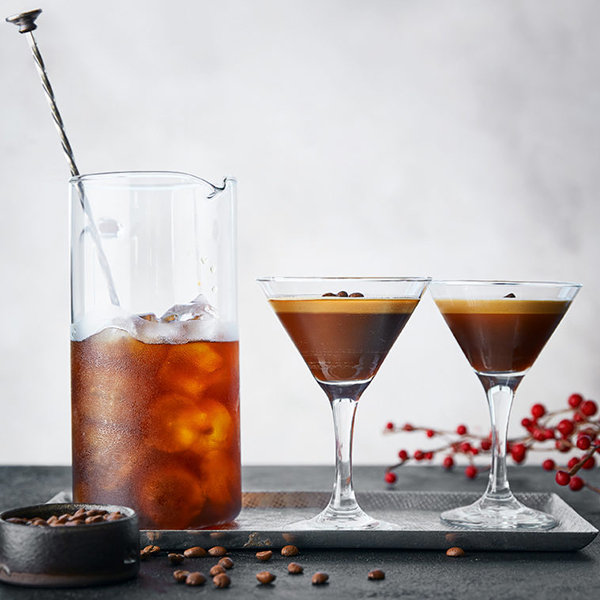 Tip 2: Bring on the festive wines and spirits
Sherry makes a great cocktail, as our new sherry spritz proves. Equally, whisky is an excellent cocktail ingredient – try it in a whisky sour, garnished with a cheering maraschino cherry. Advocaat deserves its moment in the spotlight too, in the form of that festive favourite, the snowball.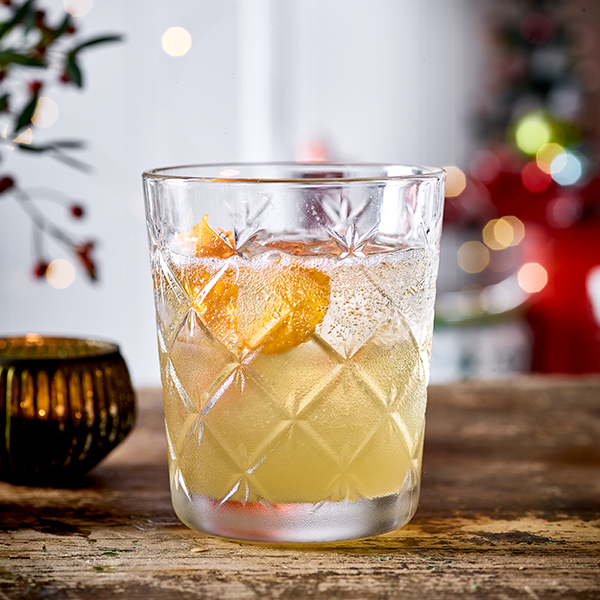 Tip 3: Make the most of winter fruits
Making a cocktail using seasonal fruits like clementines and apples is a guaranteed route to success. Such fruits also double up as lovely garnishes. If you have time, you could make a fruit purée, sherbet or fruity sugar syrup for use in your drinks. This Campari fizz, from Charlie Stein uses grapefruit sherbet and syrup to create a champagne cocktail truly worthy of Christmas day. Our spiced apple and ginger cocktail is another festive winner.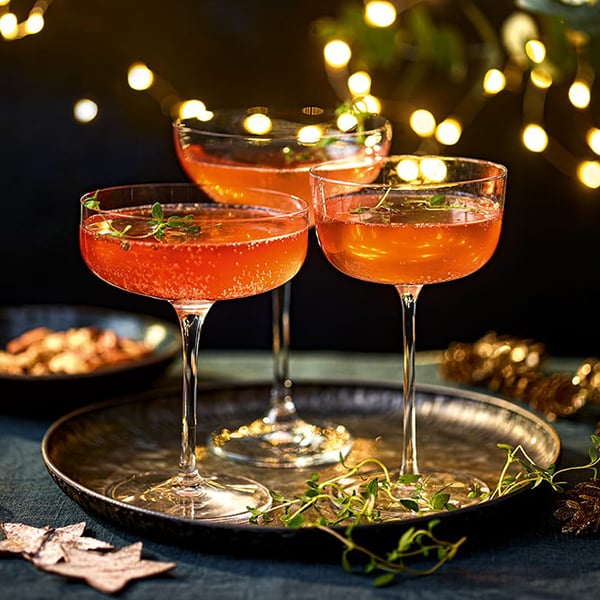 Tip 4: Consider the perfect cocktail hour
It's worth thinking about the order of your meal when deciding what to drink. Champagne cocktails at breakfast are a great way to kick things off. For an aperitif or pre-dinner drink for the festive season, starting with something refreshing and not too strong on the palate is a good way to go. Think a French 75 or fizz such as our Christmas clementine fizz. Later in the evening, you can then move on to more complex flavours: a Manhattan or a hot buttered rum are suitably festive options.
Tip 5: It's all in the finishing touches!
You might think that the garnish is merely for show, but what's a good cocktail if it doesn't look the part? The affect of the garnish is not only to bring the oohs and the ahhs from friends and family, but also to add a subtle aroma to the drink. Orange or lemon twists and herbs such as mint and rosemary are great for this: as you arrange them over the glass, their essential oils get dispersed into the drink. Another festive option is dehydrated fruit (such as orange and apple slices) it looks impressive, and you can prepare a batch to keep in a container for use through the season. Mulled drinks can be garnished simply with a cinnamon stick.
Tip 6: Ice, ice, baby
The temperature of your cocktail is almost as important as the flavour itself. If you're planning to make lots of cocktails for many guests, a big bag or two of ice from the supermarket is going to be your lifesaver. For shorter drinks like a negroni, or an old fashioned, large spherical ice cubes look chic-as-anything, and have the added benefit of being slow to melt, which prevents them diluting the cocktail. We like these moulds from Mox Studio or this giant ice cube tray from ProCook.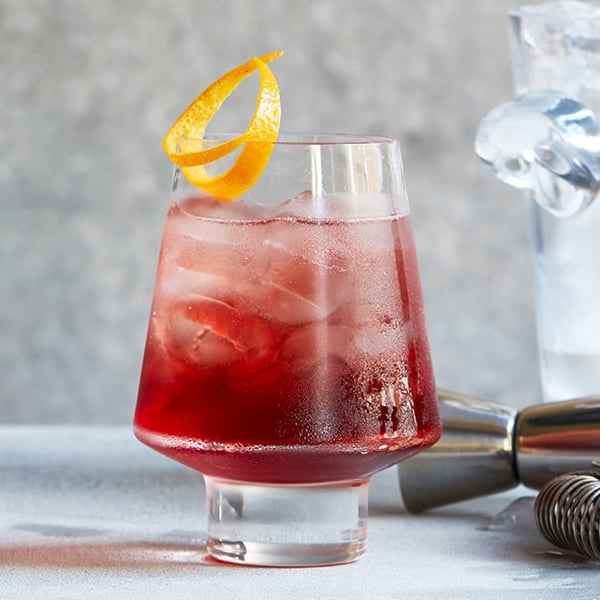 Tip 7: Or heat things up!
A warm cocktail is both comforting and festive, just be sure your glass is heat-proof before pouring one into it! Hot buttered rum or Caribbean kiss are both lovely, hot toddies are classics, or why not try a whisky Aperol hot toddy for something different?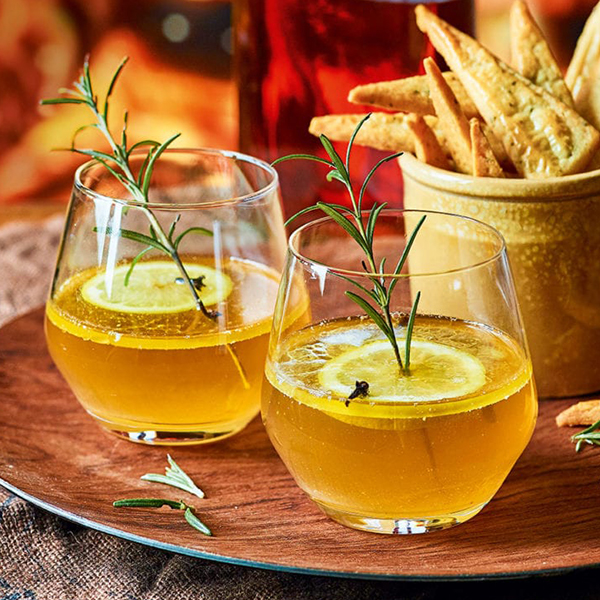 Tip 8: The equipment can make a world of difference
Cocktail shakers come in various styles – cobbler, Boston and French being the most common. We like a cobbler shaker for ease, as it has a built-in strainer. An accurate measure is very important, so investing in a jigger is key. They come in various sizes but a 25/50ml will serve you well (you can use tbsp/tsp for most other measures). A long metal spoon is useful, but you can sub in a chopstick at a pinch. When it comes to citrus juicers, we recommend this one; a muddler is useful for mashing fruits and herbs in the glass for mojitos and so on. Stainless steel cocktail sticks for garnishes are a real touch (and better for the environment as they are reusable).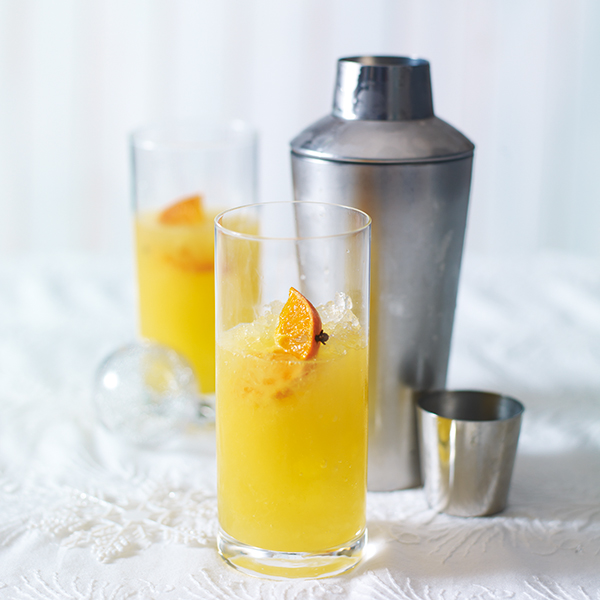 Tip 9: Make up a batch of simple sugar syrup
A rich sugar syrup is the key to many a celebratory cocktail. To make one, just dissolve 300g caster sugar in a small pan in 150ml water over a gentle heat. Cool, then store in a clean bottle or jar in the fridge for up to 2 weeks, for cocktails at your fingertips in no time. You can add herbs or spices to bring extra flavour to your syrup, too.
Tip 10: Pour one out for the non-drinkers
Alcohol-free drinks need not be boring. Make them festive by using interesting flavour combinations – our non-alcoholic mulled wine is a doddle and full of warm spices. Or why not opt for a virgin Mary for a booze-free Christmas cocktail?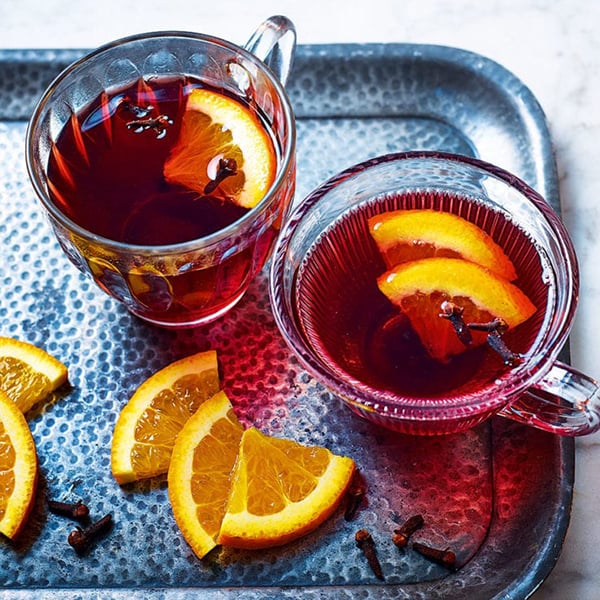 Take a look at our winter cocktail recipes here and non-alcoholic drinks here.
Subscribe to our magazine
Subscribe to delicious. magazine for HALF PRICE
Subscribe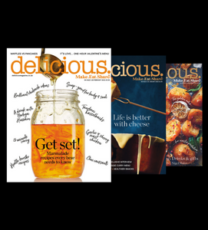 Join our newsletter
Packed with menu ideas, recipes, latest competitions and more...