17 salad recipes for a healthy packed lunch
Let's be clear, we're advocates of food which is both nutritious AND delicious; good food, full of sustenance and without the slump, is a concept we can definitely get behind (and we're just as bothered by limp salads as you). That's why we've sniffed out 17 of our best-ever salad recipes, perfect for a healthy packed lunch which will leave you satisfied… and onlookers nothing short of envious.
From punchy jerk chicken and caramelised squash to freekeh, feta and red onion, these salads are bountiful, flavourful and full of nourishment. Have a scroll and see for yourself!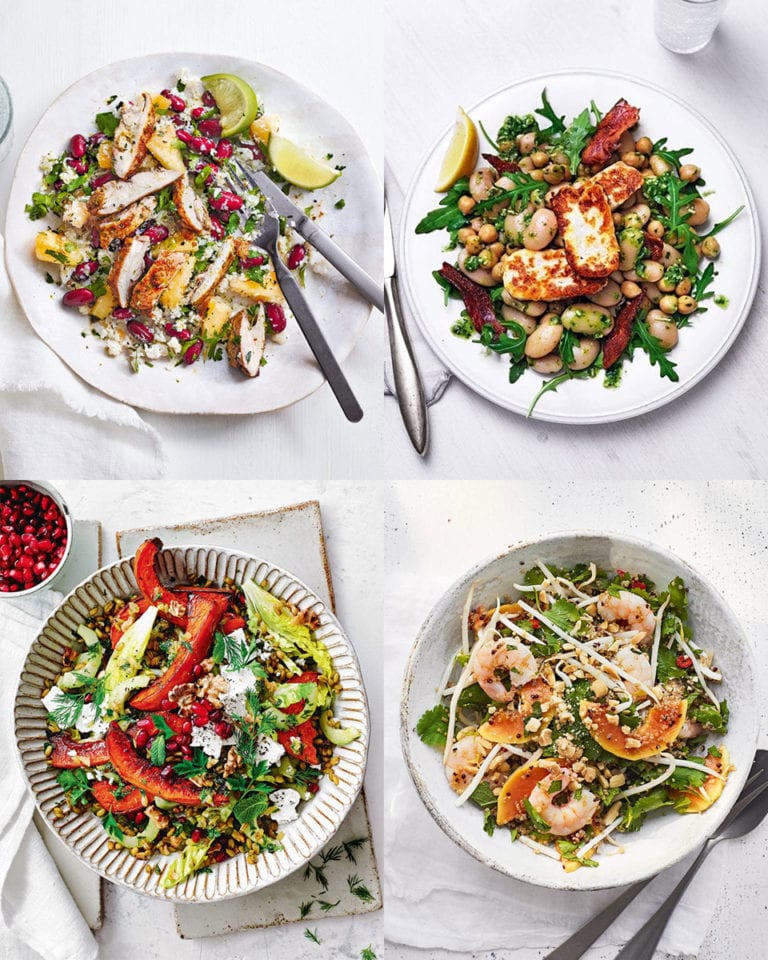 1. Jerk chicken with cauliflower rice and peas
If you were looking for a salad with a difference, you've come to the right place. This salad adds a streak of Caribbean flavour to your lunch with jerk chicken, cauli rice and peas, perfect for when you've got a bit more time on your hands (and future you will be ever so grateful).
Check out how to make the perfect dressing to add zing to your salad.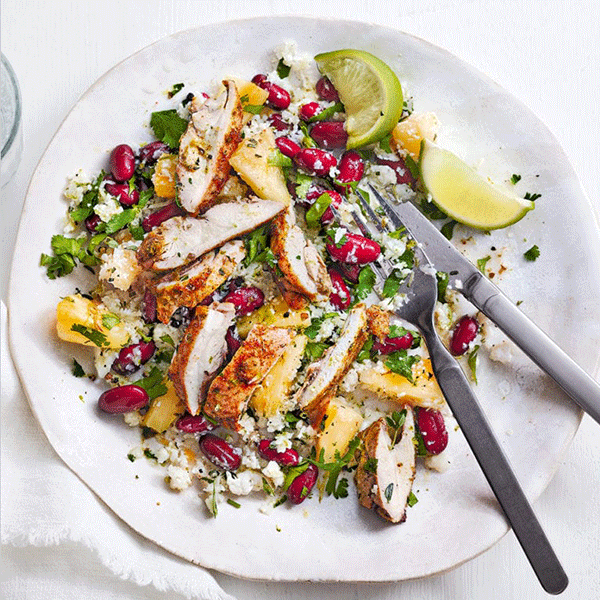 2. Roast sweet potato, beetroot and red onion salad with miso dressing
It's time you started feeling excited for your packed lunch again. If you haven't yet used miso, the fermented soya bean paste, it's wonderful for adding rich umami flavour to all kinds of dishes – we'd add it to everything if we could. Try it with roast sweet potato, beetroot and red onion for a salad brimming with gooey, Japanese-inspired flavours.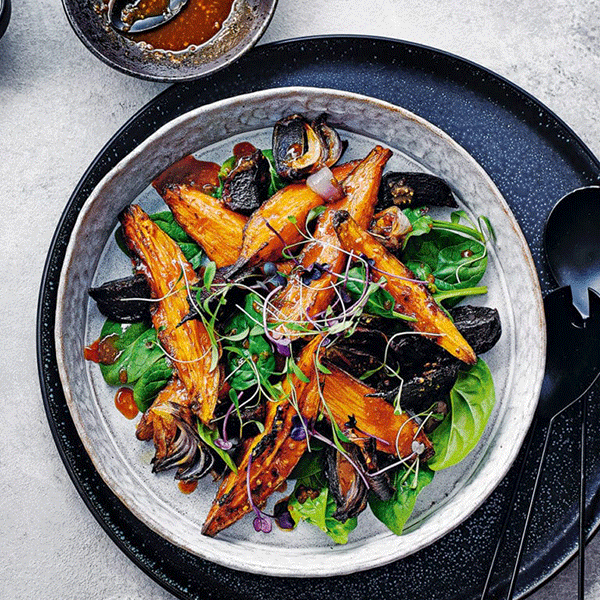 3. Roast squash, freekeh and feta salad 
Add a burst of colour to weekday lunches with sweet and caramelised squash, nutty freekeh and tangy feta; a winning flavour combination we can definitely get behind. This is a main-meal of a salad which will keep you going for hours and will leave you feeling on cloud nine – sounds like a win-win situation to us.
Cooked too much freekeh? Find out what to do with any leftovers.
4. Thai-style tuna and broccoli salad
If you're into your Thai flavours, you'll love this zingy tuna salad. It's the easiest way to up your intake of leafy greens (which can often feel like a struggle). We're big fans.
See our tuna, broccoli and tomato salad recipe too, for something similar.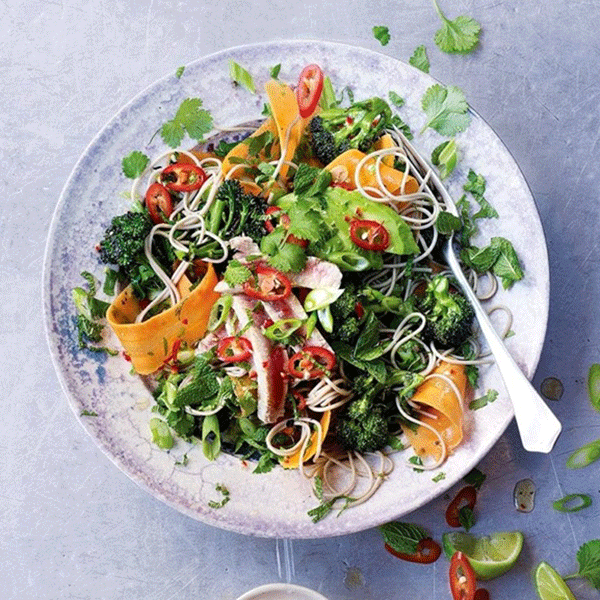 5. Quinoa, tenderstem broccoli, avocado and tuna salad
Dependably delicious with a handful of health benefits to boot, give this protein-rich salad a go for when you're in need of a proper health kick. It's guaranteed to leave you ready to conquer the rest of the day.
6. Vietnamese prawn and papaya salad
The salad for people who don't like salads, this plate of fresh prawns, papaya and roasted peanuts in a zesty chilli and lime dressing is easy-to-follow, but boy does it deliver mouth-watering results. It's that good, you'll probably struggle to refrain from eating before the clock hits 12.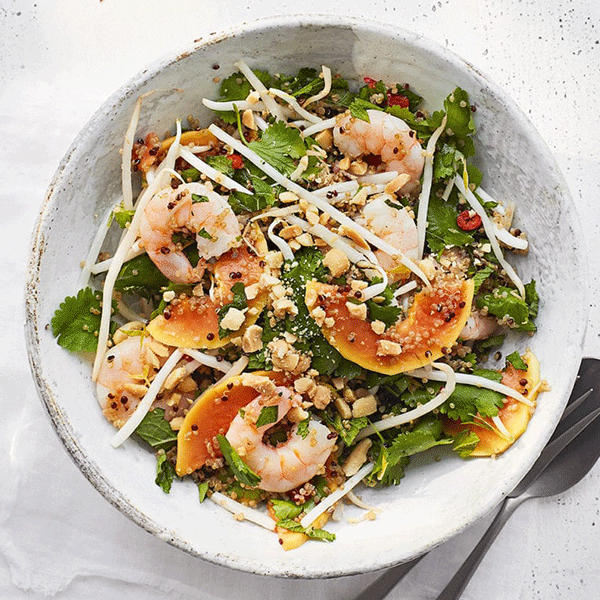 7. Quinoa, feta, pea and mint salad with lemon and chilli 
High in protein and low in cals, this super-healthy, super-quick salad featuring quinoa, feta and mint recipe vows to keep you fuller for longer. Toss in toasted almonds for added crunch and extra nutrients.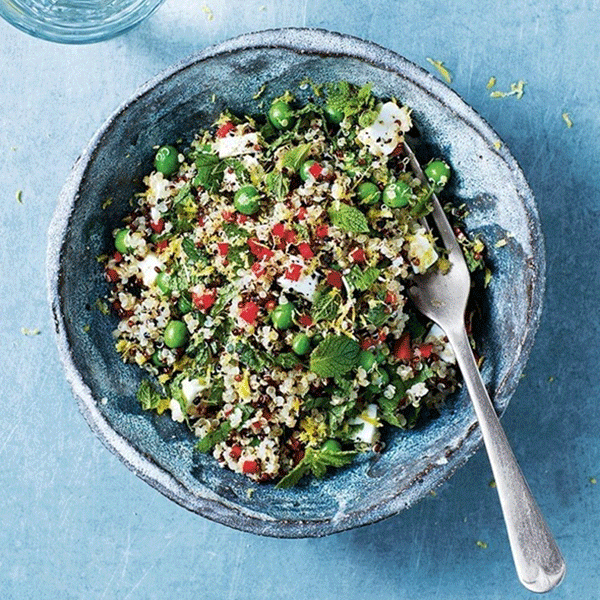 8. Easy warm roast cauliflower, sweet potato and quinoa salad
A gluten-free salad full of warming winter veg, you can count on this recipe for a nutritious lunch on the go. If you're short of time, shop-bought quinoa works too.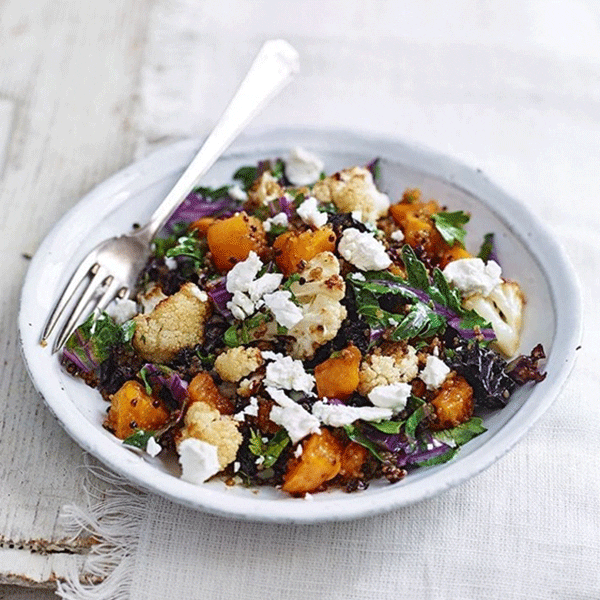 If you're rifling through your recipe collection for a cheerful salad to brighten your day, look no further. Cretan dakos is a vegetarian salad made with tomatoes, krisprolls, feta and black olives, and it's bound to be a hit whether you're a veggie or not.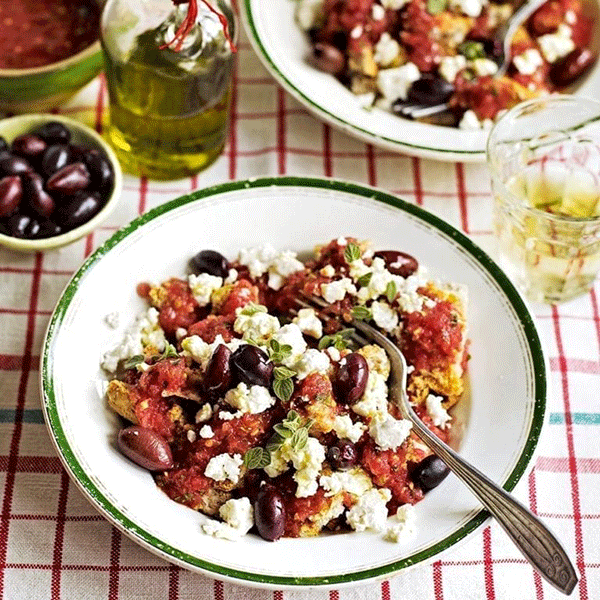 10. Greek salad with mint and fried halloumi
A classic Greek recipe which chucks a handful of juicy ingredients together to make a salad which is nothing short of remarkable. What's more, who could possibly say no to a fresh, minty salad with chunks of fried halloumi? Not us!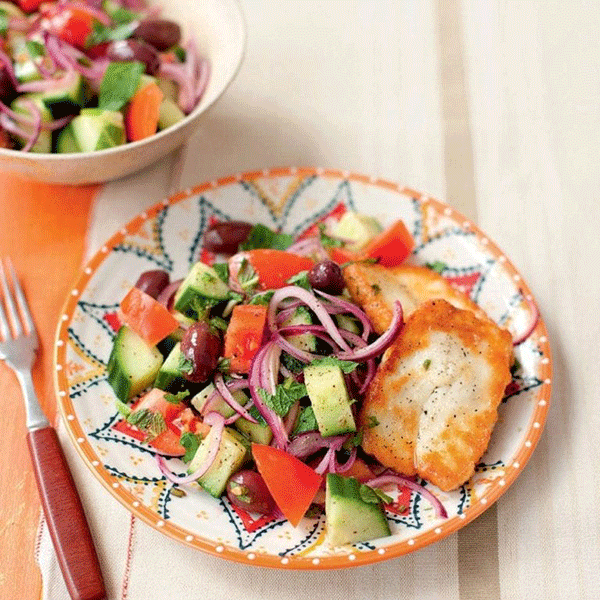 Let us be clear: this is no ordinary salad. Naomi Devlin's kimchi and quinoa recipe is full of sharp flavours and will omit serious FOMO amongst your colleagues; bulk it up by throwing in a couple of boiled eggs, some shredded cooked meat or a handful of black beans.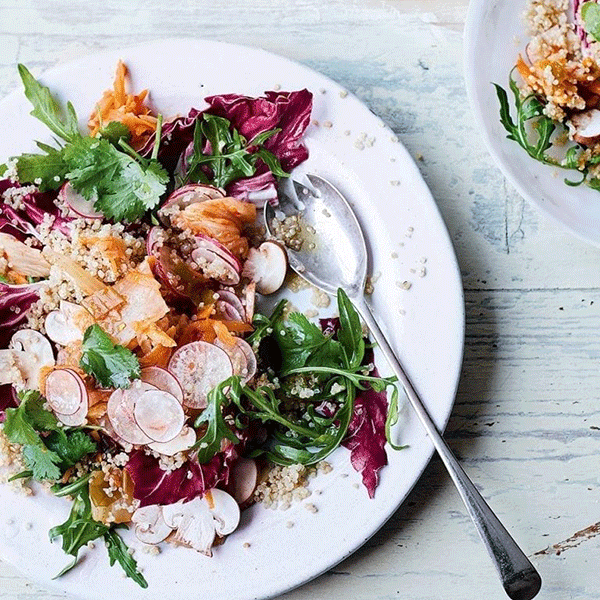 12. Warm pesto, chickpea and butter bean salad with halloumi
Made using a handful of cheap ingredients and ready in under 15 minutes – salad has never seemed so enticing. Shards of deliciously salty halloumi cut through soft, pesto-covered butter beans, making it a recipe you'll keep returning to. Leave out the bacon if you fancy making it meat-free.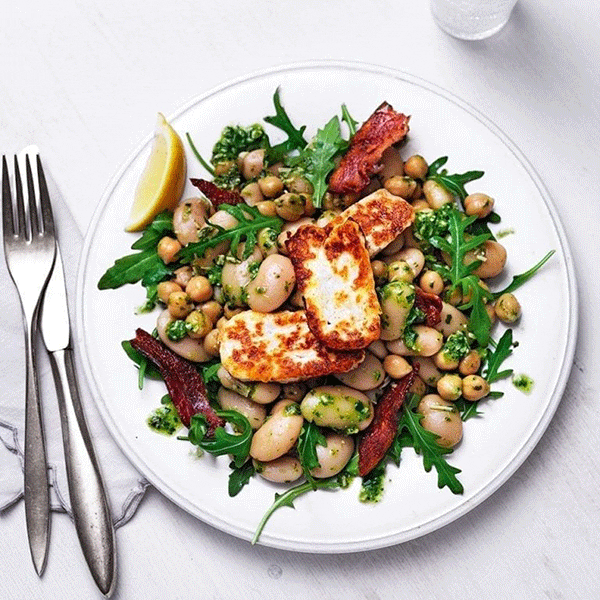 13. Roast aubergine salad with chickpeas and tamarind
For a lunch with serious gusto, try out Anjali Pathak's hearty aubergine salad. It's teeming with red onion, chilli, honey and garlic – a salad packed full of the good stuff!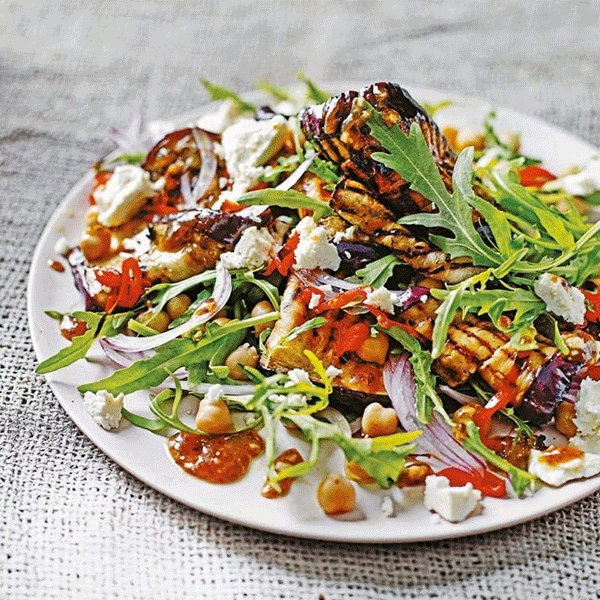 14. Chorizo, beetroot and couscous salad
We're big fans of this flavour combination; combine chorizo, couscous and beetroot to make a trio of rich, earthy flavours, tossed through with watercress and a decadent scattering of parmesan shavings. Sounds divine, doesn't it?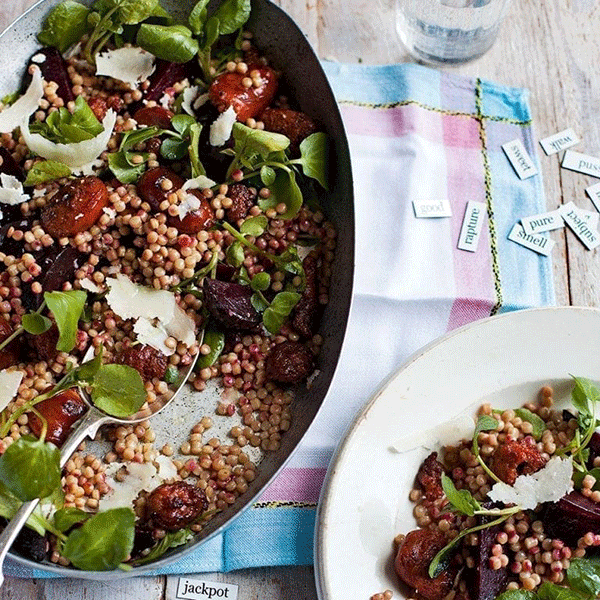 15. Feta and mint tabbouleh with crispy chorizo
Midweek meal prep can all too often feel like a chore, especially when you're running low on ideas which are both nifty and healthy. In this recipe, simply toss feta, spring onions, tomatoes and herbs with bulgur wheat, then sprinkle over crispy fried chorizo. It's simple, yet seriously impressive.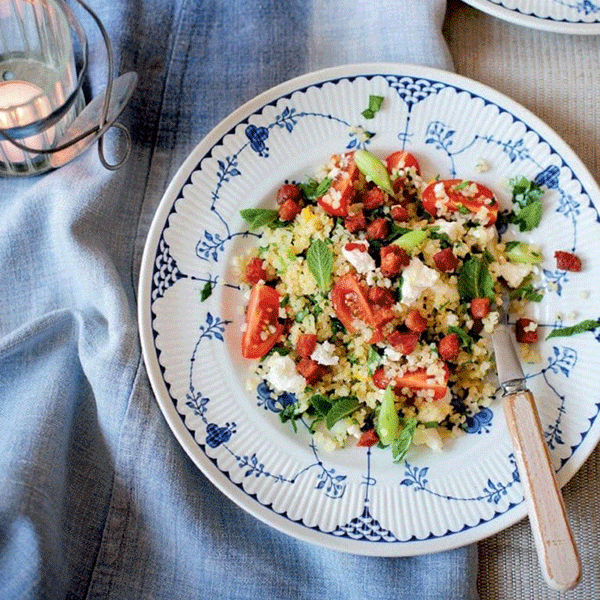 You can rustle up our version of the classic club salad in just 10 minutes  –how's that for a super-speedy lunch? Mixed with baby plum tomatoes, avocado and crispy smoked bacon, this salad wins on the flavour front yet requires minimum effort to assemble. A recipe for success!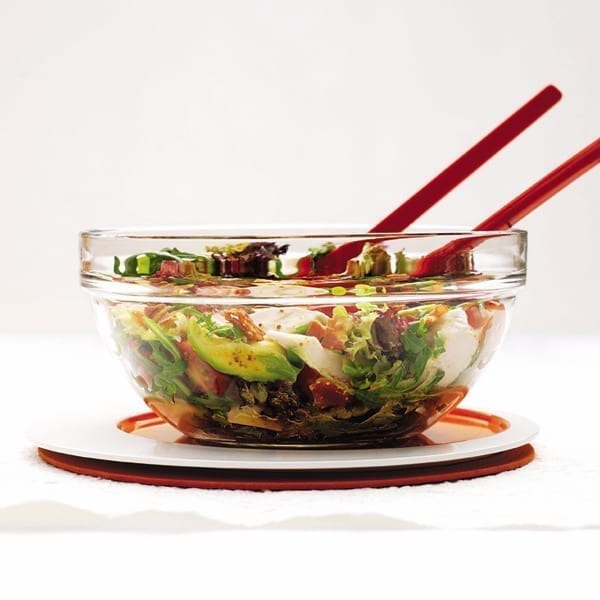 17. Lemon, olive and rosemary chicken with butter bean salad
Nutritionally balanced with the looks to match, bring the sun-kissed flavours of the Mediterranean to your table (or desk) with a zesty lemon, olive and rosemary chicken salad. It makes an easy option for a midweek lunch and will keep you from snacking into the afternoon.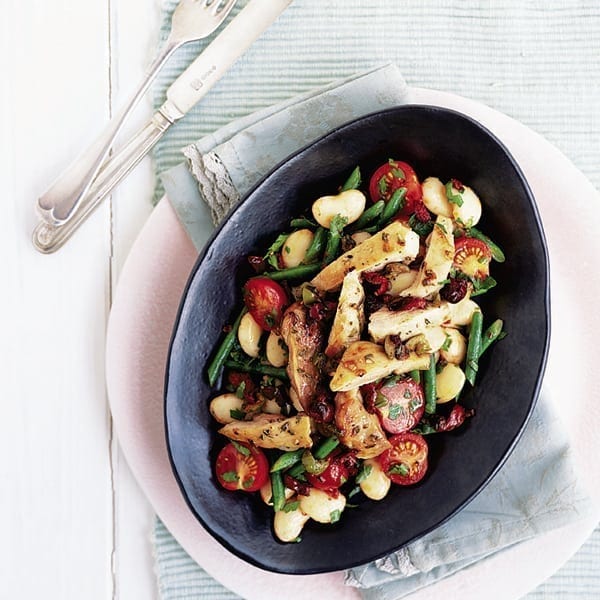 Subscribe to our magazine
Food lovers, treat yourself this Christmas... Enjoy 12 months of magazines for £29.99 – just £2.50 an issue.
Subscribe
Unleash your inner chef
Looking for inspiration? Receive the latest recipes with our newsletter