19 ways with halloumi
The Cypriots have been eating halloumi for 1,600 years. However, the UK's appreciation for the salty cheese has been more recent. We're avid lovers of all things cheesy and halloumi is one of our all-time favourites. Find 19 ways with the salty, squeaky stuff…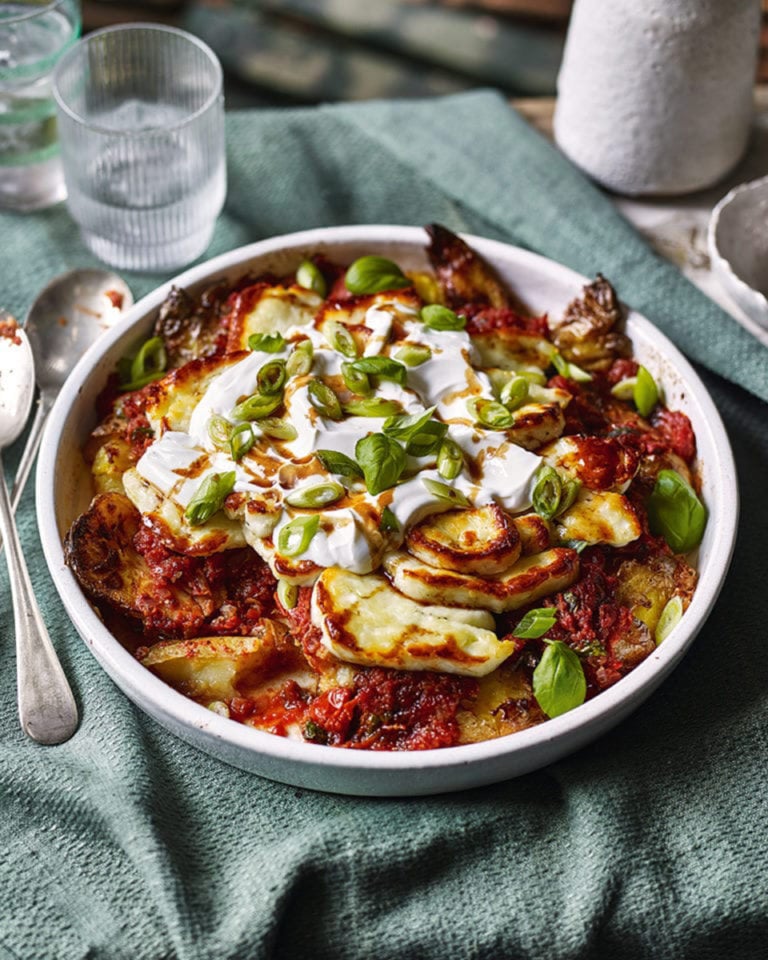 The rise in halloumi's popularity has seen numerous cafés and restaurants feature the cheese in dishes for brunch, lunch and dinner – and we're all for eating cheese at any time of day. According to Google, 40,000 people search halloumi every month – that's a lot of squeaky cheese enthusiasts.  If you're one of them, to make things easier we've found 19 of the best halloumi recipes from around the internet. Sweet dreams are, after all, made of cheese…
What is halloumi?
Halloumi is a salty, slightly-rubbery white cheese made from a mixture of goat's and sheep's milk. It's largely considered a Cypriot cheese, although it's also a major player in Turkish and Greek cuisine, too.
Can you eat halloumi raw?
While eating raw halloumi won't hurt you, we do recommend cooking it using one of the methods below for best results. One of the best things about this squeaky, salty cheese is its crispy, golden exterior when fried, grilled or barbecued!
How to cook halloumi?
Fried…
Place a frying pan or griddle pan over a medium-high flame until very hot, then lay thick slices (0.5-1cm) of halloumi on top. Leave for 2-3 minutes until a deep golden colour and ultra crisp, then turn over to fry the other side. Note: you don't really need to use oil because halloumi already has a very high fat content.
Grilled/barbecued…
Cut a block of halloumi into thick 1cm slices, brush with a little olive oil then place under a hot grill/over hot coals on a barbecue. Leave to crisp up for approximately 5 minutes, then turn over and repeat on the other side.

Baked…
This is a less common but just as delicious way to cook halloumi. Thickly slice, arrange in a baking tray and drizzle with a little olive oil (this is the time to add extra seasoning, if you like, such as honey, fried herbs or garlic). Then bake at 200 degrees for approx 10-15 minutes, turning half way through.
19 best-ever halloumi recipes…
1. Griddled vegetable and halloumi burger with chilli yoghurt
If you love a good burger, we highly recommend that you slap your laughing gear around one of these bad boys.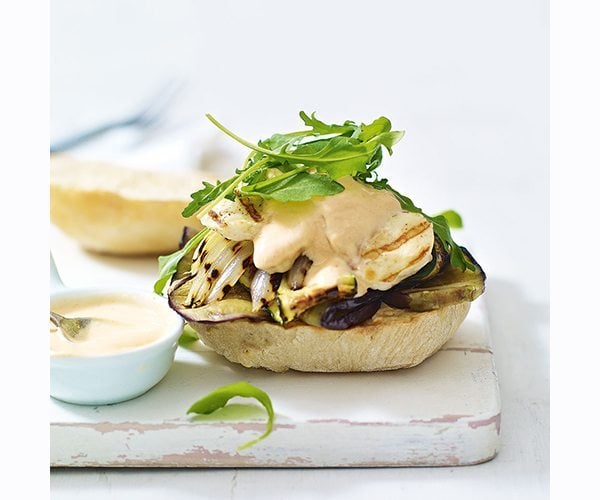 2. Herbed lentil and beetroot 'couscous' with halloumi
There are quite a few elements to this halloumi salad, but they all come together to make something spectacular. Earthy beetroot, spicy seeds, an abundance of herbs and of course, the reason we're all here, fried halloumi.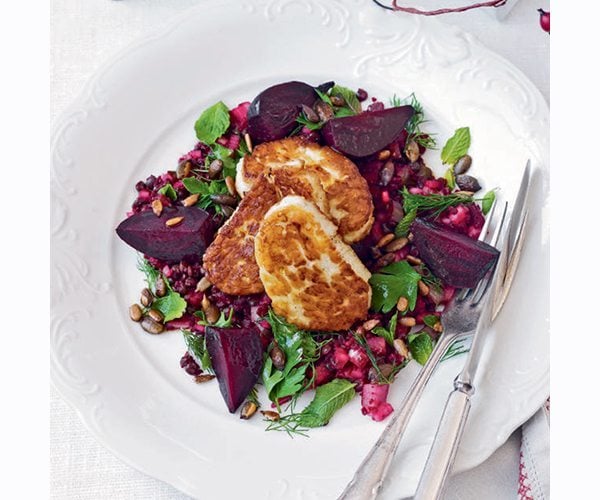 3. 10-minute halloumi fries
Coat chunky slices of halloumi cheese in polenta and a little spice, then shallow fry until the outside is crisp and the interior is soft and oozy. THAT'S how you make the ultimate halloumi fries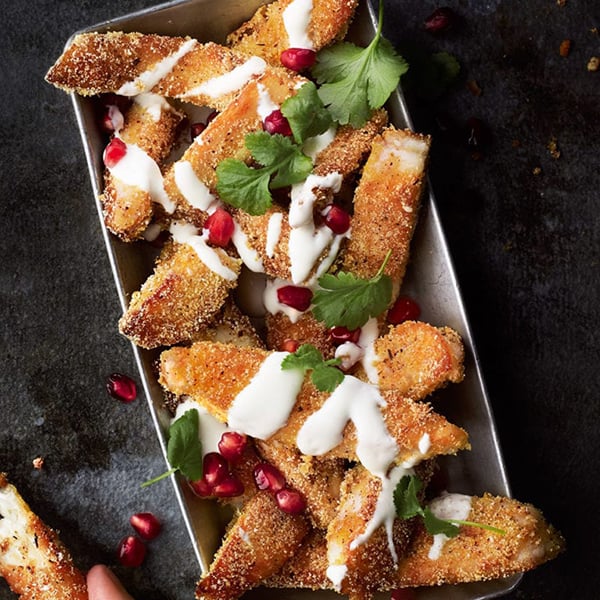 4. Caucasian barbecue flatbreads
Shock horror – barbecues aren't just for cooking meat.
According to Google, 40,000 people search halloumi every month...
5. Whole grilled hallloumi with fig jam
You really haven't had halloumi at its best until you've cooked it WHOLE, under a hot grill until browned and gnarly….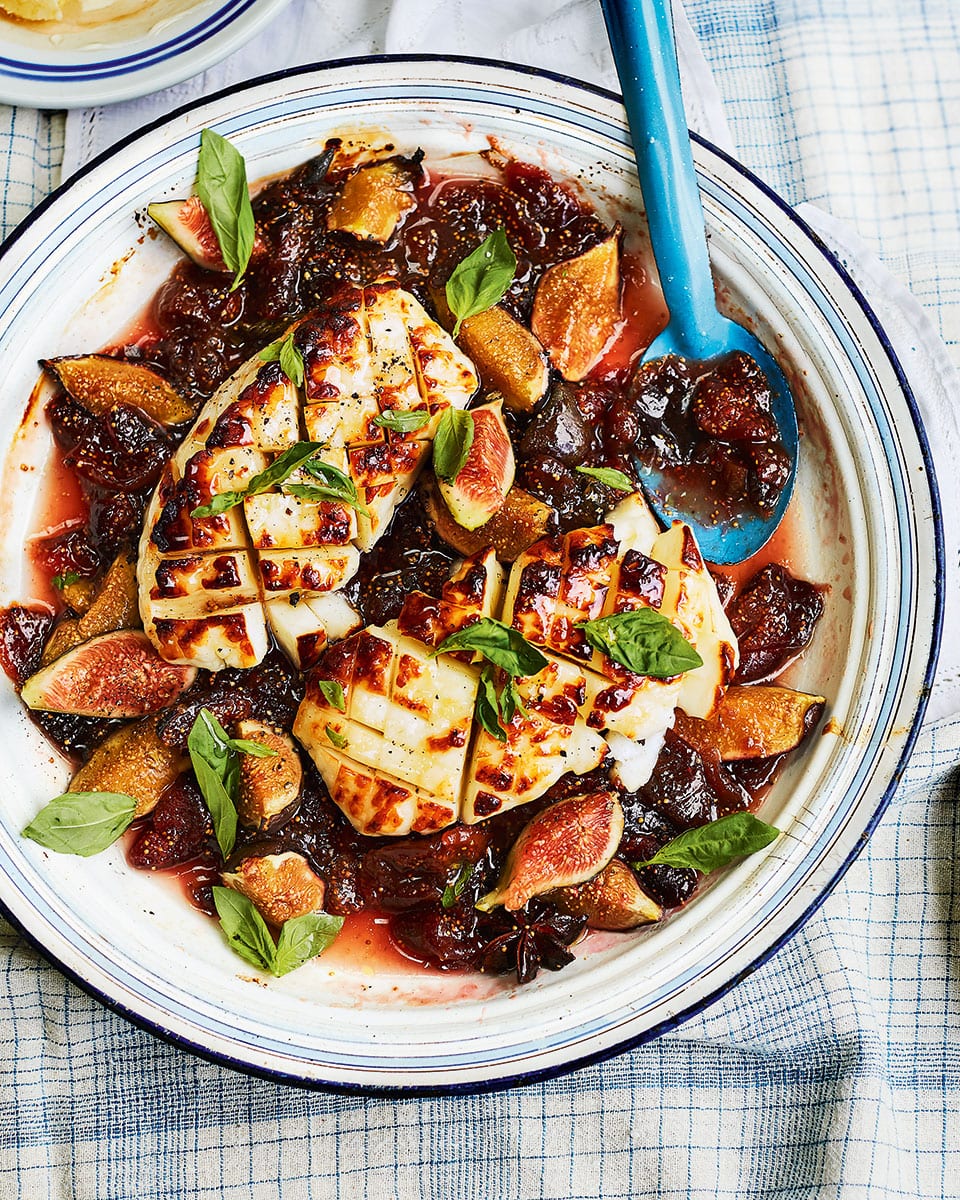 6. Lamb and halloumi salad with peas
Serve up this light steak and halloumi salad with pitta breads on hot summer's evenings.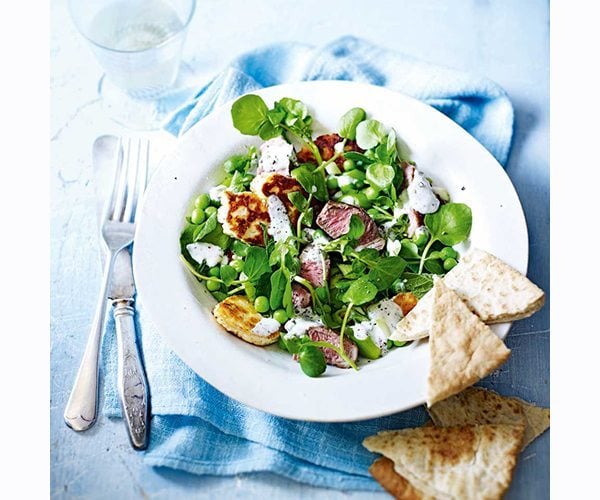 7. Greek salad with mint and fried halloumi
A classic Greek salad usually contains feta cheese, but rules were made to be broken – so we have. Swap feta for halloumi in this Mediterranean staple.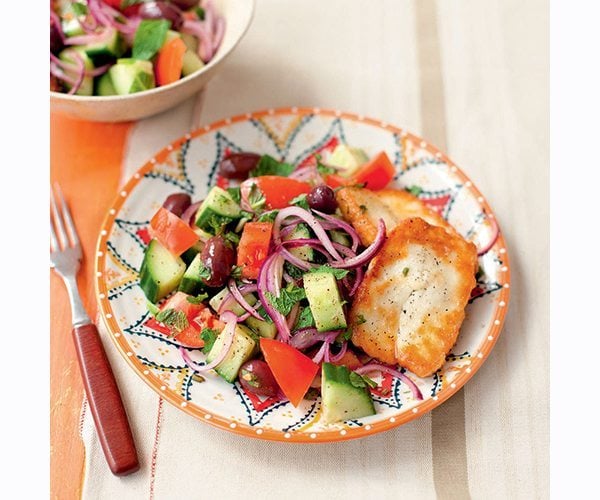 8. Crispy potato and halloumi bake
This might be our most popular halloumi recipe of all time! A comforting mix of sliced potatoes, halloumi cheese and a chilli-hot tomato sauce are baked until bubbling and oozy. There's a lot to love about this one. 

9. Halloumi and sweet potato burgers
Halloumi burgers are well loved for a reason; the almost-meaty texture of this cheese stands up well to numerous textures and flavours. Here, we've paired it with marinated sweet potato (a game-changer if you haven't tried it) along with mashed avocado and red peppers.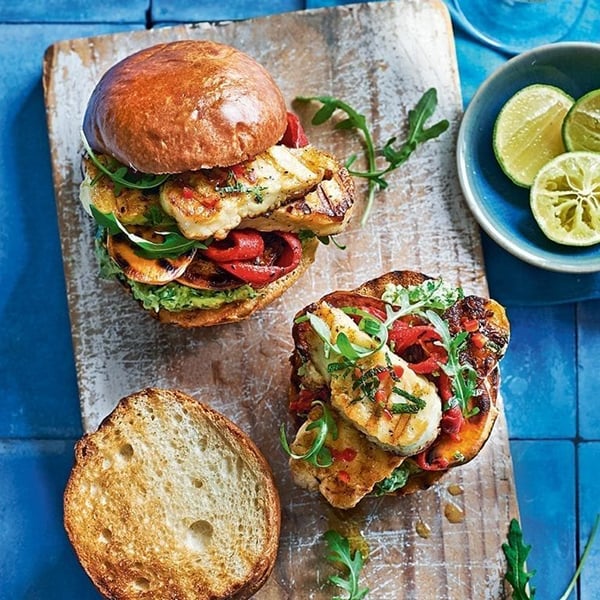 10. Pancetta-wrapped halloumi fries
Halloumi fries – but with a meaty twist. Try wrapping sticks of halloumi in a slice of pancetta before frying for an even crispier flavour.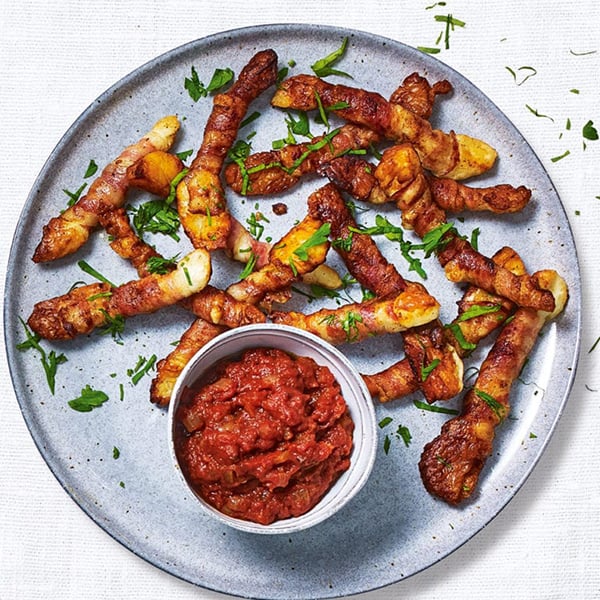 11. Turkish macaroni cheese (firin makarna)
Mac and cheese is soul food at it's finest – chuck some halloumi in there and I'll be smiling for days.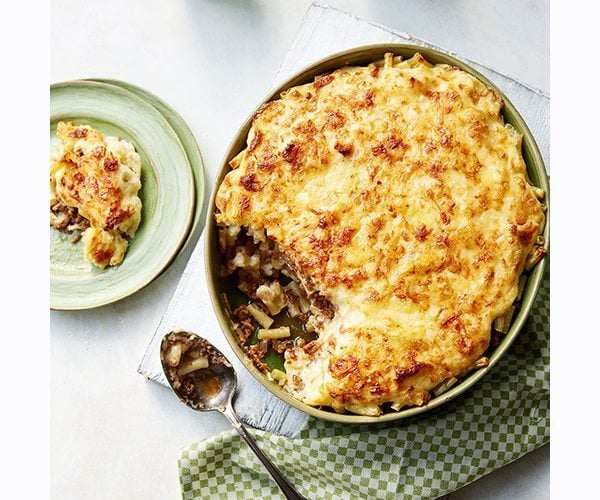 12. Chorizo, halloumi and tomato traybake
Everyone loves a traybake, especially when it's loaded with thick slices of halloumi and salty chorizo.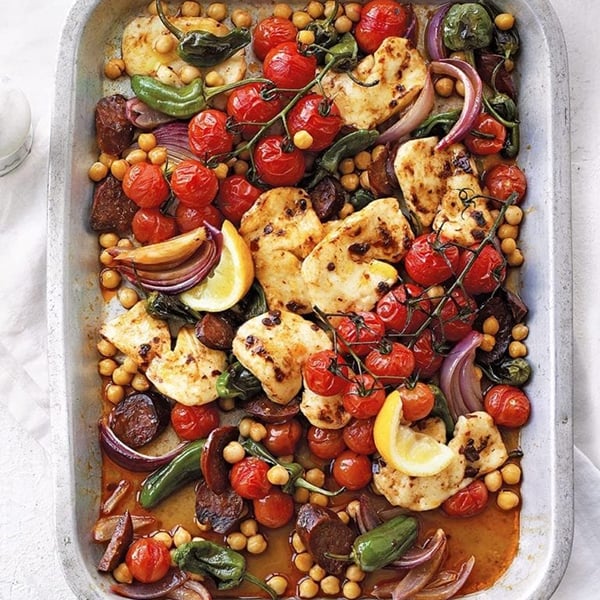 13. Sesame-crusted halloumi with Mediterranean veg
Shortcut ingredients make this Mediterranean-inspired vegetarian meal an absolute cinch to make. The sesame-crusted halloumi on top is the star attraction.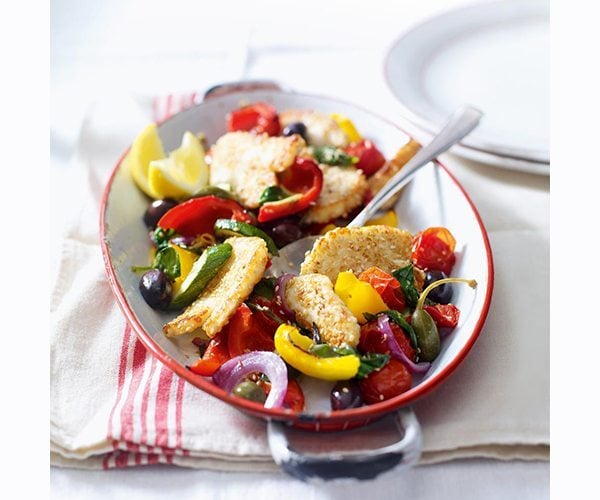 14. Halloumi nut roast
The grated halloumi in this veggie nut roast adds a wonderfully soft texture and well-seasoned kick. Serve it up as a spectacular vegetarian showstopper when Christmas next rolls around.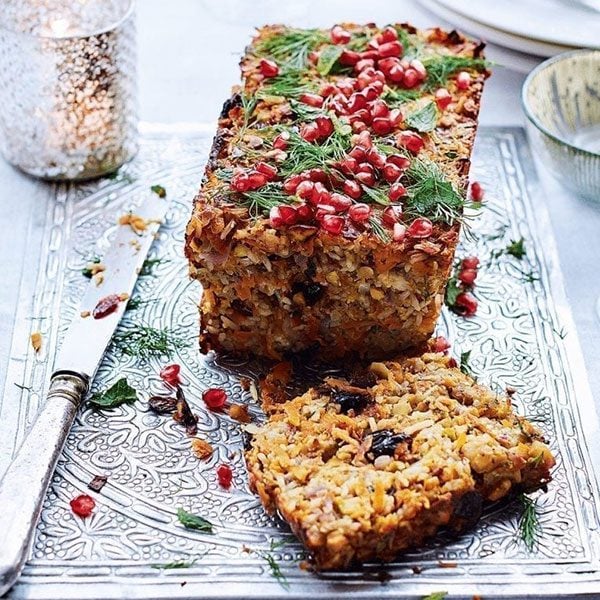 15. Cheese and rosemary honey kadaif (shredded pastry pie)
Butter, cheese and pastry are the fundamental ingredients in this pie – a good one for the soul.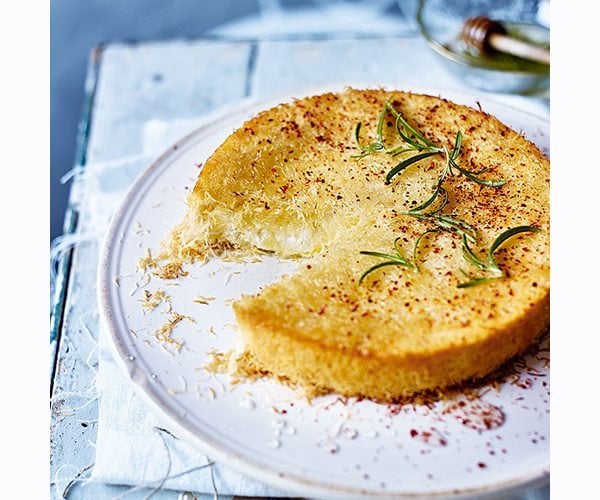 16. Mediterranean halloumi salad
All this simple Mediterranean salad needs is lots of fresh bread for soaking up the juices.
17. Halloumi pasta
Pesto, pasta, halloumi and grilled veg combine in this crowd-pleasing 15-minute meal.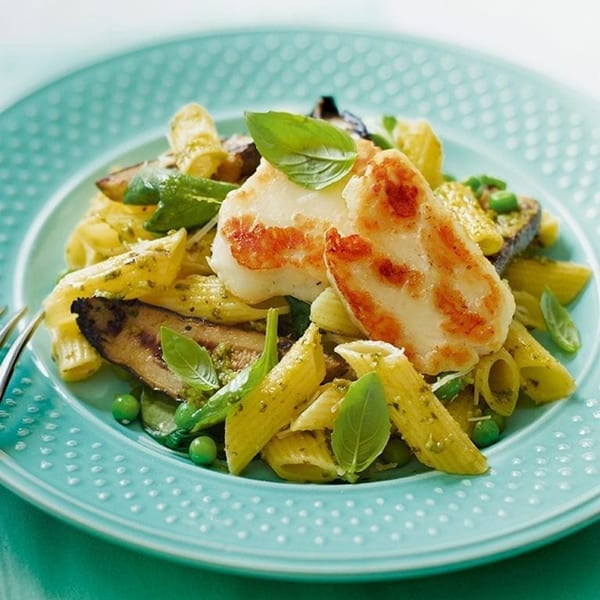 18. Chickpea and halloumi no-meat balls
We've made marvellous meatballs out of halloumi and quinoa in this veggie take on a classic. They're packed full of fresh herbs which is what gives this dish its wow-factor.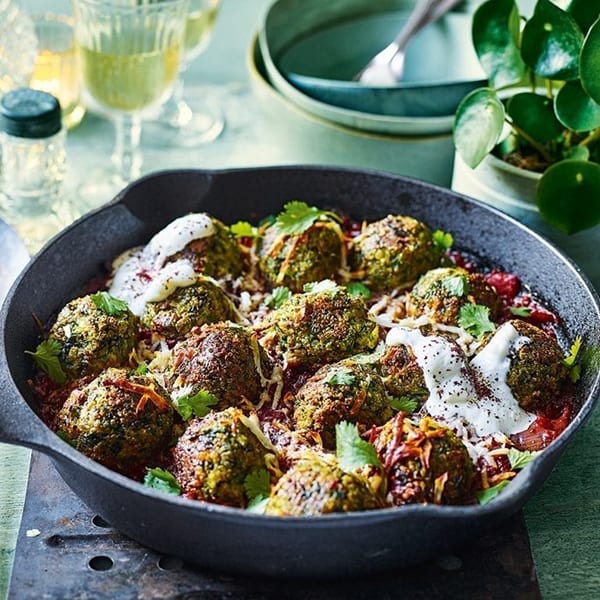 19. Greek cheese and veg lattice tarts
Halloumi and veggies are stuffed inside cream cheese pastry in these decadent lattice pies. Serve, still warm, with a green salad.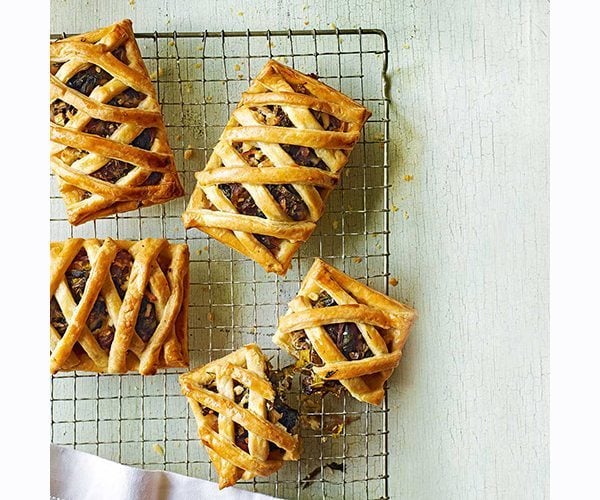 More cheese recipes:
Cheddar recipes
Goat's cheese recipes
Mozzarella recipes
Goat's cheese recipes
Feta cheese recipes
Subscribe to our magazine
Subscribe to delicious. magazine for HALF PRICE
Subscribe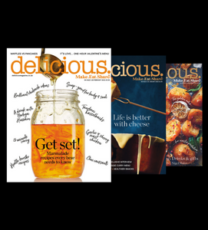 Join our newsletter
Packed with menu ideas, recipes, latest competitions and more...