Cook's camping guide: our best camping recipes and tips
Cooking with a camping stove can be a challenge, but that's all part of the fun. From setting up on the day you arrive, through to breakfast and one-pots for the duration of your stay, we've brought together our very best camping recipes, as well as a couple of menus, should you want to up the camping ante.
So whether you'll be cooking on a barbecue, camp stove or a real life fire, you'll find all bases covered in our camp stove cooking guide.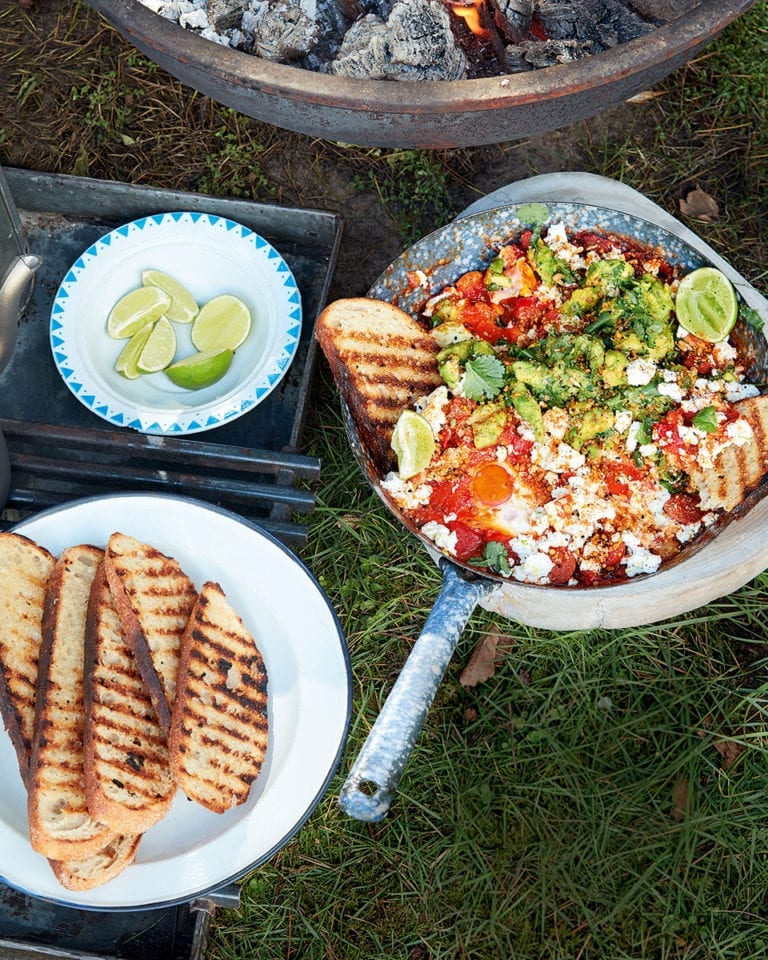 How to ensure you have a hassle-free cooking experience while camping
One thing's for sure: there's nothing worse than running out of fuel when you're camping! So be sure to match your recipe choices to your fuel levels. Recipes with fewer steps tend to be preferable – this isn't the time and place for triple-cooked chips or a crème anglaise! Whether you'll be cooking on a butane gas stove and need speedy solutions, or you're going low and slow with a proper camp fire, we've got options to see you through.
Choosing a mix of dishes for your meals, including cold salads or dips and hot elements, means you don't need need to worry about keeping the meal warm. Most importantly – the best camp cooking is the easiest camp cooking. There are enough practical challenges when cooking outdoors as it is, don't add more to your plate by trying to make an overly complex feast.
What kitchen equipment to pack for camping
The essentials are of course a cooking pot and a frying pan. You will want to choose a pan that stays hot and retains the heat – something cast iron or a casserole is best for this. If you're going to be doing things on a campfire, be sure to bring a couple of pots that can withstand open flames – cast iron is king here, and don't forget your lids! You'll need plenty of tinned foil for keeping food warm and/or baking jacket potatoes in the fire. Here are our utensil essentials for camp cooking:
An ice box plus plenty of ice blocks
2 sharp knives, large and little
A spatula, slotted spoon, and serving spoons
Two chopping boards, so you can employ a helper
A colander, sturdy tongs, and a cheese grater
A jug and several serving/salad bowls/plates (enamel is great if possible)
Enough plates, bowls and cutlery for your crew
A wealth of tin foil and kitchen roll
The best preprepared food items to bring camping
Make it easy on yourself by pre-preparing snacks and sauces before your trip. This will save you oodles of time, and means you've always got something to hand when hunger calls. Below are a selection of our favourite recipes to make and pack ahead.
Whip up a batch of this fragrant green sauce with your favourite soft herbs and you'll have a tasty accompaniment to any number of meat, fish or grilled veggie dishes. It's also lovely over mozzarella or burrata as a glammed up camping starter, or with your breakfast eggs.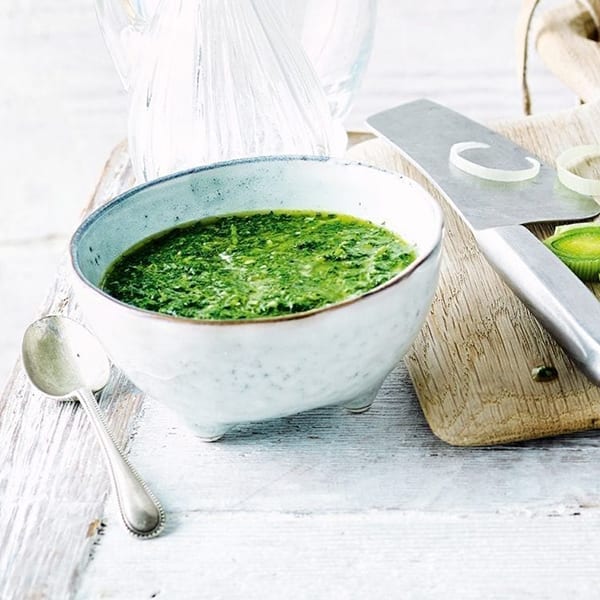 Our plum and almond tray bake serves 16, so it's ideal to bake and pack. Keep it in an airtight container somewhere cool. If plums are hard to come by, we've many more tea time tray bakes that double up as perfect camping pick-me-ups.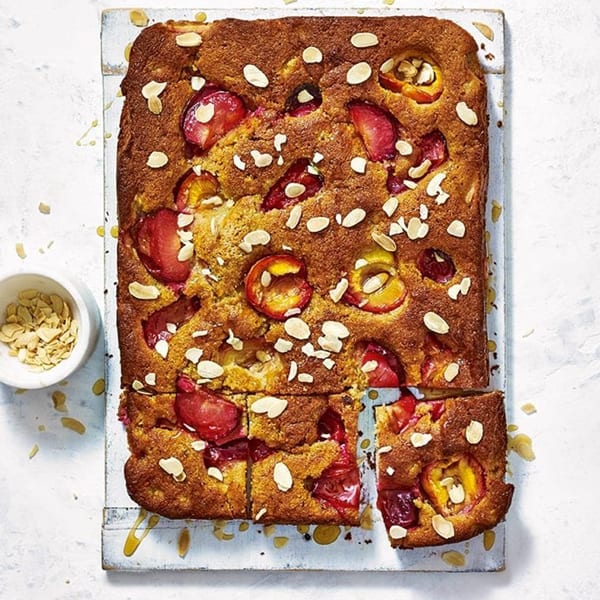 Our ultimate ginger loaf cake keeps for up to a week in a cool place, so whip one up to take with you for a squidgy, gently spiced sweet treat while you're away. We've plenty more loaf cakes to choose from too (just avoid those with chocolate or icing).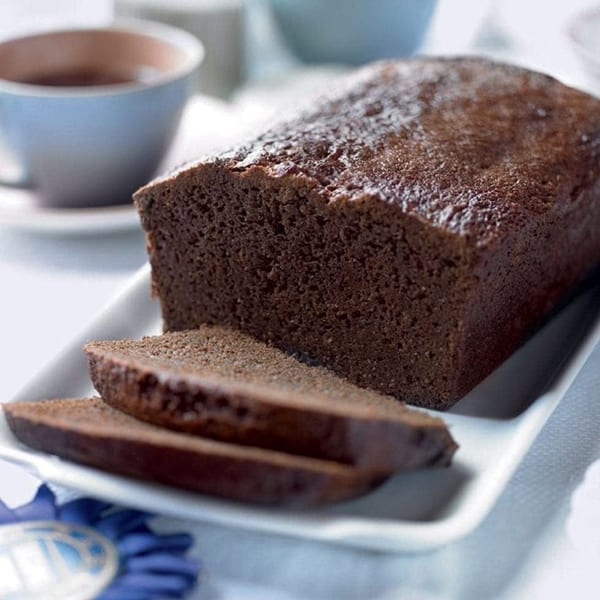 Our classic flapjack recipe make 36 squares, can be whipped up in no time, and can keep for 2 days in a sealed container.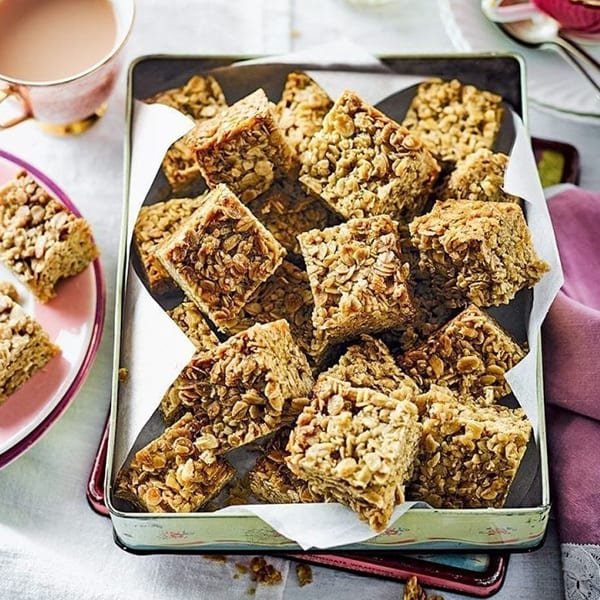 Wake up to the camping breakfast of dreams by preparing a batch of these legendary cinnamon buns before you go. Not only will you be the hero of the trip, you'll also have a beautifully cinnamon scented car for the journey – win, win.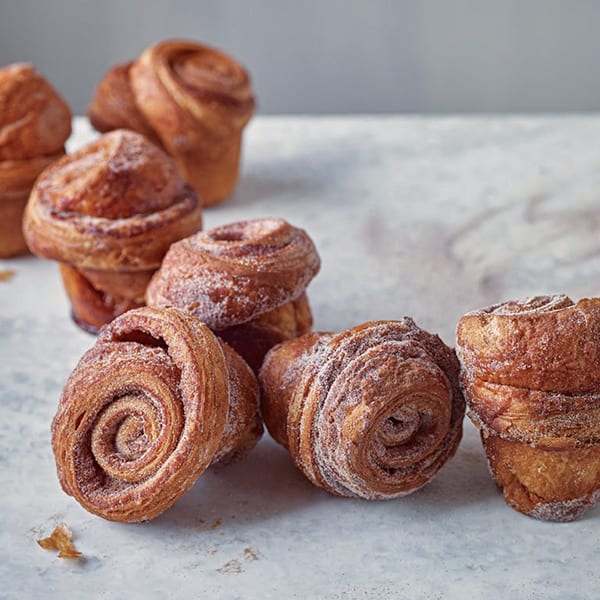 Samosas can be made with a myriad of fillings and flavoured with countless spices, but we love this classic mix of paneer and peas (just swap the paneer out for potato if ice box space is an issue).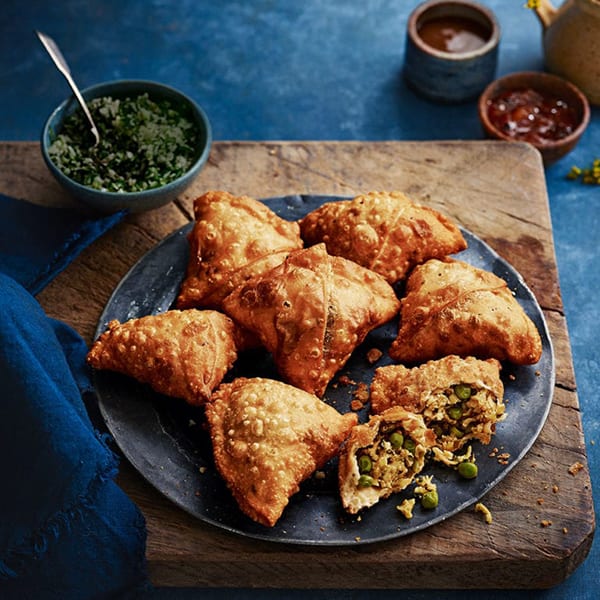 Do the simmering before you go and you'll have the base for many a meal with this hearty tomato and vegetable sauce. From pastas to stews or a quick campstove casserole.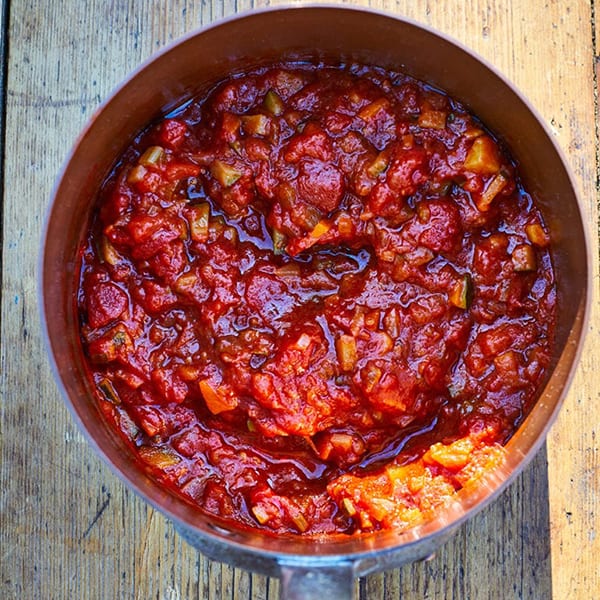 These spiced oaty muffins are a tasty and healthy snack or breakfast for kids and adults alike. A great one to have on hand for when little ones get hungry.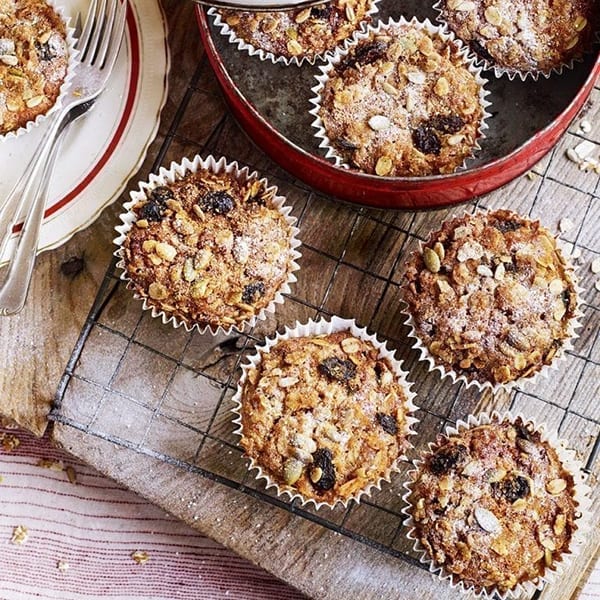 One of our favourite ways to make an easy dinner when camping is to prepare a big batch of pesto before the trip. Make whichever is your favourite, but you can't go wrong with classic pesto alla genovese.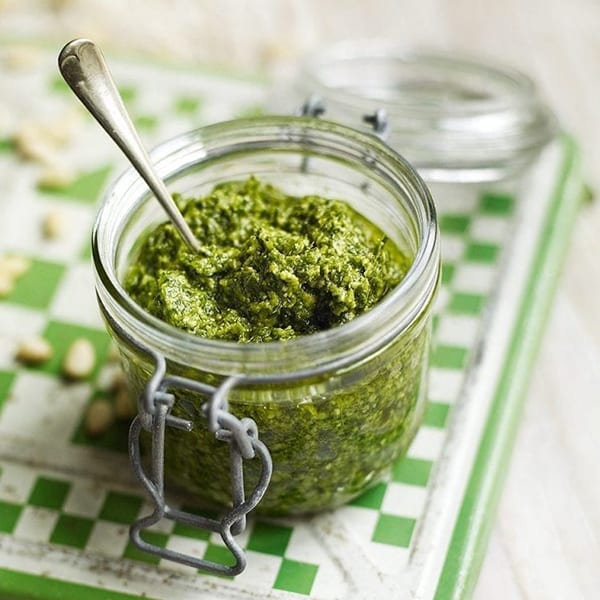 15 of the best camping recipes
Use that pesto you made in advance in this pesto and sausage pasta recipe. You can also boil florets of broccoli along with the pasta when you're cooking and have yourself a healthy balanced meal in about 10 minutes. The bonus is this recipe is absolutely doable by torch light too.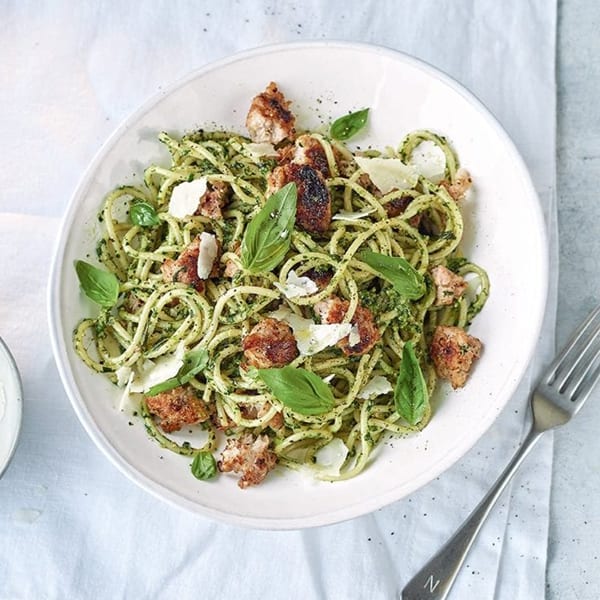 It makes sense to limit pan usage when the washing up tap is a walk away. Our shakshuka offers a tasty, warming, healthy meal that can work for a dinner or a breakfast. Bring some flatbreads to dip into those egg yolks and you are sorted.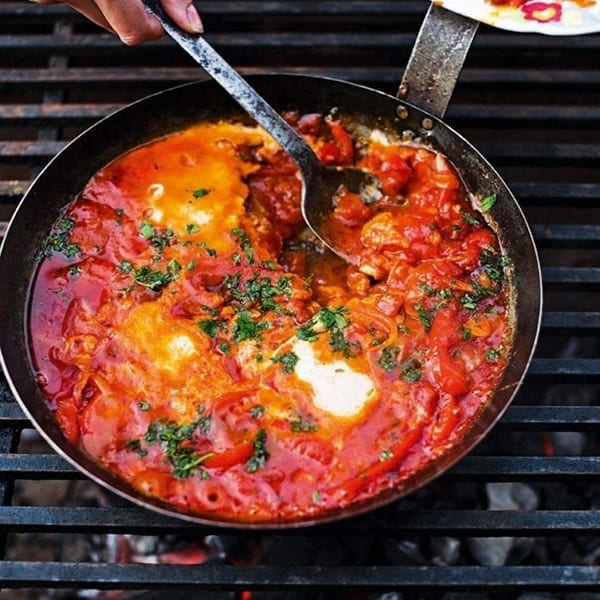 Quick sausage casserole with tomato and chickpeas
If the recipe has "quick" in the title, you can bet it's a good one for taking camping! Our easy sausage casserole with chickpeas needs less than 30 minutes cooking time, so you can have it prepped and in bowls before sundown. Serve with fresh herbs and a squeeze of lemon for a bit of a glamping vibe.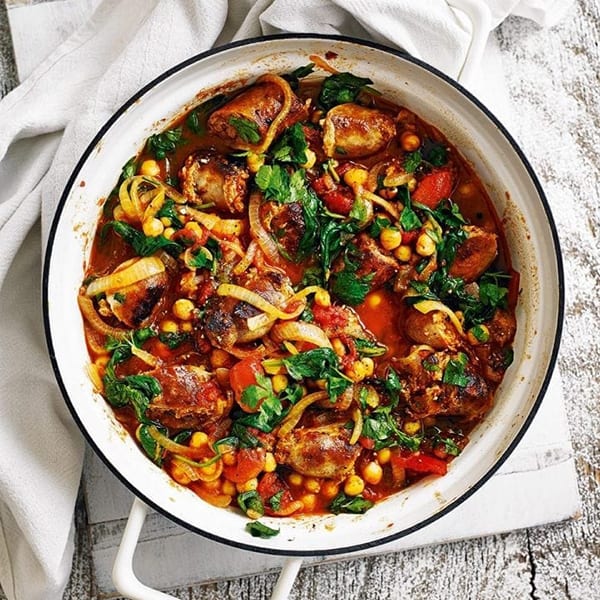 The ingenious thing about making a carbonara for tea while camping is that you've then already got bacon and eggs for breakfast the next day! Just add a side salad to balance up the food groups and you're sorted… This recipe is quick, easy and affordable.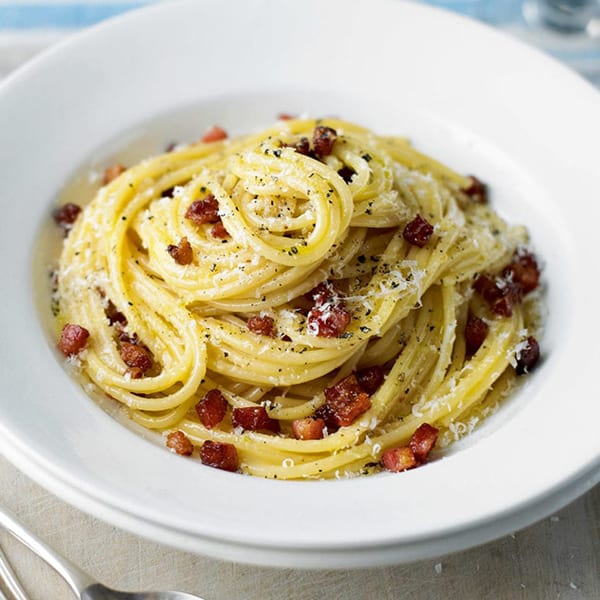 Charred baby potatoes with chilli butter
Potatoes are an ideal side, not least because they stay nice and hot while you get on with the rest of your meal. These charred baby potatoes have zing from capers and lemon zest, a comforting hum from the chilli butter, and a satisfying crispiness.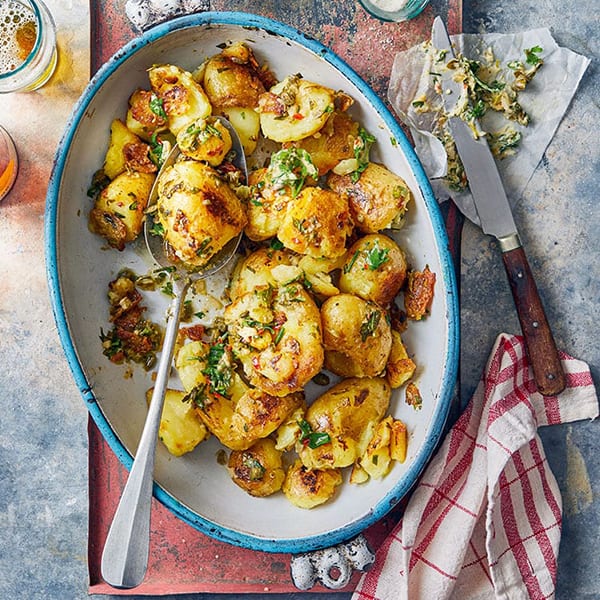 Breakfast eggs with chorizo, avocado and feta
When it comes to breakfast, something filling and nutritious is your best bet. Our breakfast eggs with chorizo, avocado and feta is the kind of one pan breakfast everyone will love. You can't go wrong.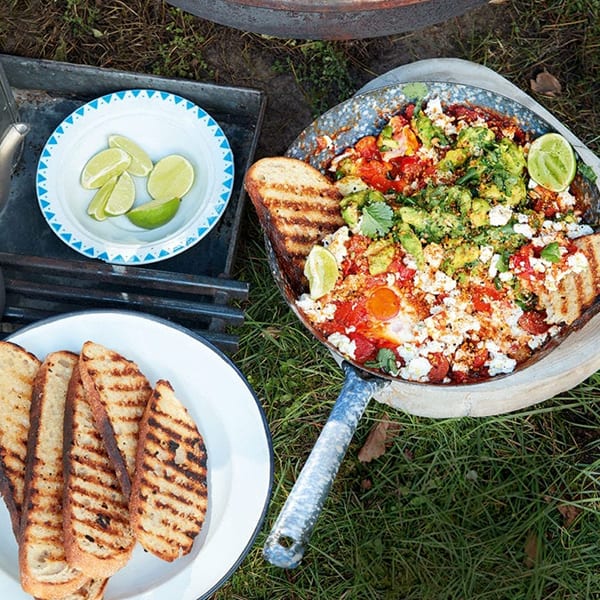 Grilled mackerel with couscous
Couscous is an ideal camp food, because it can cook in a bowl with just some boiling water poured over it. In this recipe, it's topped with flavour-packed grilled mackerel and fresh herbs for a complete meal. Serve with any nuts or dried fruit you like.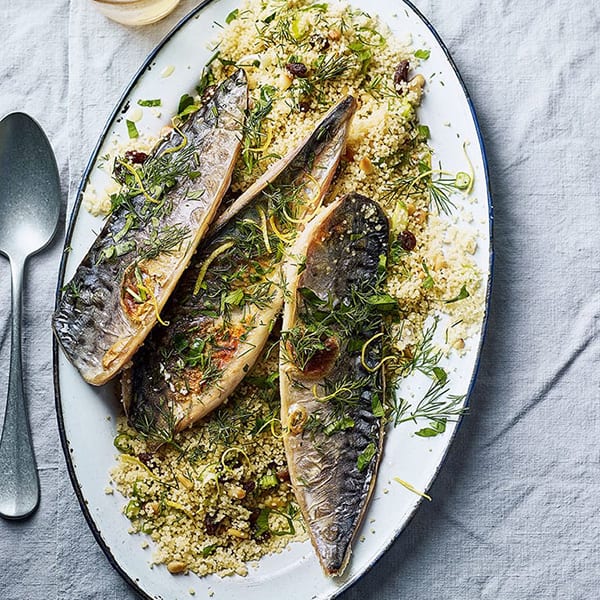 For an easy win, a sweet potato is a simple and satisfying dinner. Try it topped with feta and spring onions and a side salad or with a classic chilli…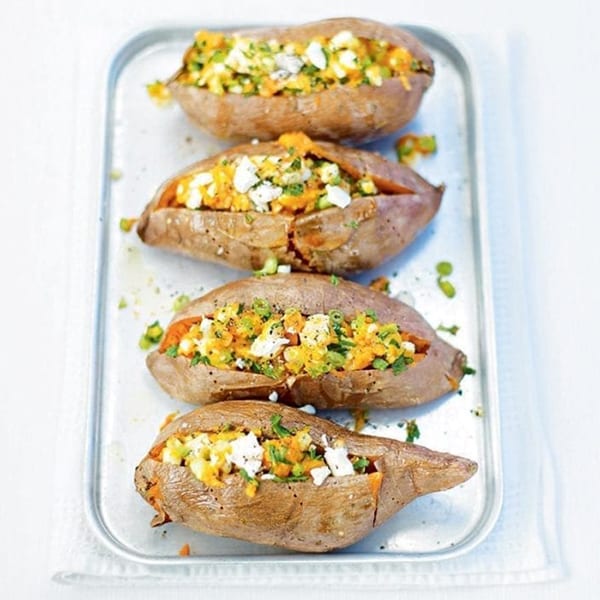 A camping classic for a reason, this is the quick chilli con carne recipe you need when the troops are hungry. Serve with coriander leaves, lime wedges and soured cream. When it comes to carbs, you could go the rice, tortilla or jacket potato route, the choice is YOURS.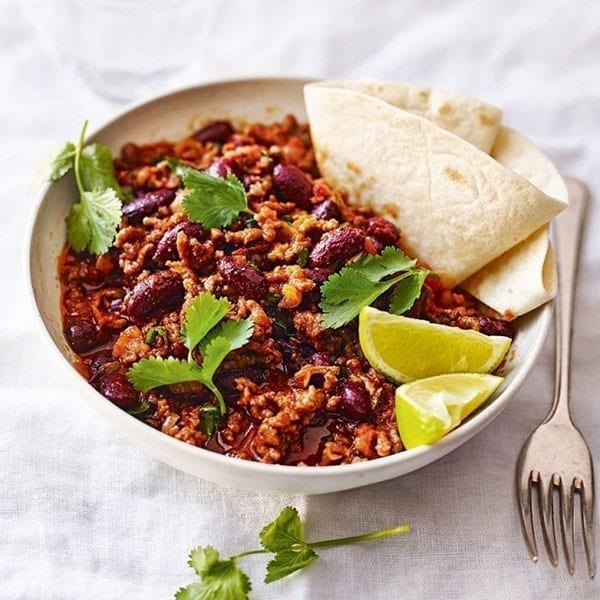 Steak with anchovy and caper butter
Give your camping trip a luxe feel with our steaks with anchovy and caper butter recipe. All you need on the side is some salad and a few spuds. Bellissimo.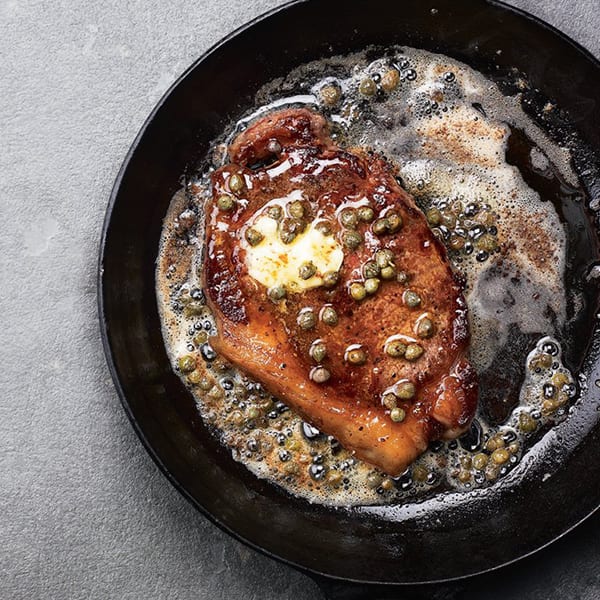 Flatbreads with steak and baba ghanoush
Dips and breads are ideal camping food, not least because they don't need keeping warm. Baba ghanoush can be made by setting the aubergine over the campfire embers to roast until blackened and soft inside, and the quick flatbreads cook in a griddle pan. The addition of rump steak elevates this to a truly lip smacking affair.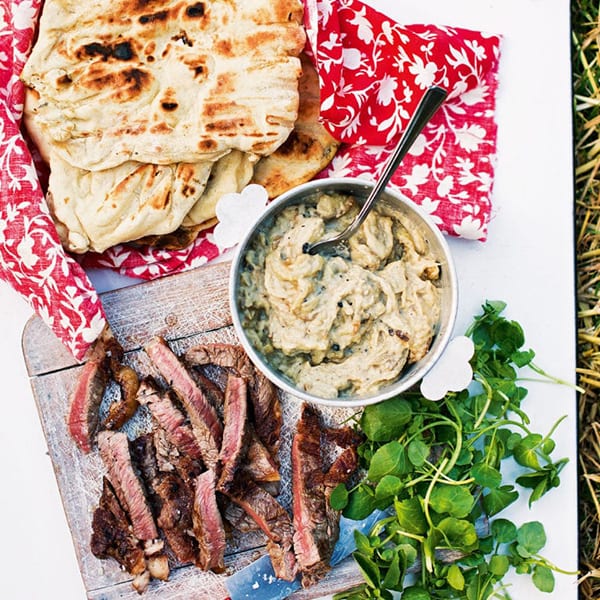 Onion damper bread with marinated feta
This Australian campfire bread can be cooked over an open fire. Tear off and enjoy with the marinated feta for a truly hands-on lunch or starter.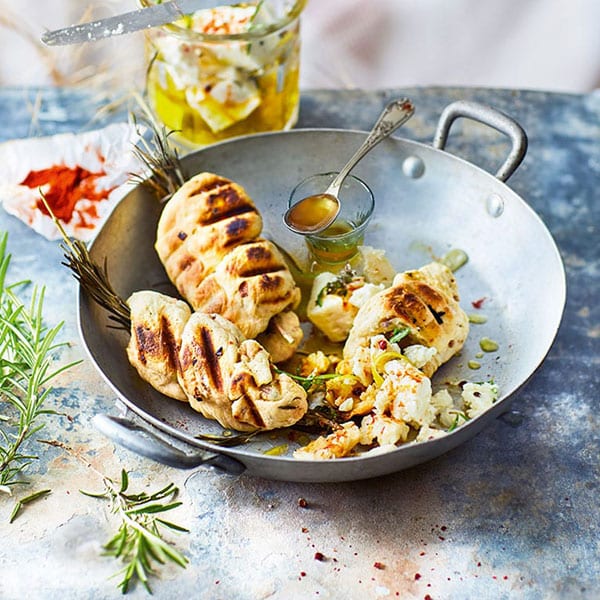 This whole barbecued spatchcocked chicken is seriously good. Marinated in hot sauce and lemon, it's an easy win served with a fresh green salad.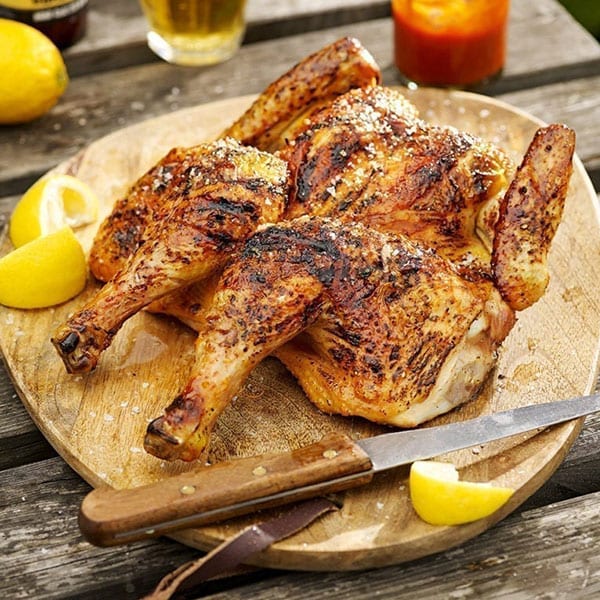 You can't beat the fun of a jacket potato in foil tossed in the fire. Just be sure you bring tongs long enough to ease it out again! We love this recipe, with smoky bacon beans, but keep it simple with a can of Heinz finest if you prefer.
Tomato, spinach and black olive gnocchi
Using shop-bought gnocchi in this flavour-filled dinner means it's ready in no time. The sauce of sun-dried tomato pesto and black olives is a store-cupboard winner, that'll ensure you've got plenty of space in the ice box for drinks.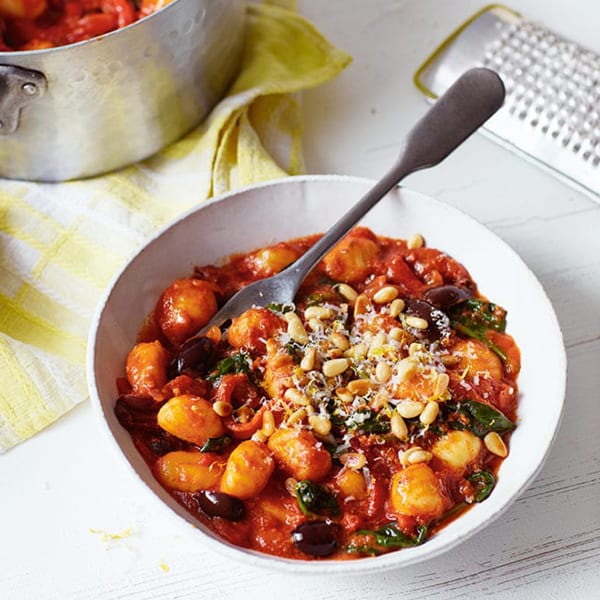 These chicken shawarma flatbreads only need 15 minutes of grilling time on your portable barbecue or stove and they're good to go. Grab a pack of pittas, and you've got yourself a Friday night camp kebab or dreams.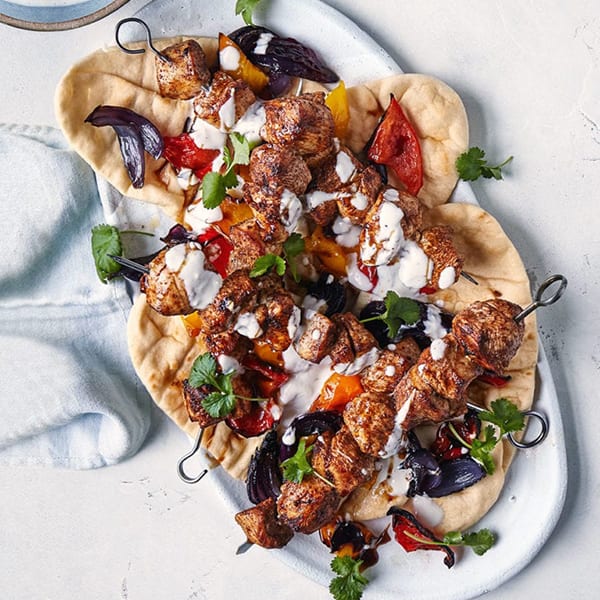 Campstove dinner menus
The speedy menu
If getting dinner ready quickly is your goal, this feast can be prepared in under an hour. The starter of fennel and courgette salad is followed by chestnut pesto penne with sausages. It's a doddle because you can make your pesto before your trip. These balsamic strawberries with burrata take just 5 minutes to prepare, and we love them as a side dish or a palate cleansing finisher.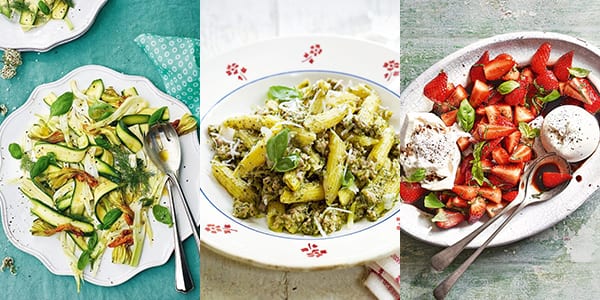 The campfire menu
For a more elaborate take on the camping dinner, we're going all out with fire. Our lamb chops with griddled flat breads are served up with simple 'fire-baked' potatoes. The salsa and sour cream dip are winning accompaniments. Finish things off with our maple and rum baked bananas which can be baked in a dutch oven and then sprinkled with chopped nuts and a dollop or two of greek yogurt. Hungry yet?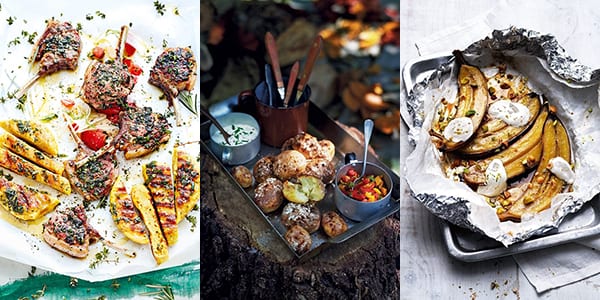 Want more ideas? Check all our camp stove cooking recipes here.