19 best budget vegetarian recipes
Everyone is feeling the pinch at the moment, but with a bit of planning time, it's possible to enjoy tempting and exciting meals that are still inexpensive. From paneer to tofu, butter beans to broccoli, there are so many ways to eat healthy, nutritious vegetarian meals on a budget.
Here we take a deep dive into our 19 favourite budget vegetarian recipes, bringing you interesting, varied and most importantly low-cost meat-free dinners.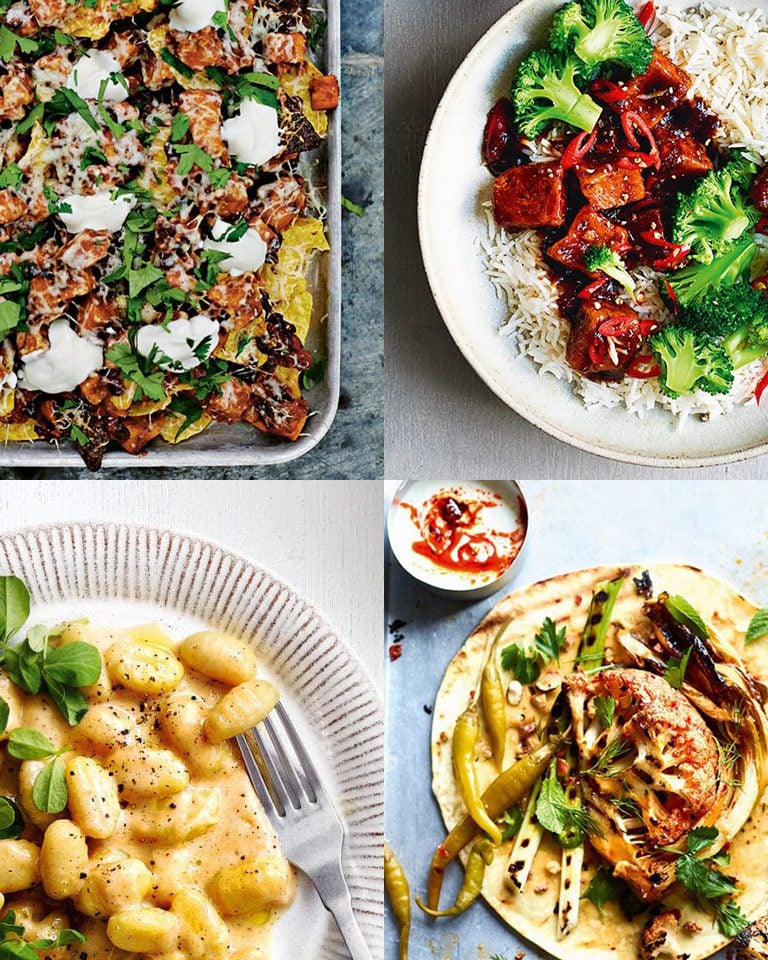 Our favourite ingredients for keeping meals interesting at low cost
When it comes to keeping costs down, there are a few killer ingredients to have in your arsenal that will make sure your dinners are full of flavour no matter what. For savouriness, stock up on soy sauce, miso, Marmite, and mustard. Lemons and vinegars are great to have around for adding sourness to sauces, curries, and for salad dressings. For plenty of protein and to bulk up your dinners to keep you full for longer, lentils and beans are invaluable (the dried variety is the cheapest way to buy them). To add texture and interest to dishes, things like crispy fried shallots or fried breadcrumbs are brilliant to have around (just whizz up old bread ends in a blender and freeze them ready to toast in a pan with some salt and any finely chopped herbs of your choosing). Hot sauces and pickled chillis are invaluable as condiments if you like things spicy.
Where to shop?
For the best bulk prices on vegetarian ingredients, it's often a good idea to check the World Food aisle of supermarkets, paying particular attention to the bottom aisle which is where the biggest and cheapest per gram items can be found. If you have a local South Asian or Asian supermarket, these are often a great place to find spices, sauces, nuts, and rice and noodles at cheaper prices. You can also browse our cuisine specific online grocers feature to find many hard-to-find ingredients at lower prices.
19 of the best budget vegetarian recipes
Tofu with caramel with sichuan pepper
Tofu is a cheap source of protein, and here Ravinder Bhogal serves it with a moreish caramel and sichuan pepper sauce. Garnish with toasted sesame seeds, crispy shallots and coriander for a meal that looks and tastes the part.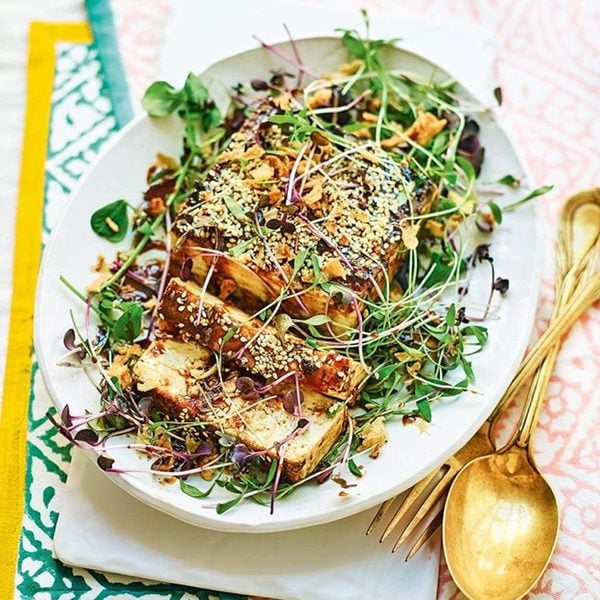 This spinach and paneer rice dish is an easy one-pot that packs in loads of flavour with ginger, garlic, chilli and garam masala. It's full of protein from the paneer and the rice will keep you full.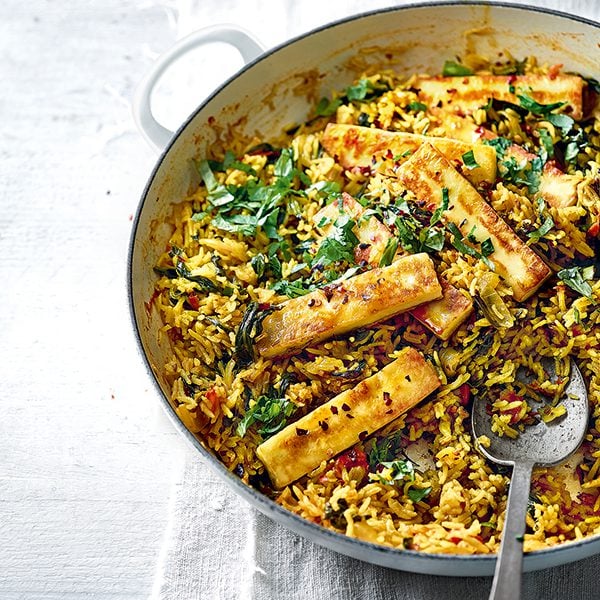 A head of cauliflower can be bought for less than a £1 so cauliflower recipes are a great way to go veggie on budget. Here they're marinated harissa and yoghurt then sprinkled with smoked almonds and pickled chillis. A perfect Friday night meal, that isn't going to cost you much.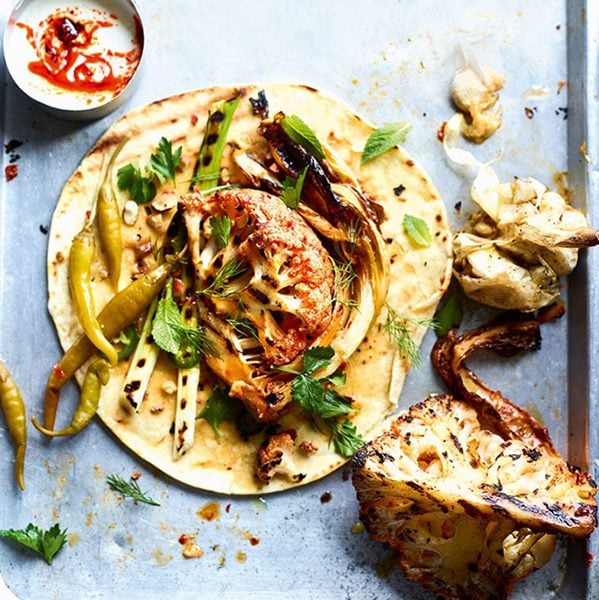 Paneer rears its head again in this moreish koftas, made with mashed potato in a moreish cashew nut and creamy gravy. Trust us, these are a special treat to have in your arsenal, and the nuts are a great source of protein for vegetarians.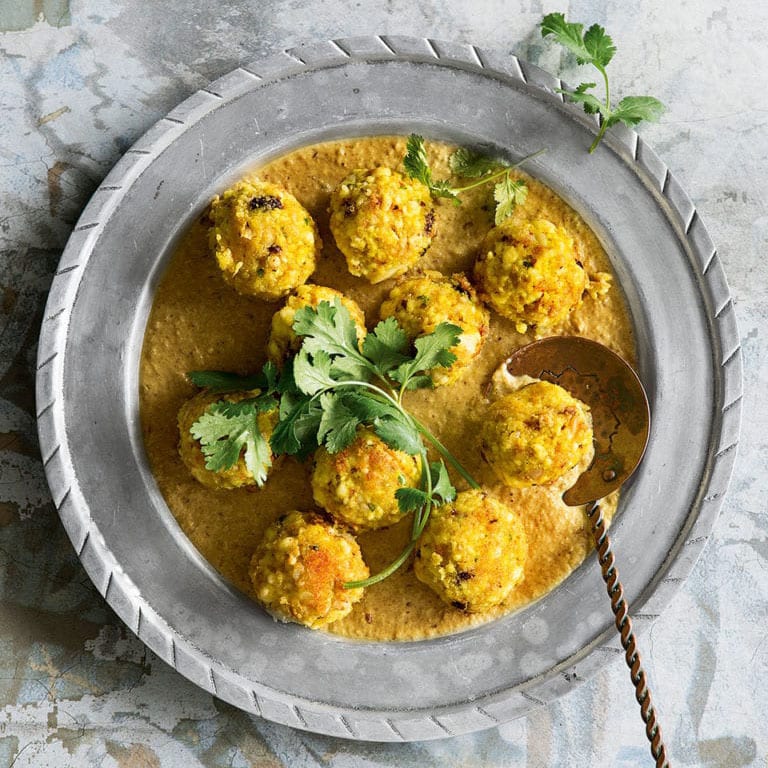 Feta, spinach, pea and sweetcorn pie
This easy filo pie is filled with feta and frozen spinach, peas and sweetcorn – all inexpensive but full of flavour. The prep time is a lovely 15 mins so it's a great choice for a quick midweek meal.
When you want a budget pasta but don't just want a jar of sauce, try this red pepper pesto treat. We love it with casarecce, but use whichever shape is your favourite.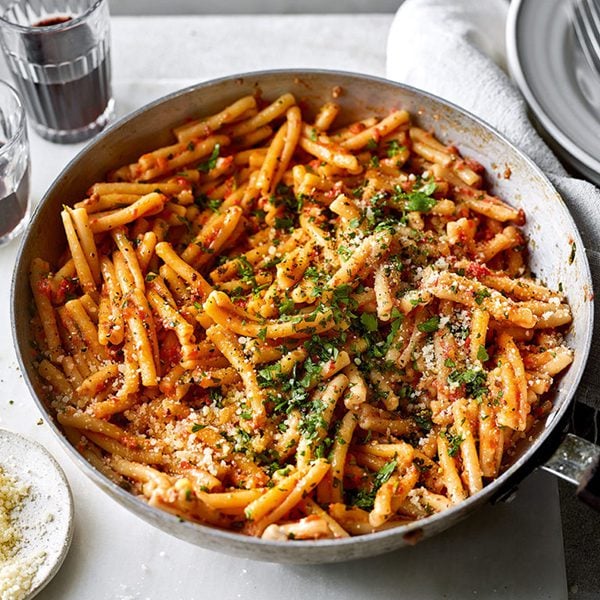 Greek courgette and feta frittata
Eggs are an inexpensive source of protein, so try them with quintessential Greek flavours of olive oil, courgettes, dill and feta in this frittata. Enjoy warm, or leftovers make for a great picnic or packed lunch.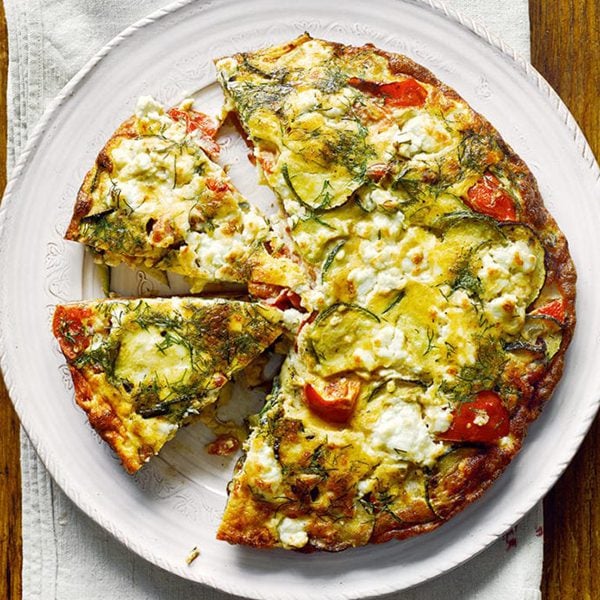 This tamarind aubergine dish is full of tangy flavour and is lovely served with rice or chapatis. The cripsy onions and asafoetida add so much flavour.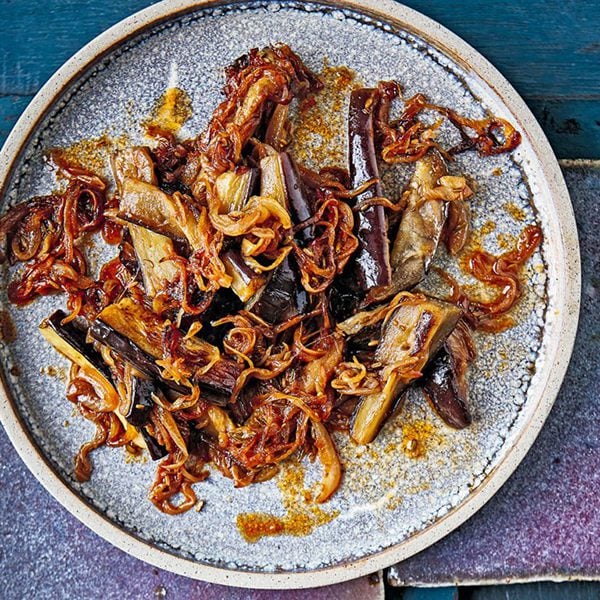 Roasted cherry tomato and tarragon spaghetti
For a 30 minute, frugal spaghetti, try this roasted cherry and tarragon version. It's a little different from your usual pasta pomodoro, and uses a little cream and fresh tarragon which compliments the sweet tomatoes beautifully.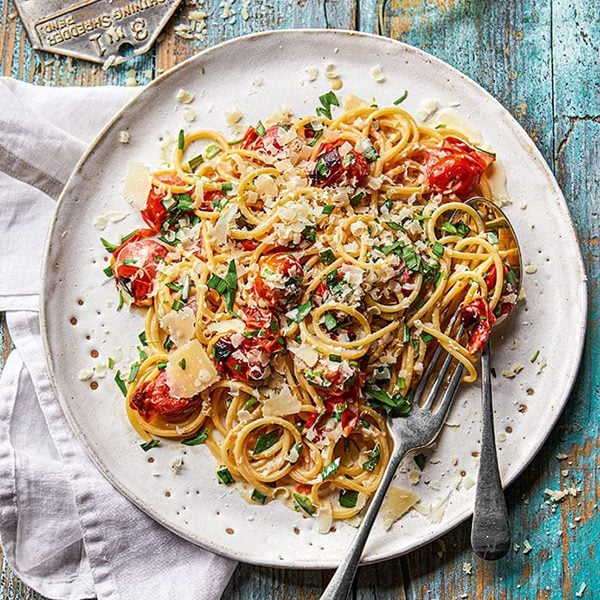 This simple one-pot combines butter beans, harissa and sweet red peppers in a bright stew that can be made up to 3 days ahead. Sprinkle lots of feta cheese over and serve with pitta breads.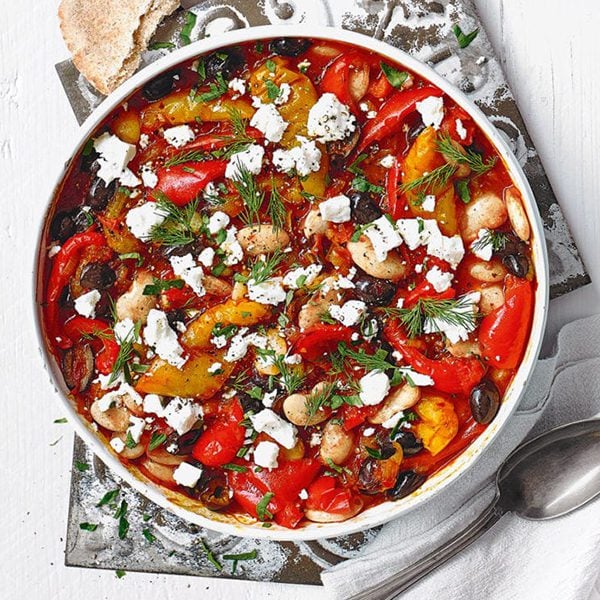 A caponata is a Sicilian stew, and here we've simplified it to a quick traybake. It's traditionally served at room temperature, and is a lovely dinner served with crusty bread and a few toasted pine nuts and basil leaves on top.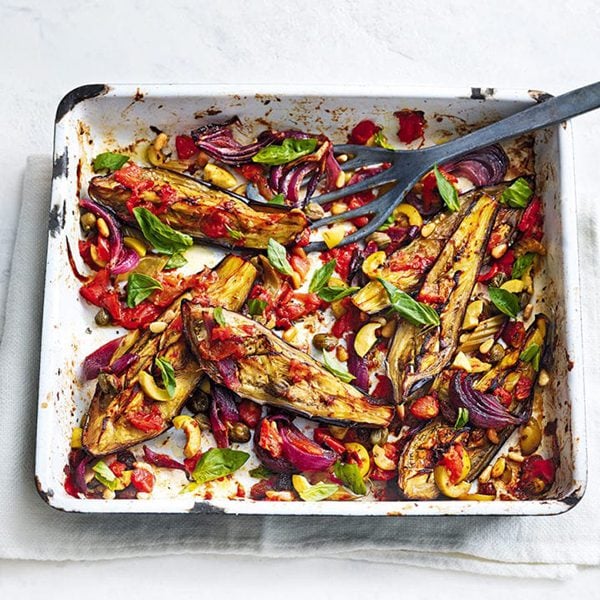 Dhal with spinach and tomatoes
Lentils are a wonderful source of protein that won't cost you much. Enjoy them here in this spiced dhal with spinach and tomatoes for extra health points. You'll be hoping for leftovers…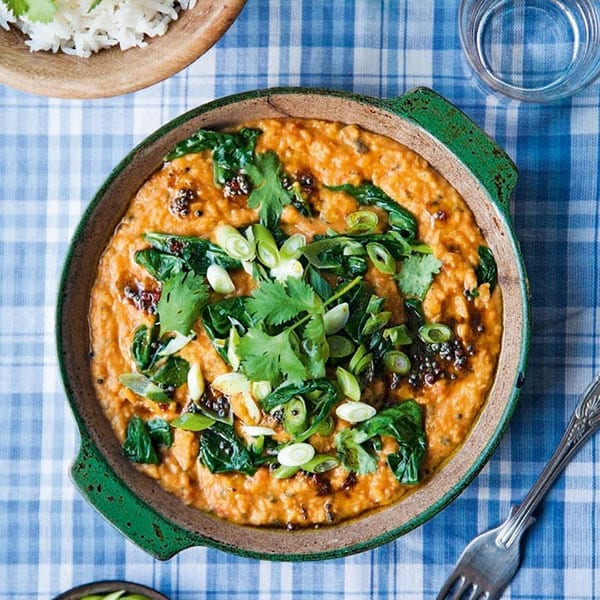 A simple stir fry is always a winner. Here sweet, sticky, homemade General Tso sauce – a staple of Chinese restaurants in North America – is the secret. Serve with steamed rice and broccoli for a complete meal.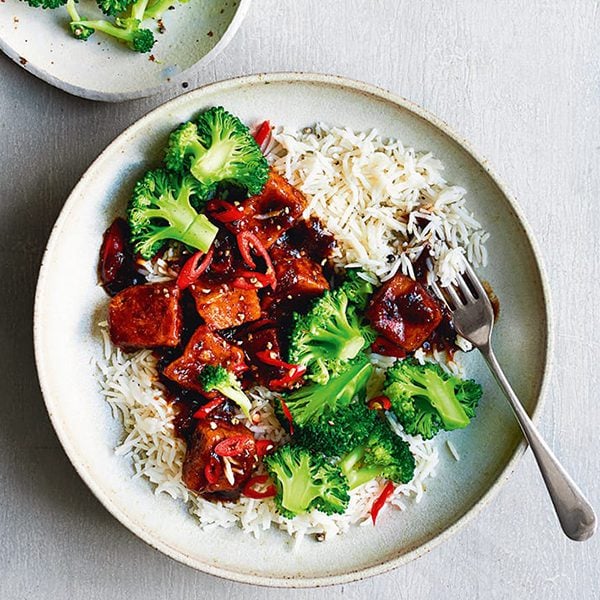 This Middle Eastern-style soup is full of lentils, spices and spinach, and topped with fried onions and pine nuts. The lemon juice is really important and really lifts the whole thing. Once you've tried it, you'll be making this again and again.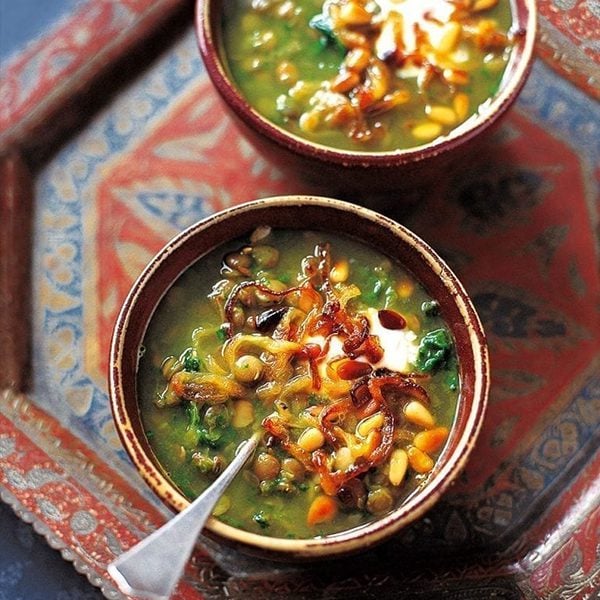 Another Friday night favourite that won't cost as much as a takeaway… Our sweet potato chilli nachos will keep you full and are made with smoked paprika and black beans AND tortilla chips. Serve with soured cream and cheddar cheese and dig in!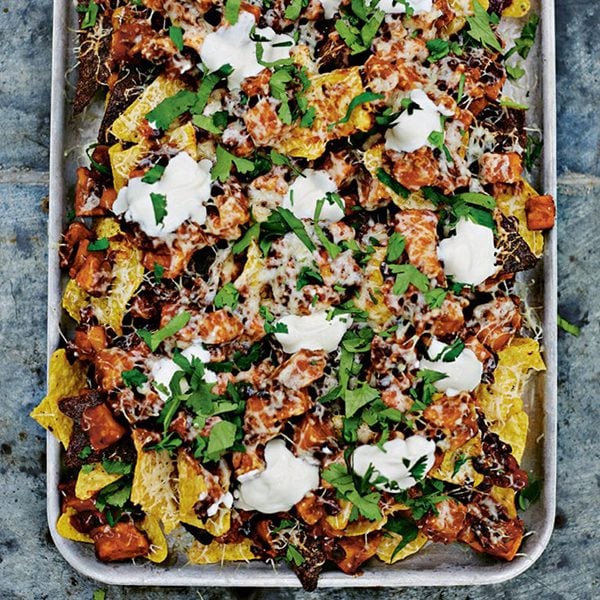 Purple sprouting broccoli and halloumi skewers
Everyone loves halloumi, and in this low-cost meal we've paired it with sprouting broccoli served on a bed of herby couscous. The best bit? It's drizzled with a sweet and creamy tahini dressing, and under £2 a portion.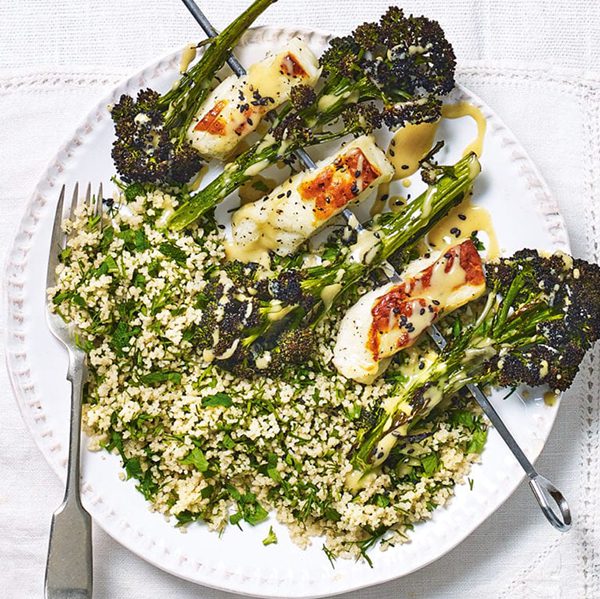 Mushrooms are £1 a punnet, so enjoy them in this budget curry that can be amped up with chickpeas or peas. The fenugreek leaves (kasuri methi) in the sauce are addictive – watch out!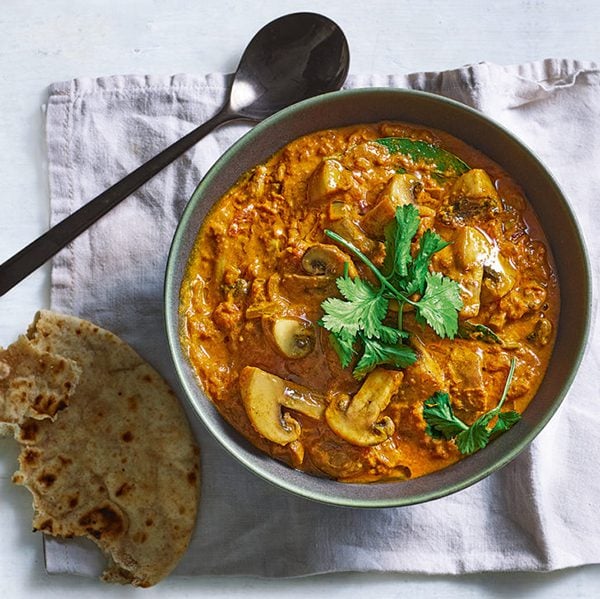 Once you've made a batch of dough, a pizza can go so many routes. We love a simple margherita, but pizzas are also a great way to finish off any odds and ends of veg in your fridge drawer: try courgette, thinly sliced potato, leek or broccoli.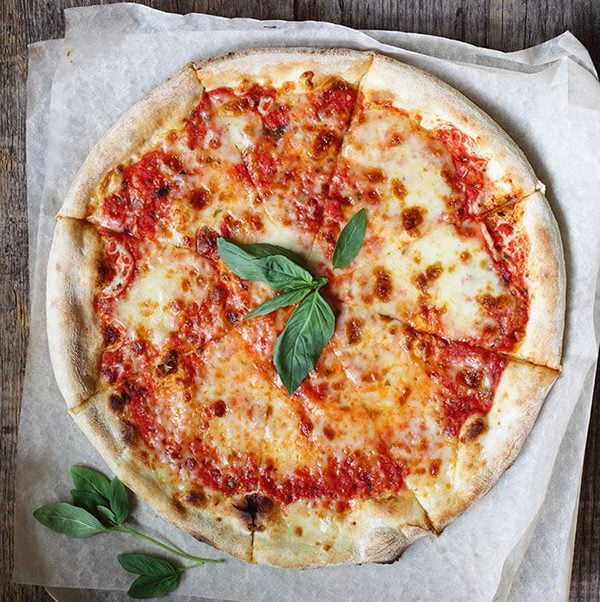 Here we've twisted the usual cacio e pepe and served it with potato gnocchi. Made with just six ingredients, this will be a comforting favourite in no time.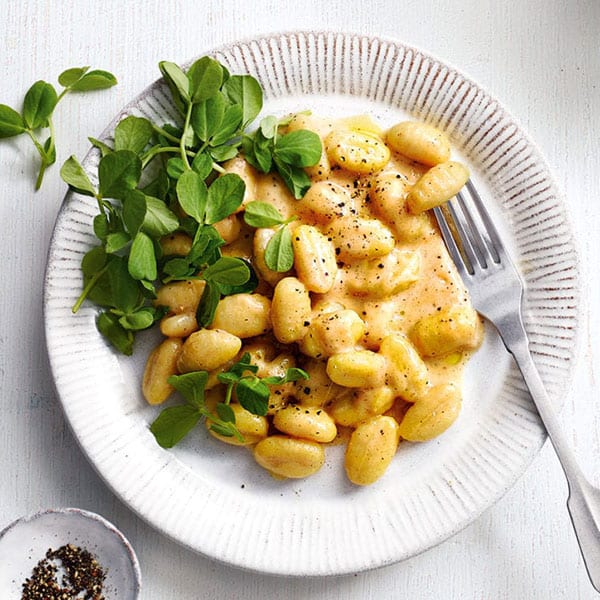 For more budget plant-based recipes, click here.
Subscribe to our magazine
Subscribe to delicious. magazine for HALF PRICE
Subscribe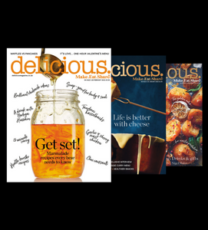 Join our newsletter
Packed with menu ideas, recipes, latest competitions and more...